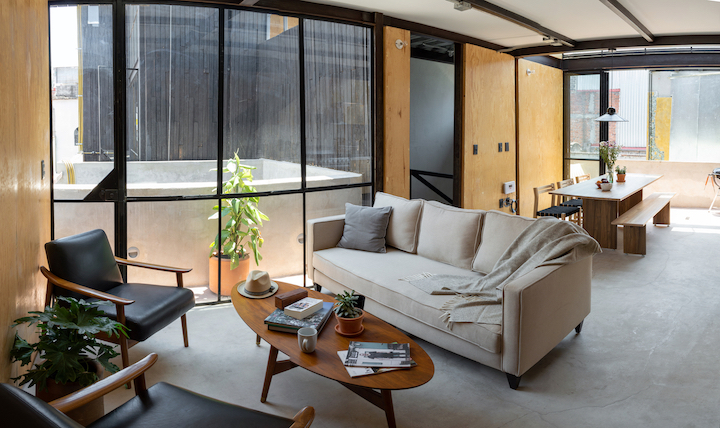 Casa Jardín Velarde
Córdoba 223, Roma Norte, CP 06700 Cuauhtémoc, Mexico City
Casa Jardín Velarde is located in the heart of the bohemian and vibrant district "La Roma" in Mexico City. The building is a mid 20th century multifamily-housing facility that has been recently remodeled into modern town houses with wide windows and open spaces. La Roma was born in the early 20th century as a high-class, french-styled neighborhood of mansions and chalets. Throughout the 1920's, La Roma starts receiving a considerable amount of families coming from all around the world who contributed to the rich mixture of architectural styles that remain nowadays such as Art Decó, Art Nouveau and Eclectic. Even through the Mexican Revolution (1910-1920) and the post-war years, La Roma continued flourishing and receiving new incomers. Nevertheless, the 1985 earthquake succumbed the neighborhood and lots of people abandoned it, leaving the district almost desertic. However, the down of the new century brought within a re-birth for La Roma. New incomers arrived once again, floods of writers, singers, and performers started making of La Roma their new home and the district bloomed once again. Nowadays La Roma-Condesa corridor is full of restaurants, cafés, art galleries, vintage boutiques, bars and dancing clubs making it the vibrant heart of nightlife and entertainment in Mexico City where a surprise awaits everyday!
Min. stay
30 days
Max. stay
–
Rooms
$763.72 / Mo + $763 One-Time Refundable Security Deposit
Amenities
Wi-Fi

Weekly housekeeping

Shared kitchen

Laundry facility
Rules
*The rates are listed and will be charged in USD* 1. Respect the common areas. Please do not leave any personal items outside your bedroom. 2. Respect the food of your roomates. We don't offer this kind of service, so if upon your arrival you find any food, it belongs to your roomates. 3. You can "book" the common areas to host a small dinner (maximum 4 people) upon your roomates approval. You'll also have to clean after yourself or pay for the cleaning (previously requested). 4. The laundry center is free of charge and is shared amongst all the inhabitants of the building. The laundry center can only be used from Monday to Friday from 8:00 to 21:00 and on Saturdays from 9:00-16:00, it is strictly forbidden to do laundry on Sundays. If the inhabitant does laundry outside this hours he/she shall pay a penalty of $100usd (this penalty is not ours, but comes from the building's administration). 5. If you are having people over for more than 1 night, you should give prior notification to your roomates and to us. The maximum length of their stay can be 1 week.
Roma Norte is Mexico City's latest & greatest trendy hotspot. This hipster enclave has been gentrifying since the 2000s, and there are ongoing efforts to restore Roma Norte to its once prestigious roots. A smattering of bohemian cafes, boutiques and art galleries can be found amongst the tree-lined streets and plazas. Also of note are the many renovated mansions – some of which have even been turned into local food halls with each magnificent room featuring a different type of cuisine. This colorful and vibrant community is simply the perfect place to experience the flavors of Mexico.
3 min walk to Pabellón Cuauhtémoc Shopping Mall
7 min walk to Hospital General Subway Station
6 min walk to Sumesa Supermarket
2 min walk to Ramón López Velarde Garden