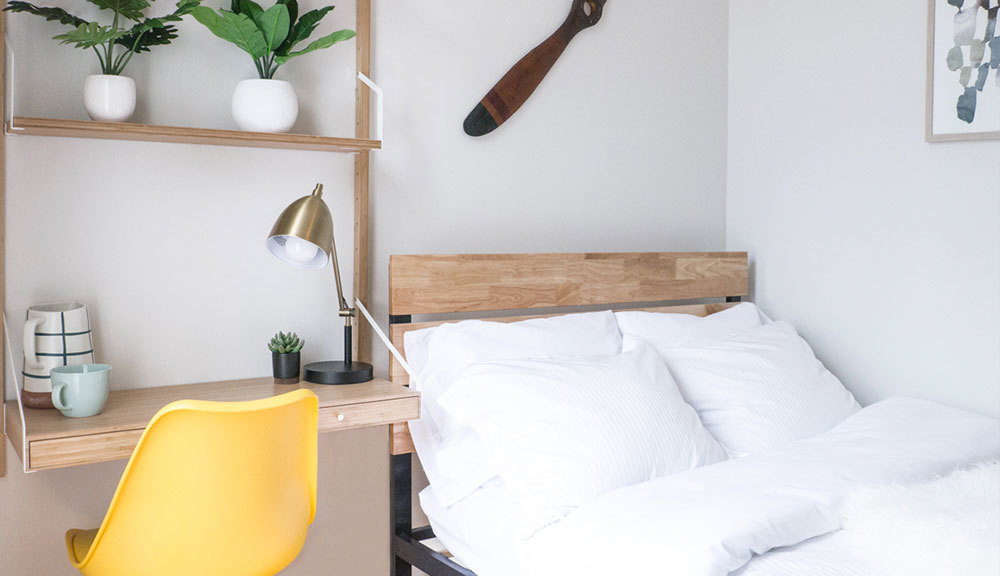 East Williamsburg House - A Co-living and Co-working Space
Brooklyn, NY 11222
The house is located in East Williamsburg. It is 10 mins walk to the L train (Graham Ave Station) which will take you to Manhattan in 5 mins. The location is near coffee shops, pizza joints and a couple of bars. The property features 14 bedrooms and a private balcony and courtyard for tenants. The property features 2 full kitchens, living room, weekly housekeeping and fresh linens. THE BEDROOMS Amenities: memory-foam mattresses (twin-sized for shared rooms, full-sized for single rooms), memory-foam pillows, extension cords to your bedside, shelving, hooks, bed linens, towels and closets/organizational tools. THE KITCHENS/DINING ROOM Each Kitchen features its own dining room. Amenities include gas stoves, stainless-steel fridges, microwaves, large sinks, coffee makers, blenders, plenty of cabinets, cookware, tableware, cutting boards and anything else you would need in a kitchen. Also included: salt, pepper, sugar, coffee grounds, tea, olive oil, paper towels, dish soap, hand soap and garbage/recycling bags, all of which are routinely restocked. Security: 24/7 security in all common areas. THE BATHROOMS There are six full bathrooms and one half bathroom so you'll never have to wait. Some are en-suite bathrooms while some are for the whole house to use. Also included: toilet paper, shampoo, body wash, hand soap and small garbage bags, which will never be empty! We also provide hairdryers, no need to bring your own. The is a pay-per-use washer and dryer next to the living room. Security: 24/7 security in common areas, as well as lockers LIVING ROOM The living room is located in the basement and has two large couches and 55-inch TV (with Netflix!) Living room also includes: coffee tables, pillows, lamps, and knickknacks Security: 24/7 security in common areas. Tech: Google Chromecast T HE CO-WORKING SPACE This room comfortably holds up to 10 people working simultaneously. There's lots of desk space to make sure your work time is productive. Additionally, there are many common spaces throughout the house that may be used for work. Amenities: Desks, chairs, conveniently placed outlets, a printer, a scanner and a fax machine. Security: 24/7 security in common areas
Min. stay
30 days
Max. stay
–
Rooms
Amenities
Wi-Fi

Weekly housekeeping

Shared kitchen

Laundry facility

Bar/Lounge

Public parking

Fitness center

Complimentary breakfast
Rules
Rates are single occupancy. Max occupancy is 2, with a 200$ surcharge for the second person.
Smoking

Suitable for pets

Suitable for infants

Parties or events

Suitable for children
Williamsburg in Brooklyn is known for its youthful, trendy vibe, coupled with plenty of colorful street art and a waterfront that is absolutely beautiful. In Williamsburg, you'll find a number of chic, unique shops to explore, as well as restaurant options that cater to a foodie palate.