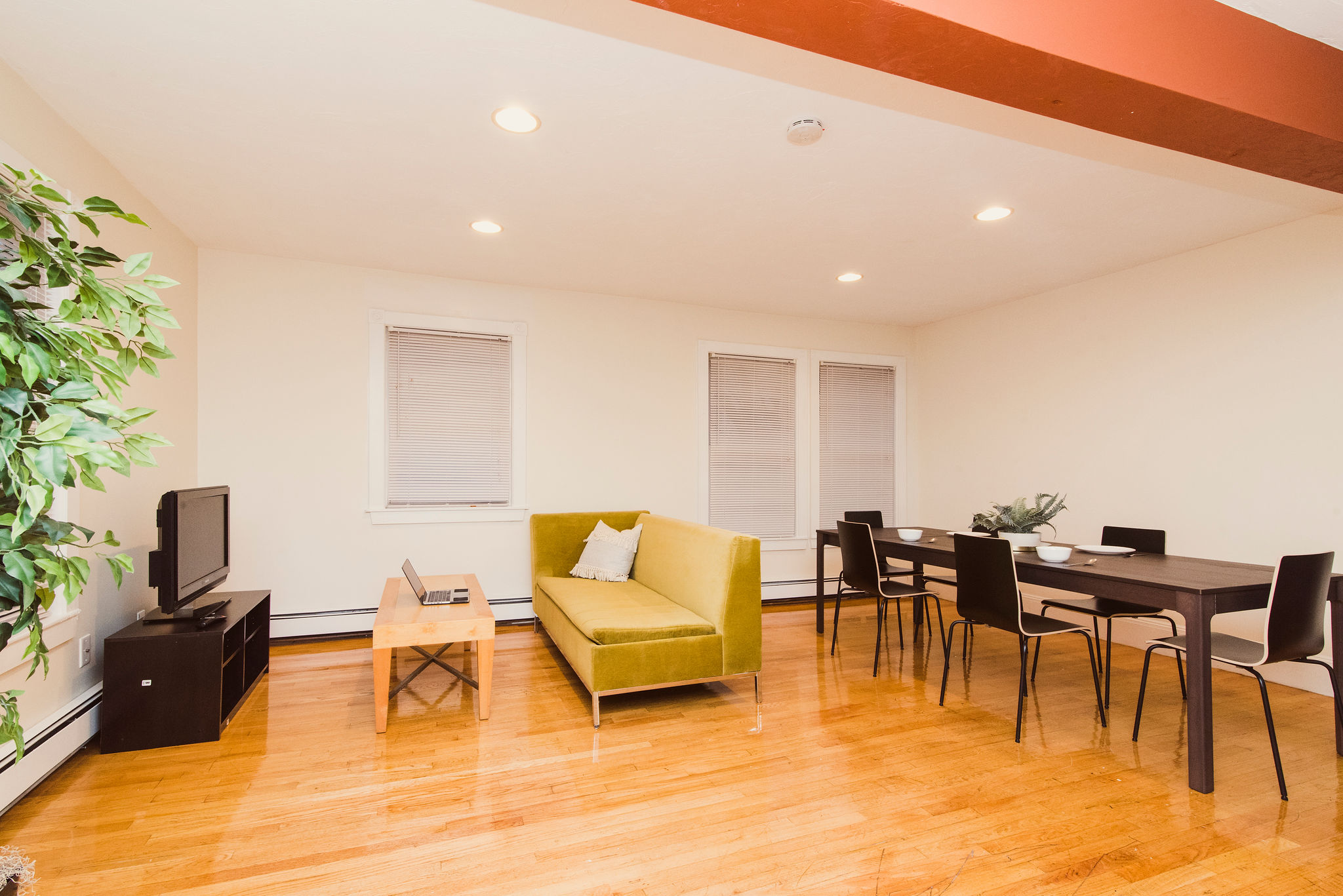 Gordon Street Apartment
51 Gordon St, Boston, MA 02135, USA
The apartment is located in Allston, blocks away from the Allston Street Green Line MBTA Station, Massachusetts College of Art and Design, Harvard University, and UMASS Amherst. It is surrounded by local shops and eateries including The Breakfast Club, Ittoku, and Coreanos Allston and is within walking distance to grocery stores including Stop & Shop, Cheema's Supermarket, and Mayfair Foods. You'll be able to enjoy breakfast with the roommates and have a beautiful walk around Ringer Park! The five-bedroom, two-bathroom apartment comes with private bedrooms that are fully furnished with lots of closet space and hardwood floors. All utilities (Gas, Water, and Energy), Wi-Fi, washer and dryer are included in the rent. The kitchen is fully stocked with cooking essentials, a dining table great for group dinners, and a spacious living room with cable TV. The apartment is in a centrally located neighbourhood walking distances from the Green Line MBTA station, multiple bus routes which can get you to the financial district and downtown Boston in no time!
Min. stay
30 days
Max. stay
–
Rooms
$1,250 / Mo + $1,250 One-Time Refundable Security Deposit
$1,260 / Mo + $1,260 One-Time Refundable Security Deposit
$1,275 / Mo + $1,275 One-Time Refundable Security Deposit
$1,298 / Mo + $1,298 One-Time Refundable Security Deposit
$1,354 / Mo + $1,354 One-Time Refundable Security Deposit
Amenities
Wi-Fi

Shared kitchen

Laundry facility
Rules
A $150 cleaning fee will be charged for leases under 3 months. The property has two monthly cleanings, one on the 1st of each month and the second cleaning at mid-month.
Brighton, Boston is a charming neighborhood known for its small businesses and rich history. Nestled just outside of Allston, it is home to many students of Boston University and Boston College who appreciate the convenient transportation by subway, bus, trolley car or even boat that can take you to all the major hot spots of Boston. Brighton is a melting pot of young professionals and home to sensational restaurants, parks, bars and coffee shops.
blocks away from the Allston Street Green Line MBTA Station, Massachusetts College of Art and Design, Harvard University, and UMASS Amherst