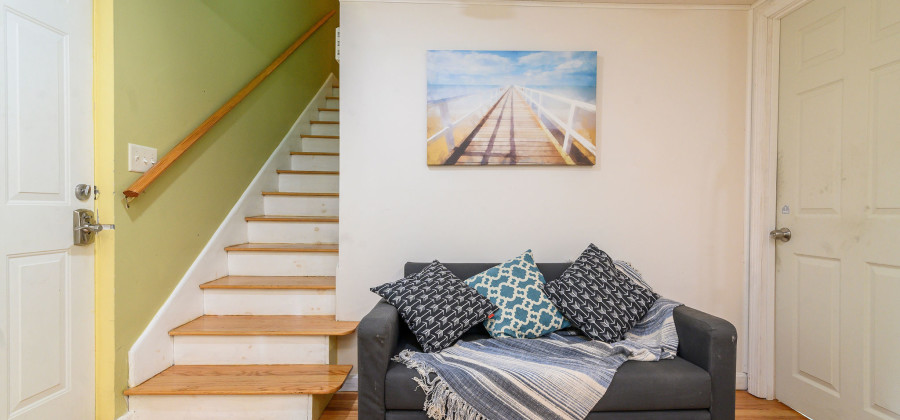 3rd Street Apartment
192 Third St, Cambridge, MA 02141, USA
Located in Third Street, East Cambridge, this charming townhouse apartment is 10-minutes walking distance from the MBTA Red Line Kendall Station and MBTA Green Line Lechmere Station and a few steps away from CambridgeSide Galleria and Boston's Tech Hub. It's a three-bedroom, one-bathroom apartment. It comes with a fully stocked kitchen and a charming spacious living room perfect to share with roommates and friends. The apartment is surrounded by local shops and eateries like Toscanini's Ice Cream, Kendall House of Pizza, and Desfina. It also has the lovely Anthony Costa Park right behind.
Min. stay
30 days
Max. stay
365 days
Rooms
Room 1 (Apt 2)
Show amenities
Amenities
Wi-Fi

Shared kitchen

Laundry facility

Weekly housekeeping

Bar/Lounge

Public parking

Fitness center

Complimentary breakfast
Rules
A $150 cleaning fee will be charged for leases under 3 months. The property has two monthly cleanings, one on the 1st of each month and the second cleaning at mid-month.
Smoking

Suitable for pets

Suitable for infants

Parties or events

Suitable for children
Located across the river from Boston, Cambridge is the home of Harvard University, and MIT, so there is a very strong youth influence here as well as a somewhat upscale vibe. In Cambridge, you can take in art museums and various libraries, or stop into any one of the local pubs for hearty yet reasonably priced dishes.
CambridgeSide Galleria and Boston's Tech Hub
10 min walk from the MBTA Red Line Kendall Station and MBTA Green Line Lechmere Station