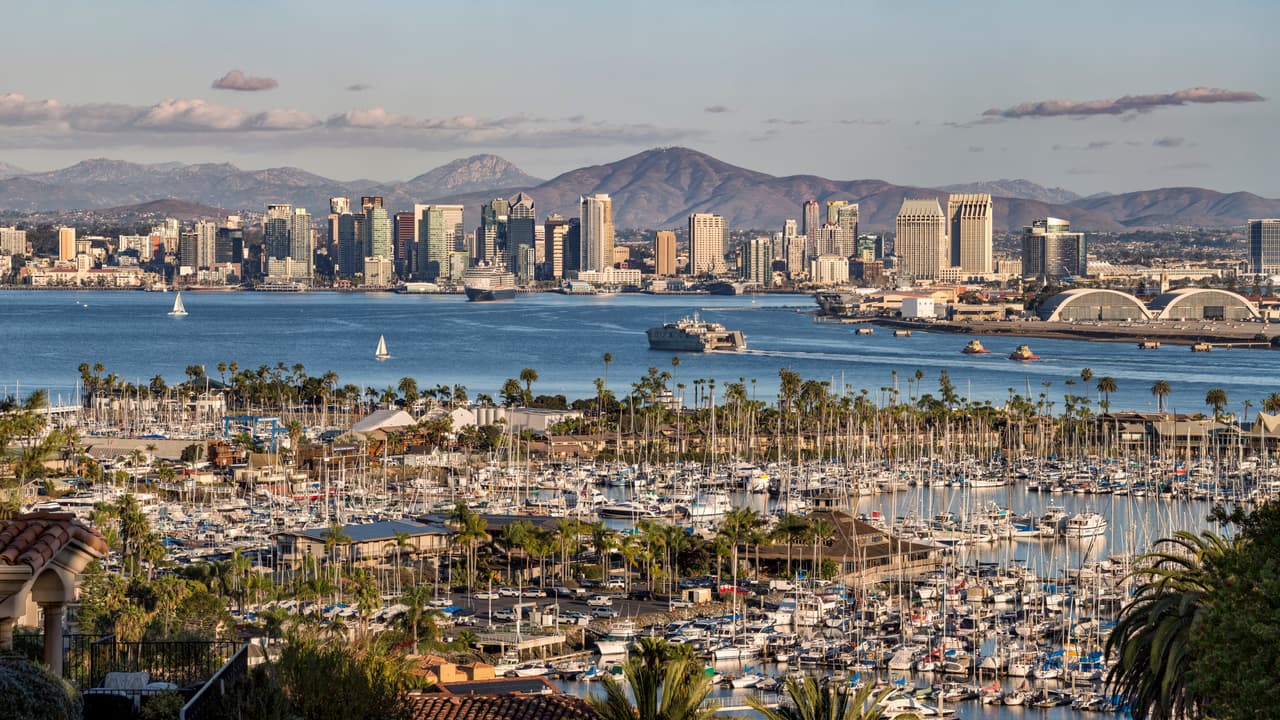 Home Away From Home in San Diego
Book an apartment in San Diego that feels like home for 30 days or longer. Move-in-ready with an equipped workspace.
Top Home Away From Home Rentals in San Diego
Anyplace offers accommodations built for a work-from-anywhere generation.
Homes in San Diego that include an equipped office setup
Level up your remote work with luxury accommodations that come prepped with an equipped home office and high-speed internet.
Desk setup & high-speed internet
Ultrawide monitor, standing desk, work chair, keyboard, mouse, and gigabit internet.
Video conferencing setup
Webcam, microphone, key light, and collapsible green screen.
Flexible-term & fully furnished
No long-term commitments and move-in-ready accommodations.
About San Diego
San Diego is located in the far southwest corner of California, along the Pacific coast and just north of the border between the United States and Mexico. It's the second-largest city in California, with nearly 1.5 million people living in the city limits, and has been called the "Birthplace of California" since it was the first place Europeans settled on the West Coast. Tourism and trade are major drivers of San Diego's economy, and its primary border crossing at San Ysidro is the busiest land border crossing point outside the continent of Asia. It's also a significant city for the U.S. military, especially the navy, a history honored by the massive aircraft carrier the USS Midway, now a military museum, moored in its harbor. Culturally, San Diego takes a lot of influence from its Mexican history and heritage. The local cuisine, monuments, and museums reflect this lineage. It's also known as a surfer's paradise thanks to its year-round beautiful weather and miles of beaches, something that's given the city a reputation for having a laid-back pace. Its Embarcadero harbor-front is an ideal place to take a sunset stroll and take in the sights, sounds, and feel of this delightful city.
What is a Home Away From Home Property?
A home away from home is a rental property that feels as comfortable as it is in your own home. It's a place where you can put your feet up on the couch, cook your own meals, and do your laundry whenever you please. But while keeping your usual routine at home, you can also get outside and explore San Diego.
Why is San Diego a Great Place For Finding a Home Away From Home?
The weather in San Diego is phenomenal by any standards. There's a lot to enjoy when the weather is nice, too, with beaches and natural landmarks dotting the nearby coast. The rich culture, vibrant art scene, and many historical attractions also make San Diego an easy place to find entertainment, and the city's culinary scene is one of the best in the United States. It's a thriving city with the infrastructure to support any lifestyle, from families to digital nomads to retirees, who will all find plenty to enjoy in San Diego.
Home Away From Home Rentals in San Diego
For people who want to explore San Diego, Anyplace hosts the best properties in the city. All our rentals offer convenient access to properties with full kitchens, strong wifi, and amenities to make your time relaxing, productive, and immersive. Here are a few reasons to choose Anyplace for your San Diego home.
Zero stress
Find a home in San Diego on the website, and then book. No emails, roommate interviews, or complications.
Amazing home office
Never work from the kitchen table again. Our apartments in San Diego include a workspace equipped with useful office gear. Just bring your laptop and do your best work.
All-inclusive with high-speed internet
All utilities and gigabit speed WiFi are included and will be set up for you and ready to go.
No landlord
No landlord, no problem. You just need to move in—we handle the rest for you.
No long leases
Forget about ever having to sign a long lease. Our home rentals in San Diego are available for 30 days or longer. Stay as long or little as you'd like—down to the day.
Move-in today—or any day
Search for a San Diego apartment on Anyplace with the exact dates that match your schedule.
Move out or extend your stay
Manage your stay online, so if you realize that you'd like to extend the length of time that you'd like to stay you can do it with a click of a button.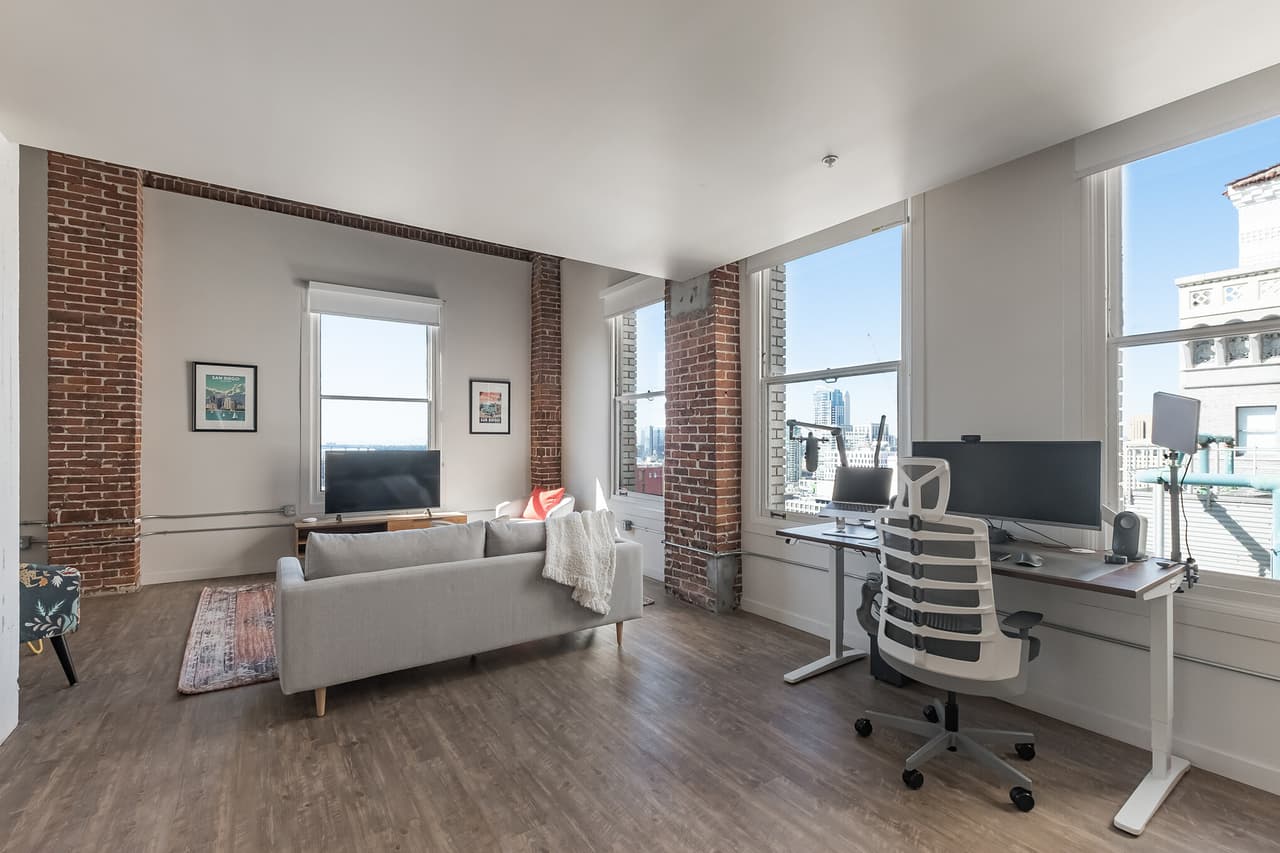 Book A Home Rental in San Diego
Browse apartments in San Diego that are already set up with furniture, utilities, laundry, a home office, and extra amenities like a pool and gym. All you have to do is reserve online, pay, and move in. And if you like it, you can easily extend your stay online. Forget about endlessly searching on multiple sites and apps to find the ideal home for you in San Diego. Use Anyplace and choose a rental that matches the dates you need, your budget, and will provide you with the amenities needed for a comfortable stay.