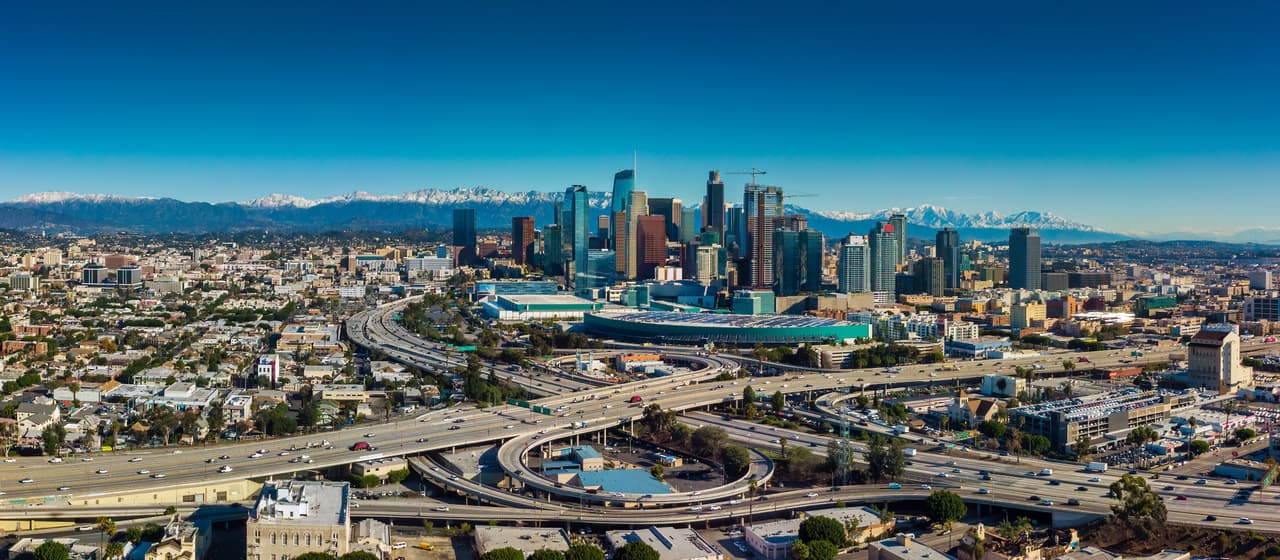 Home Away From Home in Los Angeles
Book an apartment in Los Angeles that feels like home for 30 days or longer. Move-in-ready with an equipped workspace.
Top Home Away From Home Rentals in Los Angeles
Anyplace offers accommodations built for a work-from-anywhere generation.
Homes in Los Angeles that include an equipped office setup
Level up your remote work with luxury accommodations that come prepped with an equipped home office and high-speed internet.
Desk setup & high-speed internet
Ultrawide monitor, standing desk, work chair, keyboard, mouse, and gigabit internet.
Video conferencing setup
Webcam, microphone, key light, and collapsible green screen.
Flexible-term & fully furnished
No long-term commitments and move-in-ready accommodations.
About Los Angeles
The most populated county in all of California and all of the United States is Los Angeles County, which houses a whopping 10 million people. This destination was one of the original counties that were formed when California received statehood in 1850. At that time, the county extended all the way from the coastline to the border with Nevada. Today, Los Angeles County spans 4,751 square miles and has 70 miles of coastline on the Pacific Ocean. More than a quarter of the entire population of California lives within Los Angeles County. Some of the most notable cities in the county include Los Angeles, Santa Clarita, Glendale, and Long Beach. The economy of Los Angeles is largely dependent on the entertainment and digital media industries. Many film studios have their headquarters here. Other major sectors of the economy include international trade, aerospace, medicine, and financial services. There are all kinds of colleges and universities in Los Angeles for anyone seeking higher education. The area's residents and visitors are largely dependent on cars to get around, though the individual municipalities within Los Angeles often offer bus services.
What is a Home Away From Home Property?
A home away from home is a rental property that feels as comfortable as it is in your own home. It's a place where you can put your feet up on the couch, cook your own meals, and do your laundry whenever you please. But while keeping your usual routine at home, you can also get outside and explore Los Angeles.
Why is Los Angeles a Great Place For Finding a Home Away From Home?
Los Angeles County is one of the most popular places to live in California, so it's no secret that lots of people from around the world are choosing to make this destination their home away from home. Though it can be expensive to live here, there is certainly no lack of fun or activities to get involved in. The economy is stable, there are all kinds of job opportunities, and it's easy to get anywhere in the world thanks to the convenient Los Angeles International Airport (LAX).
Home Away From Home Rentals in Los Angeles
For people who want to explore Los Angeles, Anyplace hosts the best properties in the city. All our rentals offer convenient access to properties with full kitchens, strong wifi, and amenities to make your time relaxing, productive, and immersive. Here are a few reasons to choose Anyplace for your Los Angeles home.
Zero stress
Find a home in Los Angeles on the website, and then book. No emails, roommate interviews, or complications.
Amazing home office
Never work from the kitchen table again. Our apartments in Los Angeles include a workspace equipped with useful office gear. Just bring your laptop and do your best work.
All-inclusive with high-speed internet
All utilities and gigabit speed WiFi are included and will be set up for you and ready to go.
No landlord
No landlord, no problem. You just need to move in—we handle the rest for you.
No long leases
Forget about ever having to sign a long lease. Our home rentals in Los Angeles are available for 30 days or longer. Stay as long or little as you'd like—down to the day.
Move-in today—or any day
Search for a Los Angeles apartment on Anyplace with the exact dates that match your schedule.
Move out or extend your stay
Manage your stay online, so if you realize that you'd like to extend the length of time that you'd like to stay you can do it with a click of a button.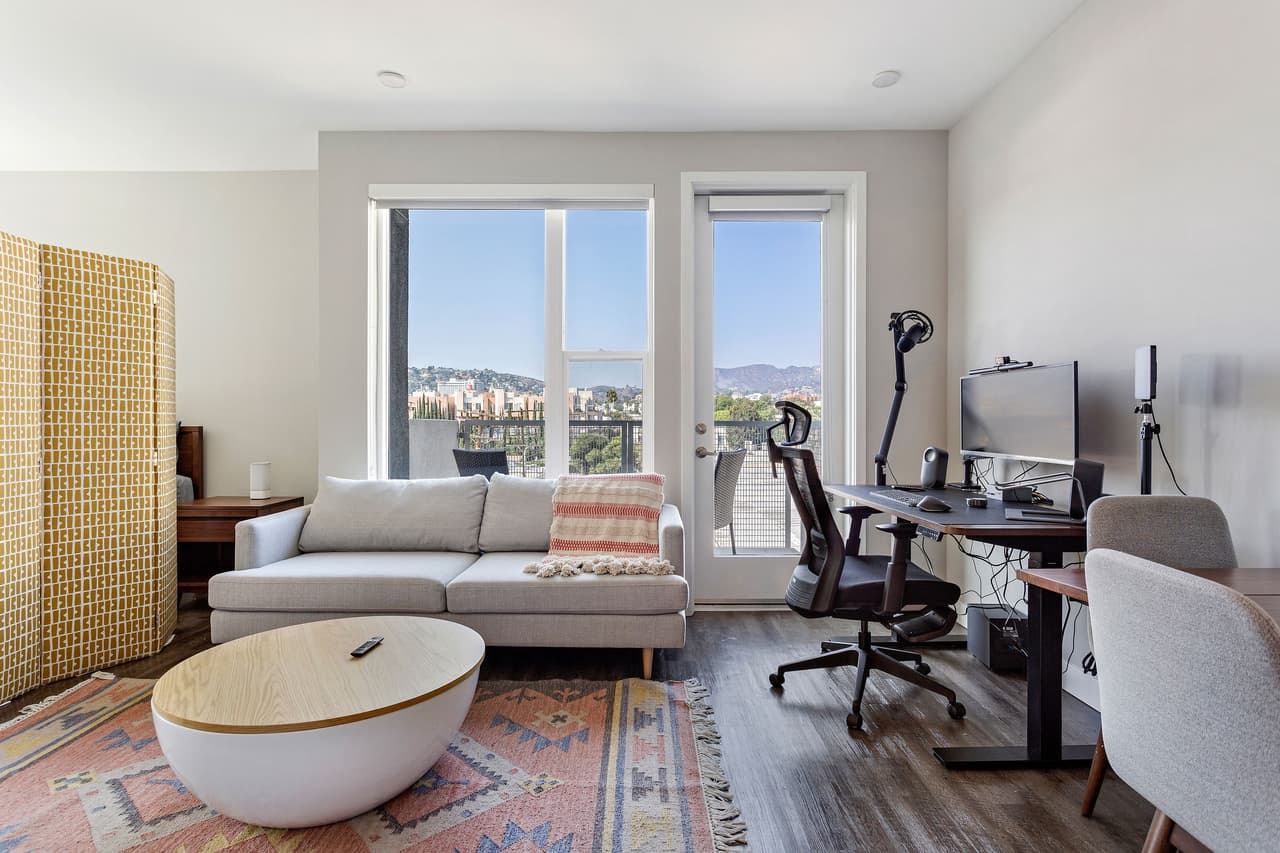 Book A Home Rental in Los Angeles
Browse apartments in Los Angeles that are already set up with furniture, utilities, laundry, a home office, and extra amenities like a pool and gym. All you have to do is reserve online, pay, and move in. And if you like it, you can easily extend your stay online. Forget about endlessly searching on multiple sites and apps to find the ideal home for you in Los Angeles. Use Anyplace and choose a rental that matches the dates you need, your budget, and will provide you with the amenities needed for a comfortable stay.