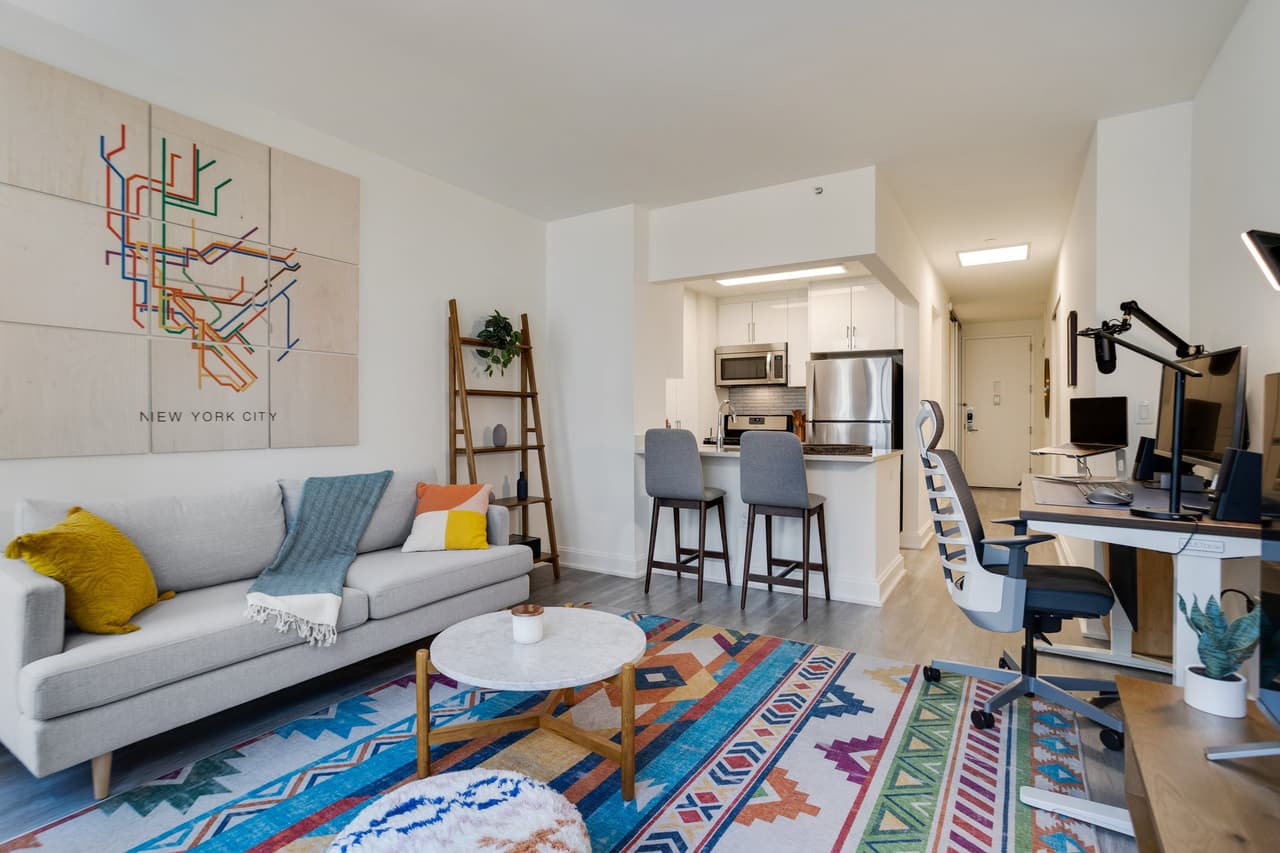 Furnished Apartments
Find furnished apartments with equipped home offices and high-speed WiFi.
Find Monthly Rentals in the Best Locations
Anyplace offers accommodations built for a work-from-anywhere generation.
San Diego

Los Angeles

San Francisco

New York City - Manhattan
We are opening additional apartments in major US cities based on request.
Join the waitlist by submitting your preferred budget and location. Rent starts at $3,000 per month in order to provide a high-quality work environment.
A New Way Of Living
Flexible arrangements
Live month-to-month in any city without having to sign a long lease.
All-inclusive lifestyle
Utilities and WiFi are included. Most spaces have weekly housecleaning.
Hassle-free experience
Enjoy move-in ready, fully furnished housing. Pay and manage your stays online.
Furnished Apartments for Long-Term Rent
When you're a digital nomad, you go where the wind blows. Your next work project could take you to the East Coast for a month or two. As a freelancer, your flexible environment might allow you to spend a year in Europe or the winter in Cancun, Mexico. But no matter how easy it is to pull up roots and move onto your next gig, you'll always need one thing - a place to stay. Ever asked the question, "Are there furnished apartments near me that I can rent?" With Anyplace, you can find long-term rental apartments that are completely furnished and move-in ready.
How to Choose a Furnished Apartment for Rent
Whether in Brooklyn, NY or Montreal, Canada, Chicago or LA County, there are vacancies that are perfect for you. What do you need to know to choose the furnished apartment that's right for you? You have the city already earmarked - you might be in your hotel room or new office searching 'furnished apartments near me' right now! There might be cheap listings on local classifieds sites but beware the problems you could face without the right assistance.
Accurate Listings
You have better things to do with your time than waste it scoping out apartments that simply won't work for you. From sublets to investment properties, you can count on landlords making their listings look better than they actually are. You could check out a dozen property listings before you find one that might work for your needs while you're in town. But will they rent the apartment to you for a discount if you take it long term, or are you stuck paying full price? With Anyplace, every listing is verified for accuracy. What you see on the listing is an accurate reflection of your stay. From the provided amenities to the kitchen appliances on hand, the furniture to the Wi-Fi connection, you can rest assured that Anyplace furnished apartment listings are consistently better than you'll find anywhere else. Some furnished apartments are shared accommodations while others are private. Some rooms have shared bathrooms and showers and some you'll have all to yourself. It won't be a surprise - you'll have all the details you need to make an informed decision before you rent the apartment.
Reliable Support
Say there's a problem with an apartment you're renting. There's no hot water, or the microwave is suddenly on the fritz. The linens you've been promised aren't in the closet, and all you have are hand towels, not bath sheets. Or the bathroom faucet goes drip-drip-drip all night, keeping you awake. If you've made a rental agreement with someone on your own, will they be available to correct the issue? You could be stuck waiting for days until they even respond to your emails or phone calls. The landlord could be across the city, country, or even on a different continent! Will you have to pony up for the repairs or buy the items you need, or will the renter come through for you? Long-term apartment rentals are different with Anyplace. If you have any problem with your fully furnished apartment, you have the assurance that it will be corrected as quickly as possible. Whether a water leak, missing items, or something totally unexpected, Anyplace will help sort it out on your behalf.
Premium Location
"It's a quiet street." "The neighbors are friendly." "Close to the heart of the city." When you're looking for a long-term rental, furnished or not, you want a place that feels like home. You could take a landlord's word for it, but it could come back to haunt you. Maybe the street isn't as quiet as you were told, and maybe the 'friendly' neighbors are party animals. A location close to downtown doesn't always mean convenient, upscale, or safe. With Anyplace, you can choose a furnished apartment near me that's exactly where you need it. Once you've selected your city, view apartments in the area or neighborhood that you'd prefer. You can see exactly how far it is to your workplace, your friends, or the nightlife you're after.
Furnished vs Unfurnished Apartments Cost
If you're looking for a long-term stay in an apartment, is it best to rent one that's furnished or unfurnished? It stands to reason that furnished apartments will be more expensive to rent monthly or annually, so would it be better to save on rent and get an unfurnished place?
High Costs
Consider the money you'd spend on an unfurnished apartment to make it feel like home. You'd require bedding, but not just a duvet and sheets - you'd need a bed frame, mattress, and box spring. To sit down for a meal, a table and chairs is probably a good idea, or at least a barstool to sit at the counter. Looking to have friends over? Perhaps a couch or two, a TV, lamps, and an area rug are in order. Furnishing an apartment might sound like a good idea, but it comes with a hefty price tag. You could easily spend thousands of dollars and tons of time setting it all up, only to move on eventually.
Cramp Your Lifestyle
So, you've furnished an apartment. Now what? A digital nomad doesn't want to be weighed down with all this 'stuff' when it's time to move onto the next spot. You're not moving your furniture with you. Selling your belongings will net you a huge loss and you don't have time for that anyway. Initially, an unfurnished apartment looks like a good way to save some cash. In reality, you will spend more time and money than it's worth. Why not choose a move-in ready furnished apartment and go enjoy your new city?
Fully Furnished Apartment Checklist
Since you travel light as a digital nomad, there are certain details you need to shore up before you can pick the right apartment. Here's a checklist for what you should know when you're searching for a fully furnished apartment to rent long-term. Is the room shared or private? Is the bathroom shared or private? Are there laundry facilities on site? Is housekeeping included, or available at an extra cost? Is parking available if needed? Does the apartment provide breakfast? Is there a restaurant on site, or dining options nearby? Are linens and towels included with the apartment rental? Is Wi-Fi provided, and is there a data limit? Is there a dedicated workspace for me? Is there an outdoor patio or green space? You might not need all the boxes ticked for a furnished apartment to be right for you. These are good questions to ask so you know exactly what you're signing up for. With Anyplace, you'll have these answers at your fingertips. Every listing has a comprehensive description of their provided amenities so you can make a confident decision to rent a fully furnished apartment. Live your best life with fully furnished apartment rentals in popular cities across the United States and other international locations. Start searching now on Anyplace for the apartment you want to call home!