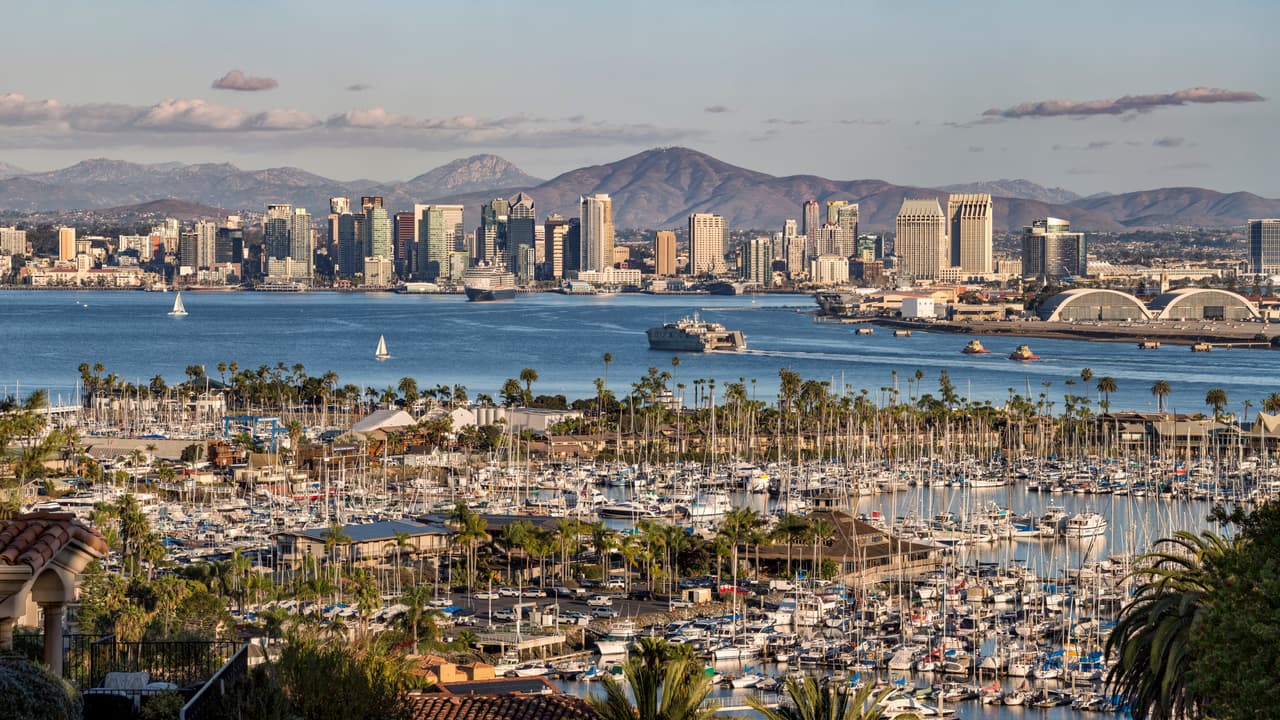 Furnished Apartments in San Diego
Book a furnished apartment in San Diego for 30 days or longer. Move-in-ready with an equipped home office.
Find Furnished Apartments in San Diego
Anyplace offers accommodations built for a work-from-anywhere generation.
Furnished apartments in San Diego with an equipped home office
Level up your remote work with luxury accommodations that come prepped with an equipped home office and high-speed internet.
Desk setup & high-speed internet
Ultrawide monitor, standing desk, work chair, keyboard, mouse, and gigabit internet.
Video conferencing setup
Webcam, microphone, key light, and collapsible green screen.
Flexible-term & fully furnished
No long-term commitments and move-in-ready accommodations.
About San Diego
San Diego is the second biggest city in California (only following Los Angeles) with a population of more than 1.4 million people in the city and over 3.3 million people in the metro area. The city, located on California's southern border with Mexico, was established in 1769 and was officially incorporated in 1850. San Diego is often regarded as California's birthplace since it was the first that the Europeans settled on America's West Coast. These days, San Diego is one of California's most important tourist destinations. In addition to tourism, the city's economy is dependent on sectors like defense in the military, international trade, manufacturing, and health care. Residents in San Diego can expect a climate of hot summers and mild winters with minimal precipitation throughout the year. In addition to its abundance of entertainment options, San Diego also offers world-class education and institutions like the University of California, San Diego, as well as some of the best healthcare in the country.
What's So Great About Living in San Diego
It's likely not surprising to hear that the cost of living in San Diego is above the national average. Those looking to rent a furnished apartment in the city and cover their other living expenses will likely need a budget of at least $3,500 USD per month or more. The benefits of living in San Diego abound, far beyond just being able to walk to the Pacific Ocean (which is quite nice). San Diego has all kinds of attractions, especially for those who like to be outdoors. The famous San Diego Zoo is the most popular destination in town, but residents can also enjoy Balboa Park, SeaWorld, and La Jolla Cove. The USS Midway Museum, the Cabrillo National Monument, and the Torrey Pines State Reserve are a few more of the most popular attractions in the city, all within easy reach for residents. The city is split up into over 100 identified neighborhoods, the most popular of which include The Gaslamp, North Park, City Heights, Mission Valley, Clairemont, and Ocean Beach. Residents are able to move between these neighborhoods by car, taxi, or bus.
What are Furnished Apartments
Furnished apartments are a convenient option for both short and long-term rentals, although leases usually tend to be on the shorter side. Flexible lease terms often include rental on a monthly basis as opposed to a year-long contract. Utilities are included in your furnished rental price as well. Your furnished apartment in San Diego will be move-in ready, and like a hotel, will come with everything you need for a comfortable stay. Typically included in a furnished apartment are living room furniture, dining furniture, bedroom furniture, and basic appliances such as a TV and microwave. Furnished apartments will also have the necessities needed for daily living such as bed linens, towels, cooking utensils, and tableware. Some furnished apartments even come with hotel-like services and amenities such as housekeeping. Although the rental cost for a furnished apartment can be slightly higher than an unfurnished unit, tenants who don't wish to buy their own necessary furnishings for a temporary situation can actually save money with this arrangement. This makes furnished apartments an excellent option for long-term business travelers, families who are in the process of relocation, students who won't be living in their apartment year-round, and anyone else who needs a flexible short-term living arrangement.
Furnished Apartment Options in San Diego?
For people seeking serviced apartments in San Diego, Anyplace hosts some of the best properties in the city. All of our furnished apartments in San Diego are conveniently located downtown, a block away from public transit. Apartments are move-in ready with a comfortable bed, couch, coffee table, and other furnishings. You'll also enjoy essentials that will make your new place easy to call home – kitchen appliances, cookware, dinnerware and glassware, a vacuum cleaner, a hair dryer, and more. And every apartment comes with an equipped home office, that includes a height-adjustable desk, ergonomic chair, widescreen monitor, and additional office gear.
Anyplace Makes it Easy to Rent a Furnished Apartment
We're here to make it really simple—and secure—for you to rent an apartment in San Diego for 30 days or longer. Here are a few things that set us apart from the pack.
Zero stress
Find a furnished apartment in San Diego on the website, and then book. No emails, roommate interviews, or complications when you're trying to find a furnished apartment.
Amazing home office
Never work from the kitchen table again. Our furnished apartments in San Diego include a workspace equipped with useful office gear. Just bring your laptop and do your best work.
All-inclusive with high-speed internet
All utilities and gigabit speed WiFi are included in your furnished apartment and will be set up for you and ready to go.
No landlord
No landlord, no problem. You just need to move into your apartment—we handle the rest for you.
No long leases
Forget about ever having to sign a long lease. Our furnished apartments in San Diego are available for 30 days or longer. Stay as long or little as you'd like—down to the day.
Move-in today—or any day
Search for a San Diego furnished rental on Anyplace with the exact dates that match your schedule.
Move out or extend your stay
Manage your stay online, so if you realize that you'd like to extend the length of time that you'd like to stay in the apartment you can do it with a click of a button.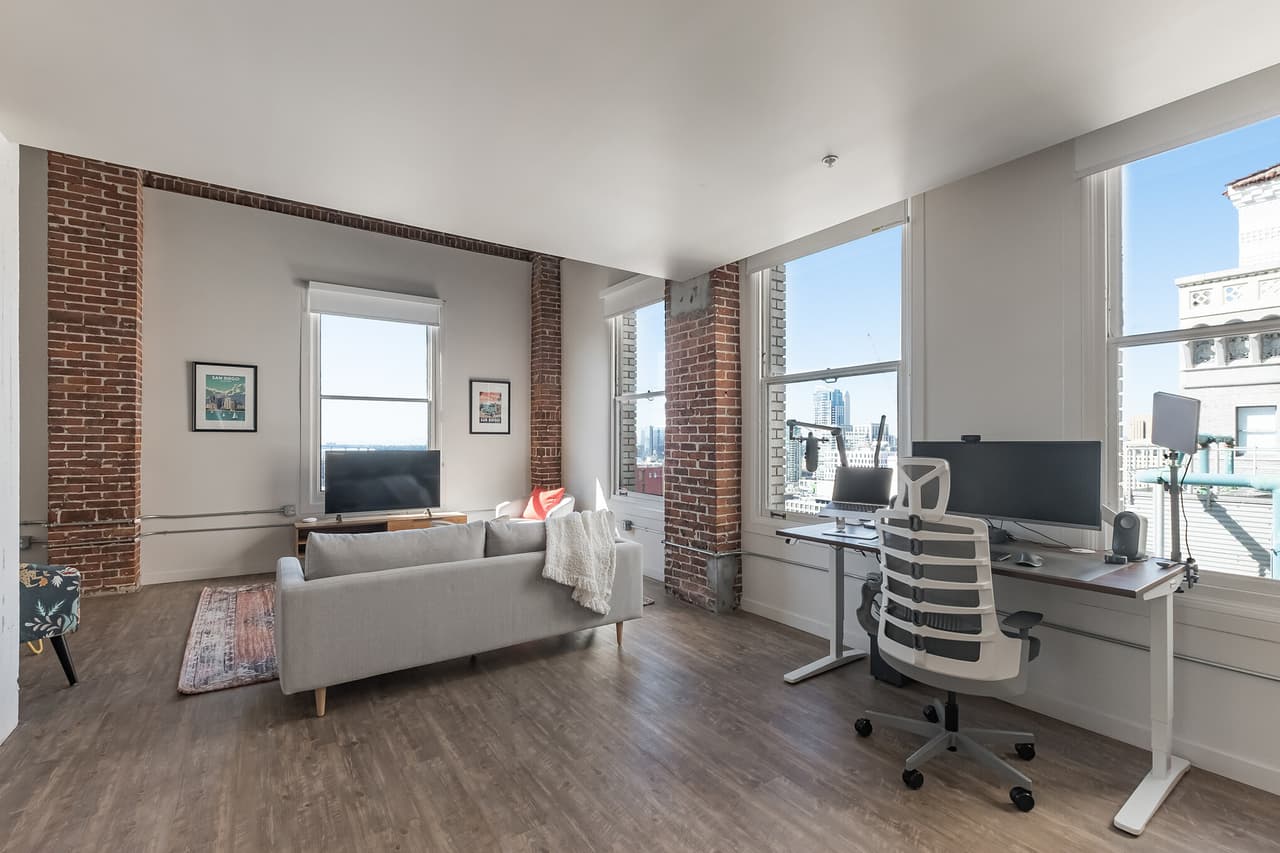 Book A Furnished Apartment in San Diego Now
Browse furnished rentals in San Diego that are already set up with furniture, utilities, laundry, a home office, and extra amenities like a pool and gym. All you have to do is reserve online, pay, and move in. And if you like it, you can easily extend your stay online. Forget about endlessly searching on multiple sites and apps to find the ideal spot for you in San Diego. Use Anyplace and choose a furnished rental that matches the dates you need, your budget, and will provide you with the amenities needed for a comfortable stay.