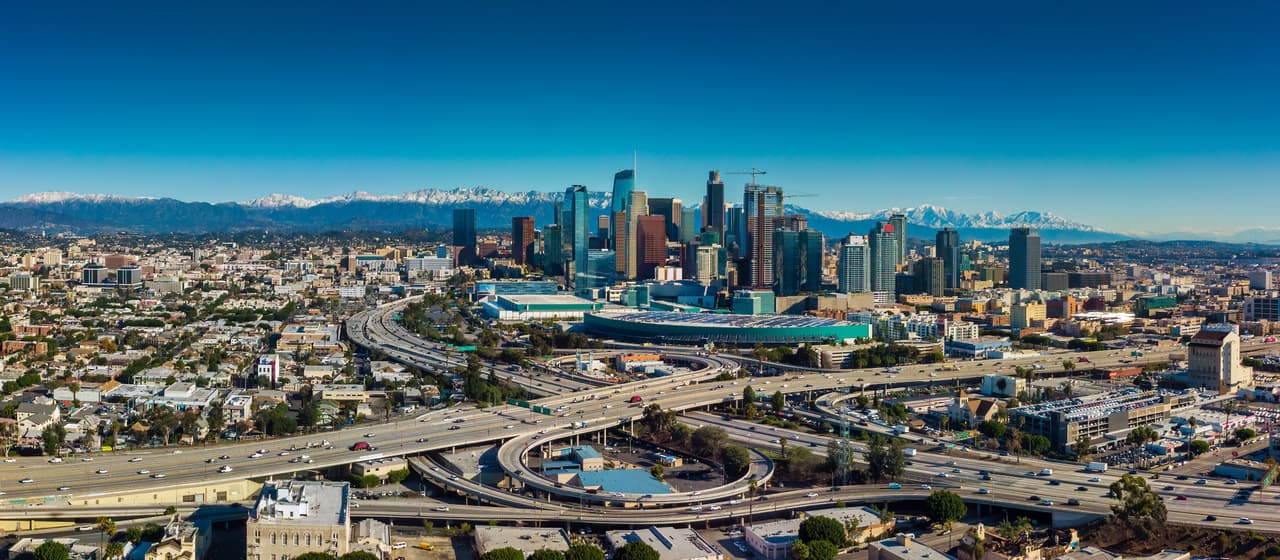 Furnished Apartments in Los Angeles
Book a furnished apartment in Los Angeles for 30 days or longer. Move-in-ready with an equipped home office.
Find Furnished Apartments in Los Angeles
Anyplace offers accommodations built for a work-from-anywhere generation.
Furnished apartments in Los Angeles with an equipped home office
Level up your remote work with luxury accommodations that come prepped with an equipped home office and high-speed internet.
Desk setup & high-speed internet
Ultrawide monitor, standing desk, work chair, keyboard, mouse, and gigabit internet.
Video conferencing setup
Webcam, microphone, key light, and collapsible green screen.
Flexible-term & fully furnished
No long-term commitments and move-in-ready accommodations.
About Los Angeles
The most heavily populated county in the United States, Los Angeles County is located in Southern California and is currently home to more than 10 million people. This county was created when California became a state in 1850 and has always been one of the state's most important areas. Not only is Los Angeles County home to more than 25% of people living in California, but it has also been designated as one of the most diverse counties in the country. Major cities within Los Angeles County include Los Angeles, Long Beach, Santa Clarita, Glendale, and others. Each city has its own unique features and amenities, but residents always have easy access to transportation, health care, entertainment, and education. Los Angeles County is often associated with the film and television industry, but other notable economic sectors include fashion, finance, trade, high tech, and health care.
What's So Great About Living in Los Angeles
It's probably not a surprise to hear that the cost of living in Los Angeles County is on the higher end. For the average individual to cover their monthly living expenses as well as rent in a furnished apartment, they will need to set aside a budget of at least $3,500 USD per month or more. The various cities of Los Angeles County are interconnected by dozens of major highways as well as bus service, subway, and light rail. That said, the benefits of living in LA are pretty unbelievable. Los Angeles County offers plenty to do in the way of entertainment, no matter what one's interests are. The Los Angeles County Museum of Art has all kinds of stunning pieces, while Universal Studios Hollywood is a popular destination for those looking for an afternoon of thrills. Science lovers will enjoy the Griffith Observatory, while visitors and residents of all kinds will want to check out iconic landmarks like the Santa Monica Pier and the Hollywood Sign.
What are Furnished Apartments
Furnished apartments are a convenient option for both short and long-term rentals, although leases usually tend to be on the shorter side. Flexible lease terms often include rental on a monthly basis as opposed to a year-long contract. Utilities are included in your furnished rental price as well. Your furnished apartment in Los Angeles will be move-in ready, and like a hotel, will come with everything you need for a comfortable stay. Typically included in a furnished apartment are living room furniture, dining furniture, bedroom furniture, and basic appliances such as a TV and microwave. Furnished apartments will also have the necessities needed for daily living such as bed linens, towels, cooking utensils, and tableware. Some furnished apartments even come with hotel-like services and amenities such as housekeeping. Although the rental cost for a furnished apartment can be slightly higher than an unfurnished unit, tenants who don't wish to buy their own necessary furnishings for a temporary situation can actually save money with this arrangement. This makes furnished apartments an excellent option for long-term business travelers, families who are in the process of relocation, students who won't be living in their apartment year-round, and anyone else who needs a flexible short-term living arrangement.
Furnished Apartment Options in Los Angeles?
For people seeking serviced apartments in Los Angeles County, Anyplace hosts the best properties in the city. All our furnished apartments in Los Angeles County offer convenient access to premium properties at an affordable price. If you'd like to begin the process of moving into your next serviced apartment, check out our extensive selection today. We partner with serviced apartment providers in the most popular neighborhoods throughout the city.
Anyplace Makes it Easy to Rent a Furnished Apartment
Never work from the kitchen table again. Our furnished apartments in Los Angeles include a workspace equipped with useful office gear. Just bring your laptop and do your best work.
All-inclusive with high-speed internet
All utilities and gigabit speed WiFi are included in your furnished apartment and will be set up for you and ready to go.
No landlord
No landlord, no problem. You just need to move into your apartment—we handle the rest for you.
No long leases
Forget about ever having to sign a long lease. Our furnished apartments in Los Angeles are available for 30 days or longer. Stay as long or little as you'd like—down to the day.
Move-in today—or any day
Search for a Los Angeles furnished rental on Anyplace with the exact dates that match your schedule.
Move out or extend your stay
Manage your stay online, so if you realize that you'd like to extend the length of time that you'd like to stay in the apartment you can do it with a click of a button.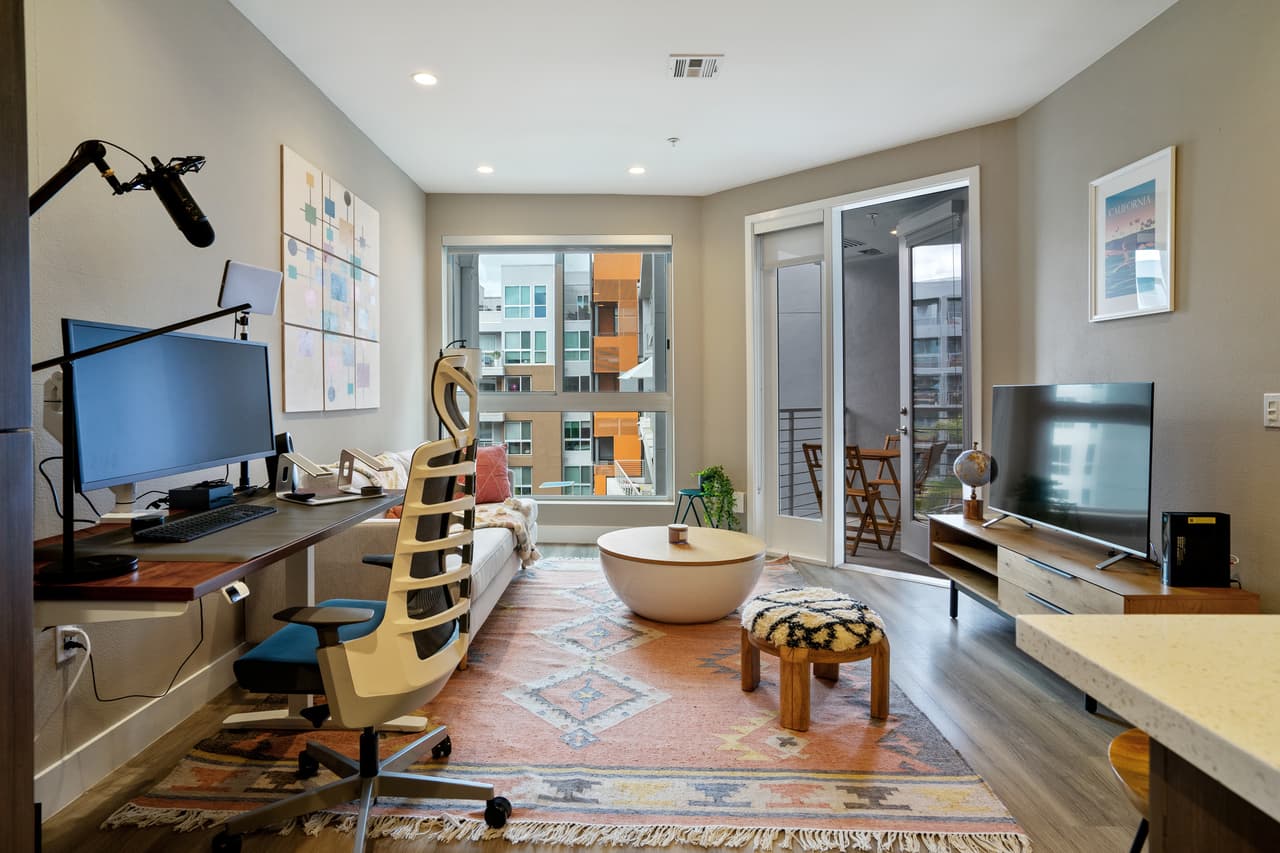 Book A Furnished Apartment in Los Angeles Now
Browse furnished rentals in Los Angeles that are already set up with furniture, utilities, laundry, a home office, and extra amenities like a pool and gym. All you have to do is reserve online, pay, and move in. And if you like it, you can easily extend your stay online. Forget about endlessly searching on multiple sites and apps to find the ideal spot for you in Los Angeles. Use Anyplace and choose a furnished rental that matches the dates you need, your budget, and will provide you with the amenities needed for a comfortable stay.