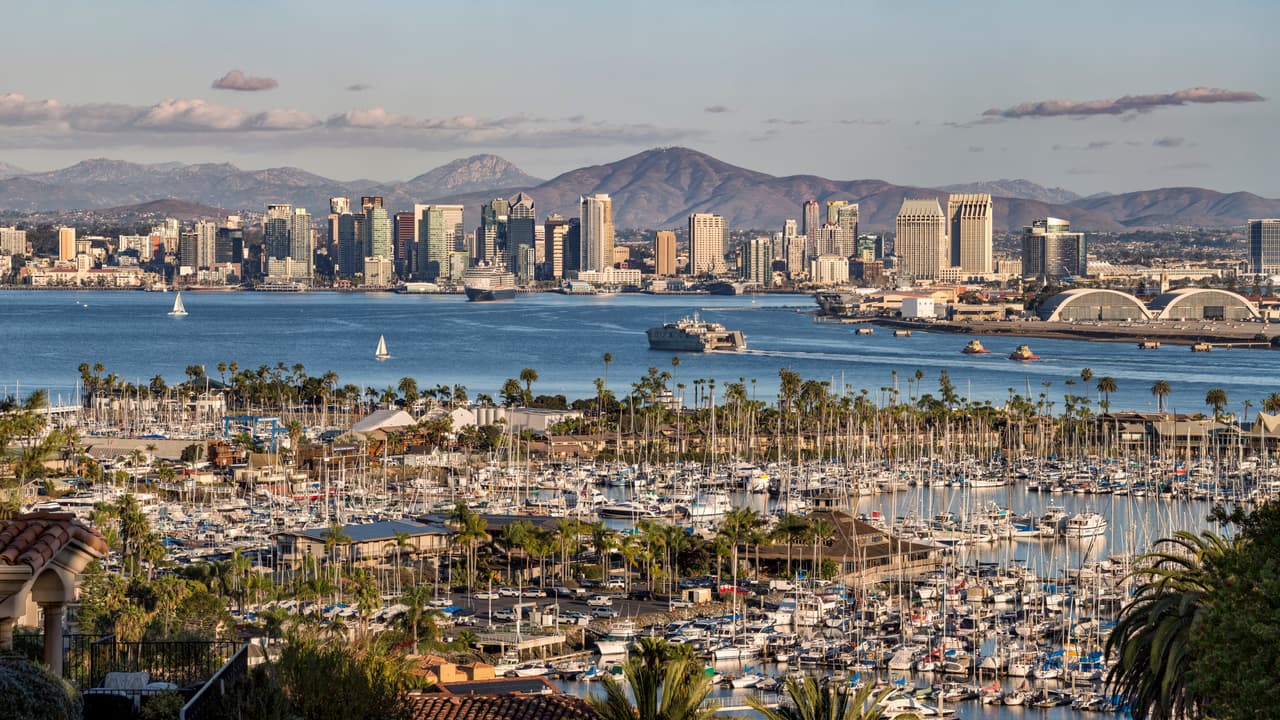 Extended Stay Hotels in San Diego
Find flexible-term extended stay hotel rooms in San Diego. Fully furnished, access to a kitchen, WiFi, and amenities included.
Top Rated Extended Stay Hotels in San Diego
About San Diego
There are many reasons why San Diego is such an easy place to love and live. Endless days of sunshine, world class breweries and bars, legendary surf spots and skateparks, and numerous beautiful neighborhoods with those iconic southern California vibes. San Diego is only a few hours from Los Angeles, but has a completely different feel. Compared to Los Angeles, San Diego is far more spaced out so it is distinctly less overwhelming, much easier to navigate and there is no horrendous traffic to deal with. In the summer, the beaches tend to get a bit overcrowded but that is just because they are so beautiful! The walkable beachside neighborhoods are filled with alternative art and music scenes, and pretty much any restaurant you can imagine. The cost of living is rising every year in San Diego, but the passionate locals, healthy southern California lifestyle, easy access to the international Mexican border, and the multitude of unique opportunities available are why most San Diegans never leave.
Extended Stay Hotels in San Diego
San Diego has an estimated population of over 1 million people and the population is continuing to grow rapidly, despite the cost of living getting higher. San Diego is an amazing city that will inspire you to get outside, live slower, work on your personal growth and expand your social network.The overwhelming dining, nightlife and cafe options make everyday in San Diego feel like a new adventure. Living in San Diego is all about trying new things, having lots of fun and spending as many moments by beach as much as you can. Do not let the high cost of living scare you away from living in a beautiful place, especially if you feel called to it. Instead, try co-living with like minded people. Looking for the ultimate in convenience? Extended stay hotels allow potential residents to make reservations - not leases - and offer a flexibility that most apartments and other living situations do not. You won't have to worry about furniture, appliances, utilities or any other necessities - these are all provided for you, allowing your temporary residence in San Diego to feel like home! Extended stay hotels are a great option for both business and leisure travelers, as well as anyone who is relocating to San Diego, transitioning from military service, or simply working on temporary projects. The safety and security of a hotel - which is usually staffed around the clock - make them a great option for solo travelers. This sector of lodging continues to grow as both the job and housing markets adapt to people's changing priorities and values. To keep up with the increasing demand for flexible and comfortable housing options, extended stay hotels expertly focus on providing elevated communal and residential living to their temporary residents. Many of these hotels now offer additional amenities such as laundry service, free meals and even special events for their guests. San Diego offers many great extended stay hotels to choose from in both the city's core neighborhoods and its many suburbs. So if you're looking to make the most of your time in San Diego without breaking the bank, take a look at your extended stay options for a simple solution that is both comfortable and affordable.
Extended Stay Hotel Options in San Diego?
For those looking for extended stay hotels in San Diego, Anyplace hosts the best properties in the area. All of our hotels in San Diego offer amenities such as fast WiFi, comfortable beds, housecleaning, and more with convenient access to the city. And with with all-inclusive rent, your utilities will be taken care of, allowing you to live in San Diego at an affordable price. If you'd like to begin the process of moving into your next extended stay hotel, check out our extensive selection today. We partner with hotels in the most popular neighborhoods throughout San Diego.
What is Extended Stay Hotels?
Extended stay hotels offer apartment-style living with the flexibility and convenience of a hotel. Your suite will typically include a bedroom, bathroom, living area, desk or workstation, fully equipped kitchen, and a dining or bar area. On-site amenities often include continental breakfast buffets, housekeeping services, laundry rooms, fitness centers, and even grocery delivery services. Extended stay hotels offer additional discounts on monthly stays, making them an affordable option for longer term accommodations. Although extended stay hotels cater primarily to business clients, due to their increased amenities many travelers prefer them for leisure travel as well. Extended stay hotels are the perfect option for anyone looking to experience the comforts of home alongside the convenience and amenities of a hotel.
Things To Do
Old Town San Diego State Historic Park
4002 Wallace St, San Diego
Cabrillo National Monument
1800 Cabrillo Memorial Dr, San Diego
USS Midway Museum
910 N Harbor Dr, San Diego
Maritime Museum of San Diego
1492 N Harbor Dr, San Diego
San Diego Zoo
2920 Zoo Dr, San Diego
SeaWorld San Diego
500 Sea World Dr, San Diego
Sunset Cliffs Natural Park
Ladera St, San Diego
Seaport Village
849 W Harbor Dr, San Diego