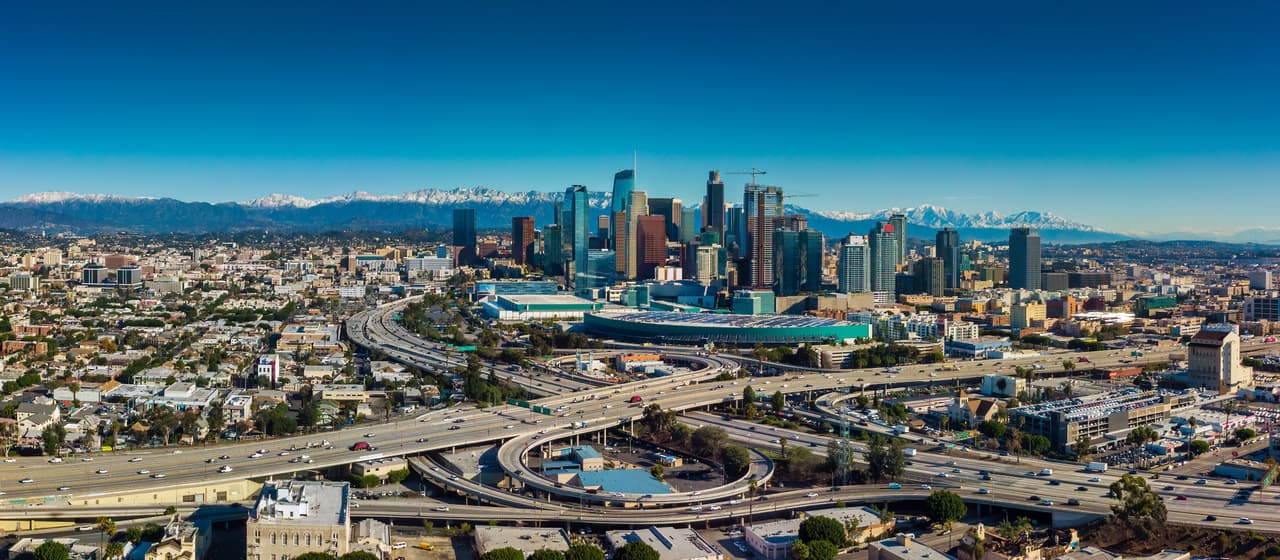 Extended Stay Hotels in Los Angeles
Find flexible-term extended stay hotel rooms in Los Angeles. Fully furnished, access to a kitchen, WiFi, and amenities included.
Top Rated Extended Stay Hotels in Los Angeles
About Los Angeles
Los Angeles is the global center of the entertainment industry. As the West Coast's largest city, Los Angeles attracts a broad range of residents looking for sun, fun, and access to a variety of professional industries. While entertainment and creative industries dominate the scene, there's a growing movement towards financial services, law, hospitality, and a host of other niches. Residents of Los Angeles benefit from a diverse range of neighborhoods that all offer different vibes and amenities. From Venice Beach's laidback cafes to Beverly Hills' glitzy roads and homes, there's something for everyone in LA. There's a reason many of the world's most famous people set up home in Los Angeles. It offers anything you could want. You'll have access to the most popular production studios and movie premieres on the globe. Los Angeles also benefits from boardwalks, amusement parks, world-class beaches, and excellent weather. The Los Angeles culinary scene is also worth boasting about. Restaurants in the area provide diners with access to some of the nation's best restaurants and chefs. From taco trucks to Michelin star restaurants, you can find any food in Los Angeles. After dinner, many Los Angeles visitors and residents also take advantage of the city's famous nightlife venues.
Extended Stay Hotels in Los Angeles
Adventure awaits: the "City of Angels" has much to offer anyone who is willing to brave its high cost of living. Los Angeles is one of America's most popular cities - and for good reason. Perfectly located in close proximity to both mountains and deserts; beaches and forests - living in Los Angeles is a dream for outdoor enthusiasts. Plus, one would be hard-pressed to find a melting pot more diverse than this Southern California hot spot. Cultures from all over the world diverge here - making it a great place to experience new customs, cuisines and languages. There is simply no such thing as a boring day in L.A. Looking for the ultimate in convenience? Extended stay hotels allow potential residents to make reservations - not leases - and offer a flexibility that most apartments and other living situations do not. You won't have to worry about furniture, appliances, utilities or any other necessities - these are all provided for you, allowing your temporary residence in Los Angeles to feel like home! Extended stay hotels are a great option for both business and leisure travelers, as well as anyone who is relocating to Los Angeles, transitioning from military service, or simply working on temporary projects. The safety and security of a hotel - which is usually staffed around the clock - make them a great option for solo travelers. This sector of lodging continues to grow as both the job and housing markets adapt to American's changing priorities and values. To keep up with the increasing demand for flexible and comfortable housing options, extended stay hotels expertly focus on providing elevated communal and residential living to their temporary residents. Many of these hotels now offer additional amenities such as laundry service, free meals and even special events for their guests. Los Angeles offers many great extended stay hotels to choose from in both the city's core neighborhoods and its many suburbs. So if you're looking to make the most of your time in L.A. without breaking the bank, take a look at your extended stay options for a simple solution that is both comfortable and affordable.
Extended Stay Hotel Options in Los Angeles?
For those looking for extended stay hotels in Los Angeles, Anyplace hosts the best properties in the city. All of our hotels in Los Angeles offer amenities such as fast WiFi, comfortable beds, housecleaning, and more with convenient access to the city. And with with all-inclusive rent, your utilities will be taken care of, allowing you to live in Los Angeles at an affordable price. If you'd like to begin the process of moving into your next extended stay hotel, check out our extensive selection today. We partner with hotels in the most popular neighborhoods throughout Los Angeles.
What is Extended Stay Hotels?
Extended stay hotels offer apartment-style living with the flexibility and convenience of a hotel. Your suite will typically include a bedroom, bathroom, living area, desk or workstation, fully equipped kitchen, and a dining or bar area. On-site amenities often include continental breakfast buffets, housekeeping services, laundry rooms, fitness centers, and even grocery delivery services. Extended stay hotels offer additional discounts on monthly stays, making them an affordable option for longer term accommodations. Although extended stay hotels cater primarily to business clients, due to their increased amenities many travelers prefer them for leisure travel as well. Extended stay hotels are the perfect option for anyone looking to experience the comforts of home alongside the convenience and amenities of a hotel.
Things To Do
Los Angeles County Museum of Art
5905 Wilshire Blvd, Los Angeles
OUE Skyspace LA
633 W 5th St #840, Los Angeles
Natural History Museum of Los Angeles County (NHM)
900 W Exposition Blvd, Los Angeles
Petersen Automotive Museum
6060 Wilshire Blvd, Los Angeles
Runyon Canyon Park
2000 N Fuller Ave, Los Angeles
Descanso Gardens
1418 Descanso Dr, La Cañada Flintridge
Los Angeles City Hall
200 N Spring St, Los Angeles
Lake Hollywood Park
3160 Canyon Lake Dr, Los Angeles
Griffith Observatory
2800 E Observatory Rd, Los Angeles