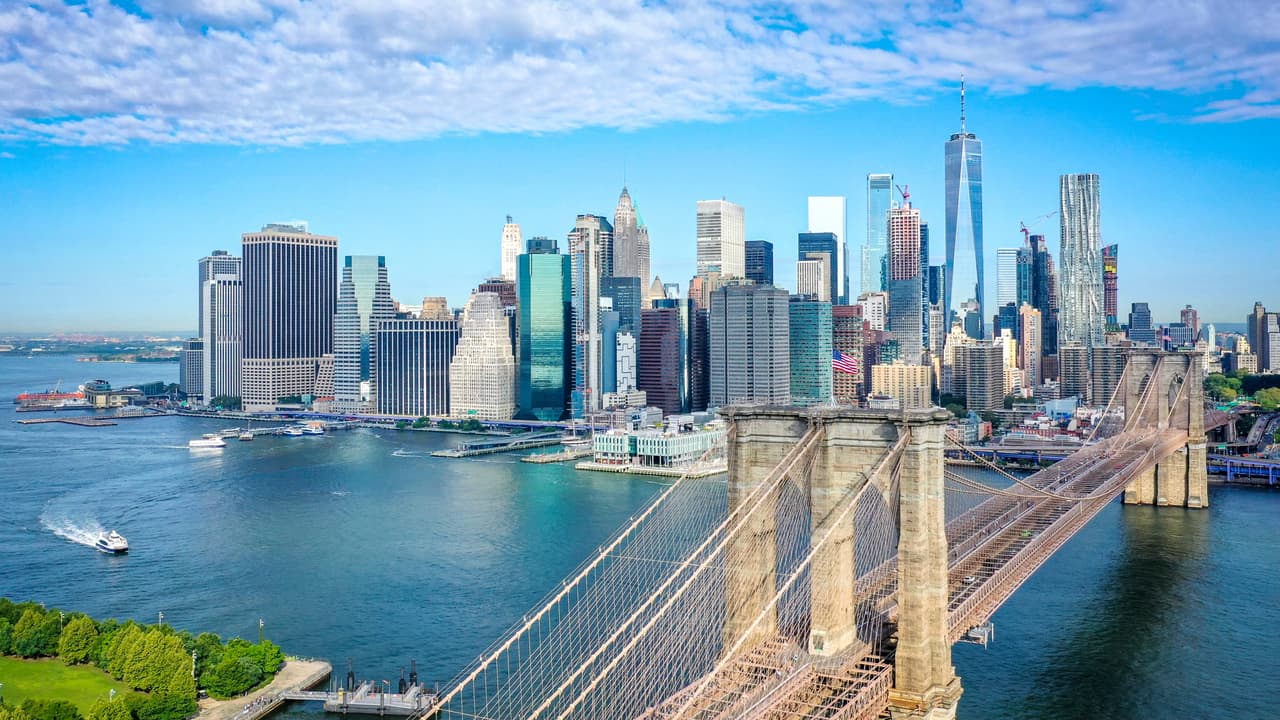 Digital Nomad Housing in New York City - Manhattan
Book an apartment set up for digital nomads in New York City - Manhattan for 30 days or longer. Move-in-ready with an equipped home office.
Find Digital Nomad Housing in New York City - Manhattan
Anyplace offers accommodations built for a work-from-anywhere generation.
New York City - Manhattan
Digital nomad apartments in New York City - Manhattan with an equipped office
Level up your remote work with luxury accommodations that come prepped with an equipped home office and high-speed internet.
Desk setup & high-speed internet
Ultrawide monitor, standing desk, work chair, keyboard, mouse, and gigabit internet.
Video conferencing setup
Webcam, microphone, key light, and collapsible green screen.
Flexible-term & fully furnished
No long-term commitments and move-in-ready accommodations.
About New York City - Manhattan
Manhattan, otherwise dubbed The City, has the richest history out of all of the five boroughs in New York City. America's first president was inaugurated in Manhattan, and the now-administrative center also became the first capital city of America in 1789. The vast area is divided into three parts: Lower, Midtown, and Upper Manhattan. And you'll find numerous different industries spanning the area. The biggest ones? Entertainment and financial sectors. Manhattan, being in the glitzy, exciting, enchanting New York City, encompasses some of the Big Apple's most popular attractions including Times Square, Central Park, and Grand Central Terminal.
What is Digital Nomad Housing?
Let's say you've recently secured a remote job or you're one of the employees who don't have to return from the office, and you've decided you want to live the digital nomad life. Now that you can physically live and work anywhere, where should you go? And is there a way to find housing options that are built specifically for digital nomads and location-independent workers? The answer is yes! As a digital nomad, there are many things to take into consideration when it comes to accommodation. But one thing is of the utmost importance – you need a place that will help cultivate creativity, productivity, and efficiency with your craft. After all, remote work is how you're able to live this life, so you need a solid place to get into your flow state. Now, let's dig into how you can discover housing in Manhattan as a digital nomad.
Digital Nomad Accommodation in New York City - Manhattan
Living in Manhattan, you'll be at the heart of the action. No matter where in the borough you live, you'll be close to world-class dining and entertainment. It has plenty for culture lovers, too, home to some of the most iconic attractions and museums in New York City. And of course, you can't forget about Central Park. As the city's economic heart, Manhattan is also where you'll find many of the city's best coworking spaces. If you like working in coffee shops you'll find plenty of those, too. Being able to maintain a high level of productivity is important as a nomad, and renting a furnished apartment with a home office in Manhattan is a great option to go with. Everything will be set up for you so you just need to arrive in Manhattan with your suitcase, backpack, or laptop and simply plug in and start knocking out your work.
How to Find Housing as a Digital Nomad in New York City - Manhattan
Finding the right accommodation in Manhattan as a new digital nomad can be stressful, and even as a veteran nomad, time-consuming and tedious. It's crucial for any digital nomad though, as the place you temporarily call home will be the one thing to give you a sense of comfort and a chance to relax and unwind after a long day. Luckily, it doesn't need to be complicated – you just need to know where to look. You can browse listings for Manhattan on sites like Craigslist or Apartments.com, although it might take a lot of time (and emails sent to random people) to actually find what you're looking for. Platforms like Airbnb can suffice, but they're more suitable for shorter vacation stays and don't necessarily offer up lodging built for digital nomads and remote workers. We suggest starting with a digital nomad housing platform, like Anyplace. Anyplace is a housing marketplace built for digital nomads and remote workers who travel. It was created by nomads and for nomads, having the most important aspects to thrive, such as a desk in every apartment, reliable and speedy WiFi, and amenities that let you truly live like a local. And because it's a platform built for digital nomads, we know how crucial freedom is for the lifestyle. That's why our properties in Manhattan are available on flexible terms, so you can stay on a month-to-month basis without having to sign a lease.
Anyplace was Built Specifically for Digital Nomads
We're a team of nomads who work and travel, and we know what is needed in an accommodation experience for a successful stay. And we're here to make it really simple—and secure—for you to rent an apartment in Manhattan for 30 days or longer. Here are a few things that set us apart from the pack.
Zero stress
Find a move-in-ready apartment in Manhattan on the website, and then book. No emails, roommate interviews, or complications.
Amazing home office
Never work from the kitchen table again. Our apartments in Manhattan include an equipped home office with a height-adjustable desk, ergonomic chair, widescreen monitor, wireless mouse and keyboard, collapsible green screen, and additional office gear. Just bring your laptop and do your best work.
All-inclusive with high-speed internet
All utilities are included in your apartment and will be set up for you and ready to go. You will have gigabit speed internet, too, perfect for Zoom calls, file sharing, and video streaming.
No landlord
No landlord, no problem. You just need to move in—we handle the rest for you.
No long leases
Forget about ever having to sign a long lease. Our digital nomad rentals in Manhattan are available for 30 days or longer. Stay as long or little as you'd like—down to the day.
Move-in today—or any day
Search for a nomad rental in Manhattan on Anyplace with the exact dates that match your schedule.
Move out or extend your stay
Manage your stay online, so if you realize that you'd like to extend the length of time that you'd like to stay you can do it with a click of a button.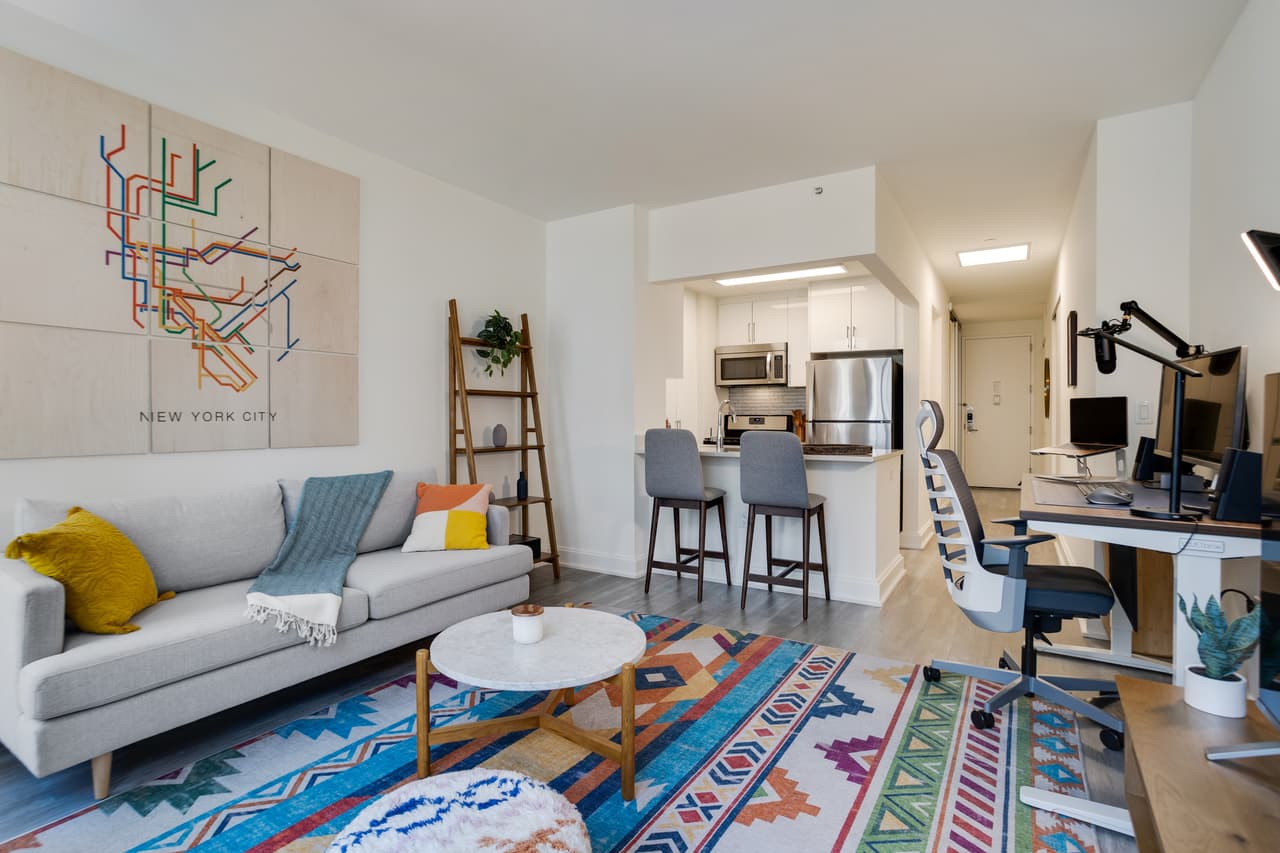 Book A Digital Nomad Rental in New York City - Manhattan Now
Browse rentals designed for digital nomads in New York City - Manhattan that are already set up with furniture, utilities, laundry, a home office, and extra amenities like a pool and gym. All you have to do is reserve online, pay, and move in. And if you like it, you can easily extend your stay online. Forget about endlessly searching on multiple sites and apps to find the ideal spot for you in New York City - Manhattan. Use Anyplace and choose an apartment that matches the dates you need, your budget, and will provide you with the amenities needed for a comfortable stay.