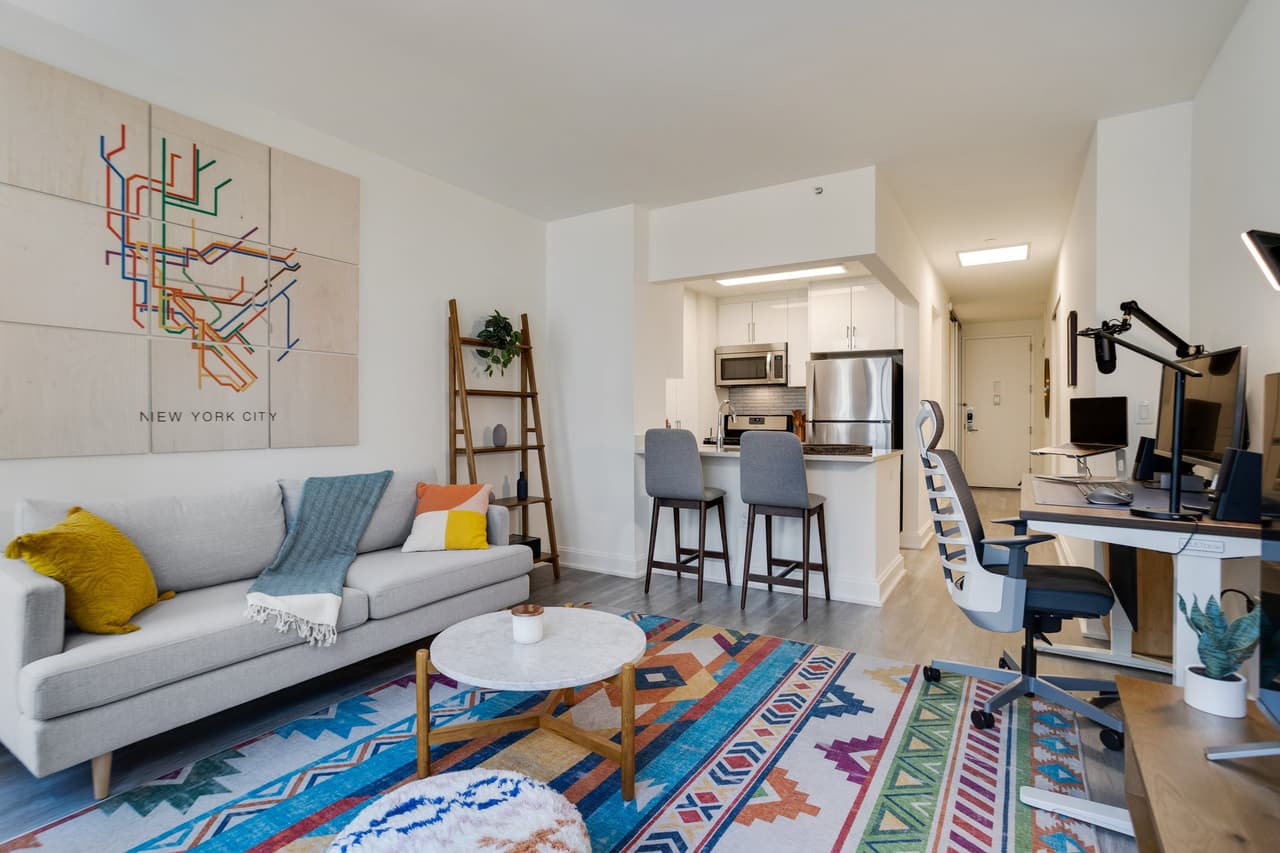 Find Corporate Lease Apartments With Dedicated Workspaces
Find your perfect corporate lease apartment on Anyplace and experience the comfort of home, wherever work takes you.
They rent with us




Luxury Furnished Apartments in the Best Locations
Anyplace offers accommodations built for a work-from-anywhere generation
San Diego

San Francisco

Los Angeles

New York City - Manhattan
What is a corporate lease apartment?
Think of corporate lease apartments like your home away from home. They're perfect for people who need to travel for work but don't want to live in a cramped hotel room for weeks一or months一at a time (I mean, who does?). A corporate lease apartment offers the luxuries of a hotel, but with the space and comfort of your own apartment一it's the best of both worlds!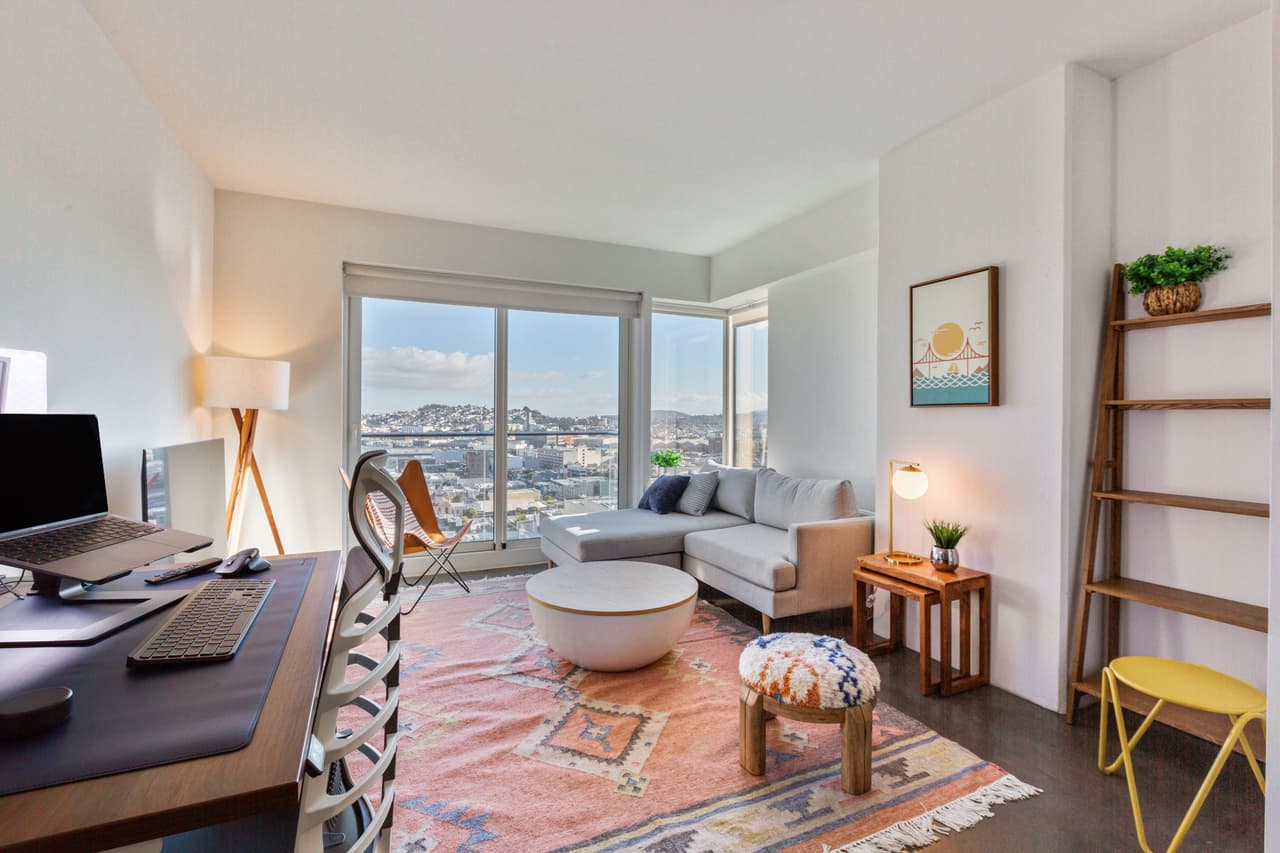 How do corporate lease apartments differ from personal/regular lease apartments?
Regular lease apartments are typically rented out to individuals or families for a longer period of time, often ranging from 6 months to a year or more. These apartments are usually unfurnished or partially furnished, and tenants are responsible for setting up their own utilities and services like cable and internet. Essentially, it's up to you to make the place feel like home. On the other hand, corporate lease apartments are designed for shorter-term stays, usually 30 days or more, and are often fully furnished with all the amenities you need to make it as homely as possible. In addition to furniture and appliances, these apartments often come with extra services like housekeeping, concierge assistance, on-site gym, and more. It's like living in a hotel, but with more space and privacy.
How do corporate lease apartments differ from hotel rooms?
First, let's talk about space. Corporate lease apartments are like your own personal mini-apartment, complete with separate kitchen, living, and dining areas. This means that you have more space to spread out and make yourself at home. On the other hand, hotel rooms are typically smaller and lack separate living spaces, which can make extended stays feel cramped and uncomfortable. And then, there's privacy. Since it's basically your own apartment, you can enjoy a level of privacy that hotels simply can't match. Since a corporate lease apartment is typically equipped with a full, functioning kitchen, you have the option to cook your own meals. This can be a huge money-saver, especially if you're staying for an extended period of time. Hotels, on the other hand, often offer limited food options and can be expensive. Finally, corporate lease apartments often come with all the amenities you could ever want, like fitness centers, swimming pools, and even laundry facilities. Plus, since you're not sharing these amenities with dozens of other guests like you would at a hotel, you can enjoy them at your own pace. No noisy crowd or hard-to-access shared amenities.
What are the benefits of staying in a corporate housing?
Move-in-ready
One of the best things about a corporate lease apartment is that you don't have to worry about furniture and appliances. Pack a suitcase of clothing and personal essentials and you're good to go. Everything is already set up for you: from the fridge and dishwasher to an automatic washing machine, down to a couch, a table lamp, and maybe even an entire entertainment system. Plus, you'll have internet and cable ready for use so you can scratch those off your checklist.
Flexibility
Corporate lease apartments also offer flexibility that other types of accommodation may not. Whether you need to stay for a month or a year, there are options available that would fit your timeline.
Convenience, comfort, and privacy
A corporate housing rental offers a higher level of comfort and privacy than traditional hotels. With a full kitchen, spacious living areas, and separate bedrooms, it's easy to feel at home. Plus, many corporate housing communities offer on-site amenities so you can stay productive and relaxed without even leaving the building.
Added perks
Let's not forget about the added perks that come with a corporate lease apartment. Many providers offer additional services like housekeeping, concierge assistance, and even social events to help you feel part of a community.
Why Book a Corporate Lease Apartment With Anyplace?
Live in style, work in comfort
Anyplace apartments are furnished, luxurious accommodations with spaces built and designed with business travelers and remote workers in mind. Enjoy state-of-the-art workspaces you'll never find in another rental. Our home offices include a height-adjustable desk, ergonomic chair, widescreen monitor, microphone, wireless mouse and keyboard, portable green screen, and more! Even your actual office will have a hard time topping that. Plus, each unit has utilities and high-speed internet set up, and included in one payment, making everything easy and convenient for you.
Premium amenities at your fingertips
It can't be all work and no play, of course! At Anyplace, we believe in work-life balance so we make sure you can relax and unwind after a long day's work. Take advantage of fitness centers, yoga studios, pools, rooftop terraces, recreation lounges, and other premium amenities available in our buildings一you deserve all these and more.
You don't even have to lift a finger
Professional cleaning services are available so you don't need to take care of menial house chores. Instead, you can focus on work and spend time exploring the new place or relaxing at home after work hours.
Stay as you please
With our flexible terms, you can stay as long or as short as you'd like. You don't have to worry about having to sign a long lease. Our corporate lease apartments are available for 30 days or longer, and you can extend your stay at any time.
What people say about Anyplace

4.9
100+ Reviews
"Excellent stay, convenient location. Host guided me around the place when I arrived and made sure everything was set up for me. Work setup was fantastic."
-Campbell
So, what is a corporate rental like with Anyplace?
Unlike any other option for business travelers and remote workers. The corporate lease apartments you'll find on Anyplace offer everything you'll ever need if you're traveling for work. Ready to go on your next adventure?
Sign up and find flexible month-to-month corporate lease rentals on Anyplace.
Find Your Apartment