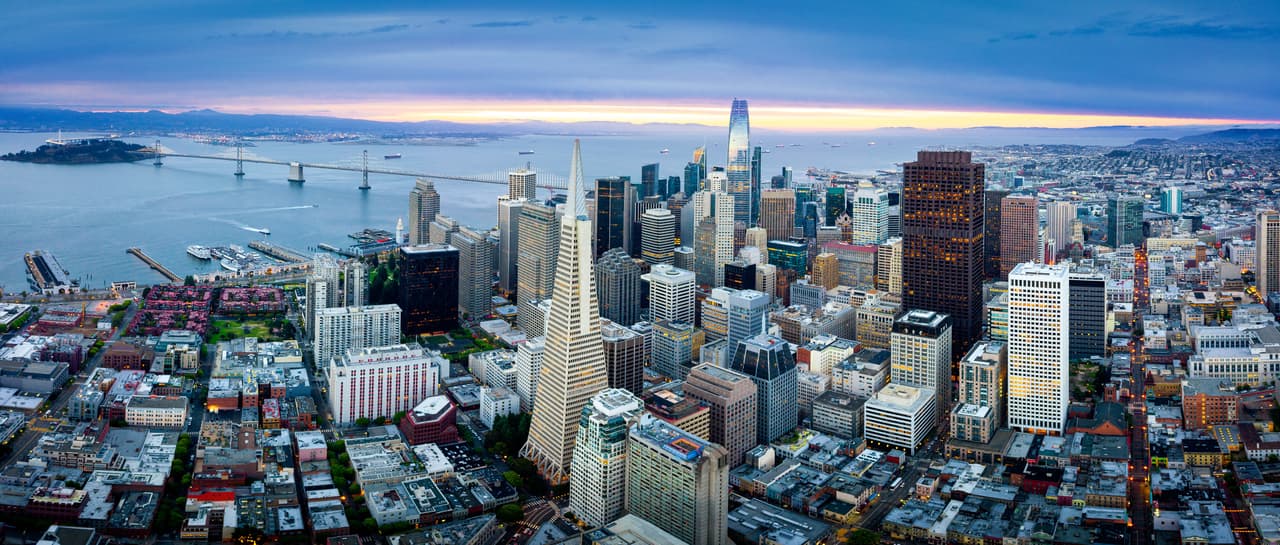 Corporate Housing in San Francisco
Book a corporate apartment rental in San Francisco for 30 days or longer. Move-in-ready with an equipped home office.
Find Corporate Apartment Rentals in San Francisco
Anyplace offers accommodations built for a work-from-anywhere generation.
Corporate rentals in San Francisco with an equipped home office
Level up your remote work with luxury accommodations that come prepped with an equipped home office and high-speed internet.
Desk setup & high-speed internet
Ultrawide monitor, standing desk, work chair, keyboard, mouse, and gigabit internet.
Video conferencing setup
Webcam, microphone, key light, and collapsible green screen.
Flexible-term & fully furnished
No long-term commitments and move-in-ready accommodations.
About San Francisco
Demand for corporate housing in San Francisco is at an all-time high due to an increasing number of businesses establishing their headquarters in The Golden City. Social media companies, tech firms, fashion brands, and more have offices in San Francisco and frequently host conferences for their employees. San Francisco is also ranked as the most expensive U.S. destination for business travelers with skyrocketing hotel, rental car and dining costs. Corporate housing can ease the financial strain by providing temporary apartments in convenient neighborhoods like Bernal Heights, Outer Sunset and Nob Hill. Upscale housing complexes boast premium amenities like in-unit laundry, reliable internet and come completely furnished. Corporate travelers can rest with ease by staying in housing that is close to public transportation, has flexible dates and offers breathtaking views of the San Francisco skyline.
What is Corporate Housing?
In a nutshell, corporate housing is a home away from home. Originally, it was meant to grant business people the chance to stay somewhere comfortable while on a work trip, but now more and more people are using it for short to mid-term stays—or even longer. Some people may refer to corporate housing as corporate apartments, serviced apartments, executive apartments, or temporary housing. Bottom line—they all mean the same thing! When you rent a corporate apartment, room, hotel, or house, your amenities are included. It will be fully furnished, and provide you with the necessities to live comfortably. Let's take a look at corporate housing in San Francisco.
Corporate Housing in San Francisco
Finding quality accommodation in San Francisco for a long business trip or contract can be hard. You need to ensure that the property provides the same level of comfort as a home, so you can feel great while you're there and be productive with your work. Our goal is to make it easy for you to find an amazing place. Really, really easy. All of our corporate housing options in San Francisco are fully furnished apartments that are available for short-term rentals, month-to-month leases, or even long-term stays. The terms are flexible, so you can lengthen your trip at any time, if necessary. Corporate housing on Anyplace is a perfect fit for temporary assignments, relocations, and extended stays. Everything will be set up and waiting for you, including high-speed internet. Just bring your suitcase and move in.
Access the Best Corporate Housing Options in San Francisco
Anyplace simplifies the process of finding the perfect corporate housing option for you in San Francisco. Every apartment on our platform is available for 30 days or longer, giving you the flexibility to stay as short or as long as you want. And all properties on our website are fully furnished with utilities and high-speed WiFi already set up, too, allowing you to enjoy a hassle-free experience. You just have to arrive. You'll find plenty of corporate apartments in San Francisco on Anyplace. You can explore a variety of choices online and apply for a spot that fits your specific needs. With high-quality, trusted properties, you won't waste time and money looking for the right spot to call home for your business trip. Stays longer than 30 days are totally optional, giving you the freedom to live monthly in any part of San Francisco. We are firm believers in providing a housing experience that's easy to manage and works for your schedule and needs. Just select the dates you need, the specific apartment, and book with the click of a button.
Why Anyplace is an Easy Choice for Your Corporate Housing
When it comes to finding corporate housing in San Francisco, there are several strategic factors to consider—budget, amenities included, the move-in date, the duration of the stay, and the lease terms. Some people end up using websites like Craigslist for their housing needs, but it's not a simple process and can be extremely time-consuming. With Anyplace, you can stop frantically searching multiple websites for the most flexible living option by simply going to the website and choosing a corporate housing option stay that matches your lifestyle and provides you with the best amenities at the price you want. Here are a few advantages when looking at corporate housing for San Francisco on Anyplace vs. other websites.
Zero stress
Find a corporate apartment in San Francisco on the website, and then book. No emails, roommate interviews, or complications.
Fully equipped home office
Never work from the kitchen table again. Our corporate rentals in San Francisco include a workspace equipped with useful office gear. Just bring your laptop and do your best work.
All-inclusive with high-speed internet
All utilities and gigabit speed WiFi are included in your corporate apartment and will be set up for you and ready to go.
Stocked kitchen
A full kitchen is essential while on a corporate assignment. We make it easy for you to whip up your favorite dishes with a kitchen prepped with appliances, cookware, dinnerware, glassware, and more.
No long leases
Forget about ever having to sign a long lease. Our corporate apartments in San Francisco are available for 30 days or longer. Stay as long or little as you'd like—down to the day.
Move-in today—or any day
Search for a San Francisco corporate rental on Anyplace with the exact dates that match your schedule.
Move out or extend your stay
Manage your stay online, so if you realize that you'd like to extend the length of time that you'd like to stay in the apartment you can do it with a click of a button.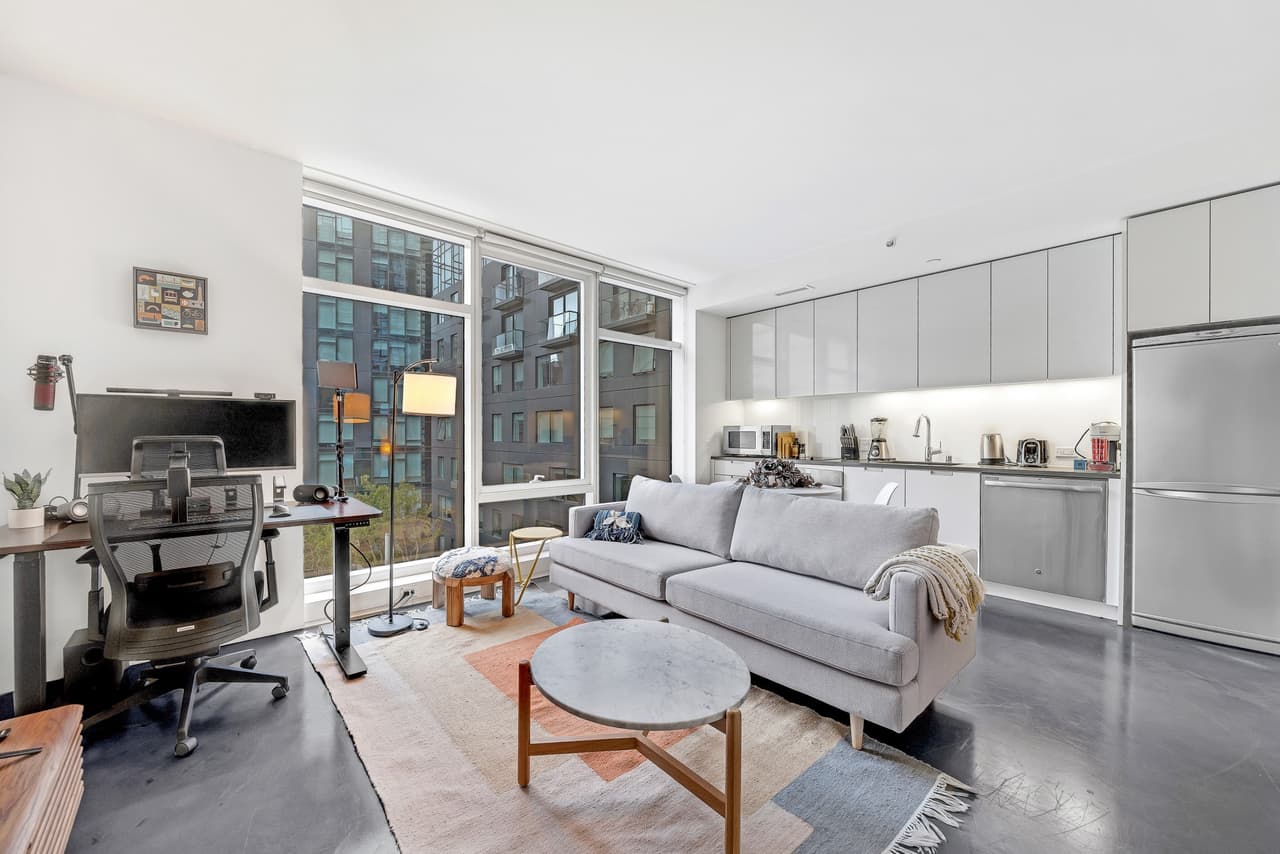 Book A Corporate Rental in San Francisco Now
Browse corporate apartment rentals in San Francisco that are already set up with furniture, utilities, laundry, a home office, and extra amenities like a pool and gym. All you have to do is reserve online, pay, and move in. And if you like it, you can easily extend your stay online. Forget about endlessly searching on multiple sites and apps to find the ideal spot for you in San Francisco. Use Anyplace and choose a corporate rental that matches the dates you need, your budget, and will provide you with the amenities needed for a comfortable stay.