Workation Guide: San Diego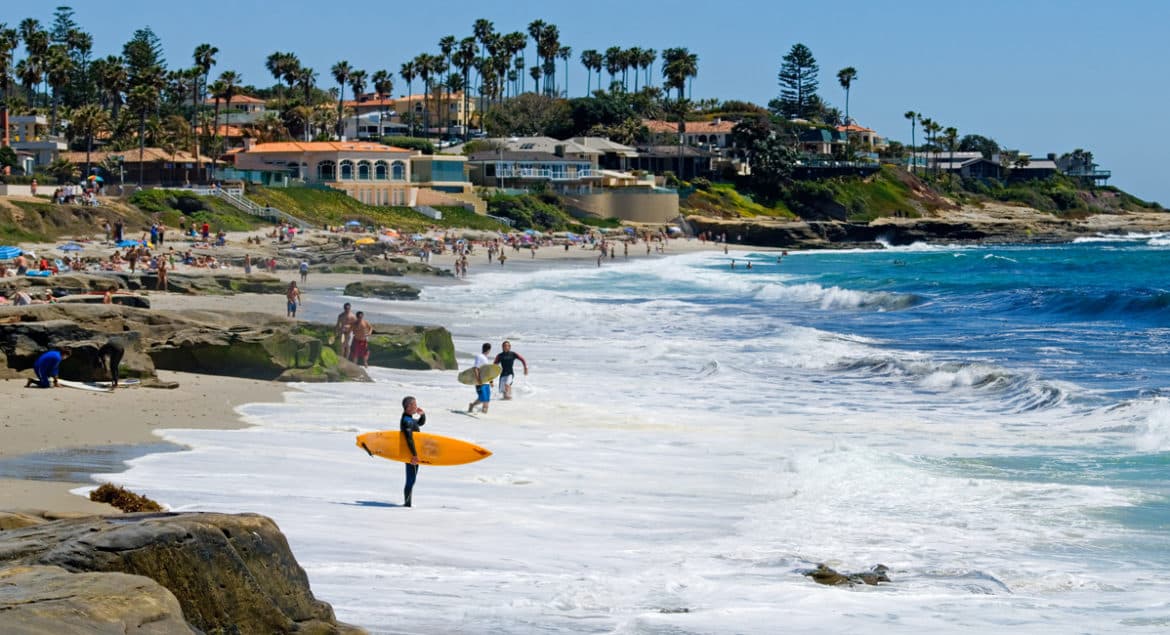 Workations are an increasingly popular way to take a break from the office while still getting your work done. If you feel stuck in a rut but you're able to work remotely, then a change of scene might be exactly what you need. A workation allows you to combine work and leisure in a new destination, where you can either network or just enjoy some breathing space.
Anyplace was created to facilitate workations. You'll have access to a flexible-term apartment in a beautiful destination, which is also conveniently set up with a top-class and fully-equipped office space. One of the first cities we launched in was San Diego.
Here's what you can expect from a San Diego workation.
Why Take a Workation to San Diego?
With a population of over 1.4 million, San Diego is a busy and bustling city full of opportunities. Home of Nixon, Knockaround Sunglasses, and Rusty Surfboards, it's an entrepreneurial hotbed for remote workers who know how to kick back and relax. Many nomads come to San Diego for its mild weather conditions and work-life balance.
In the summer, temperatures stay in the pleasantly warm range of 70°F-85°F. The sun will keep you in positive spirits, helping you beat stress without becoming overwhelmingly hot. During your breaks, blow off steam through surfing and other beach activities.
If you work in the tech industry, then San Diego is the best place to be right now. It's America's 7th best tech city and home to 108 AI unicorns. The industry is growing quickly so get there now to be part of San Diego's tech boom. A stone's throw from the Mexico border, you can easily extend your workation to south of the border.
Where to Work in San Diego
Before you book your workation, it's important to find out where you can work from. Will you work from your apartment, a coffee shop, or a coworking space? Fortunately, while in San Diego, you won't have any shortage of options. There are many places you could call your office while you're in town.
Given the already vibrant tech startup scene, it's worth looking into coworking spaces. There are plenty to choose from but the most highly rated include WeWork, Union Cowork, and Ivy Street Coworking. These can provide you with a dedicated workspace in which you can be your most productive and network with other remote workers.
If you don't want to pay for office space, then many coffee shops are well-equipped for remote workers. Lestat's Coffee House is particularly popular due to having plenty of space, a chilled-out vibe, and the fact that it's open 24/7. Places like Crushed and Caffe Calabria are also popular with remote workers and students. Alternatively, find a San Diego apartment on Anyplace Select with an equipped office, so that you can get to work without leaving the house.
Best San Diego Neighborhoods
Most of San Diego offers clean, safe, and happy living. However, it's important to research the neighborhoods before you begin your workation, just to make sure you're picking an area that matches your vibe. For instance, if you want the best of California beach life, then head to Solana Beach, Encinitas, or Oceanside. These are home to laid-back and friendly surfers.
If you're the outdoors type and want to be in touch with nature, then Carmel Valley has some spectacular views. It's a high-end neighborhood by the highway for easy travel out of the city. San Marcos is a city made for lovers of the great outdoors that's still within commuting distance of downtown San Diego.
For independent businesses, check out South Park. This is a diverse and welcoming community that sits just outside of downtown San Diego. With a strong commitment to independence and localism, this is a great place to start a business of your own. If arts and culture is more your scene, though, then look for workation properties in La Jolla.
Workation Living Costs
Depending on your income level, living costs could impact where you choose to take a workation. San Diego is a wonderful place to live if you can afford it but it's important to note that it's certainly not the cheapest place in the USA.
A one-bedroom apartment in San Diego costs an average of just under $1500 a month. Compare that to the national average of just $1,048. Bear this in mind and accept that living in San Diego may mean settling for a smaller apartment or downscaling to a studio.
The great thing about workations is that they're temporary. Even if you do end up in a slightly cramped space, at least you'll know that it won't last long. This is a chance just to soak in the San Diego startup scene and enjoy life in a new location.
Anyplace Select: Apartments in San Diego with an Equipped Office
Want to make sure you can be productive when you're in San Diego? Rent a furnished apartment in San Diego designed for remote workers with a fully-equipped workspace and gigabit internet. The home office includes an ultra-wide monitor, standing desk, work chair, keyboard, mouse, webcam, microphone, key light, and collapsible green screen. You don't have to get locked into a long lease, either – rent for 30 days or longer.
Learn more about Anyplace Select
Fun and Entertainment in San Diego
Workations aren't all about work. Make sure you visit a place with plenty of activities you can do in your free time. Given its southern, coastal location, entertainment in San Diego revolves around the ocean. It's popular with surfers so if you've never hit the waves, now is a great time to try it out. You can also try sailing, cruising, and whale watching.
Beyond the beaches, San Diego Zoo is home to the largest koala colony outside of Australia. This is an amazing conservation project but you can also see wild birds and seals by visiting La Jolla Cove, Sunset Cliffs, or any other amazing San Diego park. If you prefer culture and history, then check out the Gaslamp Museum, the Mormon Battalion, and the Mt. Soledad National Veterans Memorial.
San Diego is an up-and-coming tech startup city that's only becoming more exciting every year. If you're looking for a workation that perfectly blends business and pleasure, then there aren't many better options. While it's not the cheapest destination, you can easily find a modest studio apartment to call your home for a few weeks. If you want the ultimate home office setup in San Diego, then find the perfect workation home on Anyplace Select.
---
Where to next? Find flexible month-to-month rentals across the globe on Anyplace.