What is an Extended Stay Hotel? [Amenities, Pros & Cons and More]
Before I took off for several months of traveling, during my research period I heard tell of the term, "Extended Hotel Stay." Initially, it appealed to me, as I am a lover of hotels to the point where I am forced to anxiously distract myself as checkout hour approaches.
Alas, I didn't wind up utilizing this amazing resource in the beginning because I really wasn't sure where I wanted to go or for how long, and ultimately I figured I would be moving around too often to take advantage of it.
Boy, do I regret it!
Now that I am approaching 3-months of life as a digital nomad, I am starting to see the amazing benefits of what extended hotel stays can offer. Not only do you have privacy and amenities that other housing options may not afford, but you can take advantage of discounted rates too—for as short of a time as one week or for as long as several months.
So, what exactly is an extended hotel stay and who is it good for and where do you find one? Fret not! Here are the answers to your questions, and more.
What is an Extended Stay Hotel?
In the simplest of terms, an extended stay hotel offers a private furnished room at an establishment that typically has amenities such as a kitchen, WiFi, and sometimes even a cleaning service. The room can be rented out for a discounted weekly or monthly rate. In most cases, the longer you stay, the better the rate. And more than likely, there are no contracts necessary, which is a definite boon.
There are a variety of different extended stay accommodation styles, ranging from (to put it bluntly) super cheap to very luxurious. You'll find them in a variety of locations as well, ranging from major metropolitan cities to more remote places.
Each option will come with its own set of amenities, perks, and leasing options.
Pros of Extended Stay Hotels
Basic amenities (ie., water, gas, kitchen, WiFi.)
Furnishings, so you don't have to worry about anything besides showing up with your luggage.
There are often no contracts or long-term obligations. You pay, you move in.
You have time to get to know a place, whether you're moving to a new location long term, or visiting a new city temporarily, having a singular place to call "home" gives you time for exploration.
Generally, hotels are conveniently located to fit their guest's needs.
Extended stay hotels are budget-friendly.
Cons of Extended Stay Hotels
Space will likely be smaller than a standard apartment.
There may not be a lot of "pizazz" in your accommodations.
Some amenities, like a kitchen, might be limited.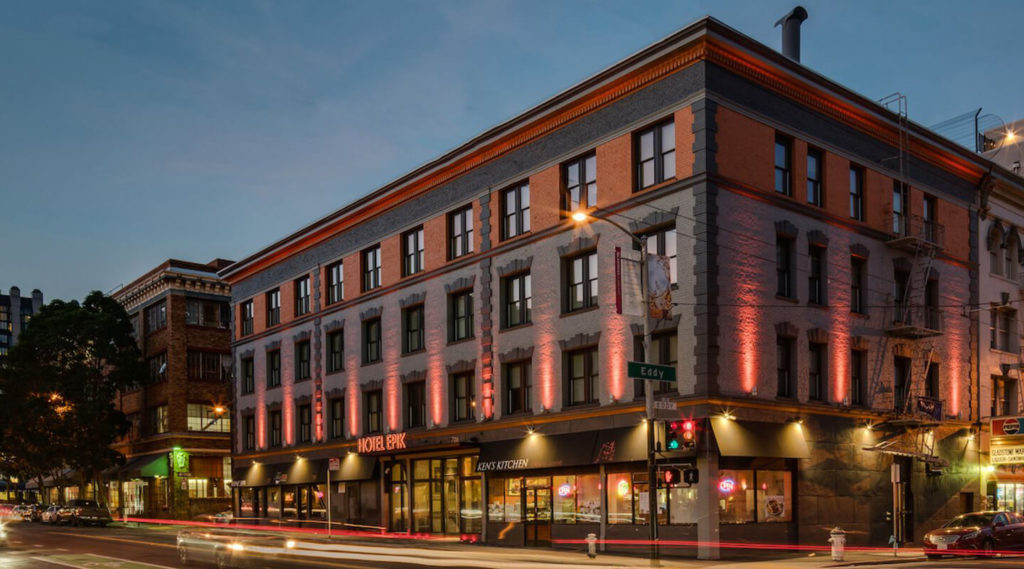 Who Should Consider an Extended Stay Hotel?
When I had initially looked into getting an extended hotel room, I didn't realize the number of people who could benefit from this housing option. Let's get into the details.
Professionals
Extended stay hotels are great for professionals in various industries who are away from home for several weeks or longer.
Business trips: Corporate business, project work, short-term assignments, and market/location visits
Government work: Legislators, campaign professionals, contractors, and policy advocates that travel often
Life Changes
Extended stay hotels are a solid choice for those moving across town or across the country or making a new or temporary home. And if you're still sorting out logistics—like what neighborhood you want to live in, or if you haven't found a job yet—an extended stay hotel could be for you.
Moving and relocating: Extended stay hotels make life easy while between homes.
Medical travel: For those working as a traveling health professional (like a traveling nurse), or those who are receiving care away from home.
Renovations and repairs: Those who need a place to stay while having repairs or renovations completed.
Long-Term Travel and Vacations
The comforts and amenities of an extended stay hotel are quite nice for those exploring new locations, and for vacations or seasonal travel.
Digital nomads: Those who can work remotely and want to see new places.
Exploring: If you're making a change in your life and would like to take some commitment-free time to explore a new location.
Seasonal travel: For people who like to chase a specific season or weather type (like warm, sunny beaches in the winter!).
Vacations: Can be an extremely affordable option if you plan to stay in a city for weeks or longer.
Sabbaticals: Professors and teachers on sabbaticals.
Education and Continued Learning
For those pursuing educations or dedicated to learning new skills, extended stay hotels provide a suitable alternative to other types of housing.
College: Off-campus housing for students of all ages.
Ongoing studies: Course work, training, continuing education, and higher education that takes place in a particular location away from home.
Corporate training: Professional development, skill development, and training and learning for work.
Where Can I Find an Extended Hotel Stay? 
Resources for finding the best extended stay hotels are growing every day. Now, many different hotels, motels, etc., offer discounted rates for long-term stays. You can find a plethora of them on Anyplace, where the rates have already been negotiated down for extended stays. All you have to do is choose your location, room, and apply. You can also inquire about discounted rates at your favorite hotels directly, but they might not allow for lengthy accommodations.
➡️ ➡️ ➡️ Find extended stay hotels in cities around the world 🌎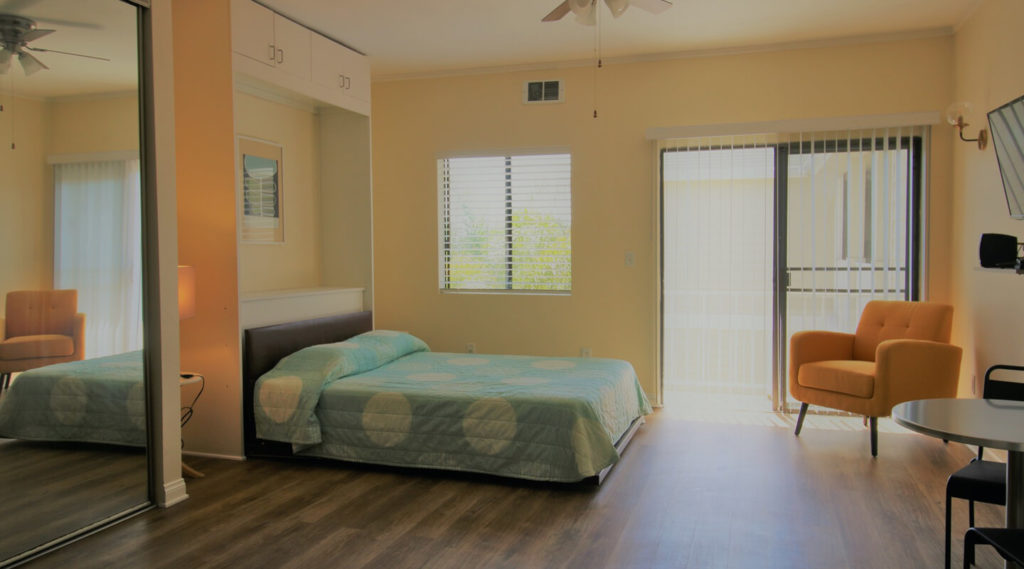 Tips for Finding the Best Extended Stay Hotel
Reviews, reviews, reviews: I always leave them because I always read them. Don't just book blindly. Read what other people have said about the place.
Look up the location: Then, figure out how you can get from your location to the places you'll want or need to go. Then, look up the nearest grocery store, airport, transit, restaurants, city center, etc. Try and find out if the neighborhood is known for being safe or not. If you're staying at a place for a long period of time, you don't want to wind up getting stuck in the boonies.
Make sure you know (and can honor) the "House Rules:" For instance, if there's a shared kitchen in the extended stay hotel, you might be required to take care of your own dishes. Or, some might have a cleaning service that takes care of it for you. Some places may have designated smoking areas, etc. Just make sure you're not blindsided.
Should You Try an Extended Stay Hotel?
As a frequent traveler, I find myself bending over backward to find the best and most affordable places to stay. I've jumped from apartment to hostel to hotel every few nights or weeks, and you know what I found? Moving around so frequently is exhausting and can actually be more expensive than locking in a place longer-term, especially if you'll be in a location for a while.
Choosing an extended hotel can give you comfort, amenities, privacy, and consistency that should make you feel at home. And, it's a good housing option for people in a variety of situations—whether it's related to a profession, academic/skill development, relocation/moving or even for pleasure.
👉 Find affordable extended stay hotels around the globe 🌎 🏨
---
Where to next? Find flexible month-to-month rentals across the globe on Anyplace.
extended stay hotel
extended stays
long term hotels
short-term rentals
You may also like