Wanderlust Wednesday: Glasgow, Athens, Seattle
Take a moment to close your eyes and imagine your next travel destination.
Where are you? Sitting outside at a cafe in Paris on a sunny day, sipping on a glass of wine? Dancing amid flashes of neon lights at some festival on a beach in Thailand? Wading in the ocean on a beach in Southern California? Or, exploring a remote, unspoiled corner of the planet? 
Wherever you might be in that dream, it's most likely anywhere but here: in your pajamas, on your couch, bored in the house waiting impatiently for this global pandemic to fizzle out. 
If you can't visualize your next destination, no worries—let our Wanderlust Wednesday series help ignite some sort of travel-related epiphany. Where will we guide you to this week? Let's go to Athens, Seattle, and Glasgow!
Glasgow, Scotland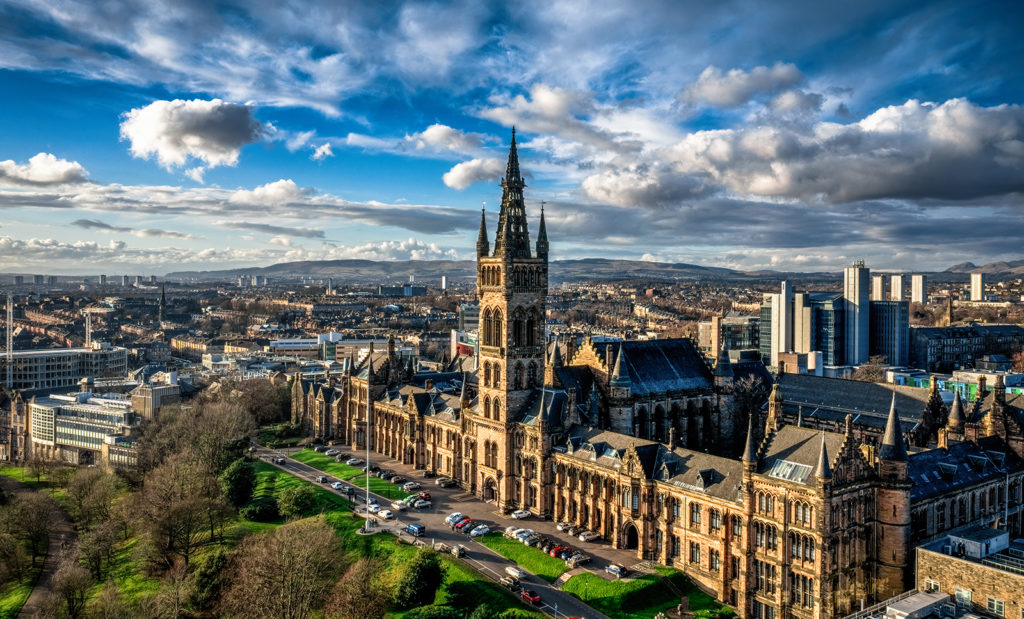 Glasgow, Scotland is so friendly it refuses to leave anyone or anything out! As soon as you step into the city, an aura of cheerfulness, charm, and straight-up fun will envelop you. But your love for Glasgow will only grow once you begin to wander and explore. 
The towering long-standing palaces and magnificent architecture will act as stunning backdrops in your Instagram photos, the vast green parks emulating the freedom and innocence of the countryside will give you a chance to refresh and chill, and when the sun melts into Earth's floor, pint after pint and laughter after laughter will keep you in the present moment and carry you deep into the night.
Glasgow may not have a big population, but that doesn't stop the Scottish city from exploding with a fun-loving, bigger-than-life attitude.
What time of year should you visit Glasgow?
It's best to visit Glasgow during the spring and summer months when the weather is best (March to August). Expect to experience hours and hours of daylight in the summer, too. And don't forget to bring a raincoat. It may be summer, but there's almost always a chance of some downpour.
If you were to do one thing in Glasgow, what should you do?
This may seem super weird, but it's so worth it: go to the cemetery. Keep in mind that it's not just any cemetery, it's The Necropolis, one of the most stunning and most significant graveyards in all of Europe. It's even more incredible if you end up there on a sunny day. But if walking through gravestones isn't your thing, go to the Glasgow Cathedral—one of the lone standing medieval cathedrals in the United Kingdom.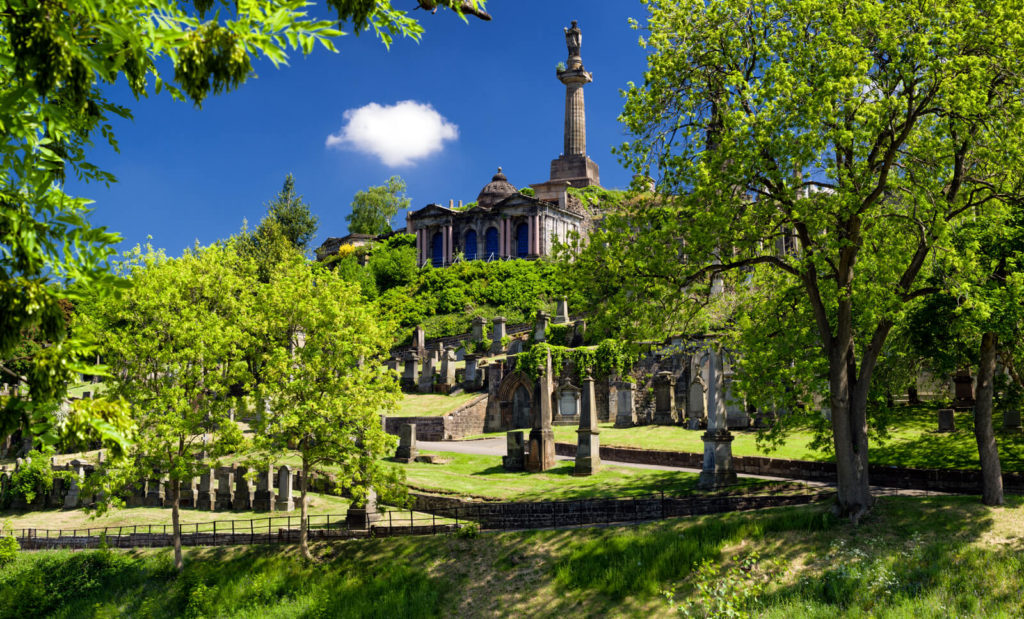 How about some signature dishes?
Not into Haggis? Why not go for a Scottish Breakfast instead? Eggs, bacon, grilled tomatoes, mushrooms, toast, tattie scones (made of potatoes), baked beans, and black pudding (a sausage made of oatmeal mixed with pork blood and some spices—it may sound weird, but if you're Glasgow, you'll have to try it) will fill your plate.
Vegans will be happy to know that they'll find a plethora of restaurants suiting their diet needs, too. And hey, at least they won't have to try black pudding (go ahead, Google it).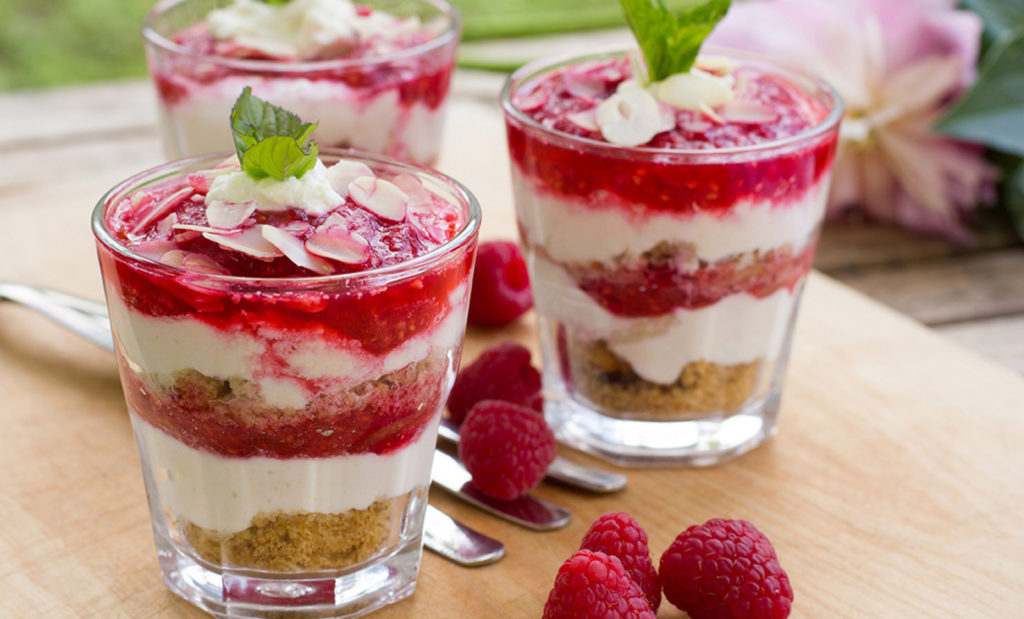 How about something sweet? This light dessert shown above will leave you satisfied and smacking your lips: Cranachan. The dish usually consists of raspberries, honey, whip cream, oats, and if you're feeling really Scottish, add a drop or two of Scotch on top.
Looking to stay for a while?
Can't get enough of Glasgow and want to stay for a while, but can't find a decent place to live? Don't worry. We've got you. This trendy one-bedroom apartment in Merchant City can hold up to four people—and the price of $1,121 per 30 days will remain the same, whether one person stays or four!
This lovely apartment comes with a fully equipped kitchen, weekly housekeeping, one sofa bed, one queen bed, private bathroom, WiFi, and onsite laundry facilities.
What's the WiFi like?
The WiFi, on average, runs at 23Mbps. You can also find free WiFi all over city center.
Is it easy to get a visa?
It depends where you're from! Citizens from a number of countries can obtain a visa on arrival and can stay up for six months. Some of these countries include America, Canada, New Zealand, Australia, and Mexico. However, citizens from China, India, South Africa, to name a few, will have to apply before arrival.
Athens, Greece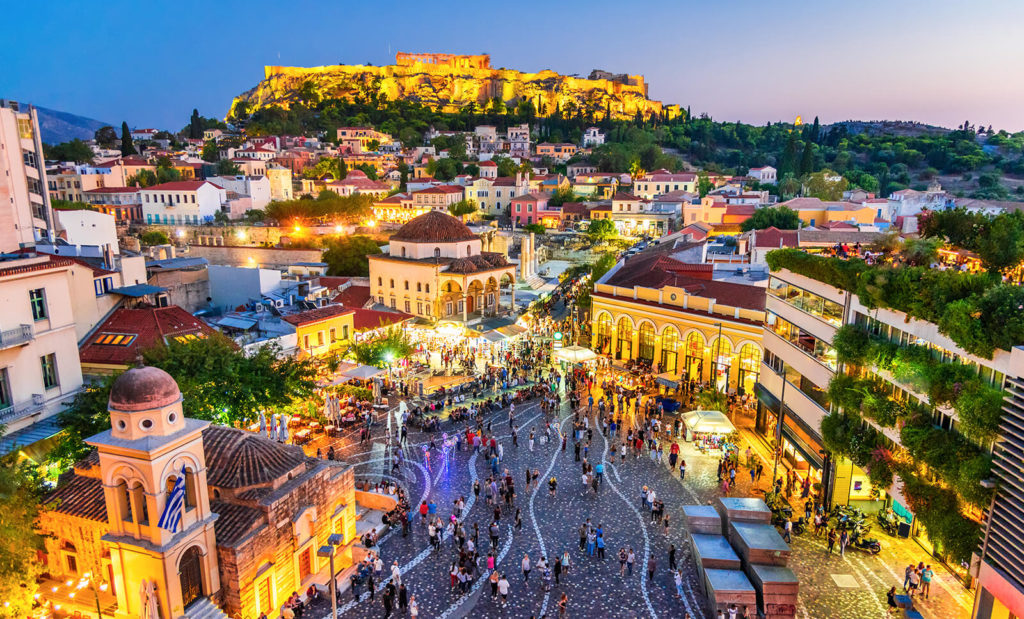 When Lonely Planet ranks Athens as Best in Travel 2020, you know it's a city worth visiting. Unfortunately, we may have to wait until 2021 to marvel at the expansive Acropolis, Parthenon, Agora, and other ancient ruins dotting Athens. The beautiful city explodes with a history harking back to the 5th century—exploring the depths of Athens will have you feeling like you're on a whimsical time-traveling extravaganza. 
Amid the historic masterpieces, Athens bursts with inviting, entertaining creative energy. Your city stroll will take you by stunning street art and to unexpected performances—you'll definitely be tempted to buy a ticket to a random art show, so be sure to leave time in your schedule for spontaneity!
What time of year should you visit Athens?
It's best to visit Athens during the spring (March to May) or autumn (September to November) when the weather is pleasant. Expect to encounter fewer crowds and cheaper prices during these months—it's a win-win situation!
If you were to do one thing in Athens, what should you do?
The number of ancient ruins spanning Athens will keep your jaw in a dropped state for days, but if you were to see one historic masterpiece, go to the Acropolis. This sprawling landmark, which was built in 447 BC, will not disappoint. Looking for a second monument to check out? Consider going to the Temple of Athena Nike!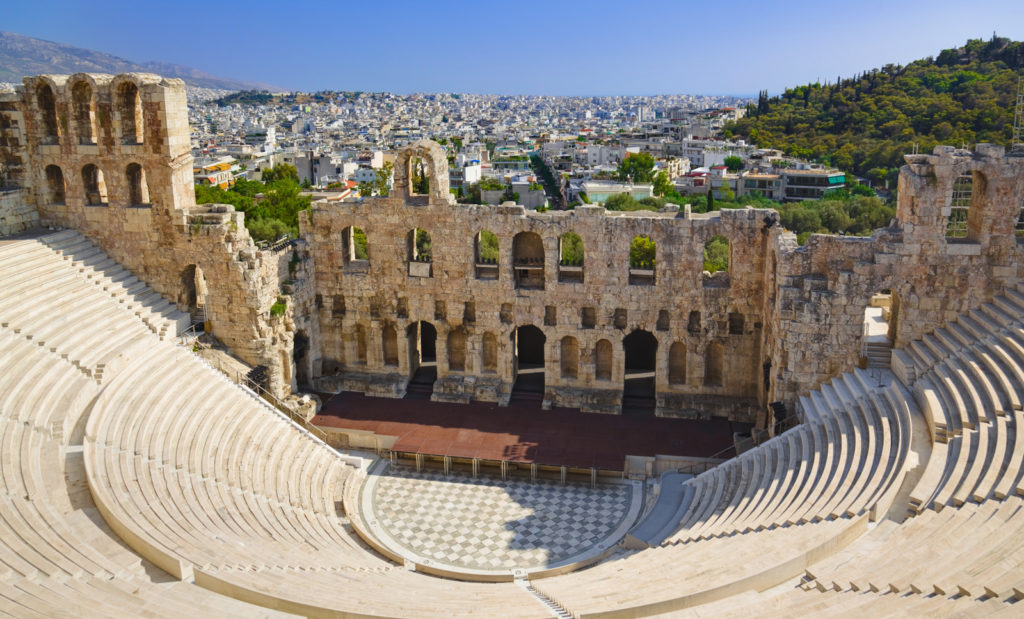 How about some signature dishes?
One of the best ways to discover the most beloved dishes in a city or country? By going to street vendors! More often than not, street food creatively fuses signature flavors with unique twists. Therefore, when you find yourself strolling through the avenues of Athens, be sure to try out a gyro, one of the most well-known street food concoctions.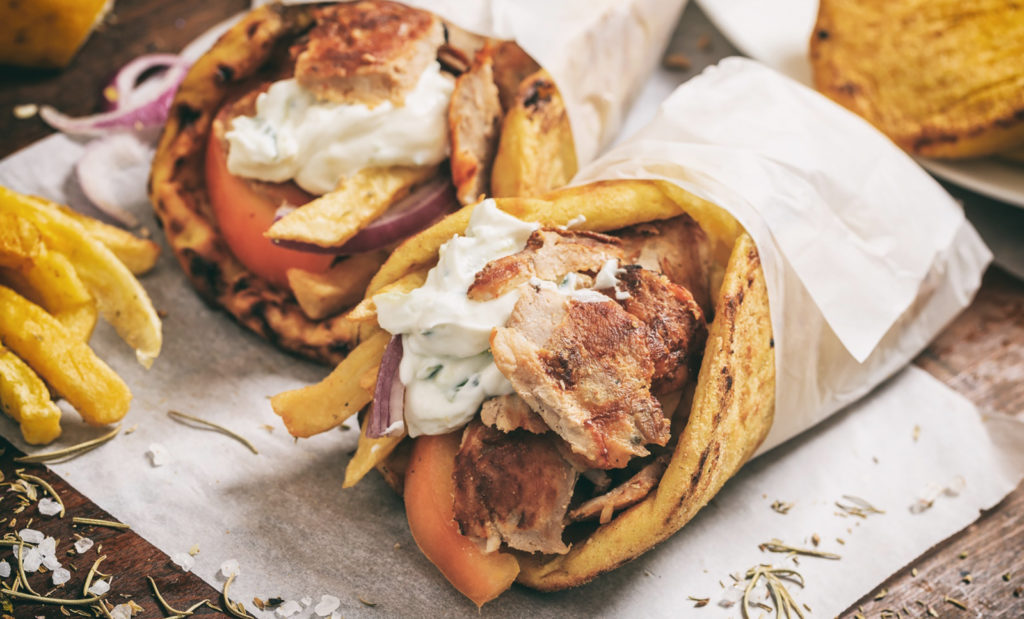 This dish packs your choice of meat (chicken, pork, lamb, beef) along with tzatziki and some vegetables into pita bread. Only one word can describe gyros: yummy (hopefully, reading this word didn't force your mind to play Justin Bieber's song "Yummy" over and over). 
Craving a little sugar? When most of us think of Greece's signature dessert, Baklava likely comes to mind first. But I would suggest trying out Galaktoboureko, too. This delicious pastry comes with a rich custard filling (again: cue the Bieber song).
Looking to stay for a while?
Want to look at the ancient ruins blanketing Athens for a little longer? We've got the perfect place for you—one that only requires you to stay for a minimum of 30 days: Athens Greens Apartments. 
This building comes with a variety of rooms that can fit up to two to six guests. Apartment 1, which comes with two twin beds, a private bathroom, a TV, and kitchen amenities, costs just $1,578 per month (you can split this between two people). Whereas, another space, Apartment 5, comes with the same amenities, can hold six people, and costs $3,681 a month (you can split this between six people).
Guests can also use the communal garden!
What's the WiFi like?
The internet runs at a pretty decent speed: 12Mbps. You can also find a decent amount of free WiFi around the city!
Is it easy to get a visa?
Greece is within the Schengen area, so citizens from certain countries can enter for 90 days within a 180-day period.
Seattle, USA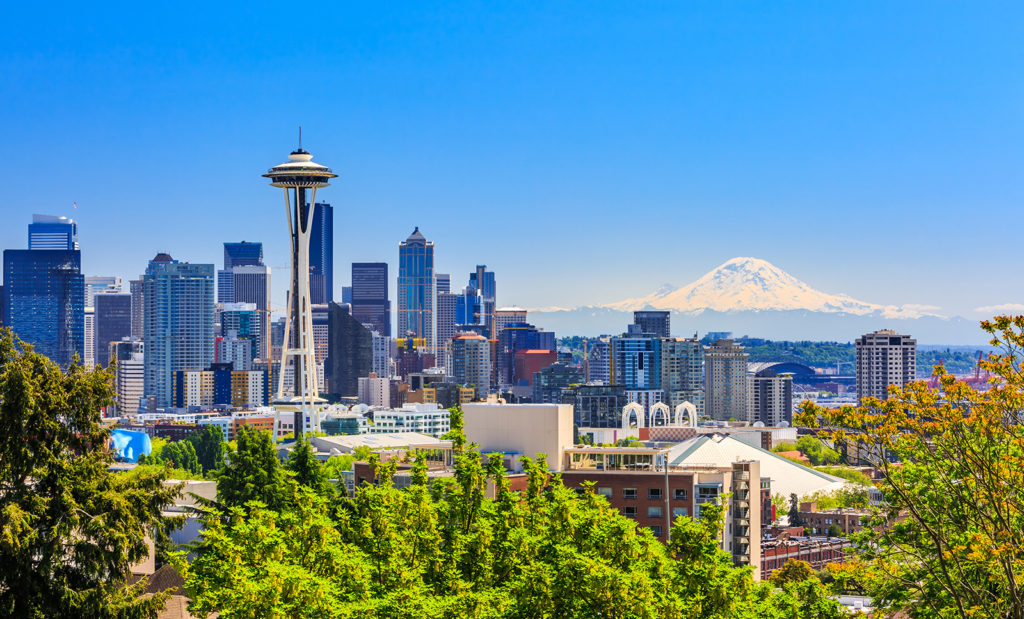 The essence and atmosphere circling Seattle can be summed with these words: trendy, ever-evolving, innovative, contemporary, and strange (the good, intriguing weird). 
Seattle buzzes with thriving micro-businesses that attract hip, artsy, young folk: breweries, coffee shops, and book stores that have managed to stay alive despite the rise of Kindles and online purchases.
Some may view Seattle as a bustling, modern, go-go-go city, but the innovative quirks sprinkled throughout the various avenues injects the metropolis with a dose of a character and personality—the infectious kind.
What time of year should you visit Seattle?
Go to Seattle in either May, June, September, or October! During the summer, tourists tend to flood the area.
If you were to do one thing in Seattle, what should you do?
You can find the best example of Seattle's likable character at Pike Place Market, where colorful local goods and vibes will envelop you. And hey, they throw fish there—how fun is that!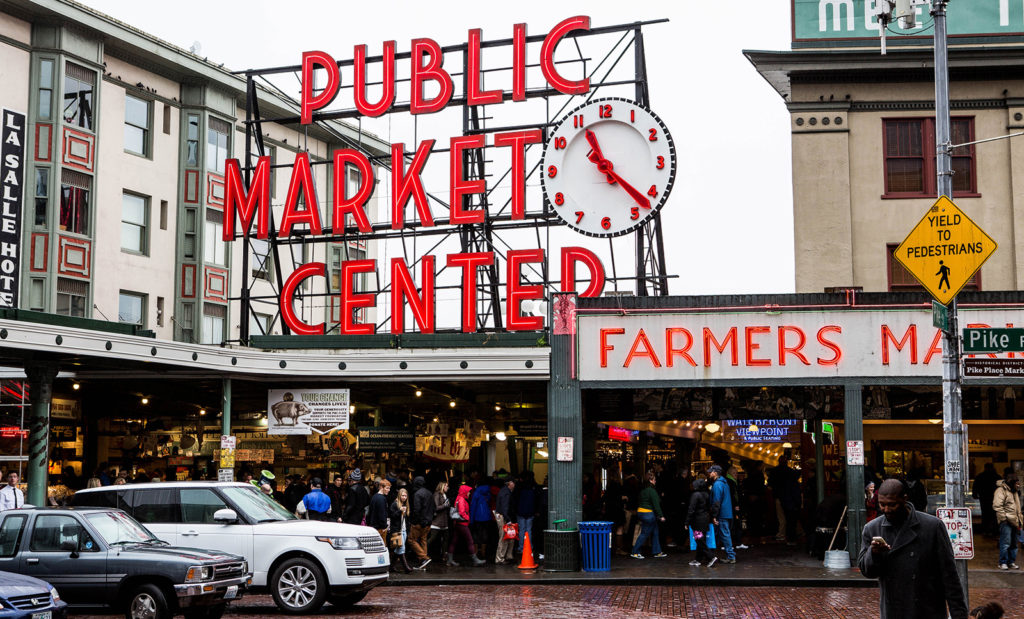 Expect to spend hours wandering through the various crafts, retro shops, fish markets (as mentioned), vibrant spreads of produce, and other unique and tasty delights. You may encounter crowds in the afternoon, but the sound of the gifted buskers will take your mind off the number of people around you and send your mind into a state of bliss.
How about some signature dishes?
You'll get a sense for Seattle's creative side when you enjoy their smorgasbord of experimental dishes, which usually involve some sort of tasteful local spin on popular meals. For example, the hot dog, an American classic, in Seattle comes with cream cheese. Yes, you read that's right… cream cheese!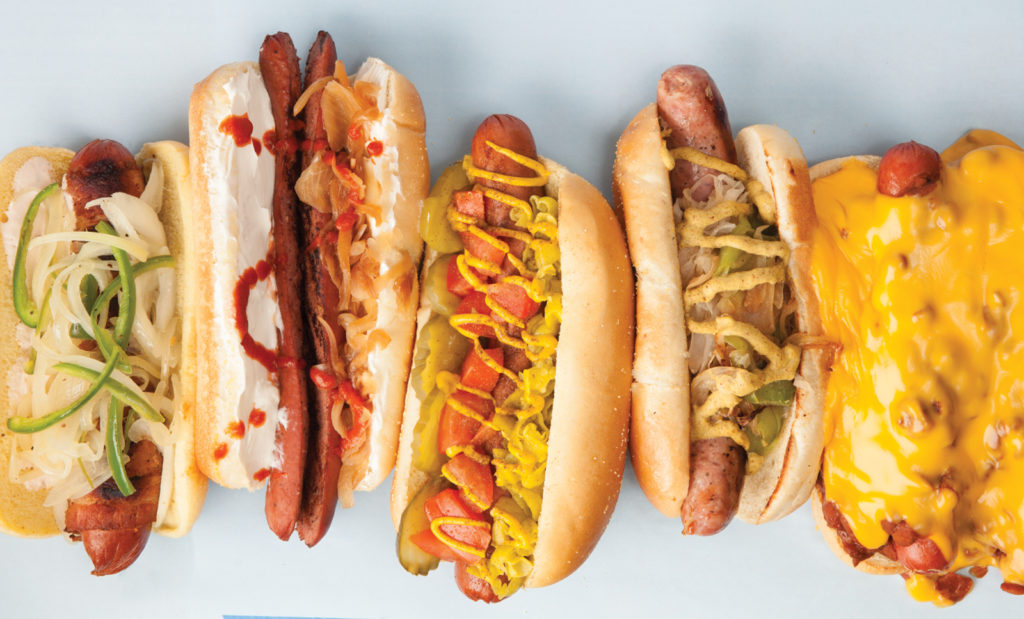 Looking for a rich dessert? Try the butterscotch bourbon pie. The combination of butterscotch, whip cream, pecans, and vanilla wafers will have you dreading the last bite.
Looking to stay for a while?
Can't get enough of Seattle and want to stay longer than expected? Don't worry. We've got you covered. We can't get enough of these two modern houses that offer plenty of space:

This condo comfortably fits seven people, has a private bathroom, public parking, onsite laundry facilities, and WiFi. It costs just $4,225 per month to stay here (you can split this cost between seven people).
You can fit eight people in this lovely, modern condo! This space offers the same amenities as the house mentioned above and costs just $4,260 per 30 days (you can split this cost between eight people).
What's the WiFi like?
Expect super fast, super amazing WiFi speed here. On average, the internet runs at 67Mpbs! You'll also find free WiFi around the city.
Is it easy to get a visa?
Some citizens can visit America for 90 days without a visa! However, if you want to work here, it can be hard to get a visa, and you should definitely apply before you enter the country. Be patient, though! It may take a long time to become a citizen since America uses a lottery system. 
Will you add Seattle, Glasgow, or Athens to your travel shortlist? You may not be able to hop on a plane now, but just to know you'll be snapping photos with either the Acropolis, Pike Place Market, or the Glasgow Cathedral in the background at some point in the future… and hopefully, sooner than later.
---
✨ How to save these locations to your shortlist
If you've set up your account on Anyplace.com or have downloaded the nifty Anyplace app, you can save all of your favorite locations in your profile for a later date! Just click/tap on the heart when you're viewing a particular property.
---
Where to next? Find flexible month-to-month rentals across the globe on Anyplace.
athens
glasgow
seattle
travel ideas
wanderlust wednesdays
Joe Frabotta is the Director of Marketing at Anyplace. He's a part-time nomad, traveling + working throughout the year but also having a home base in the mountains of Asheville, NC. When he's not working, you'll probably find him playing guitar, doing a section hike on the Appalachian Trail, or cooking up a storm in the kitchen.
You may also like