Wanderlust Wednesday: Bogota, Casablanca, Lake Balaton
We're living in unprecedented times. In the throes of a global pandemic, we no longer have the flexibility to travel freely. Travel adds a healthy sense of wonder and adventure to our lives. It opens the door to new cultures, languages, foods, sights, sounds and a whole lot more. We work hard to be able to do it; we look forward to it. And right now, it's just not a possibility.
But we're trying to look on the bright side.
Even though we can't physically travel at the moment, we can still scratch the travel itch in our minds. We can dream. We can get inspired. And we can plan for the future.
Take a moment to close your eyes and imagine your next destination—the first place around the world that you'd like to visit after this passes. Maybe that's relaxing on a remote beach with a piña colada in hand, taste-testing street food in a bustling city, exploring the depths of a colorful culture, or hiking up a famous ridgeline with an epic view. Whatever vision you see, hold onto it. We will get back to normalcy again—hopefully soon—and have the ability to actually be there.
So for now, let's dream. And if you're looking for a jolt of travel inspiration or new destination ideas, we've got you. We'll be sharing amazing locations around the world in our new Wanderlust Wednesday series, where we highlight 3 places across the globe that we think should belong on your shortlist. Without further ado, let's stoke that wanderlust!
Bogota, Colombia
Towering Andean peaks shelter Bogota, Columbia's sprawling, historic metropolis. For some time, this fascinating city, which seamlessly blends modern architecture with colonial landmarks, was deemed as dangerous. But that's an outdated notion. Lonely Planet notes that it's now considered one of the safest cities in Latin America—hey, even Pope Francis stopped by in 2017!
Oh, and another thing: get ready to dance the night away. Several sources claim that Bogota offers not only the best nightlife in Colombia but in all of Latin America.
Bogota is a wonderful destination for both visitors and digital nomads alike. Why? The unique, quaint historical area paired with nearby nature-friendly spots make it easy to fill your time here.
What time of year should you visit Bogota?
Bogota may be in Latin America, but that doesn't mean it's sunny all the time. If you want to avoid buckets of rain, it's best to visit between December and March. It's vital to note that it doesn't get super warm here.
If you were to do one thing in Bogota, what should you do?
Bogota contains several worthy activities and sites to see, but one thing you need to do? Meander through La Candelaria. This may seem like an obvious choice, but it's a vibrant street that highlights Bogota's history, beauty, and liveliness. It's a great way to get acquainted with the city.
How about some signature dishes?
The mountainous location can make Bogota a little cool, so why not heat up with the city's signature dish: ajiaco. The delicious soup comes with a concoction of heartwarming ingredients—potatoes, chicken, herbs, avocado, and corn.
Looking for something sweet and savory? Try an arepa! This ancient treat is made of corn and wheat flour, butter, cheese, sugar, and your favorite topping.
Looking to stay for a while?
On average, rent can cost around $1,000 per month, but if you want to save some dollars, you may want to consider co-living. One notable spot? The Milagro Coliving.
Choose from three rooms: the Junior Suite ($630/month), Suite ($750/month), Suite with balcony ($810/month). Every room comes with a private bathroom and a queen bed (to name two things). You'll share a kitchen with your roommates, so they'll be time to get to know each other and maybe whip up some local recipes together. The price also includes WiFi and on-site laundry facilities.
What's the WiFi like?
Expect decent WiFi speeds here. On average, the internet runs at 10Mbps. You'll find free WiFi dotting the city, so you can connect anywhere.
Is it easy to get a visa?
Citizens from countries including Australia, the United Kingdom, Canada, France, the United States, and more, can get the 90-day visa upon arrival. You can extend your visa for another 90 days at a Migración Colombia office. If you want to stay longer than six months, you'll need to look into obtaining a Colombian visa.
Casablanca, Morocco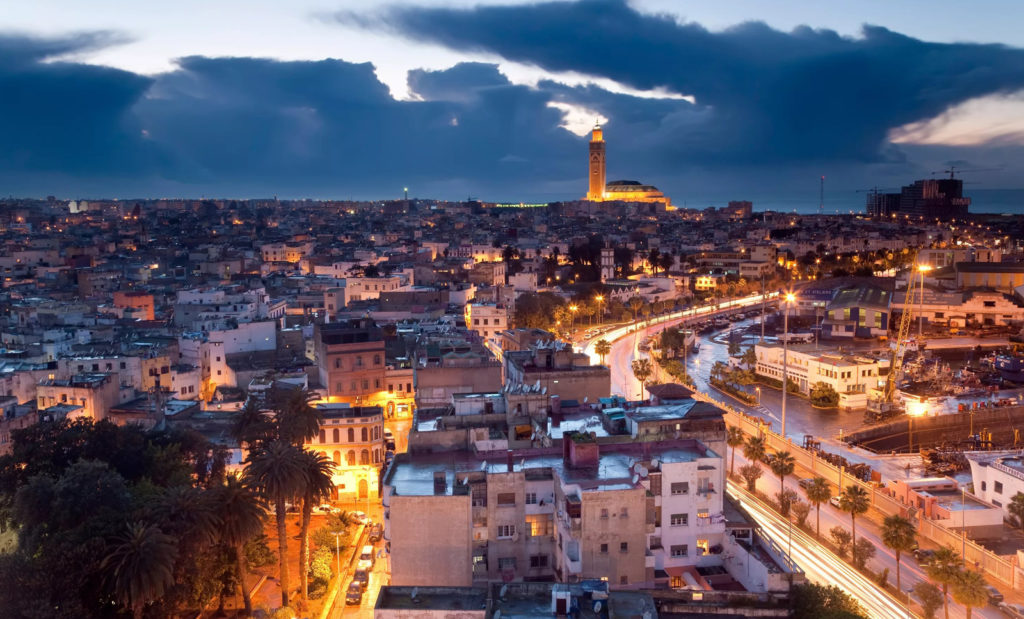 Perhaps, it's the French influence or the 1942 flick starring Ingrid Bergman and Humphrey Bogart that tricks people into believing that Casablanca is some sort of romantic wonder, but it's much more than that.
Beneath the surface and Hollywood's depiction, travelers will find that the Moroccan city is a modern-driven city, where people come to achieve dreams and propel their businesses.
The fusion of modern architecture, French-inspired and traditional Morrocan sites, the vast coastline, and the overall hustle and bustle make this city a true wonder.
What time of year should you visit Casablanca?
It's best to visit Casablanca in July and August when it's nice and sunny. Expect intense rainfall during the fall! Sometimes the downpour can lead to roadblocks, so you may want to avoid coming here then, especially if you`re stopping by for a short time.
If you were to do one thing in Casablanca, what should you do?
Okay. Casablanca encompasses a ton of neat activities, but you absolutely need to see the world's second-largest Mosque, which sits on the edge of the Atlantic Ocean: Hassan II Mosque. If you don't want to go in (you should), you can just spend hours admiring it from outside.
How about some signature dishes?
If you're coming to Morocco, you need to try a tagine! The carefully brewed stew consists of fish or chicken and fruit or vegetables. Nuts, dried fruit, and a selection of delicious spices help to bring out the flavor to life.
Got a sweet tooth? Try a Moroccan fried donut. Be sure to eat it with honey and mint tea.
Looking to stay for a while?
You may have to pay more than $1,500/month when staying in Casablanca! If you don't want to commit to a spot for more than a month, you can always look into staying at an affordable (but swanky) hotel or a coliving spot. Our suggestion? My Loft Anfa.
There are three spacious rooms available, all suitable for three guests: Suite Deluxe ($1,915/month), Suite Andalouse ($2,080/month), Suite Executive ($2,245/month). But get this: you can divide the price between three guests. Hello, affordability! The hotel includes room service, a restaurant, and WiFi. Suite Executive even includes a comfortable terrace.
Is it easy to get a visa?
Some countries (Canada, America, Britain, EU nations, Australia, New Zealand, Japan, to name a few) can stay in Morocco for up to three months without applying for a visa. You can always extend your stay at a police station.
What's the WiFi like?
Don't expect amazing WiFi in Casablanca, but expect a slow-to-average speed of 6Mpbs. There's also not a lot of free internet in the city.
Lake Balaton, Hungary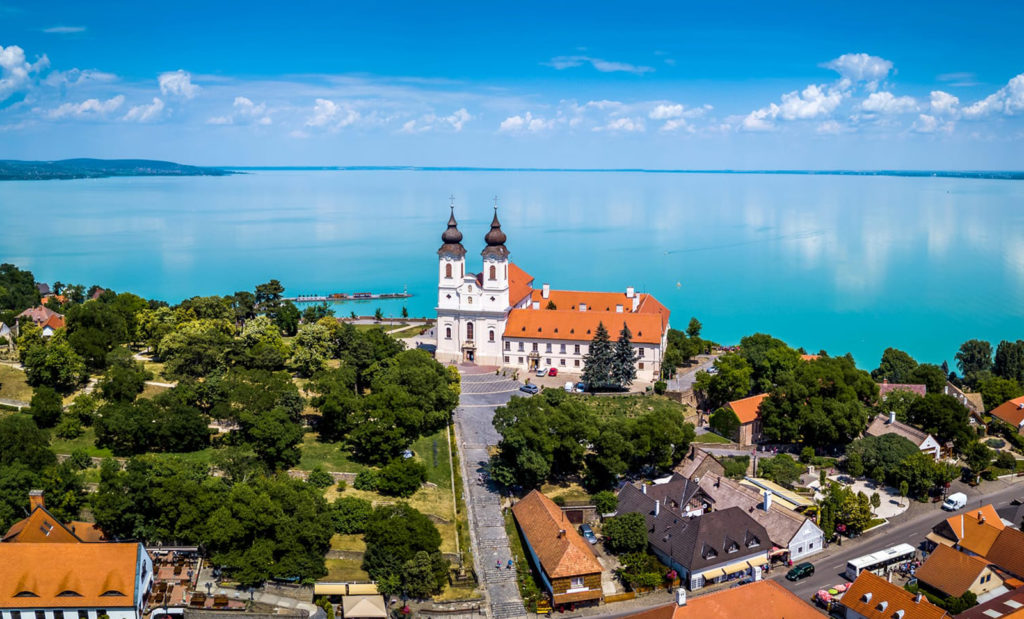 Take a second to look up Lake Balaton on Google images. Or, just gander at the stunning photo above. What was the first thing that popped into your head? I couldn't help but sing: "Summer, summer, summertime". Don't you just want to jump in that lake, get in a canoe and paddle, or bask in the sun on a dock?
But the stunning Lake Balaton region is much more than pure summer vibes—it's basically a collection of European wonders fusing into one location. Meander through medieval history. Admire towering palaces. Explore vast vineyards. Check out an ancient village. Need I say more?
What time of year should you visit Lake Balaton?
If you want summer-perfect temperatures, it's best to visit Lake Balaton between April and October. A lot of people flock here in August, so if you dislike tourists, it's best to avoid coming at this time.
If you were to do one thing in Lake Balaton, what should you do?
Drop your bags, hop in the lake to cool off, and then go to the Szigliget Fortress. The medieval ruins even overlook the lake. Hello, amazing (Instagram) photos. Am I right?!
How about some signature dishes?
Expect to enjoy delicious, mouth-watering fish-infused meals when visiting Lake Balaton! One notable dish? Roast Zander! Lake Balaton has a lot of zander, making this a dish you need to try when you visit a restaurant.
Feeling something sweet? Try "Swan." No, not a real swan, but a cream puff shaped like a swan. They're all the rage at cafes around the lake, and they're quite tasty.
Looking to stay for a while?
Are you adding Lake Balaton to your travel shortlist? Monthly rent costs around $1,400 here, which isn't so bad for a beautiful spot in Europe… on a lake! You can even stay in your own private guesthouse in the village of Vaszoly. This place is MAGICAL.
Vaszoly is one of the most beautiful hidden treasures in the Balaton-uplands in Hungary. The guesthouse is a private country house in the heart of the village. It features 3 bedrooms, 2 bathrooms, a kitchen, a sitting room, a large covered terrace and a garden, and can accommodate 6-8 people. It's the best choice for families or for a group of friends.
Is it easy to get a visa?
Canadians, Americans, Australians, New Zealanders, Mexicans, the Japanese (and more) don't require a Schengen visa before traveling to Hungary, which means you can stay in Hungary—and other Schengen countries—for a total of 90 days. But you can use your visa over 180 days, so if you want to hop to another European country for a weekend that's not a part of the Schengen visa (the United Kingdom, Croatia, to name two), you're free to do so!
What's the WiFi like?
In general the internet speed is super fast here. On average, WiFi runs at 64Mpbs. There's some free WiFi spanning the area, but your best bet is the internet at your accommodation.
Okay. I know that wanderlust may be a tad painful at the moment, but soon enough you'll be basking somewhere with a cold beverage a in hand while waves flirt with the shore. Or, walking the streets of a city filled with the enticing aromas of local food. And hopefully, self-isolation and social distancing will just be a memory of a strange and wild time. We're not there yet, but for now, we can at least dream and plan for the future.
---
✨ How to save these locations to your shortlist
If you've set up your account on Anyplace.com or have downloaded the nifty Anyplace app, you can save all of your favorite locations in your profile for a later date! Just click/tap on the heart when you're viewing a particular property.
---
Where to next? Find flexible month-to-month rentals across the globe on Anyplace.
travel ideas
wanderlust wednesdays
Freelance writer and globetrotter—Kelsey will only travel and work in places where she can watch hockey online (basically anywhere in the world). A content writer since 2017, she covers topics related to being a digital nomad or hockey.
You may also like