Wanderlust Wednesday: Berlin, Mexico City, Madrid
Let's kick this Wanderlust Wednesday off with one of my favorite quotes of all time:
"Because when you are imagining, you might as well imagine something worthwhile." This lovely quote comes from Lucy Maud Montgomery's novel, Anne of Green Gables, and it's so true.
While we twiddle our thumbs wondering what to do with our time while COVID-19 keeps our social and travel life at a standstill, why not stroke our wanderlust and dare to imagine and dream about our next destination?
Sure, we may not know when we'll be able to hop on that plane again anytime soon, but at least knowing we'll be going somewhere once the pandemic fizzles will help to make this time of isolation a little more bearable.
We have a lot of time to think about life while we isolate, so why not fill our brain with some fun, imaginative thoughts about the thing we love most: exploring staggering destinations spanning the globe.
Get your imagination going by tuning into our Wanderlust Wednesday series, where we unveil three must-visit destinations. What's on the list this week? Read on to get a taste and a glimpse of Berlin, Mexico City, and Madrid.
Berlin, Germany
The eccentric, lively night scene dotting Germany gives New York's rambunctious party-goers a run for their money. And people within the metropolis of Berlin never cease having a good time. Lavish folks looking for a luxurious, swanky cocktail bar can find it, and late-night dancers can sway to the beats in techno clubs.
Creative thinkers will thrive here! The ever-so trendy city is a popular choice for performance arts and movie sets. Plus, it's slowly earning its name as a hub technology.
Whenever you're not working, creating, or dancing, take the time to meander, marvel, and ponder, reflect on the rich, dark history painting the metropolis. Towering historical buildings will enrapture you, while the Holocaust Memorial will have you deeply saddened by the horrific antics of World War II.
Berlin contains a sprightly character that will undoubtedly enrapture and educate you!
What time of year should you visit Berlin?
With summertime warmth comes a flock of tourists, so if you want good weather and don't mind crowds, travel to Berlin between May and September. However, October has autumn-like weather and fewer tourists—which means cheaper prices! Feel free to freeze, but enjoy the Christmas spirit in November and December.
If you were to do one thing in Berlin, what should you do?
This one is tough! Berlin has so many things to do and places to see. I would suggest checking out some of the historical sites first. What better way to get acquainted with a new city than to know pieces of its past? And they make for great photos ops, too.
Go to the Brandenburg Gate, which was constructed around 250 years ago. Check out the glass dome at The Reichstag. Marvel at the Berlin Cathedral. Go see the Berlin Wall. Keep in mind that these are only a few suggestions to get you started!
How about some signature dishes?
Berlin boasts of a proud food scene, making it an ideal destination for foodies all over the world. You can't go to this German city without trying out their currywurst. Rumour has it, one local, Herta Heuwer, concocted this dish by tossing ketchup, curry powder, and Worcester sauce together in 1949. The combination of ingredients may sound a tad strange, but trust me, it is delicious. Go to Curry & Chili for a legit serving of currywurst.
How about something sweet? Try the Berliner or pfannkuchen (which is what locals call this dessert, but it means "pancake" everywhere else in the country). One of these German donuts will fill and satisfy your sugar craving in no time.
Looking to stay for a while?
Have you fallen in love with the thought of living in Berlin? We've got some amazing places for you to stays. Live in a private room in a co-living space in Friedrichshain. You can stay in this fully furnished apartment for a minimum of 90 days, and it costs $1,000 per month. The space comes with a shared kitchen, WiFi, and on-site laundry facilities.
Want your own spot? Check out this stunning, furnished one-bedroom apartment in Wedding. You can have the whole place for $1,305 per month, which includes all utilities, WiFi, maintenance, fresh linen and towels.
What's the WiFi like?
Berlin has fantastic WiFi! On average, it runs at 29Mpbs. Digital nomads and social media lovers will be happy to know that Berlin has around one thousand public access wireless hotspots, thanks to the Freifunk initiative.
Is it easy to get a visa?
Germany is within the Schengen zone, so citizens from some countries (Americans and Canadians, for example) can stay in Germany for 90 days within a 180-day period without a visa. However, some nationalities have to apply before hopping on a plane.
Mexico City, Mexico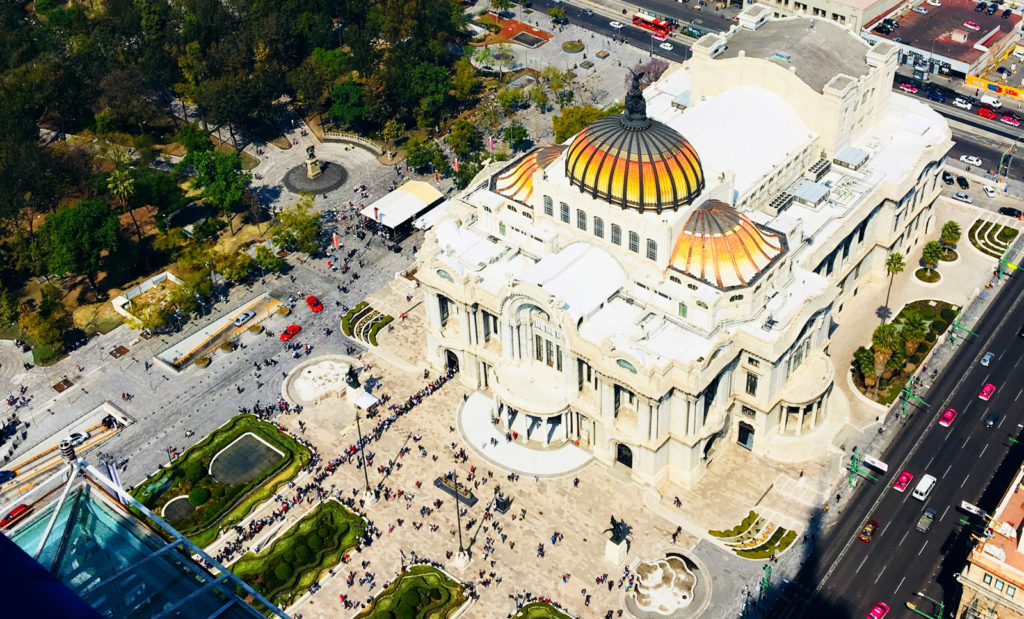 Mexico City may not have a beach, but after endless days of basking in the rich historical culture spanning the area, consuming tasty dishes from the bursting culinary scene, meandering and relaxing in clean green spaces, you'll forget all about the beach. Mexico City embodies the characteristics of an off-centered tropical paradise: sunny weather, chill (but fun) vibes, a lively night scene, and a lot of different types of fresh bananas.
The attractive city is also considered to be quite safe, even for solo travelers.
What time of year should you visit Mexico City?
It's best to go to Mexico City between March and May when the weather is ideal! You may find there's a lot of tourists walking around, but at least you'll be enjoying the warm sunshine, right?
If you were to do one thing in Mexico City, what should you do?
It depends on which activity suits your fancy! Are you a history buff who loves marveling at ruins? Travel just outside of Mexico and let the ruins in Pirámides de Teotihuacán envelop you. Want to bask in nature? Go to the south of the city for the Venice of the New World, where canals zigzag through man-made islands.
Mexico City has a compilation of greenery, an exploding food scene, and architectural wonders peppering the entire city. Trust us. You'll never get bored of life here!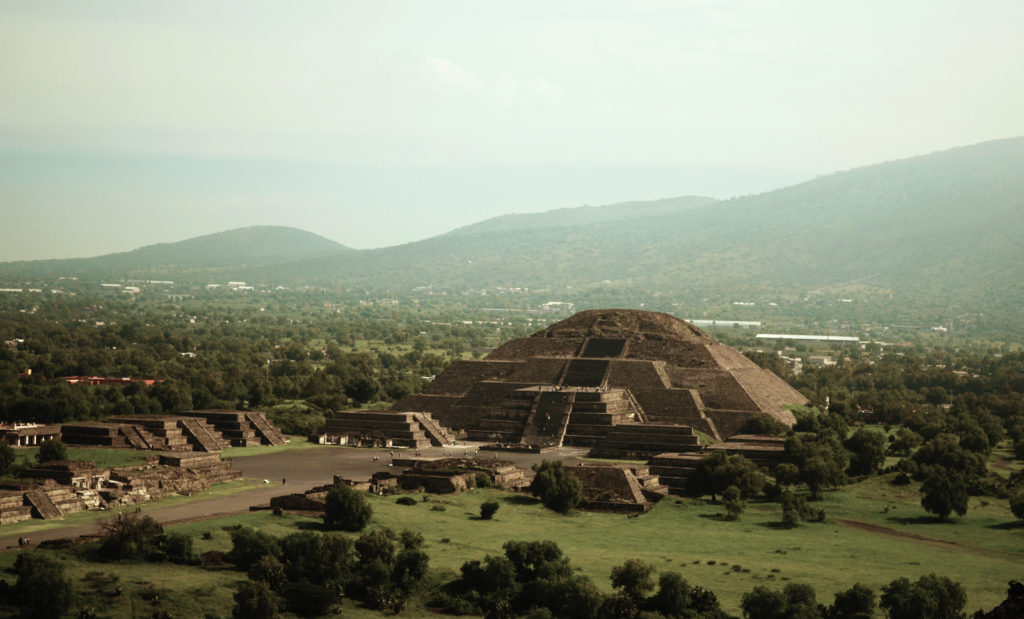 How about some signature dishes?
Get ready to smack your lips and crave something we all can't help but love: tacos! When you go to Mexico City, stop by any street vendor and order a taco. Most will be made with a corn tortilla and come with cebollita y cilantro (onion and cilantro). The locals also make fantastic quesadillas here (is this even a surprise?), but they don't come with cheese! You can always request it, though.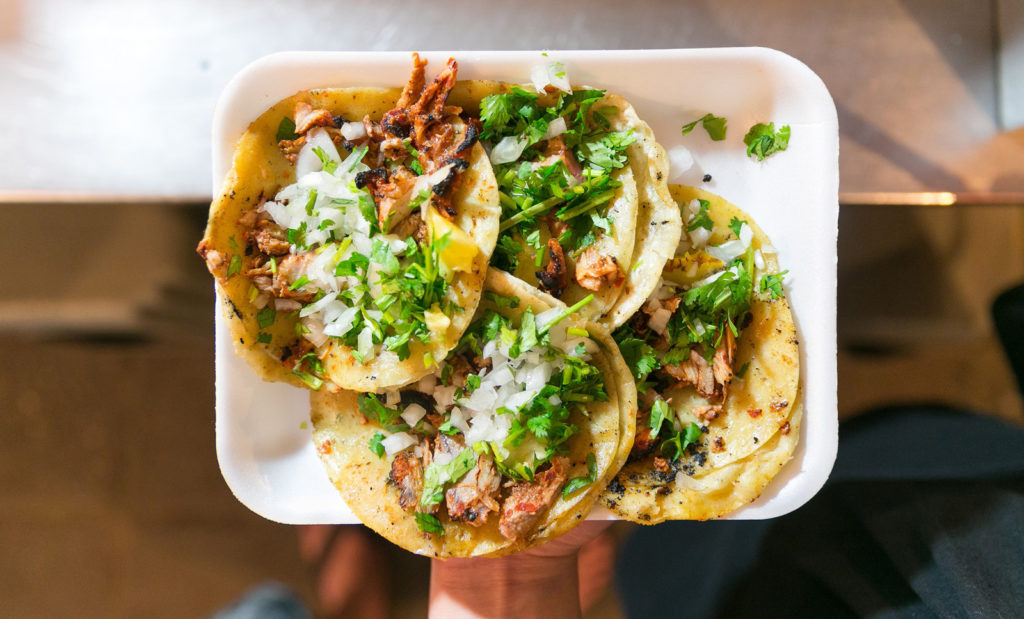 Looking for something on the sweet side? Be prepared to try one of the most authentic street food dishes: camotes. This dish comes with sweet potatoes, hot condensed milk, and strawberry jam.
Looking to stay for a while?
So you've traveled to Mexico City, fallen in love with it, now what? Don't worry. We got you. Thankfully, you can find terrific places to stay that are also fairly inexpensive. If you want to bask in a social lifestyle, we've got two great options for you:
This co-living space will have you living among other digital nomads in either a capsule (bunk bed) or your own private room! A private room costs $895 a month, while a capsule will have you dishing out just $495 a month. This space comes with on-site laundry facilities, weekly housekeeping, WiFi, an outdoor coworking area, and a shared kitchen.
Stay in a charming, inspiring private room in Casa Jardin Velarde! It costs $764 to stay for 30 days. You will also have to pay a refundable security deposit of $763 on top of your initial monthly fee. This co-living space comes with on-site laundry facilities, weekly housekeeping, WiFi, and a shared kitchen.
What's the WiFi like?
On average, the WiFi runs at 18Mpbs! Not bad, right? The free WiFi spanning the city is rated as "okay" on Nomad List, but digital nomads love it here, so expect to find numerous places to work from where you may need to buy a coffee to get online.
Is it easy to get a visa?
Do you want to stay in Mexico for an extended period? You're in luck! Mexico has an amazing visa for digital nomads. The temporary resident visa allows you to stay for a year, but you can extend your visa three times, granting you four years in Mexico. Looking for a tourist visa? Visitors from 69 countries can stay in Mexico for up to 180 days.
Madrid, Spain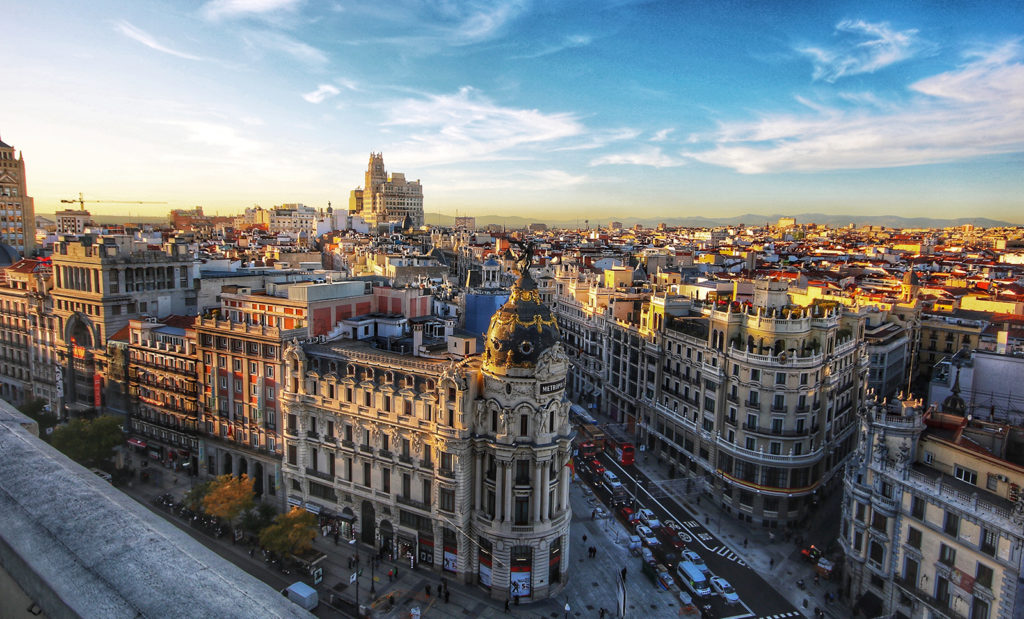 Let the golden hues of Spain paint you with creative inspiration, an elevated love for culinary masterpieces, and a cocktail-nightclub-fused fun time. Living in or traveling to Madrid will inject you with a newfound appreciation for life.
When you look back on your time in Madrid, your memories will undoubtedly propel a storied whimsical blurred image of a chapter in your life where you dared to live your dreams, stumbled along the cobblestone streets after a fantastic late night, and were surrounded by fairytale-like architectural knockouts.
What time of year should you visit Madrid?
Go to Madrid in either autumn or the spring (September to November, March to May). You'll enjoy superb temperatures and fewer crowds. Temperatures are a high of 50°F (10°C) in December and January, so if you don't mind the cold, feel free to enjoy the splendor that is Madrid with reduced hotel prices.
If you were to do one thing in Madrid, what should you do?
Madrid holds a reputation for being an artistic wonder, so why not stop at The Prado—one of the best art museums on this planet—first? Inside, you'll find a stunning collection of renaissance and baroque masterpieces.
Shortly after stopping here, go to Museo Nacional Centro de Arte Reina Sofía to view Picasso's famous painting, La Guernica. It may seem like a lot of art, but maybe viewing the work of the greats will ignite a creative idea within.
How about some signature dishes?
Expect to enjoy some memorable dishes when you're in Madrid! First things first: try their tapas. These Spanish appetizers may be tiny, but the delicious taste will stay with you forever. Be sure to try tortilla española, which is an omelet packed with onions, potatoes, and chorizo (most of the time). Not your style? You'll find an array of other tapas spanning Madrid. And make sure you try some Tinto de Verano, which translates to "red wine of summer". It's a refreshing beverage of red wine mixed with sparkling lemonade, seltzer, or a lemon/lime soda.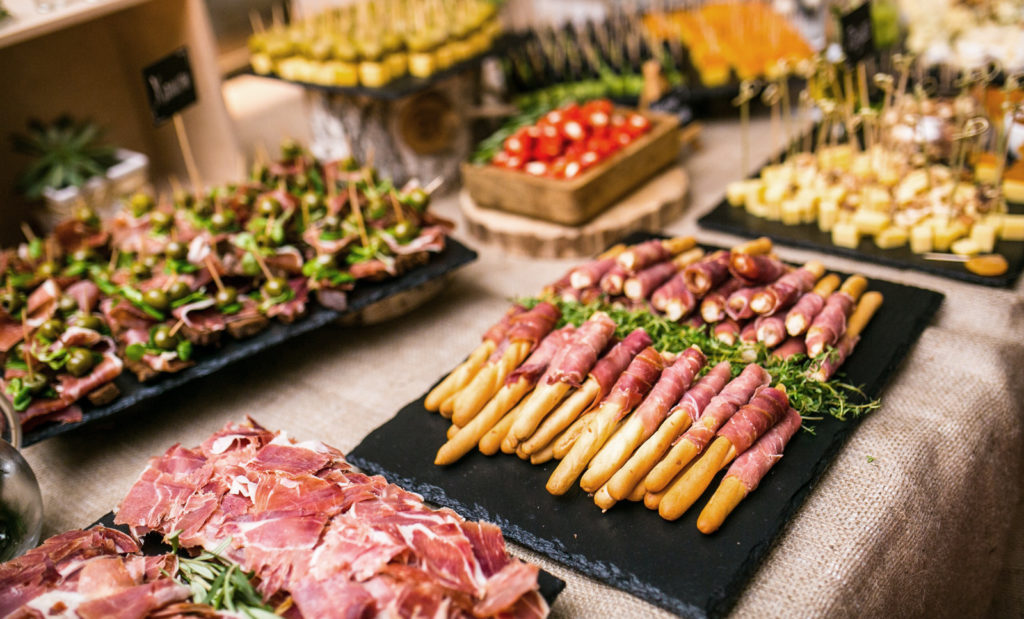 Please your sweet tooth by munching on cinnamon-sugar coated churros. These are quite a bit different than the ones you'll find in places like the States—the dough is semi-sweet and they're usually served with a wonderfully thick, hot chocolate sauce for dipping. If you're in Madrid… you have to try them!
Looking to stay for a while?
Want to enjoy more tapas, churros, and the overall atmosphere of Madrid a little longer? We've got the perfect place for you to stay: Calle de Oudrid Co-living. This digital-nomad-friendly space also comes with a designated area for work! Other common areas include a rooftop that comes with barbeques, sofa area, and a TV section. Work hard, play hard—right?
You can choose between a small, medium, or large private room with a bathroom or a loft, with prices ranging from $691 (small room with private bathroom) to $1,450 a month (loft). And don't worry! This co-living space comes with private bathrooms, a shared kitchen, weekly housekeeping, and WiFi.
What's the WiFi like?
On average, the WiFi runs at 30Mbps in Madrid! You can also find WiFi hotspots all over the city—buses, shops, and newspaper kiosks, to name a few.
Is it easy to get a visa?
Like Germany, Spain is in the Schengen area, so citizens from specific countries can stay in Spain for 90 days within a 180-day period without a visa. Some nationalities will have to apply for a visa before traveling.
It's fun to daydream about traveling once COVID-19 fizzles, isn't it? Some experts noted this about daydreaming:
"You don't need to wait until the weekend or your next vacation, the findings suggest, to get the mental health benefits of a break."
So why not take a mental break and spend time imagining meandering one (or all) of the three destinations mentioned above?
---
✨ How to save these locations to your shortlist
If you've set up your account on Anyplace.com or have downloaded the nifty Anyplace app, you can save all of your favorite locations in your profile for a later date! Just click/tap on the heart when you're viewing a particular property.
---
Where to next? Find flexible month-to-month rentals across the globe on Anyplace.
berlin
madrid
mexico city
travel ideas
wanderlust wednesdays
Freelance writer and globetrotter—Kelsey will only travel and work in places where she can watch hockey online (basically anywhere in the world). A content writer since 2017, she covers topics related to being a digital nomad or hockey.
You may also like