Top 14 Digital Nomad Podcasts to Listen to in 2021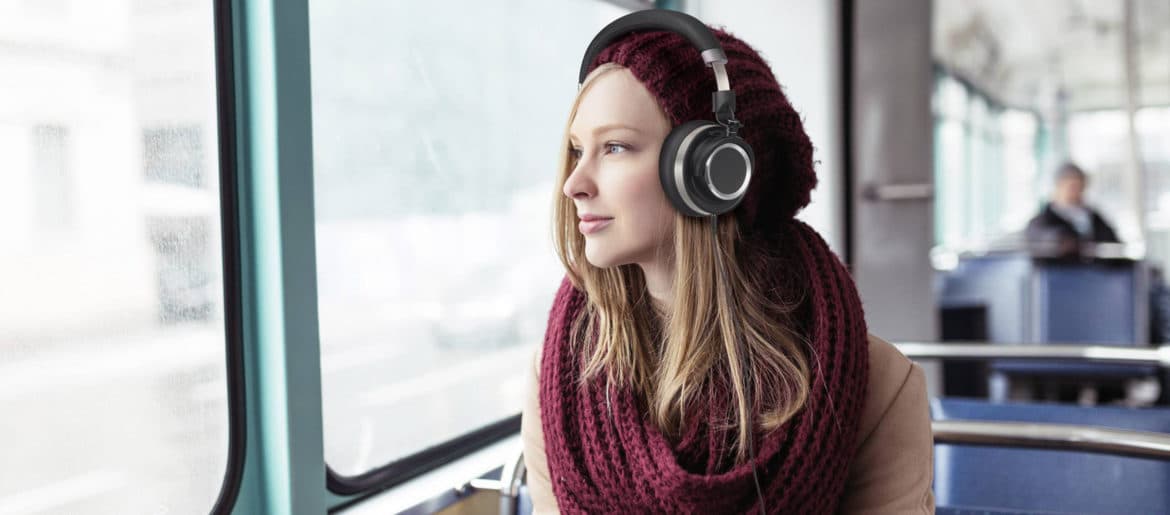 Sweet, sweet digital nomad podcasts. I listen to them all the time—while working, at the gym, in the car (clutch for road trips), while on a run, on planes—one might say, Anyplace. They're a godsend while traveling and the inevitable downtime that comes along with it and the digital nomad lifestyle. Long-haul flights, delays at the airport, overnight sleeper train rides—these are all excellent times to pop on the ol' headphones and tune into some entertainment or wisdom. Oh, and digital nomad podcasts don't take up space in your bag, and you can download to listen offline, in case you're on a stretch of travel without the internet. Boom.
I'm a sucker for story-based podcasts, and some of my weekly fixes are Dirtbag Diaries, Heavyweight, Ear Hustle, and Reply All. And shout out to science—I love Invisibilia and Radiolab. I also listen to a lot of travel podcasts. They offer a dose of travel inspiration, elicit ideas for a next grand adventure, and overall just keep my wanderlust properly stoked. You may already listen to the likes of JUMP, Travel with Rick Steves, or Amateur Traveler. But did you know there are podcasts made by and for digital nomads? You better believe it, and some really good ones to boot!
If you haven't taken the leap to full-time digital nomadism yet, it's never too early to begin gathering knowledge and tips from those already in the field, while staying motivated to pursue your dreams of location independence and travel. With that said, here are 13 choice podcasts for digital nomads—and those who aspire to be.
Zero to Travel Podcast
Want to learn how to travel the world for as long as you desire, on your terms while spending less money? Um… yes plz! Whether you're a travel newbie dying to figure out how to explore the world, an occasional traveler, or an experienced globetrotter seeking unique ways to keep traveling full time, check out Zero to Travel.
Travel expert Jason Moore chats with adventurous people living life on the road so you can discover new ways to travel endlessly. They share insanely actionable advice and key resources, getting down and dirty on topics like digital nomad life, starting/running an online business from anywhere, gutsy budget travel strategies, surprising ways to earn free travel, unconventional travel-based lifestyles, fun travel jobs, how to plan epic adventures, backpacking and everything in between.
Fave episode: Tales From A Converted School Bus: Working Full-Time and Traveling With An Adventure Dog
Learn about life on the road with a couple who are exploring the USA with their adventure dog Hilde—in a converted school bus.
Extra Pack of Peanuts Travel Podcast
The Extra Pack of Peanuts Travel Podcast (EPOP) is hosted by Travis Sherry, a serial entrepreneur and world traveler. Known as "Rick Steves for the new generation", this digital nomad podcast will teach you everything you need to know to travel more and spend less.
They highlight specific destinations—letting you know what it's really like to travel to India, the best places to eat and sleep in Paris, the tastiest beers in Bulgaria—and top everything off with their Top 10 lists. If this podcast doesn't fill you with extreme wanderlust, I'm not sure what will.
Fave episode: The 12 Best Ice Cream (and Gelato) In The World
I scream, you scream, we all scream for ice cream! This one will surely tickle your taste buds and make you want to try all of the flavors.
Nomad Together Podcast
Many people believe that having a family prevents them from becoming a digital nomad. Au contraire! The Nomad Together podcast is hosted by an extraordinary location-independent family, the Kortmans.
Having four children doesn't stop them from embracing digital nomadism. Instead, they created this digital nomad podcast to cover a vast variety of topics, challenges, and solutions related to traveling with a family. They haven't posted something new since December 2017, but there are a ton of fab episodes in the archive to chew on.
Fave episode: The Secret Guide to Houseswapping with Daniel Prince
Hear how a young family of 6 throw caution to the wind and home swap their way around the world (for free). How cool is that?
The World Nomads Podcast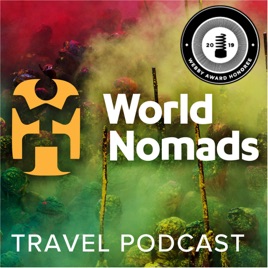 Hosted by Podcast Producer Kim Napier and World Nomads Phil Sylvester, each episode will take you around the world with insights into destinations from travelers and experts. They'll share the latest in travel news, answer your travel questions and fill you in on what World Nomads is up to, including the latest scholarships and guides. This is an excellent all-around podcast for digital nomads.
Fave episode: Amazing Nomads: Jason and Nikki Wynn – Gone with the Wynns
The Wynn's are a couple who traded in a conventional life for a sense of adventure, kicking off with 7 years in an RV and now 2 years in their Catamaran sailing the high seas (with no sailing experience). Sound radical? It is.
Nomadtopia Radio Podcast
Nomadtopia embraces the freedom of the digital nomad lifestyle. Rather than being a formulaic blueprint or prescribing a set of rules, the host Amy Scott discusses her life as a digital nomad and how she's created her ideal lifestyle. And, how you can, too.
She focuses on helping you discover what's truly important to you—whatever that may be. Once you've sorted that out, this digital nomad podcast explores how to use the freedom of location to achieve the lifestyle you want.
Fave episode: Finding Meaning in Life and Work
Get inspired by a family that has been traveling the world for 10 years, and how they find meaning in their life.
Location Indie Podcast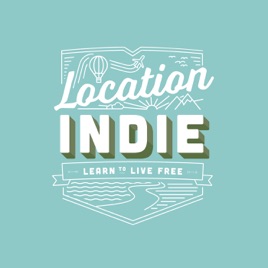 With the Location Indie Podcast, you'll get an unfiltered, behind the scenes look at what the location independent and digital nomad lifestyle looks like. In each episode Jason and Trav provide a raw and honest take on remote work, lifestyle business, lifestyle design, online business and travel. And, it's pretty entertaining.
You'll hear the truth behind what it takes to achieve what they call the "The Triangle Of TOTAL Freedom": 1) Location Freedom: The ability to make money from anywhere in the world. 2) Time Freedom: Being able to do what you want when you want. 3) Financial Freedom: Ditching your job and never having to depend on anyone else to earn a living.
Fave episode: Around The World In 8 Workshops
You'll hear from digital nomads from all over the world living the location independent lifestyle—and how they make it a reality.
Badass Digital Nomads Podcast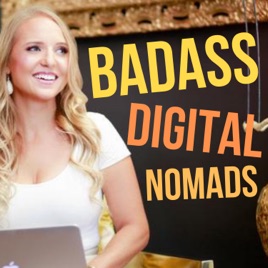 Kristin Wilson is a badass digital nomad, with a badass podcast. She's a young voice on the scene making a serious splash with not only with a podcast, but also on YouTube and a Facebook Group that yours truly is a part of.
On her podcast, you'll learn how to escape the rat race and enjoy more freedom, flexibility, and time by working online. Plus, you'll get the inside scoop on how a virtual nation of self-made founders, freelancers, and former 9-5 employees are innovating in the field of remote work.
Fave episode: How to Upgrade Your Lifestyle and Travel More by Downsizing Your Cost-of-Living
Freedom doesn't depend on making a ton of money. Kristen discusses not buying into the spending habits of a consumeristic society, and instead, becoming rich in experiences.
Become Nomad Podcast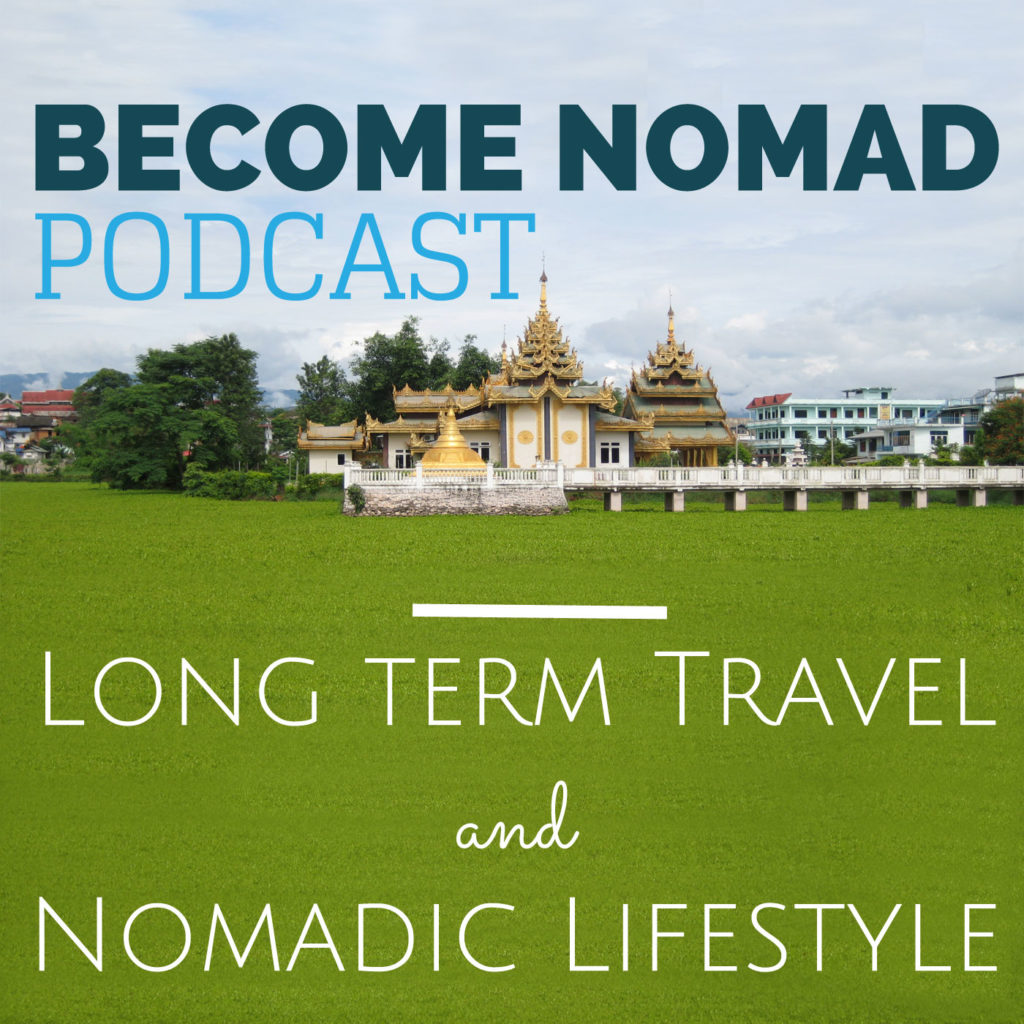 Become Nomad focuses on the nomadic lifestyle. Whether you are a digital nomad on the road, or thinking about changing your current life to becoming a nomad, you'll get insights and resources to make you a better and more balanced traveler and nomad. 
You'll hear about the philosophy of the nomadic lifestyle, how to find your passion, choose accommodations and more. The podcast doesn't seem to stick to a strict posting schedule–they only release an episode every few months–but each one is packed with quality ideas that will keep you thinking until the next episode.
Fave episode: Relatively Unknown Digital Nomad Recommended Cities
The US cities aren't surprising, but do you know about Sofia? (Bulgaria—not Coppola) Hear about some unique and relatively unknown locations that are trending for nomads. Shhh… they're a secret.
Nomad Capitalist Podcast
Nomad Capitalist aims to help successful entrepreneurs legally reduce taxes, grow their wealth, and build a freedom lifestyle free from any one government. This is a very finance-based podcast, so if you're interested in that world, give this a shot.
Each week, Andrew Henderson shares tips and insights gleaned from his world travels on how you can find more freedom, grow and protect your assets, and live a radical life on your own terms. The episodes are super short too—less than 10 minutes—so it's an easy listen.
Fave episode: 3 Ways for Entrepreneurs to Keep More Money
Get a quick crash course on how to save more of your money and be able to "pay yourself first", by not paying unnecessary taxes.
Living Unconventionally Podcast
Living Unconventionally features weekly interviews with digital nomads, full-time travelers, entrepreneurs, and a variety of other people who have ditched their desk and decided to chase their passions around the world.
They discuss their travel stories, how they find deals on travel, how living in an unconventional way has improved their life, how they fund their travels, and how they make money when on the road.
Fave episode: The 5 best places to live in the world – and the 3 worst!
Two long-term travelers discuss the best—and the worst—places in the world to live for digital nomads and ex-pats.
Going Remote Podcast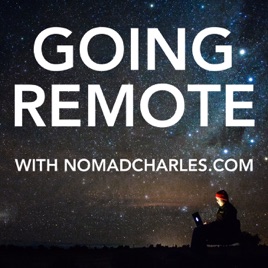 In Going Remote, you'll hear interviews of successful digital nomads who work non-traditional digital nomads jobs. You'll hear about what they do, how they got there, and learn the key ingredients of what makes them successful. Intrigued?
The podcast is hosted by Charles Du, a former NASA engineer turned digital nomad who has traveled and worked in over 30 countries. Unfortunately, this podcast stopped dropping new episodes as of March 2017, but the archive is gold.
Fave episode: Google UI Translator Michelle McColgan, Remote Year Ikigai
Michelle works as a UI translator for Google. She gets website and mobile projects from Google and translates all the different buttons and copy into Irish. Uamhnach! (that means awesome in Irish)
Nomad Wolf Podcast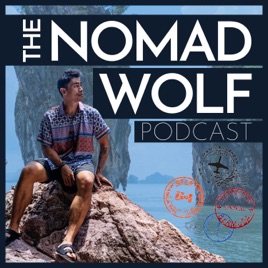 This brand new podcast just launched earlier in August. And so far, it's pretty solid. Each week Glenn Gabriel, a remote digital marketer based in Thailand, interviews location-independent digital marketers, lifestyle brand CEOs, and influencers to find out what they did to get to where they're at now.
If you're looking to upgrade your marketing skillset and scratch your itch for world exploration, Nomad Wolf will be up your alley.
Fave episode: 0 to 100k Instagram Followers in 47 Days?
Hear from a so-called Instagram Jedi, who is able to grow Instagram accounts from zero to hundreds of thousands using specific Instagram growth hacks and strategies.
Normal to Nomad Podcast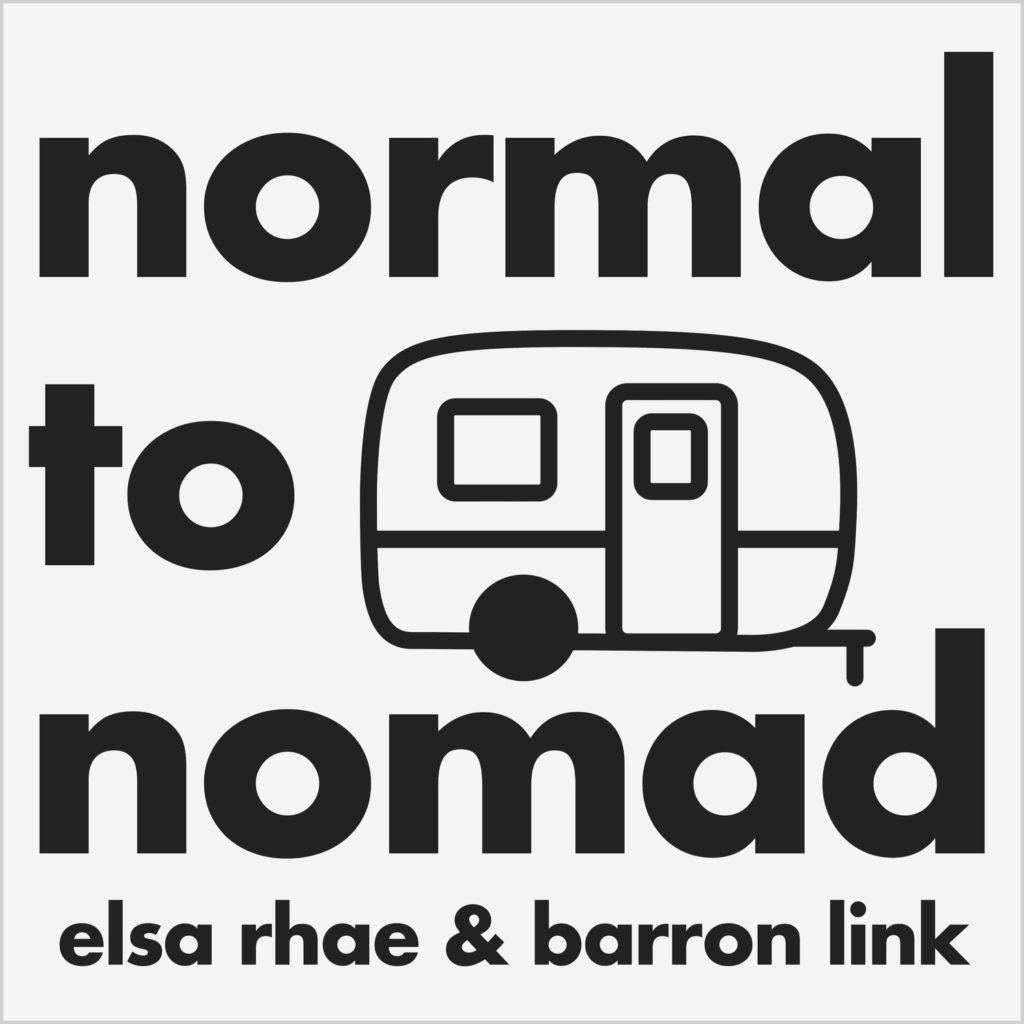 This is another new podcast that put out its first episode in July. The hosts are full-time nomads—Barron a tech wizard and Elsa an online digital artist—living in an off-grid 13ft Scamp trailer, traveling through the wilderness of North America. It's a conversational, lifestyle podcast that provides a deeper look into how they think, their strategies and journey.
Fave episode: Human Interaction
The hosts share their "kindness strategy" and how to meet people on the road. Also, how they scored a free burrito from Chipotle.
The two hosts at Nomad Tactics, B and Jack, aim to provide a complete how-to guide for digital nomads. The main selling point is they combine all the tips into systems that cover all the aspects of your nomadic life. And they occasionally do interviews with successful nomads. The topics they cover so far have ranged from how to pick your perfect rental to how to prevent mosquito-borne diseases. So, no matter where you are in your digital nomad journey, Nomad Tactics can surely make your nomadic life better.
Fav episode: An Overview of Our Digital Nomad Life System
What is your favorite podcast, what did we miss? Let us know in the comments!
---
Where to next? Find flexible month-to-month rentals across the globe on Anyplace.
digital nomad podcasts
remote work podcasts