The Case for Co-living: 7 Reasons it's Great for Digital Nomads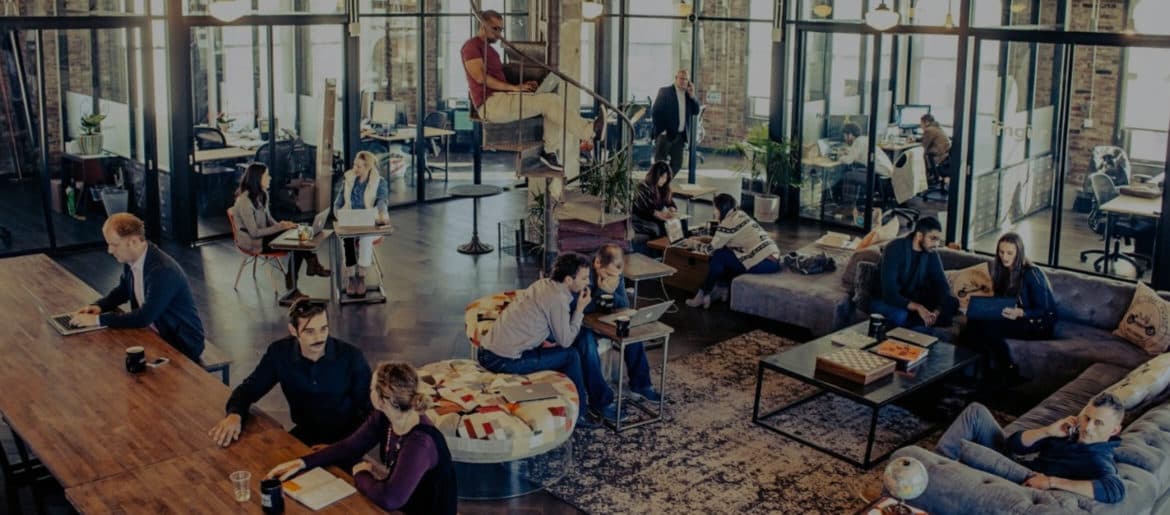 As a digital nomad that wants to travel and work in a location for a month or longer, it's crucial to find a dwelling place that helps cultivate efficiency, creativity, and productivity. There are many different types of housing to choose from, and they all have their pros and cons. But there is one that aims to cater directly to young professionals, location-independent workers, and digital nomads. Enter: Co-living.
Co-living is a communal housing concept where people live under one roof and pool resources together instead of renting an apartment or house individually. It offers the amenities you'll find with other accommodations while also providing a solid place to get work done and connect with like-minded folks. Co-living focuses on connection rather than merely sharing the cost of living. Residents not only share their living space with one another but end up interacting and engaging in similar interests and professions.
Now, co-living might not replace traditional roommate arrangements anytime soon, but the housing movement is seeing a meteoric rise. In fact, we're seeing it alter the rental paradigm. With work today requiring more flexibility and mobility, the demand for fully furnished, fully maintained, internet-ready accommodations has increased drastically. Tapping into this very need, co-living spaces provide rental solutions with a range of amenities at an affordable cost.
New co-living spaces are popping up in cities of all sizes around the globe. According to a recent report by the real estate firm Cushman & Wakefield, the number of units offered by major co-living companies in the US alone is going to triple over the next few years. Do a quick search and you'll see this upward trend is comparable in other countries, too.
Before getting into the reasons why this housing type is a pretty fantastic option for digital nomads and location-independent workers, let's clear up and dispel a couple of myths about co-living.
Is Co-living Like a Hostel?
No, they're quite a bit different. What makes co-living distinct from a hostel is that it fosters a sense of communal living that goes beyond accommodation; it promotes collaboration and creativity among the residents, who are predominantly working professionals. Hostels are mainly used by people traveling for pleasure/leisure, and not for those that intend on working often (if at all). Hostels aren't set up with digital nomads as the clientele in mind. On the flip, co-living spaces are.
Ok… So is Co-living Like an Adult Dorm?
There are some who have labeled co-living as "adult dorms." Personally, I feel that description is kind of reductive and evokes a negative connotation of grown adults living like college freshmen. That isn't an honest portrayal of life in a co-living space. First off, people in college don't choose to live in the dorms—it is required. Contrarily, people do choose to live in co-living spaces. And as mentioned above, they're mainly inhabited by professionals that don't mind—or prefer—living with and being surrounded by like-minded folks.
Do You Have to Share a Room with a Bunch of People?
Not necessarily, but you could share a room with others if you want to cut down on accommodation costs. This is where individual preferences come into play. Co-living spaces have shared and private rooms. If you'd like your own room, no problem. Just understand that the rate will be slightly more than a shared room.
Alright, now that we have addressed a few of the common questions, let's jump into the 7 reasons we believe co-living is great for digital nomads.
Why is Co-living Great for Digital Nomads?
1. Affordable With Amenities
As rent costs skyrocket in metropolitan cities around the world, co-living has become increasingly mainstream and an attractive housing option—especially for digital nomads who want to live in a city for a while but not pay out the nose.
With co-living, everything is built into one fixed rate. There's no need to haggle with roommates over bills and shared expenses at the end of the month. Or, worry about how much utilities will cost and if it will affect your budget. Instead, co-living facilities let you pay a fixed rate with all of the utilities and key amenities included. This allows residents to save on the typical expenses of paying for each separately.
Beyond standard utilities like high-speed WiFi, electricity, and gas, amenities can be wide-ranging—they'll really depend on the particular co-living space. You'll have access to a dining area and kitchen, and could be provided with unique or luxury options such as a fitness center, hot tub, garden or media rooms.
2. Technology First
Co-living companies understand the composition of their audience—many of whom are digital nomads and remote workers—and are designing buildings appropriately. You'll discover that the majority are built for both living and working, and provide high-quality and reliable communal workspaces. Oh, and bonus—this means with co-living you'll also save money by avoiding a separate coworking expense.
3. Super Flexible Arrangements
Traditional leases? Forget about it.
Co-living gives you the freedom to stay and leave when you want. Having the flexibility to live in a co-living space without having to sign a 6-month to 1-year lease is a huge advantage for digital nomads. With most—and all of the co-living spaces on Anyplace—you can simply rent on a month-to-month basis. If you're digging where you're at, you'll have the choice to extend your stay when the month is up. Or, decide to move along on your next adventure. Beautiful, no?
4. Built-in Community
Loneliness is a big hurdle for a lot of digital nomads to overcome. When you're traveling solo for long swathes of time, making connections can be challenging. Fortunately, co-living has a built-in solution for that.
Beyond being under the same roof as similar people to you, co-living spaces offer opportunities for collaboration and community bonding. They're created in a way that encourages socialization. You can mingle with residents in the common areas, or work together in the coworking zone. Many co-living spaces also have weekly dinners, movie nights, a special guest talk, or will host learning/professional events that you can attend for free.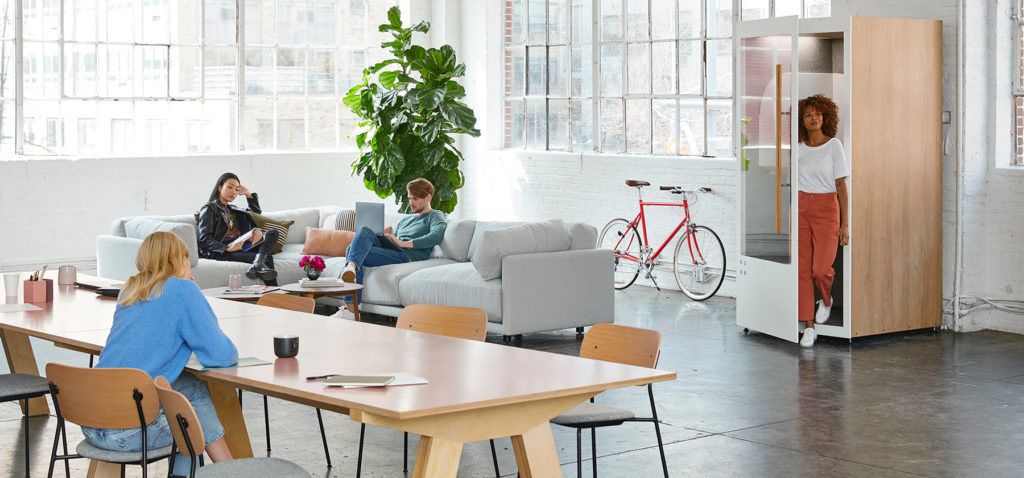 5. Supportive Network
This goes hand-in-hand with having a built-in community. In co-living communities, residents will often develop friendships with others in the space, and hopefully, have someone else they trust and feel comfortable talking to about a variety of life things. Depending on the demographic makeup of the household, residents will either be going through similar life struggles and successes or there will be some who can share their experiences and advice. This is especially helpful for digital nomads who have traveled from another state or country and don't have close friends that they can talk to in person.
6. Diverse Residents
A big part of traveling as a digital nomad is embracing new experiences, cultures, and learning from others that might be very different than you. In co-living spaces, you're bound to encounter people from all over the world. So whether it's sharing a certain ethnic food you've never had before in the kitchen to listening to/learning about a person's background, the exposure hopefully allows each resident to become more open and understanding.
7. Skill Sharing and Personal Growth
In co-living buildings, there's a vast range of skills that can be traded among the residents, especially in the coworking space. One of the most effective ways that people learn a new skill is by working alongside someone who is more experienced. With many digital nomads choosing co-living, you're sure to find talented people to learn from—and to share your skills, too. It's a definite plus to get to physically engage and learn from others in lieu of online sources, searching for specific groups to join, and/or paid courses.
Additionally, with a bunch of interesting and diverse residents, there will be opportunities to get into brand new hobbies or advance ones you already have. Maybe you're into video games or want to get into hiking—you're sure to find others in the co-living house to do them with or learn from.
Co-living is Ideal for Digital Nomads
While the concept of co-living isn't new, with soaring housing prices, smaller living spaces and increasing social disconnection, the future of rentals seems to be flexible, community-oriented, and more affordable through shared spaces. And for digital nomads and location-independent travelers who want to experience a city, there are plenty of perks that make co-living a great option. Just remember to abide by the golden rules of co-living 😎
Have you stayed in a co-living space somewhere in the world? How was your experience? Let other nomads know in the comments!
---
Where to next? Find flexible month-to-month rentals across the globe on Anyplace.
co-living
coliving
digital nomad housing
remote work travel