The Best Remote Work & Digital Nomad Events: Fall/Winter 2019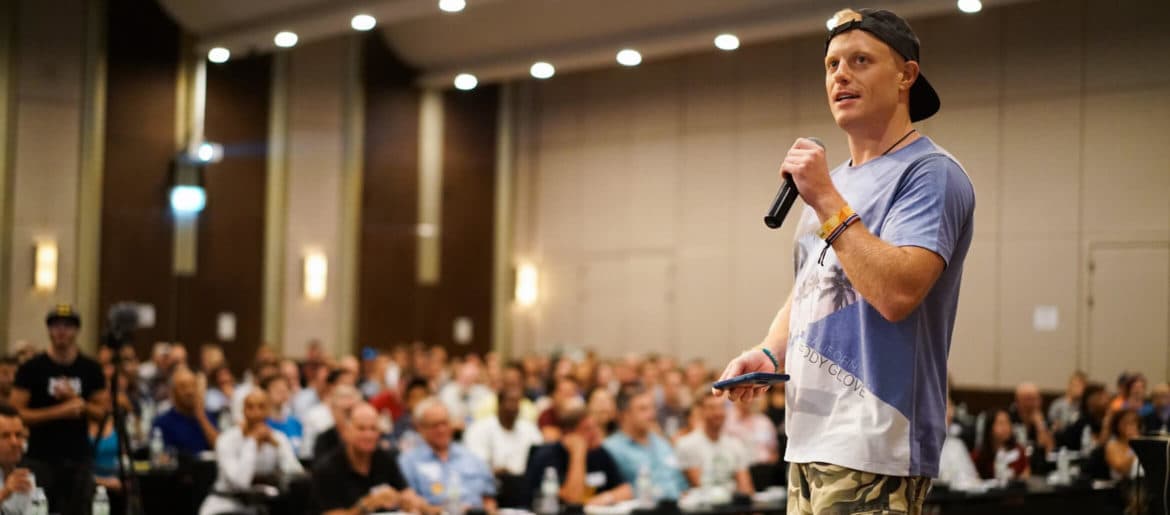 If you recently made the jump to full-time remote work or have been a digital nomad for years, you might want to attend one of the stellar remote work events happening in the fall or winter of 2019.
There are a bunch of educational—and super fun—events and conferences available this fall and winter for digital nomads and remote workers. Most of them take place in some unbelievably beautiful locations around the world, too. Beyond the benefits of learning and honing your skills, these events are a good way to meet fellow nomads.
Here are some of those top remote work events and conferences in the fall and winter of 2019 that we'd recommend you check out:
---
September 2019
Remote Leadership Summit

Join established remote leaders to identify and solve the unique set of challenges within your teams. Tackle company culture, business development, team management, networking as a remote professional, and more. All while adventuring in nature, rebelling against the norm, practicing a work/play/rest harmony, and making valuable connections to fuel your work-life months after the conference's close.
Dates: September 12th – 16th
Location: Biograd Na Moru, Croatia
Price: $333+
Website: www.remoteleadershipsummit.com
Freedom Business Summit 2019

Learn from worldwide top-performing lifestyle entrepreneurs the proven strategies on how to launch a wildly profitable remote business, quit the office job and turn your life into a never-ending adventure.
Dates: September 14th
Location: Kyiv, Ukraine
Price: $99+
Website: https://freedomsummit.net
Invest Like a Boss Summit

Creator of the Nomad Summit in Chiang Mai, Thailand, Johnny FD is going for bigger and better in Vegas for his second massive event this year. Talking about all things investing, you'll definitely learn a ton at this summit. Find out more on the Facebook event page.
Dates: September 28th – 29th
Location: El Segundo, CA
Price: $89+
Website: https://www.facebook.com/events/521778791644999/
October 2019
The Virtual Working Summit 2019

This one is all online… and free! Featuring short audio interviews with inspiring virtual leaders, at a time to suit you, one per day, it also gives you the chance to interact with the other participants online. This is a unique way to develop your skills without traveling. There is no charge to register to listen in to each speaker via the web each day. The theme for this year is 'Innovation and Virtual Working'.
Dates: October (all month)
Location: Virtual!
Price: Free Dollars
Website: http://virtualworkingsummit.com
---
Travel Tip: Flying across the globe to one of these rad events? Make sure to get your body prepped for the new time zone and fight off the jet lag monster.
---
Nomad Summit
Nomad Summit is the biggest conference for digital nomads, remote workers, online entrepreneurs and those who are currently dreaming about location independence and freedom. It's the ultimate place to learn from highly successful professionals and network with hundreds of like-minded people who share your goals and vision.
Dates: October 11th – 14th
Location: Cancun, Mexico
Price: $119+
Website: https://www.nomadsummit.com
Reconciled's Entrepreneur Summit

Not necessarily a "digital nomads" conference, but definitely a good fit for those in the online services sector, or who'd like to be. The Entrepreneur Summit attracts entrepreneurs from all over the country to come and learn about launching and scaling an online services business while networking with the best in the business. The presenter lineup features entrepreneurs who have built seven-figure businesses that leverage the latest in cloud-based technology with a remote-team approach.
Dates: October 17th
Location: Burlington, Vermont
Price: $199+
Website: https://getreconciled.co/entrepreneur-summit
Nomads for Change

Join 200+ Digital Nomads and Online Entrepreneurs in a 2-day nonprofit event to step-up your online business and connect with inspiring people in a spirit of sharing and giving.
Dates: October 18th – 19th
Location: Bali
Price: Starting from 500,000 IDR (about $35)
Website: http://limitlessnomads.com/bali/
7in7 Digital Nomad Conference

Exclusively for experienced nomads. Only people who have been location independent for more than a year can join the 7in7 family. They curate content for those of us who've been nomads for 3, 7, or even 15+ years. Attendance is capped at 100 nomads to allow you to truly connect with speakers, founders, panelists, volunteers, and fellow attendees.
Dates: October 22nd – 29th
Location: Wellington, New Zealand
Price: $579
Website: https://7in7.co
DevLearn 2019

DevLearn Conference & Expo is the leading conference and expo focused on learning technologies. Want to learn about the latest trends in e-learning—plus all the new tools? This is the conference for you.
Dates: October 23rd – 25th
Location: Las Vegas, Nevada
Price: $1,895
Website: www.elearningguild.com
November 2019
Nomad City

Nomad City is an annual digital nomad conference where remote workers can network, improve their skills, and learn to grow their remote companies successfully.
Dates: November 7th – 9th
Location: Las Palmas de Gran Canaria, Spain
Price: $163+
Website: nomadcity.org
Nomad Cruise

Share knowledge, good times & make friends for life with 250+ digital nomads on a cruise from Barcelona to Recife.
Dates: November 18th – 309th
Location: Spain to Brazil
Price: $1,100+
Website: https://www.nomadcruise.com
TBA Fall / Winter 2019
Freedom X Fest

Some topics of Freedom X Fest include digital nomadism, entrepreneurship, health and well-being, lifestyle design, creativity, and exotic coworking. Participants also enjoyed activities like hiking, rock-climbing, yoga, meditation, live music, and food trucks. Head to the website now to vote on where 2019's Freedom x Fest should take place… right now the location and date are a secret! We'll keep you updated when we know.
Dates: TBA
Location: TBA
Price: TBA
Website: https://freedomxfest.com
---
Where to next? Find flexible month-to-month rentals across the globe on Anyplace.

digital nomad conferences
digital nomad events
remote work conferences
remote work events