How to Keep Your Data Secure as a Digital Nomad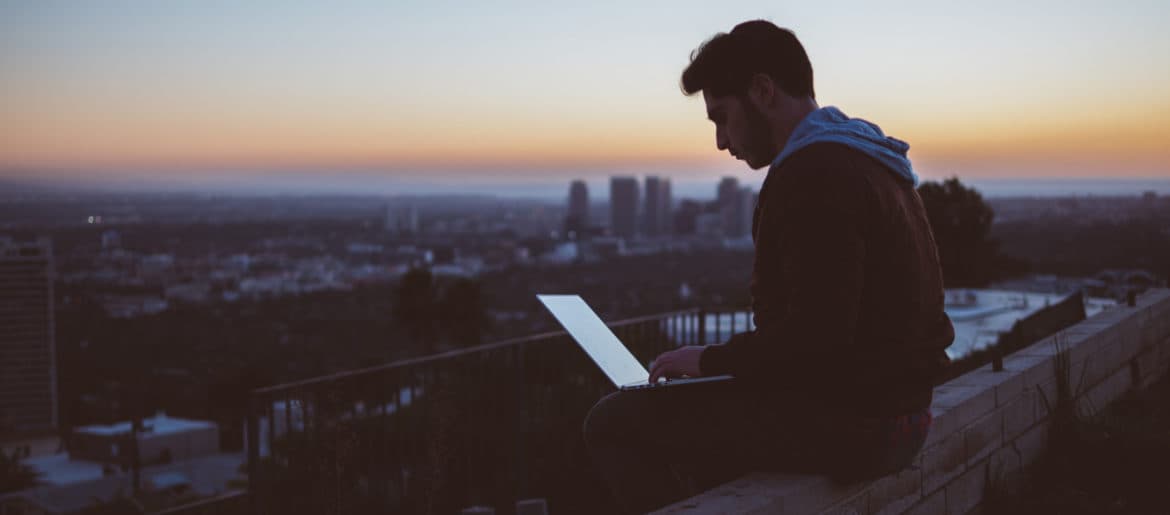 When you have the freedom to work from anywhere, it becomes incredibly convenient to simply bust out the ol' laptop to do some work from the airport, reply to a few emails from a cafe, or Slack with your team while in a bar. As a digital nomad, those scenarios probably sound very familiar—you want to be productive, we totally get it. Unfortunately, when you work in public places or connect to public WiFi, you are far more at risk of having your data stolen or your accounts hacked. It's true.
Working securely as a digital nomad when traveling the world or as a remote-based professional is critical—you need to feel confident that you can safely access client data or your personal info wherever you are. Luckily, there are some security measures you can put in place right away that will greatly reduce the likelihood of falling victim to an attack. Here are some tips to help you maintain security while working remote and traveling.
1. Avoid Public WiFi
Public WiFi is a hotbed for hackers. Man-in-the-Middle attacks, ransomware and identity theft are common on open networks. The bad news is you only know you've been hacked when it's too late. So step one is definitely avoid connecting to unsecured networks. We know it can be tempting—you might be under the gun and need to get work done ASAP and notice a WiFi network without a password—you'll see these often at airports or in big public spaces in cities. But honestly, it's a terrible idea and could be far more harmful than waiting to connect to a secure network.
If you absolutely need to connect, don't work on anything that contains sensitive data; editing a photo is okay, but logging into your bank account is a no-no. Also, as a digital nomad you probably have your own tech and won't deal with this, but don't use public computers. You have no way of knowing if the computer is at all secure, what malware is on the computer, or if anything has been installed by someone looking to steal people's info.
2. Use a VPN
Looking for additional security? Use a VPN to connect. A VPN is a virtual private network; one that lets you communicate privately over an unencrypted and unsecured network. Your data is encrypted with a VPN. The right VPN will secure your data from prying eyes, let you sail past geoblocks (like not being able to log into Facebook in China) and other internet filters to access any content worldwide, and ensure your download speeds are never compromised. PCMag recently wrote about The Best VPN Services of 2019, with NordVPN at the top of the list.
3. Pop a Privacy Filter on Your Screen
Prying eyes, be gone! Privacy filters are a low-effort method to save yourself from any "visual hacking." They can be attached to your screen so that the nosy people sitting next to you on the airplane can't take a peek at your work. A privacy filter makes the screen only visible from a straight-on viewing angle, meaning no one but you can see what is on your screen.
4. Backup Data to the Cloud
Using the cloud is a secure way to back up your data. This ensures that you won't lose any of your important or sensitive info and can easily restore data if needed. The cloud is also harder for cyber attackers to crack into. For added protection, you can find a paid service that will encrypt your files before you back them up to the cloud.
5. Install Device Tracker Software
Let's hope your tech gear never gets stolen, but if it was to happen, wouldn't it be great if you could track it down? Well, you can—you just need to be proactive. Installing device tracker software on your devices gives you a way to see where they are. PreyProject is a good choice, and it can be installed on phones, laptops, and tablets. In the event of loss or theft, that particular device can be set to a "missing status", and allow you to track it. You can remotely lock and wipe devices, or set off an alarm so you can locate it. There are a myriad of other options too, like Hidden Anti Theft and Norton Mobile Security.
6. Multi-Factor Authentication and Password Managers
Set up secure passwords on all of your devices. Use multi-factor authentication whenever you can, and use a unique password on your most important accounts, such as your email and your bank. When choosing a password, use a phrase with multiple words and mix upper/lower case letters with numbers and punctuations. Do not use 123456 or the same password for every platform. That would be… unwise.
To manage all of your passwords, use a password manager like 1Password (what we use at Anyplace) or LastPass. These apps obviously require a password too, so keep that one somewhere safe. You can easily store your login info and generate secure and unique passwords for every site without worrying about forgetting what they are. Using these apps to generate your passwords keeps you from choosing the same obvious ones all the time.
7. Be a Pro With Anti-Virus Software
Choose your anti-virus software from a trusted source. A good anti-virus program can keep you safe from ransomware, keyloggers, adware, browser hijackers, rootkits, worms, malicious browser helper objects, backdoors, trojan horses, spyware, fraud tools, infected and malicious URLs, spam, scam and phishing attacks—among many others threats.
Always keep your anti-virus software updated and patched so you have the most up-to-date protection. If possible, choose one that is part of a bundle that contains other security measures such as a firewall or network monitor software.
8. Be Secure, Anywhere
Taking extra precautions for security when working remote may seem unnecessary at first, but it's essential to keeping your data safe from cyber-attacks. As digital nomads, our tech gear and data is our livelihood—it gives us the freedom we crave, so why would we want to compromise that?
Using a password generator, connecting to the internet via VPN, and regularly backing your data up to the cloud will soon become part of your routine. Installing antivirus software, a device tracker, and a privacy filter screen are investments that will keep you safe as long as you use them. Prepare for cyber-attacks before you are the victim of one by having these in place. They might be keeping you safe without you even realizing it!
data protection
data security
remote work security