Cafés vs. Coworking — What's the Best Workspace for Digital Nomads?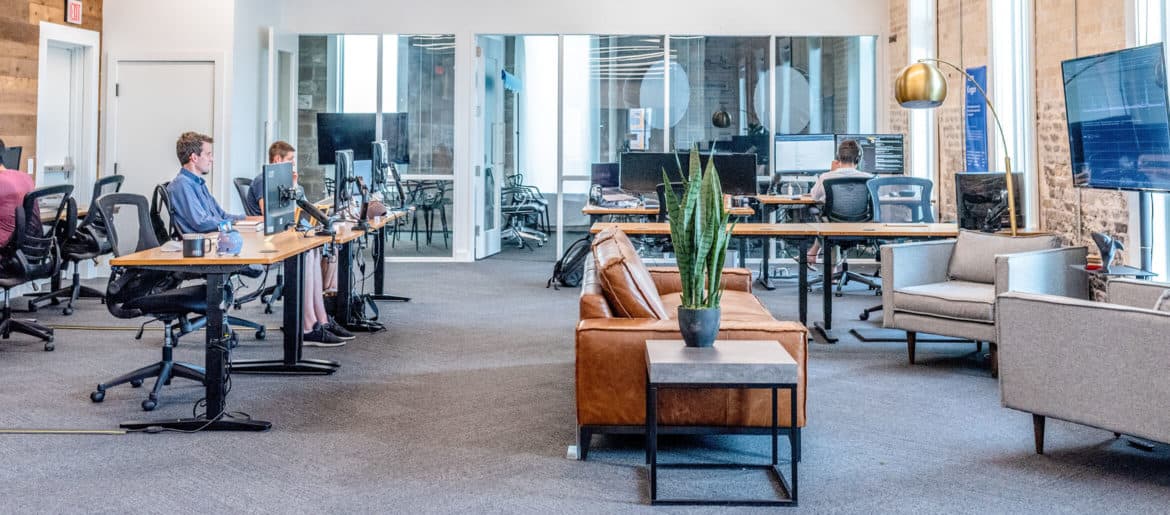 Digital nomads can work everywhere. You can set up your workspace by the ocean, in the kitchen, while under the covers, and basically, anywhere that's convenient and can help you be productive. It's fun choosing your office for the day, but sometimes working from home or by yourself can spike feelings of loneliness as well as procrastination temptations—Netflix, walking to your kitchen and staring blankly at your cupboard or fridge, hoping a new snack will pop out at you (spoiler alert: it never happens).
Basically, some days you need to get out of the house and have some human interaction. You don't have to talk to anyone if you don't want to, but it can be helpful to work amid others. Which leads us to the big question, the neverending debate:
Should you work in a café or a coworking space?
Let's figure out which remote work venue best suits the digital nomad lifestyle.
The Pros and Cons of Working at a Café 
Does anyone else feel like they're starring in a quirky indie film when they work from a coffee shop? Or is that just me? The idea of composing articles in the corner of a café can feel so surreal.
But reality quickly clouds that feeling when you can't find a spot with an accessible plug or you have to leave the safety of your valuables to fate and run to the bathroom. It's safe to say that there are advantages and disadvantages to working in a coffee shop. Let's start with the bad and finish with the good.
Cons of Working at a Café 
Bathroom Breaks 
This con may seem petty, but it's actually a major con. Don't believe me? Here's a scenario:
An hour after settling into your office space for the day, your legs start to shake. You need to go to the bathroom. You look around to see if anyone looks dodgy and question whether it's okay to quickly dart to the bathroom while your valuables sprawl across your table in the open.
You decide you don't want to risk it, so you pack everything up, go to the bathroom, and come back, only to find that others have occupied your table. Sadly, there are no tables available with plugs, and your computer is about to die, forcing you to set up shop somewhere else. To top it off, you'll have to spend more money at a different café now. You see? It's a worthy con.
Unstable WiFi
Will your connection be good or bad? If too many people connect to the WiFi, it's likely your connection will waver between decent and god-awful. And location independent workers need good WiFi to be productive.
Distracting
You may find one or two others typing away on their laptops like you, but don't expect a café to be a quiet, peaceful environment. Go into the day expecting neverending chatter from those around you!
Lack of outlets
You never know if you'll get lucky and find a table with an outlet. But remember, you risk losing your spot when you run to the bathroom!
Pros of Working at a Café 
Good coffee
A café should serve good coffee, right? Yes. Yes, it should. You can go into your workday knowing you'll get to sip on a satisfying cup of joe.
Lively Environment
Some may find neverending chatter distracting, but others may enjoy listening to nearby conversations. I find that eavesdropping from time to time helps to ease my procrastination temptations! Whenever I want to stop working, I either people watch or tune in to other conversations. It stops me from mindlessly scrolling through Facebook or Instagram. It may sound creepy, but it works.
Artsy Photos
Who doesn't love snapping a cool, artsy photo of their workplace? Need I say more?
Pro and con of working at a café
The Cost
Some may find working from a coffee shop cheaper than a coworking space, while others may find that they spend way too much at a coffee shop. Just think:
If you work five days a week for a month at a coffee shop and buy a $5 coffee every single day, it will cost you around $100 per month. But you can't work an entire day at a café without getting hungry. You'll likely have to buy a snack or a meal on top of your daily cup of joe. However, some cheapos may pack their own lunch and snack and munch away in the bathroom (or when no one's looking).
Working at a café can be costly, but for some—the cheapos who bring their own snacks—it may be cheaper than a coworking space. But, you won't get all of the tailor-made-for-digital-nomad benefits that come with booking a desk at a coworking space. What are the pros of working from a coworking space? Let's get into it!
The Pros and Cons of a Coworking Space
There are numerous benefits to working at a coworking space. Some may argue that the advantages outweigh the disadvantages. Let's start with the good and end with the bad!
Pros of Working at a Coworking Space
Work Amid Like-Minded Individuals
A coworking space grants you the opportunity to work in an environment tailor-made for location-independent workers like you! Working amongst other digital nomads helps to evoke a sense of community, one that you won't get from working from home or in a coffee shop. It makes you feel like you belong. Plus, you never know which connections or friendships you'll form at a coworking space.
Some coworking spaces may even host social events that you can join, too.
Fast-Speed WiFi
A coffee shop may have an iffy WiFi connection, but you won't have to worry about that at a coworking space. Like I said before, coworking spaces were designed with location-independent workers in mind. Therefore, it's essential for them to have lightning speed WiFi!
Included Amenities
It's common for coworking spaces to include coffee and snacks with its prices! At least you won't have to spend an additional $5 on coffee. Most will also include built-in meeting spaces, lounges, and other areas to keep you comfortable.
Cons of Working at a Coworking Space
Distractions
Like working from a coffee shop, you may find nearby discussions distracting. However, at least people will likely be talking about work-related things, so maybe their conversation will be boring to listen in on.
Commitment
Most coworking spaces ask you to pay a monthly fee to reserve either a hot desk or a dedicated desk. Booking a dedicated desk grants you an official desk for the month, while a hot desk enables you to choose whichever space is free. You won't have a designated desk, but at least you'll have a guaranteed workspace with available outlets and speedy WiFi!
But here's the—tiny, tiny—catch:
Do you really want to work at the same spot every single day? Some days you may be tempted to work at a coffee shop instead, resulting in dishing out more cash.
Pro and Con of Working at a Coworking Space
Some may find a coworking space expensive, especially if you want a dedicated desk that's available 24/7. That's right! Unlike a café, you can pay for a space that grants you access whenever you need, whether you opt for a flexible or dedicated desk.
But the overall cost may deter some. DeskMag reveals that in America, on average, people pay $387 for a dedicated desk with 24/7 access. Whereas a flexible desk with 24/7 access will cost you, on average, $209.
However, despite the prices, you're guaranteed a workspace every single day, one that offers WiFi, while also giving you a chance to meet digital nomads!
On top of accommodation, these prices can be hefty. But there's a solution.
A Clever Solution: Co-living Spaces
Can't decide the winner of the debate? Why not put the debate on pause, and consider looking into a co-living space? Staying in a co-living space will not only cover your accommodation woes but almost all come with a built-in coworking area as well. You can work and socialize from home—saving you transport fees to and from your coffee shop or coworking space.
And once your workday is done, you can use your saved funds to explore the world outside your co-living space.
Thankfully, you can find co-living spaces spanning across the globe from Bali to Cancun to Manhattan to Singapore. Just choose one, hop on the plane, and Bob's your uncle. Well, you will have to sort out your visa and take care of other logistics beforehand, but then you can hop on a plane, and Bob's your uncle!
---
Where to next? Find flexible month-to-month rentals across the globe on Anyplace.
cafes
coworking
remote work tips
remote work venues