13 Remote Work Podcasts That Are Actionable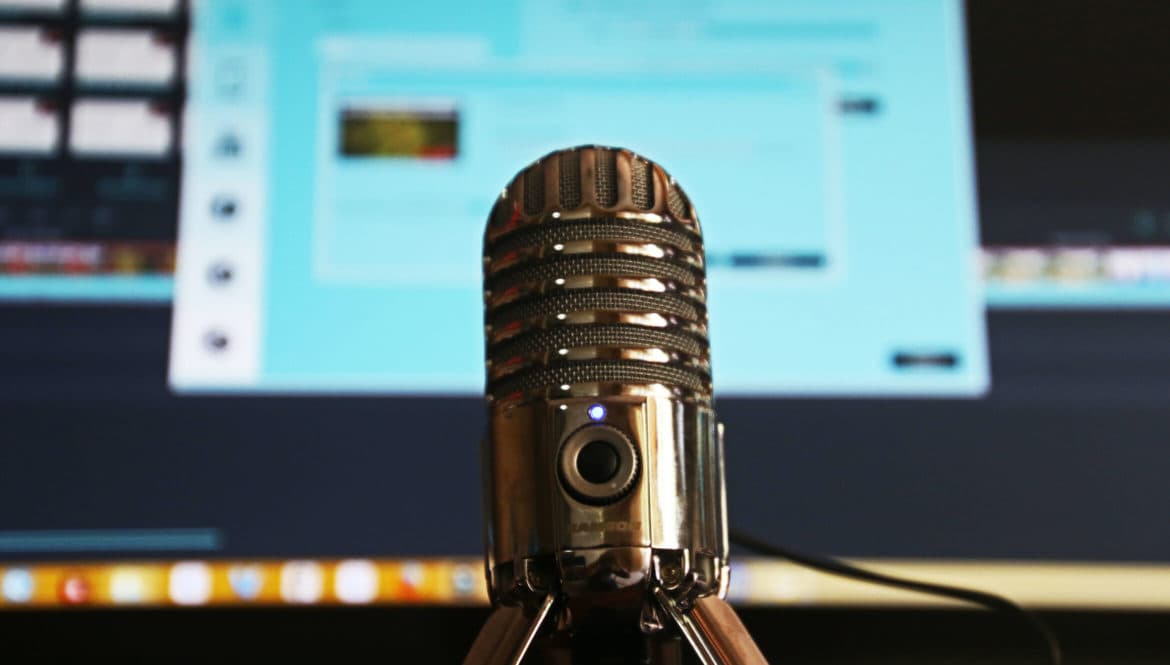 Podcasts are everywhere these days, experiencing a 17% increase in popularity in 2020. They can be an incredible source of insight and inspiration, offering long-form and in-depth discussions on every topic under the sun. The only difficulty is choosing the right one that will inspire you.
If you're specifically interested in listening to a remote work podcast, then you'll be happy to know we've done the work for you. Here are 13 of our favorite podcasts for ambitious remote workers and digital nomads.
About Abroad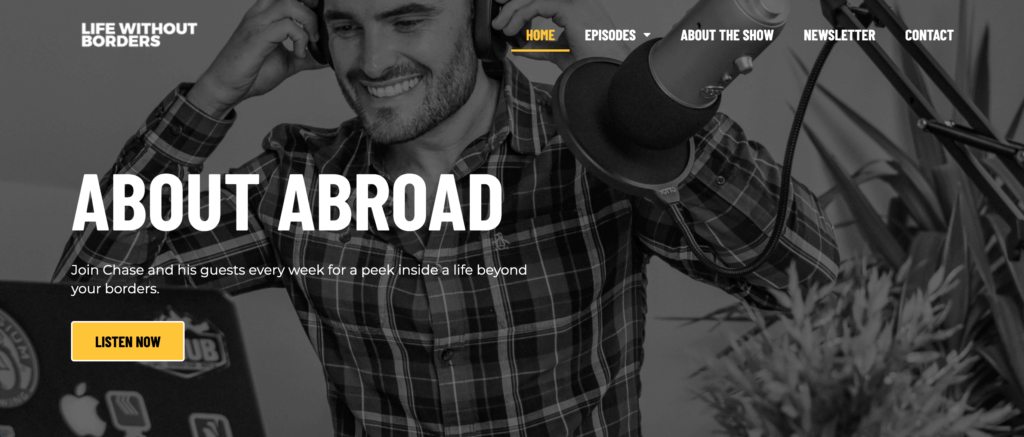 A podcast interested in the idea of "life beyond your borders," About Abroad discusses topics of being an expat and working from anywhere. Host Chase Warrington knows all about this, being an American residing and working in Spain. He's also ​​head of Business Development at Doist, which is a company with a remote-first structure.
Chase lives a nomadic existence and uses his experiences to offer tips for anyone looking to adopt this lifestyle. His guests include business leaders and people who have swapped the office for the chance to work from their dream location.
Inside Remote
For long-form podcasts that specifically focus on remote work, Inside Remote is ideal. Rather than taking a vague approach to discussing the concept of location-independence, each episode dives deeply into this style of working. It offers practical, actionable advice on how to effectively run a remote team.
Previous topics covered include how to work asynchronously, making remote meetings more interactive, and building remote work tools. Guests generally include successful entrepreneurs who can offer advice to both remote workers and team leaders.
Distributed

Matt Mullenweg is the CEO of Automattic and cofounder of WordPress, making him a real expert on running teams remotely. You can learn his secrets by listening to his podcast, Distributed. His team spans 76 countries and speaks 95 languages but has nevertheless achieved great success.
By reaching out to his contacts in the industry, Matt has put together a hell of a podcast. It exists on the cutting edge of business, throwing out the most innovative ideas about the future of work.
The Future of Work
Another remote work podcast that looks to the future is this one. Hosted by Jacob Morgan, The Future of Work looks at changing trends in how people earn a living. Top CEOs and executives offer their advice on future-proofing your life and career.
Topics discussed include why leaders should think like futurists, changing approaches to leadership, and the power of flexible, hybrid work. There are also episodes on forming better habits and avoiding self-sabotage.
Mastering Remote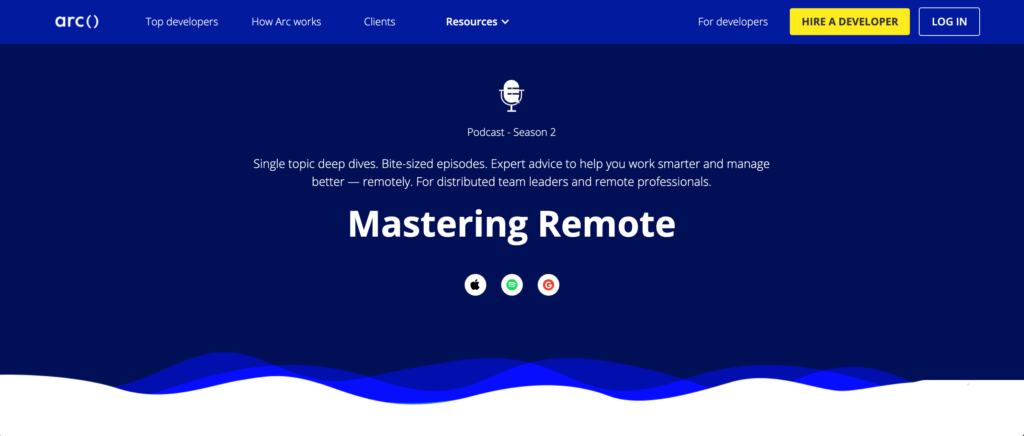 Many podcasts choose to dive deeply into certain topics, giving you a depth of knowledge and understanding similar to that you'd get from reading a book. Mastering Remote is no different but it also provides bitesize episodes for when you're in a rush. Enjoy a quick shot of advice and inspiration on winning at remote work.
This podcast is mostly aimed at remote team leaders. Episodes include how to recruit the best talent from around the world, transitioning to a 100% remote team, raising capital, and minimizing risks when hiring across borders.
The Remote Show
We Work Remotely describes itself as "the largest remote work community in the world" and "number one destination to find and list incredible remote jobs." In pursuit of its goal to push more companies and employees towards remote work, they've also set up a podcast called The Remote Show.
Episodes host in-depth interviews with leading entrepreneurs in this space. They include founder of wrkfrce, Jesse Chambers, Formstack manager, Amanda Nielson, and WordPress founder, Matt Mullenweg.
How I work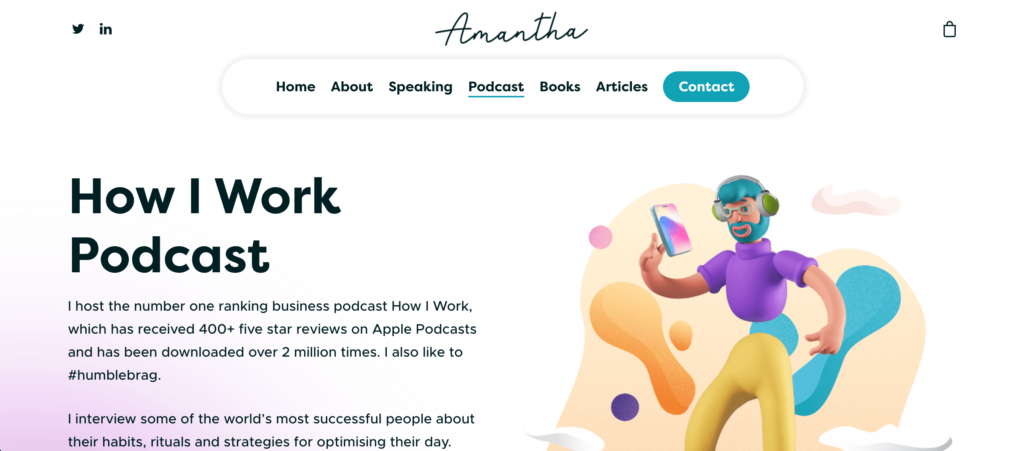 The number one business podcast, How I Work, is hosted by Amantha Imber. This doesn't focus on remote work exclusively but does include tips on creating the best working style for you and optimizing your productivity. The episodes can therefore be enjoyed by all workers, despite generally featuring CEOs and business leaders.
These inspirational and experienced entrepreneurs will help you redesign your work routine. Tips offered are practical, focusing on the habits, strategies, and rituals that lead to professional success and fulfillment.
Yonder
On a mission to promote the power of going remote, Yonder is a podcast that spends a lot of time discussing the benefits of this lifestyle. It's the perfect podcast for workers looking to develop successful and happy habits.
Yonder may not provide as much hard-nosed business advice as others but its value lies elsewhere. Instead, you'll learn how to create an empathetic remote team, how to set long-term goals, and how multicultural teams can bond.
Chasing The Freedom
If you're a woman looking for location independence, then Chasing the Freedom was made for you. Employment coach, Lynn Hulver, helps millennial women who are looking to pursue a more passionate professional life. This is about creating a life you love, based around flexibility, freedom, and travel.
Lynn has conducted interviews with sailors who work from their yachts and others who switch countries every month. You'll learn which platforms to use, which strategies to implement, and which are the best remote-friendly jobs.
Going Remote
Going Remote is a podcast aimed at helping people transition from a traditional location-dependent job towards becoming freelancers and solopreneurs. Each episode hosts a successful digital nomad. Listeners will be inspired by their stories and offered advice on taking a similar journey.
Hosted by Nomad Charles, this is a highly practical podcast that focuses on the transition. You'll learn how to build a passive income and build the skills needed to go fully remote. From YouTubers to fitness coaches, Going Remote offers a broad range of perspectives regarding the digital nomad lifestyle.
WorkLife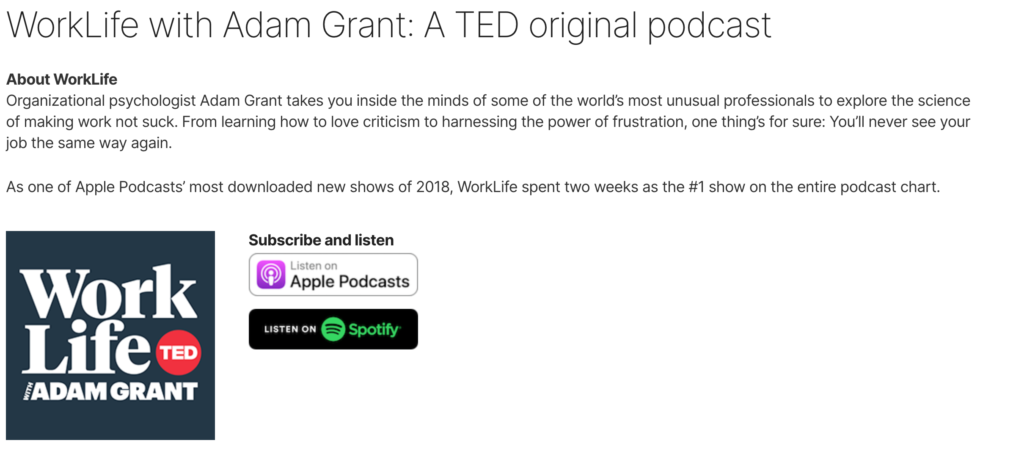 If you like TED Talks, then you'll love their original podcast, WorkLife. Hosted by Adam Grant, this is a fun and informative show based around the idea of "making work not suck." It isn't solely related to remote work but it'll teach you how to identify your passions and turn them into a reliable income source.
This podcast brings on guests from unique and unusual professions. They offer hope to the idea that anything can be monetized. You'll learn how to make work just another enjoyable component of a happy life.
Remote Work Movement
Remote work is taking off massively but it provides significant challenges. The Remote Work Movement podcast aims to help digital nomads navigate this new and strange environment. You'll learn how to design a life that works for you and communicate effectively with your remote team.
Discussions cover how to land a remote job, how to build a remote company culture, the benefits of e-residency, and which cities are best for remote workers. Guests come from a variety of backgrounds but are chosen for being outstanding digital nomads.
The Offbeat Life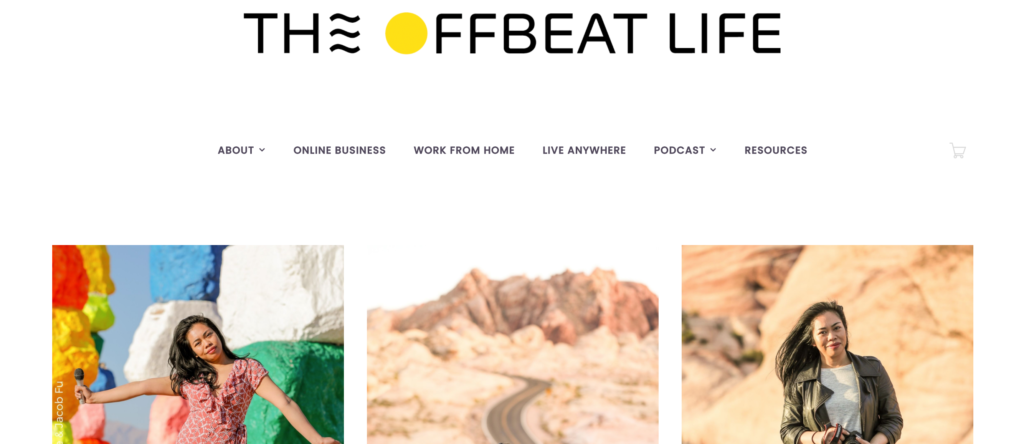 If you're looking for something a little different, try the Offbeat Life podcast. Born on a Filipino island but raised in New York City, host Debbie has a fascinating and unique perspective. After discovering her passion for photojournalism, she began a digital nomad life that she's keen to share.
This remote work podcast is a tool for generating passive income and securing online work. In doing so, you're creating a nomadic lifestyle that is also sustainable. Debbie offers a comfortable and friendly approach that makes this podcast an easy and enjoyable listen.
If you're the kind of person who always wants to be learning and growing, then podcasts are a great way to do that. Pick any remote work podcast from the list above and you're bound to find some nuggets of wisdom. They're not just there to be merely listened to, though. Take that advice and turn it into action. Live your dream remote work life.
---
Where to next? Find flexible month-to-month rentals across the globe on Anyplace.

remote work
remote work culture
remote work podcasts
remote work productivity
remote work tips