11 Best Remote Work and Digital Nomad Events You Can't Miss This Fall of 2020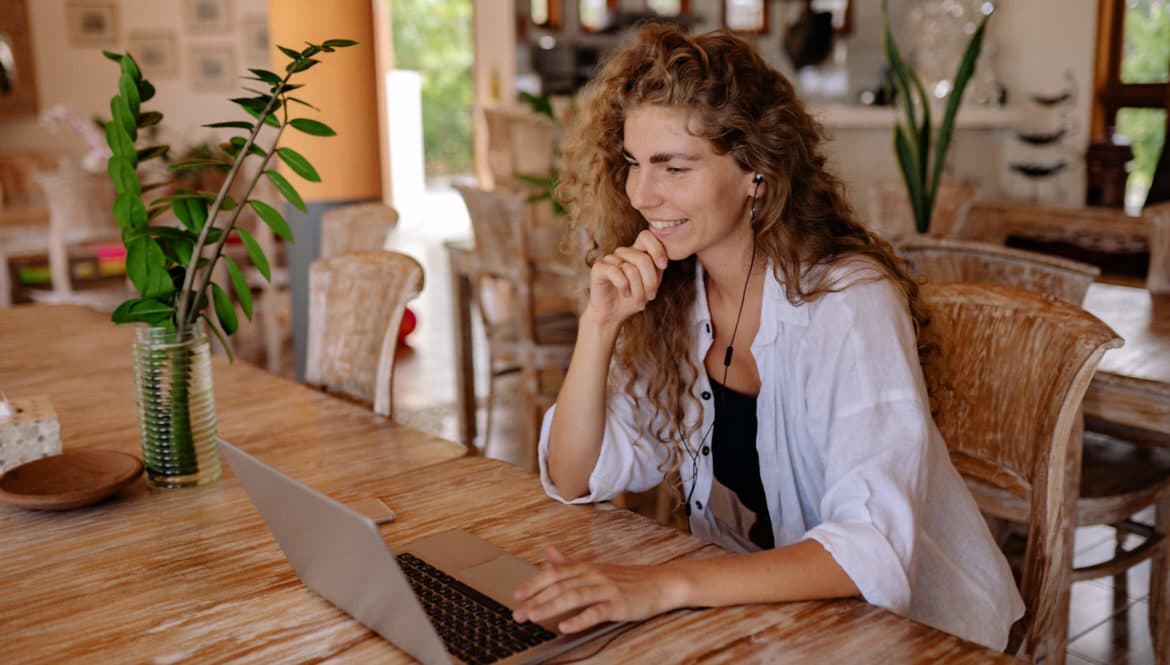 Whether you've been working remotely for years or are exploring the digital nomad lifestyle, there are a number of conferences, retreats, and experiences this fall that can support your professional and personal growth.
With many events switching from in-person to online in the wake of the pandemic, now is the perfect time to learn from experts, network with likeminded people, share advice, and promote your own project or brand from the comfort of your own space.
Check out the top digital nomad and remote work conferences in the fall of 2020.
September 2020
Future of Work Digital Conference Series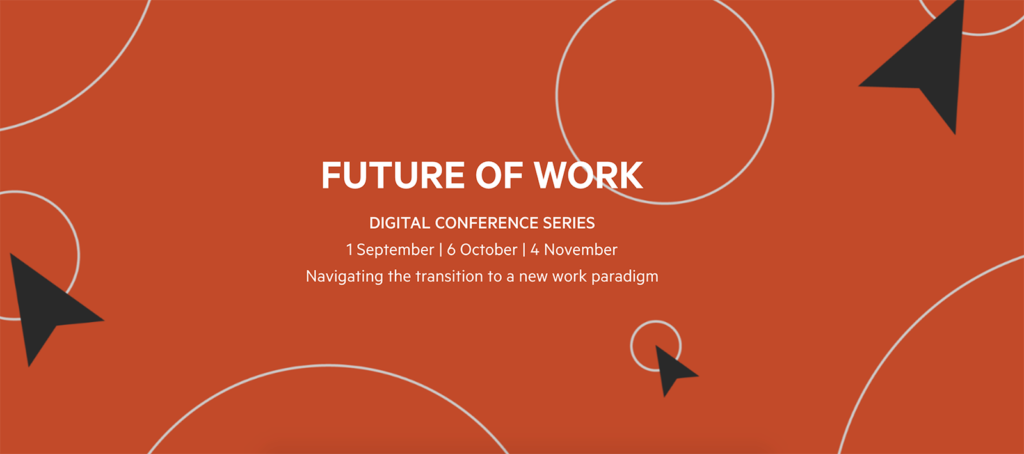 Remote work is here to stay, but how do you transition the workplace to support that?
Learn from executives from Twitter, UBS, HP, Oxford University, and more on how to reinvent business plans related to organizational structure, employee contracts, and innovation virtually. This three-day event is spaced out throughout September, October, and November to narrow in on technology, the workforce, and the workplace. From increasing productivity to promoting diversity, you'll learn how to successfully transition your business from in-office to remote.
Dates: September 1, October 6, and November 4, 2020
Location: Online
Price: Free
Website: https://futurework.live.ft.com/
Future of Work Summit

Learn from industry leaders and innovative companies on how they're approaching the future of work with discussions around building smart working environments, balancing workforce satisfaction, creating recruitment strategies, and improving diversity in businesses.
Speakers include leaders from techUK, Royal Bank of Canada, Zalando, and more. Plus, VIP members have access to round tables with senior executives to further discuss the gig economy, security concerns, recruitment, and activating positive change in the workplace.
Dates: September 8, 2020
Location: Online
Price: Free
Website: https://tmt.knect365.com/future-of-work-summit/
Remote-First Conference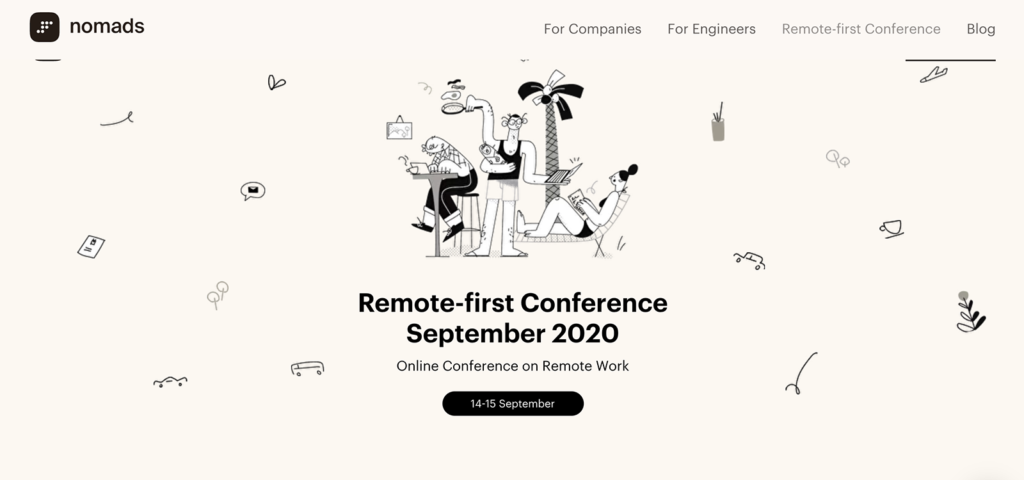 If you're a founder, future founder, or remote tech talent, this conference is for you.
The Remote-first conference will cover everything you need to know about running and working with a remote team, as well as how to improve yours. Learn how to hire top talent like top remote companies such as Automattic, GitLab, and InVision do.
Dates: September 14-15, 2020
Location: Online
Price: Free
Website: https://6nomads.com/remote-conf
Freedom Business Summit Online 2020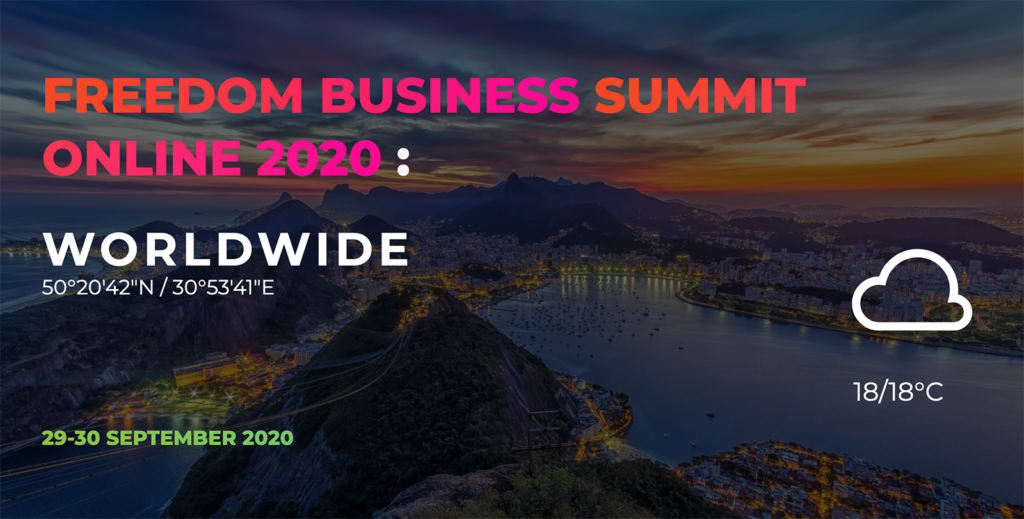 Watch 18 industry speakers who share their strategies for building, running, and managing a remote company. Entrepreneurs and experts from top remote companies will reveal the online tools they use, how to hire virtual assistants, how to earn an income from investment properties, and how to be a perpetual traveler.
Dates: September 29 – 30, 2020
Location: Online
Price: €29
Website: https://freedomsummit.net/
Remote Future Summit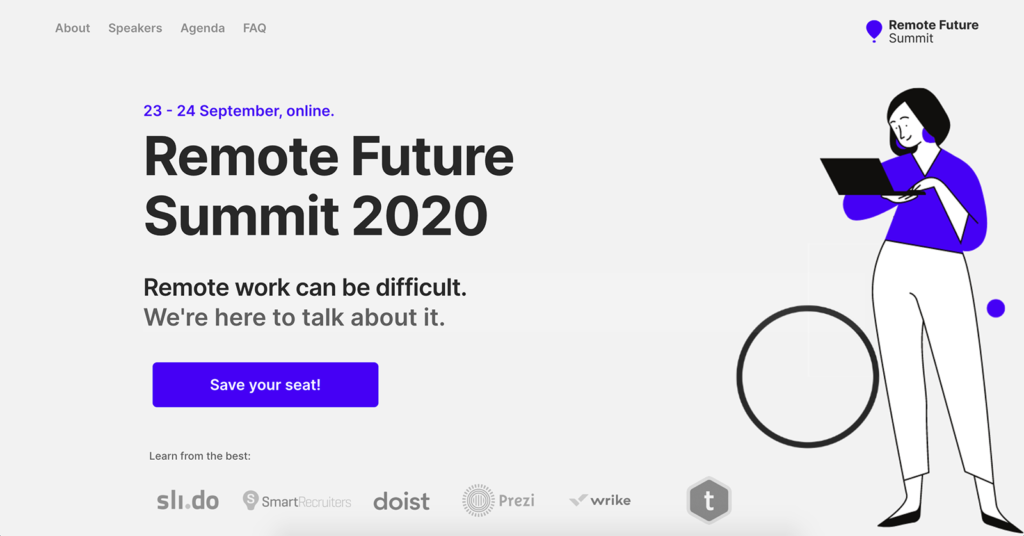 Learn how to overcome the remote work challenges of overworking, building relationships, and feeling isolated.
The Remote Future Summit is a live-streamed and interactive event where you can learn from industry experts who share their challenges and failures, and how they learned from them. Speakers include founders of Smart Recruiters, PowerToFly, Wrike, Soapbox, Torre, and many more.
And beyond watching the speaker series, you can meet likeminded people in intimate networking sessions too.
Dates: September 23 – 44, 2020
Location: Online
Price: Free
Website: https://www.remote-future.com/
October 2020
Distributed 2020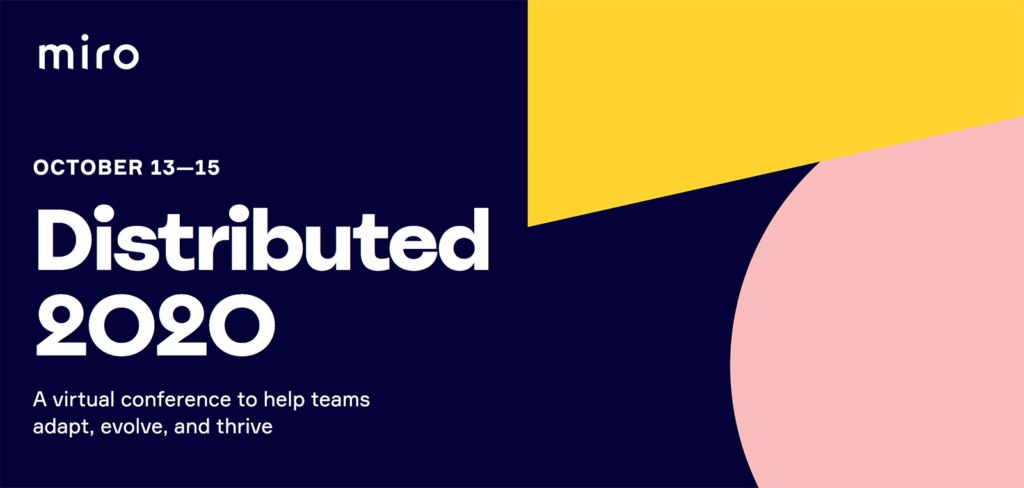 Distributed is a three-day virtual conference helping teams adapt to working remotely by sharing the latest trends, frameworks, and best practices. Last year the event brought in over 14,000 participants from all over the world. This year, the speakers represent big names in the business such as FYI, Khosla Ventures, Mojang, Work Life, and Remote.
Dates: October 13 – 15, 2020
Location: Online
Price:
Website: https://go.miro.com/distributed-2020-virtual-conference
Digital Marketing Skill Share Retreat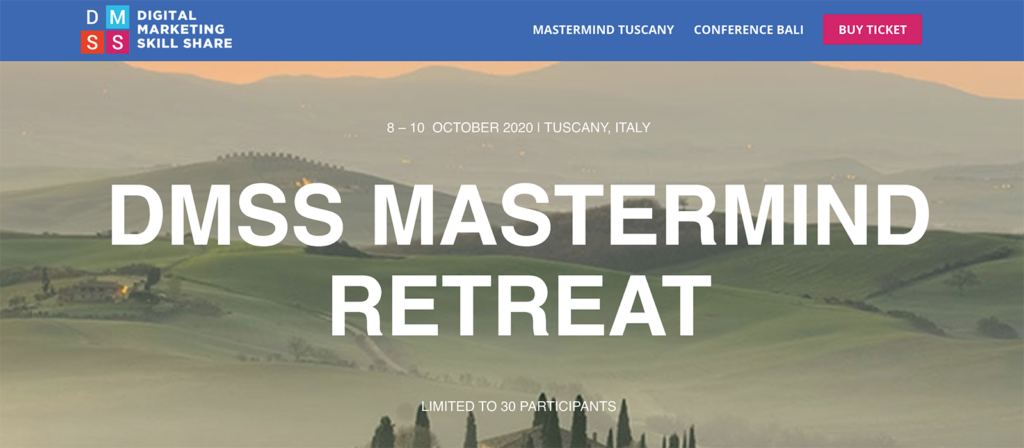 Geared towards guiding marketers, entrepreneurs, or business owners, the DMSS retreat dives into B2B and B2C strategies, helpful tools, and how to engage and retain customers.
Set in a picturesque medieval village in Tuscany, this three-day retreat is broken into workshops, networking activities, group lunches, wine tastings, and mindfulness sessions. You'll learn how to grow your business through SEO, PPC, social media, CRO, funnels, analytics, and sales.
Dates: October 8 – 10, 2020
Location: Tuscany, Italy
Price: €600
Website: https://dmss.io/tuscany-mastermind/
November 2020
Nomad City 2020
With tracks in both English and Spanish, Nomad City will run onsite and virtually this year. The event will host speakers from all around the world to discuss remote work, business strategies, and how to be location-independent.
Last year, speakers from Microsoft, Buffer, and Workplaceless shared their insights. This year's speakers are to be announced.
Dates: November 6-8, 2020
Location: Auditorio Alfredo Kraus Las Palmas de Gran Canaria, Spain or Online
Price: €49 online; €147 onsite
Website: https://www.nomadcity.org/
Remote-First Founders Event

Learn how to build and scale a remote company from founders who have done it themselves. Founders of Krisp.ai, PowerToFly, and Remote Team break down everything from managing payroll to working on compliance across multiple countries.
This one day conference offers 1:1 networking, hands-on workshops, live speaker Q&As, talk recordings, and partner discounts.
Date: November 18, 2020
Location: Online
Price: Free
Website: https://runningremote.com/
December 2020
Digital Nomad Summit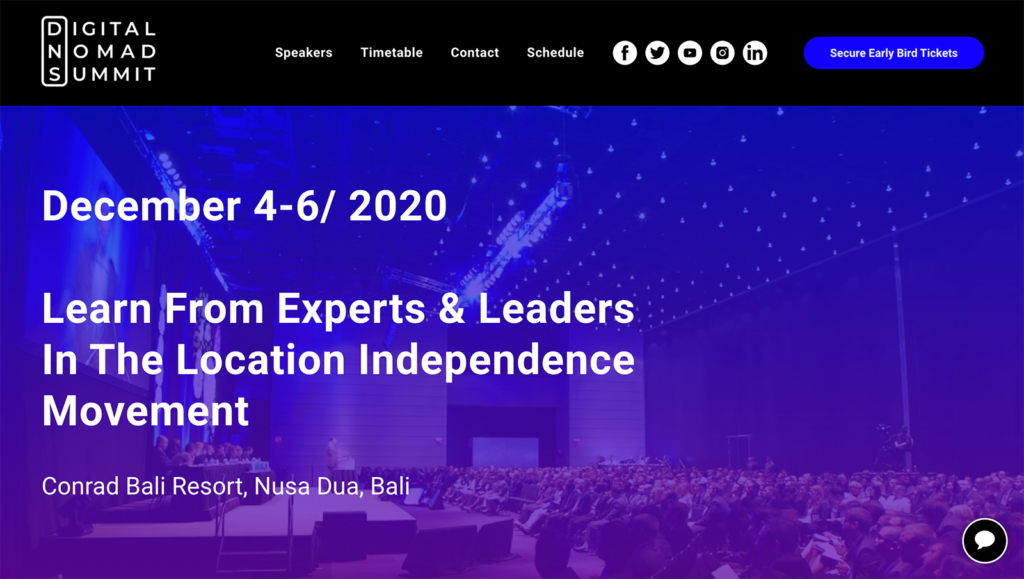 Learn more about the location-independent movement from those who are successfully living it. Full-time traveling families like The Unstoppable Family, and entrepreneurs like Addicted2Success will reveal just how they do it. And how you can too.
This summit is best for those who are looking to start an online business, already have an online business, freelancers, and remote employees.
Dates: December 4-6, 2020
Location: Conrad Bali Resort, Nusa Dua, Bali
Price: TBA
Website: https://thedigitalnomadsummit.com/
Digital Lifestyle Conference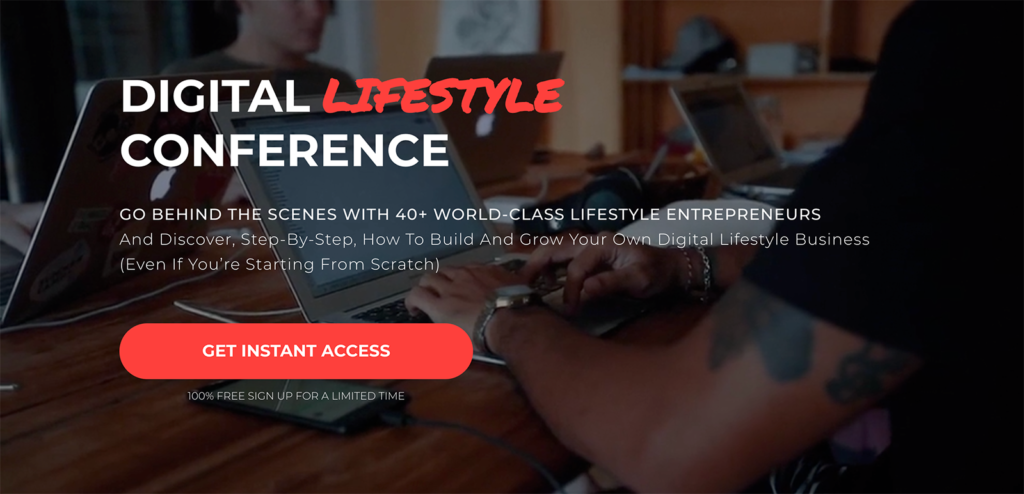 Learn how to grow your online business from 40+ entrepreneurs who have done just that.
The Digital Lifestyle Conference covers how to achieve success and financial freedom, all you need to know about online marketing, and the tools and strategies to get there. Speakers are entrepreneurs, influencers, consultants, business owners, and freelancers who have all reached location-independence online.
Dates: TBA
Location: Virtual
Price: Free
Website: https://digitallifestyleconference.com/

---
Where to next? Find flexible month-to-month rentals across the globe on Anyplace.
digital nomad conferences
digital nomad events
remote work conferences
remote work events