How to Eat Like a Local on a Budget as a Digital Nomad
You're a digital nomad that loves tasting your way around the world and connecting to each culture through food. You want to eat everything but your budget is tight. Here is the good news: food never needs to break the bank—if you know how to get creative.
Research the City
The first step to eating like a local while on a budget is to do your research. A quick search for a destination's traditional dishes will point you in the right direction. This gives you a baseline for what to start looking out for as you wander the streets of your new sojourn.
Knowing the traditional dishes will make for a deeper cultural experience. You didn't travel all this way to have burgers or avocado toast, right? Making a list of just these dishes helps you narrow down your search and your expense list. Beyond researching what to eat you'll also want to look into when to eat. Some cultures will only dine at certain times of the day, so make sure you know when the locals are actually dining for the next tips to work!
Head to the Outskirts
Inevitably, the most popular neighborhoods of your destination will have the highest prices for food. You'll want to avoid these areas (just like the locals do) when on the hunt for your next meal. Make your way to the quieter areas away from the tourists and the major sightseeing. Often you'll pay much less when eating out on the outskirts of town.
The best way to find these neighborhoods is to do a simple map search, look for an area a few blocks or streets away from any major tourist site and start walking away from the center of tourism. Even these quieter neighborhoods will have great eateries, since locals, in particular, want good food away from the chaos.
If you want to get even more budget-conscious research the average housing costs of a neighborhood to gauge the price range of their eateries. Some bigger cities will have enclaves of wealthier neighborhoods that, though away from touristic sites, will have you shelling out even more than expected.
Listen and Look
As you saunter through your new surroundings, use your digital nomad super senses to search for the dishes you had researched beforehand. The smell is the obvious sense to follow when on a food search, but listening for the sounds is more important for those of us on a budget. Listen for the sound of the local language—it's probably a sign that you've gotten away from the tourist neighborhoods and into the local territory.
Chattering voices and sometimes music can lead you to a local haunt. Once you've found a spot filled with locals, it's time to keep your eyes peeled. Look at the dishes on the tables—no need to be shy—peer through a window and see what locals are actually ordering. Be attentive to what is being served. If you spot some of the traditional dishes, there is a good chance that the restaurant is well priced. Why? Because locals go out to eat traditional dishes when either the price is right, or the dish is too complicated to make at home. Which leads us to the next tip.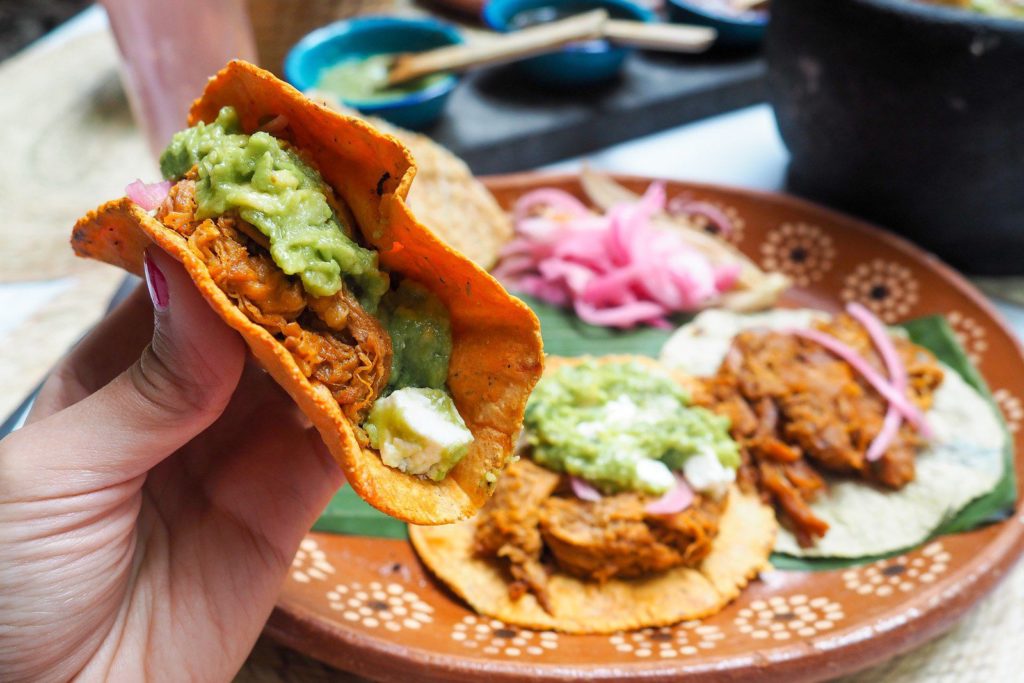 Make it Yourself
Making your own meals using the local ingredients is by far the most budget-friendly method of eating local for a digital nomad. This doesn't mean you should confine yourself to cooking the recipes you had before your move to this destination. This is your chance to explore new skills and try your hand at some local recipes, chances are the ingredients on your list will be much simpler to come by.
The easiest way to get started is by going online and looking for recipes. Local home cook blogs are popping up all the time with full instructions are grocery lists ready for you to take with you on your next trip to the store. Many of these are already written in English and if not, there is always Google Translate.
Another way to learn what to cook as a digital nomad is to work backward from ingredients first. Head to the grocery store and watch what locals are buying. Take note of what is flying off the shelf and go back to see what recipes call for that ingredient. If cooking seems daunting and you're in need of a personal touch, try heading to a local farmer's market. The atmosphere is friendly and you can ask the sellers in person how they would prepare a particular ingredient.
Make a Friend
The best way to eat like a local? Eat ​with​ a local. With technology, it has never been easier to get out and meet people around the world!
FYI dating apps aren't just for dating anymore. Plenty of dating apps now have sections dedicated to meeting and making friends—Bumble BFF being one of them. If hearing "dating app" sends you reeling you can try other people-gathering platforms. Meetup is a website that helps you find other digital nomads or like-minded groups based on shared interests. Look for food-minded groups and you just might find some local gatherings of foodies.
If you're going to be in a particular destination for a while, you can also try staying at a co-living space. You'll end up meeting a lot of other digital nomads and locals living there. Some of the locals may even be waiting to take new folks out around town for a budget-friendly taste of the town! Once you deepen your relationship with these local friends you might even be invited for a home-cooked meal—by far the best way to taste the local fare.
---
Where to next? Find flexible month-to-month rentals across the globe on Anyplace.
digital nomad food
digital nomad foodie
food on a budget
local food
You may also like