What's So Great About Lisbon, Portugal for Digital Nomads?
Lisbon is a pretty spectacular city for digital nomads. You'll find amazing coffee, beautiful coworking spaces, and a plethora of co-living places. Did we mention there's also plenty to do and see? Check out some of our favorite things in this coastal capital.
Lisbon has suddenly found itself as the new capital of cool in Europe, currently rivaling the likes of London & Barcelona and touted as the place on everyone's lips. 
And for all the right reasons.
From the wide glittering river, the plethora of history there, the astounding tales of imperialists, Berber pirates and fierce knights, to the colonialist history and ornate architecture—something about it is irresistible. 
The decidedly lively city boasts spectacular hilltop vistas, mint-colored tiled facades and red roofs all make it feel like a city assembled from travelers' wishlist of components for a city-break.
Beneath the limpid skies, you'll find a juxtaposition between a bohemian vibe and a historical one that makes Lisbon retain an unparalleled sense of nostalgia. 
Every year, you'll find more and more things to do, see, and eat and there isn't a shortage of captivating ways to spend whatever time you have in Lisbon.
Why Lisbon?
Staying in Lisbon means immersing yourself in a European city that's hard to compare with the others. There's this authentic, genuine hospitality, a rimming sense of history with the Moorish castles & monasteries dominating the skyline and a vibe of old-world anew.
Unlike so much of Europe, Lisbon hasn't gone global yet – there's the resolutely Portuguese vibe around every corner, and the city oozes with history, open squares, and a unique culture thanks to the mix of cultures it has experienced over the last few centuries.
Because there's just so much to experience, you might find it quite difficult creating your own to-do list.
So, we're helping you out! Here are 10 amazing things to do and see to ensure you have quite a memorable trip.
1. Trek up Torre Belem
If there's one landmark to visit while you're visiting Lisbon, make sure it's this UNESCO World Heritage. Built on the banks of the Tagus River, the tower soars high above the river with an incredible fusion of architectural styles. 
You'll find Mudejar architecture, Moorish, Gothic and Romanesque all in one. It was originally built to defend the system, and later took on the role of a lighthouse and customs office. Make sure you trek up the narrow stairs for some killer views from the terrace.
2. Hop on Tram 28
San Francisco has its renowned cable cars, London has its double-decker buses and Lisbon has its dreamy trams. Nothing is more iconic to Lisbon than its yellow trams and none are more iconic than Tram 28, which has worked up its way through the city's narrow streets since World War II.
The vintage wooden streetcars will take you through the palm-tree fringed streets of Graca, the thin alleys of Escolas Gerais up to Estrela Basilica. Enjoy the fine breeze, the various palaces you'll see on your route, the castle and of course – the unparalleled people-watching opportunities.
Don't expect a smooth trip with air conditioning, the Tram 28 has remained unchanged for decades, but it's all part of the tram's charm.
3. Get Lost in the Alfama District
The picturesque Alfama  District is a must on your trip to Lisbon. The old town center has been hailed as the oldest part of the city and retains the charm of Europe's ancient capital while teeming with a history dating back to the Moors. Take your time getting lost in the warren of cobblestone streets that wind through quaint boutiques, cozy Fado clubs, wispy Portuguese restaurants and much more.
Most of the top city attractions are located there as well including St. George's Castle, Se Cathedral, and Feira de Ladra. We highly recommend ditching the map and immersing yourself in the colorful street arts, the alleyway drinks, and the multiple vantage points along the way.
4. Take a Day Trip to Sintra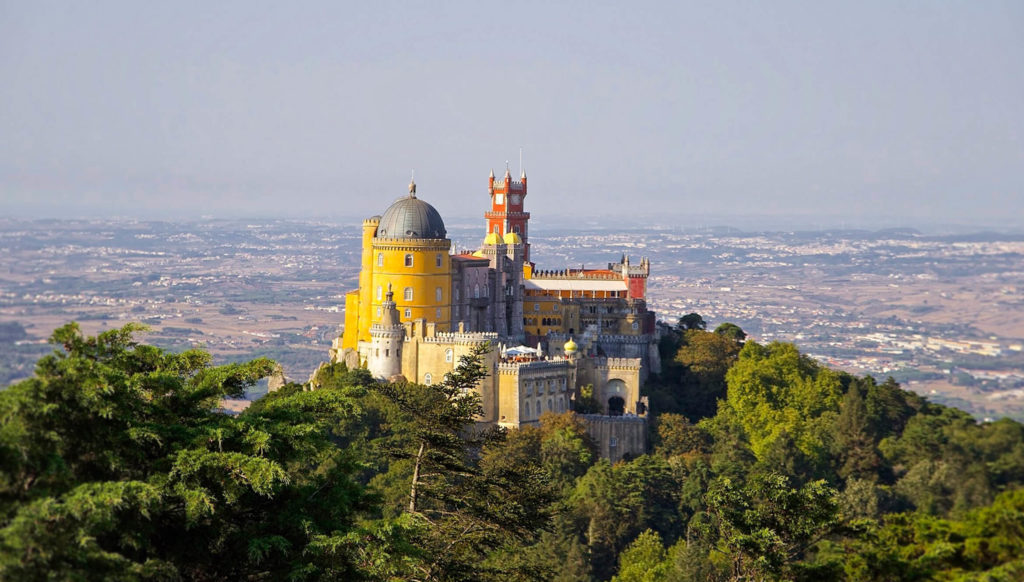 It says something that Sintra's praises have literally been sung in all kinds of literature for years. It's no exaggeration how Sintra has been dubbed as a "glorious Eden". Perched amidst the Mountains of the Moon, Sintra emanates an almost mythical vibe. The surrounding area is chock full of grand palaces, baroque churches, and fairy-tale-like mansions and a veritable sense of otherworldliness.
Of course, the stars of the show will always be Palacio Nacional de Sintra, The Castle of the Moors, Monserrate Palace, and Quinta de Regaleira. There's a reason the whole city is a UNESCO World Heritage Site!
5. Explore the World of Azulejos in the National Tile Museum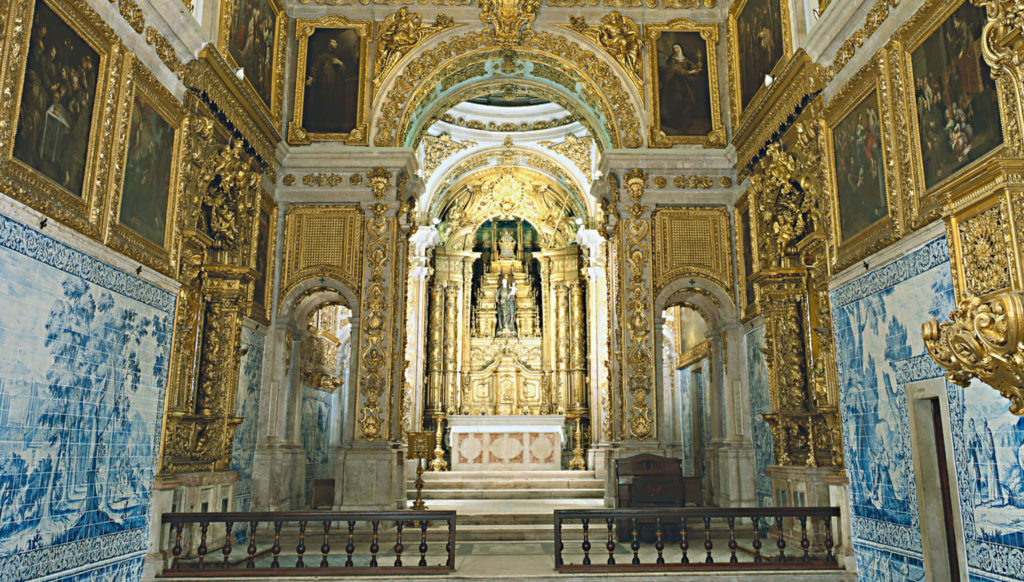 Lisbon is the place to go for tiles. It's impossible to leave the city without being enamored by the masterful display of azulejos that brighten up all buildings and streets. This is where Lisbon's National Tile Museum comes in – it's dedicated to Portugal's most important tradition and showcases a multitude of tiles in gorgeous blue and white iterations, all while tracing the history of the craft.
Make sure you don't miss out on the panorama of Lisbon that spans two walls and gives you a glimpse of a bygone Lisbon prior to the 1755 earthquake. Wandering through the museum feels like an intimate immersion into one of Portugal's most renowned traditions.
6. Enjoy the Views from St. George's Castle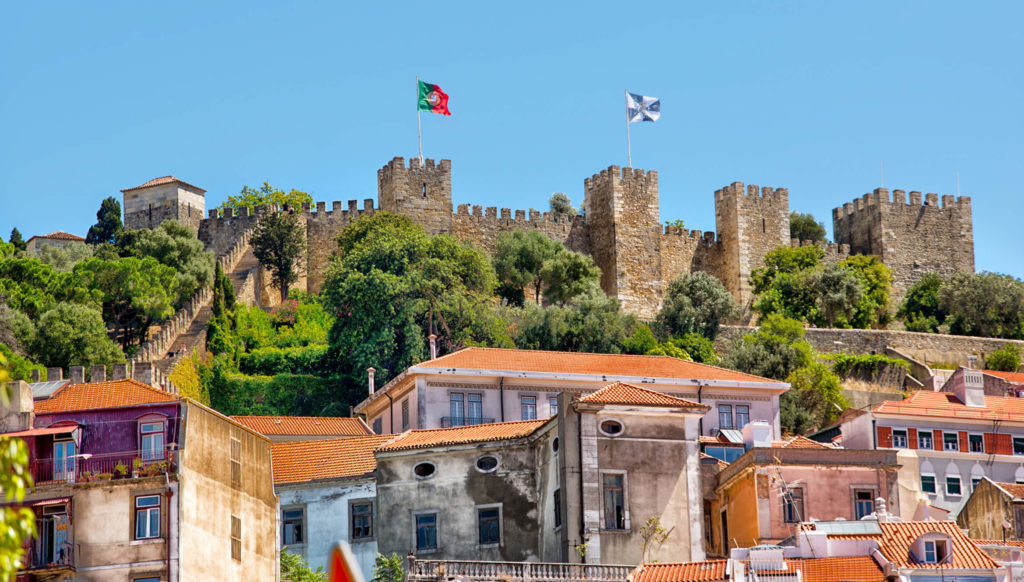 It'll be hard to miss St. George's Castle – Lisbon's unquestionable most visible landmark in the center. The hilltop castle is carved into Lisbon's array of emblematic scenes. 
The castle is known for its sweeping views of Lisbon, it's camera obscura that offers 360-degree views of Lisbon's red rooftops, the Tagus River snaking its way through the ruins of the formal royal palace and much more.
7. Immerse Yourself in History at the Monastery of Jeronimos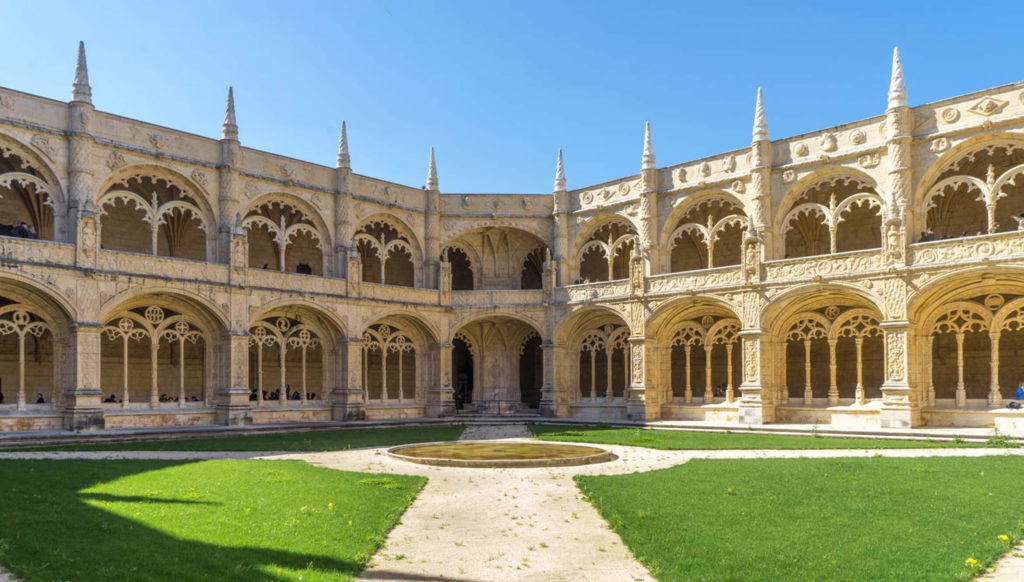 Just a quick look at the ornate spires, epic pillars and intricate carvings of the Monastery of Jeronomis is enough to make you awe-struck at the spectacular fusion of architectural designs.
The Manueline style of architecture is more of an ode to the multiple cultures encountered by Lisbon's explorers. The massive monastery was built to revere the "Age of Exploration" – Portugal's most glorious age, and you'll see that as you wander through the epic pillars and massive webbed ceilings.
Make sure you visit the Archeological Museum & Marine Museum that are on its premises for more a historical context, then head over to the Belem Tower afterward.
8. Enjoy the Masterworks of the National Museum of Ancient Art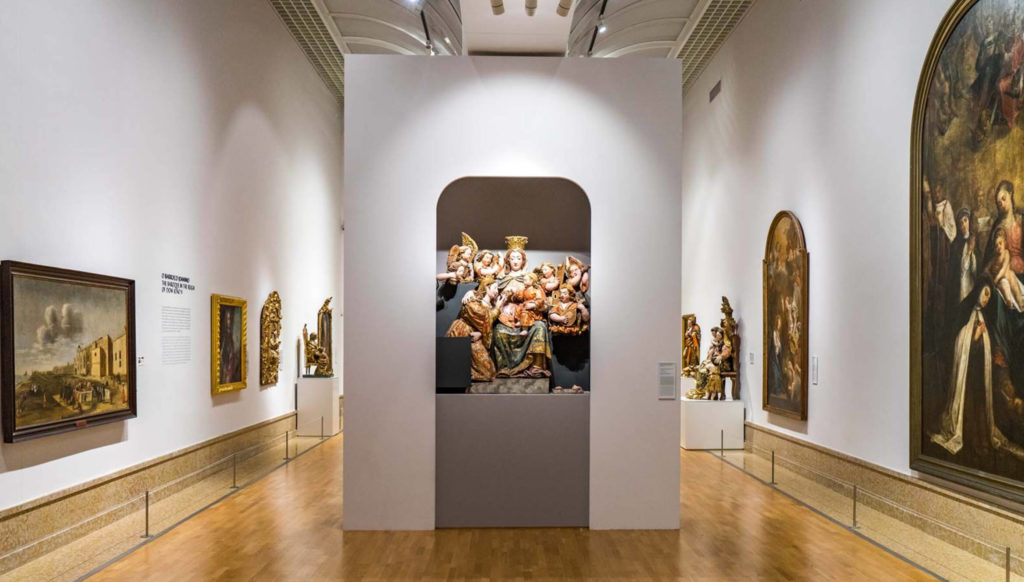 This is where you'll find some of Portugal's most prestigious artworks. A majority of the artwork and canvases date back to the 16th century (up until the 19th century) and a lot of them reflect Lisbon's Renaissance period as well as its Age of Discovery.
9. Hang Out at Bairro Alto
This is one of the most premier tourist districts in Lisbon, but don't let that put you off. It's the place to go for some of the best alfresco cafes, renowned cuisine, and unparalleled nightlife.  Make sure you spend some time at one of the many old Fado music holes for a true sense of Portuguese artistic passion.
10. People Watch at the Praca do Comercio
There is no shortage of stunning plazas in Lisbon, but Praca do Comercio is undecidedly the grandest of them all. It was first envisioned as a gateway to the new world and retains a majestic aura reflecting a grand era. Walk around the yellow buildings, check out the Dom Jose I statue and kick off your Lisbon trip with a quick cup of coffee at one of its many restaurants.
Whether you want to sip on wine by the Tagus river, take a funicular up into the lively Bairro Alto, immerse yourself in history or be enamored by the attractions of the city – Lisbon does not disappoint. The amalgamation of breezy sea views, coastal relaxation, top-notch art, food, history, and incredible locals is hard to resist! So what are you waiting for?
---
Where to next? Find flexible month-to-month rentals across the globe on Anyplace.
digital nomad guide
digital nomad lifestyle
digital nomad lisbon
nomad guide lisbon
Dalia is a freelance writer and brand manager based in Egypt. She's traveled to a number of countries as a digital nomad including Japan and Portugal.
You may also like