The Ultimate Digital Nomad Guide to Berlin, Germany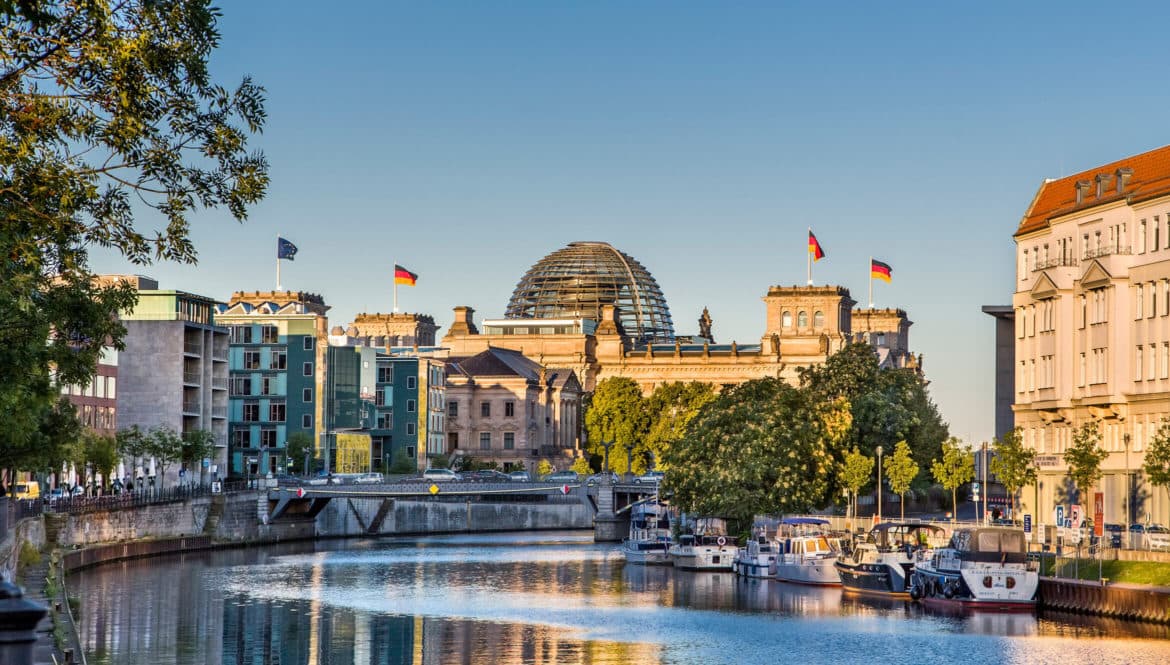 Berlin regularly scores high on the list of top destinations for digital nomads, and there are a fair amount of reasons for that.
What do digital nomads need to thrive in a city? 
Reliable WiFi (obviously)
Coworking spaces—to get work done and meet others, of course
Amazing cafes
A way to blow off steam (extravagant nights on the town, an array of attractions to visit)
Delicious restaurants
Berlin, Germany, easily ticks off all of these boxes on the nomad checklist. 
And, the city is a great jumping-off point for visiting other European destinations. So, even if you suddenly have the urge to escape Berlin's trendy, vibrant bubble, you can quickly jet off to somewhere else in Germany or travel to another country. Berlin sits within the Schengen area, so restless visa holders can hop on a bus, train, or plane and experience a myriad of European nations within a short trip. 
Berlin stitches the necessities needed for nomads to prosper into one magical, memorable good time—with both former residents wanting to return and current ones wanting to stay. 
What can you do in Berlin once you've finished work? Read on to find out the top 10 attractions and things to do in Berlin.
But, Why Berlin?
Okay—before we get into the attractions, we need to totally convince you that Berlin is the ultimate oasis for digital nomads.
Berlin has over 70 coworking spaces, making it a great city to meet other remote workers
Yep! You read that right. Around 70 coworking spaces dot the German city. Several spaces boast of creative, unique designs and people, so it'll be easy to find a spot that suits your personality and introduces you to the type of people you want to hang out with. 
For example, innovative creatives will find similar minds at Kaos Berlin, while St Oberholz caters to night owls. But Berlin makes it even easier to meet other nomads via their networking and meet-up events. These groups and events also grant newcomers a chance to meet others: Co Up, Factory, MeetUp, and Internations.
Central European location
Why do most digital nomads switch from office jobs to remote work? So they have the freedom to travel! Berlin's centralized location gives nomads the chance to do what they love best: explore new cultures. Berlin sits close to Poland, making it the most accessible country, but you can always use cheap modes of transport to go from country to country, such as FlixBus, BlaBla Bus, and the airline we all love to hate (but one that we all need): Ryan Air. 
Other things to consider
Berlin's WiFi, on average, runs at 30Mbps—that's speedy!
The party scene boasts of bars and clubs tailor-made for posh gatherings, classy evenings out, trendy folk looking for a good time, and anyone who desires debaucherous fun. And this is thanks to its high-class cocktail bars, rambunctious beer gardens, and soothing symphonies. The nightlife has the power to keep anyone entertained.
If you aren't a foodie, Berlin will turn you into one. The European city fuses cultures to form delicious, mouthwatering cuisine. You can't leave Berlin without trying the Mustafas Gemüsedöner—the greatest Döner on Earth. Expect to find numerous local delights as well, like currywurst.
You'll find countless trendy cafes here. Try out the Barn Roastery, Refugio Cafe, Five Elephant, and more. 
Best 10 Attractions in Berlin
As mentioned, Berlin has a ton of must-see attractions and plenty of things you can do, but the following 10 spots and activities definitely stand out.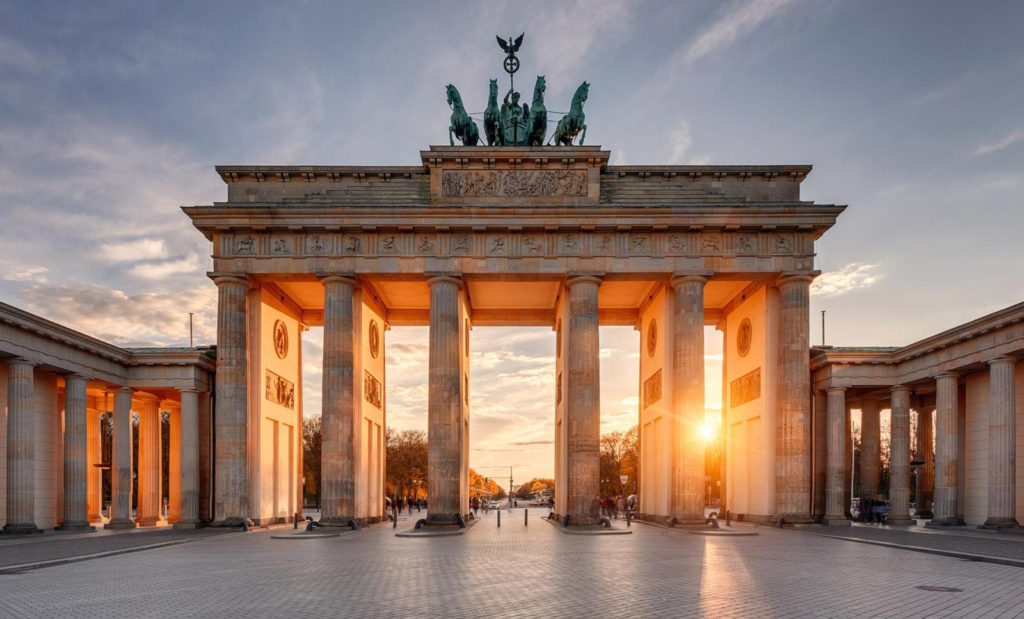 1. Check out the Brandenburg Gate
Let's start with one of the more obvious must-see attractions before unveiling quirkier destinations: Brandenburg Gate. This towering landmark, built in the 18th century, has survived Berlin's dark history. It also symbolizes the divide between East and West Berlin. 
2. Eat Currywurst!
Seriously. You can't go to Berlin without trying this authentic dish and trust us—it'll leave you wanting more. Rumor has it that one woman from East Berlin received ketchup and curry powder from British soldiers in 1949. Since ingredients were slim at that point, she had nothing better to do then mix them, throw in pork sausage, and produce a culinary masterpiece. It's the perfect mid-day or late-night snack.
3. Spend Time at the Berlin Botanical Garden
Get away from your screen and immerse yourself in a blanket of green! This pocket of verdancy began as a kitchen garden in 1679—random, we know—and has now developed into the second biggest botanical garden in the world. Side note: a collection of tunnels from World War II sit just outside the garden, but no one can go in them.
4. Go Clubbing
Berlin boasts of a lively, exciting club scene that's tailor-made for party animals. It's suggested to try out Berghain, but know that you may not get in—they seem to accept people who dress super weird, so keep that in mind. Other notable spots include Klunkerkranich, where city views sprawl below, and Yaam Beach, the king, and queen of live concerts!
5. Walk Around Museum Island
It's impossible to eliminate Museum Island from a "best attractions in Berlin list". This UNESCO World Heritage Site offers a 3-day museum pass, which is definitely worth the purchase. Spend hours upon hours strolling through the museums dotting the area! It includes one of the most famous museums in Europe: the Pergamon museum.
6. Drive a Trabi
This may be more of a touristy option, but it lets you drive a Trabi (or Trabant), and it gives you a chance to explore a collection of must-visit attractions around Berlin at the same time. Here's how it works: Your guide will drive in front of you and tells you all about the places you're passing via radio. It's like a guided tour except you're behind the steering wheel. Not bad, right? This car symbolizes the fall of Berlin because numerous East Germans crossed into West Germany with this type of vehicle. 
7. Enjoy Summer Days at Badeschiff
Take note—Badeschiff is the ultimate summer oasis for Berliners! This floating, futuristic swimming pool is kind of a harbored barge that functions as an open-air bath on the riverside. Amid cooling off in the Spree River, you can enjoy refreshing cocktails or cold beers at the bar and delicious food at the restaurant. There are also regular music events, yoga, and more on the attached beach. Expect to find a lot of other locals flocking here from May to September. 
8. Admire the Gendarmenmarkt
Appreciate the fairytale-like architecture holding up the German and French Churches dotting this square. Expect enhanced magical vibes encircling the Gendarmenmarkt during December when the Christmas Market takes over!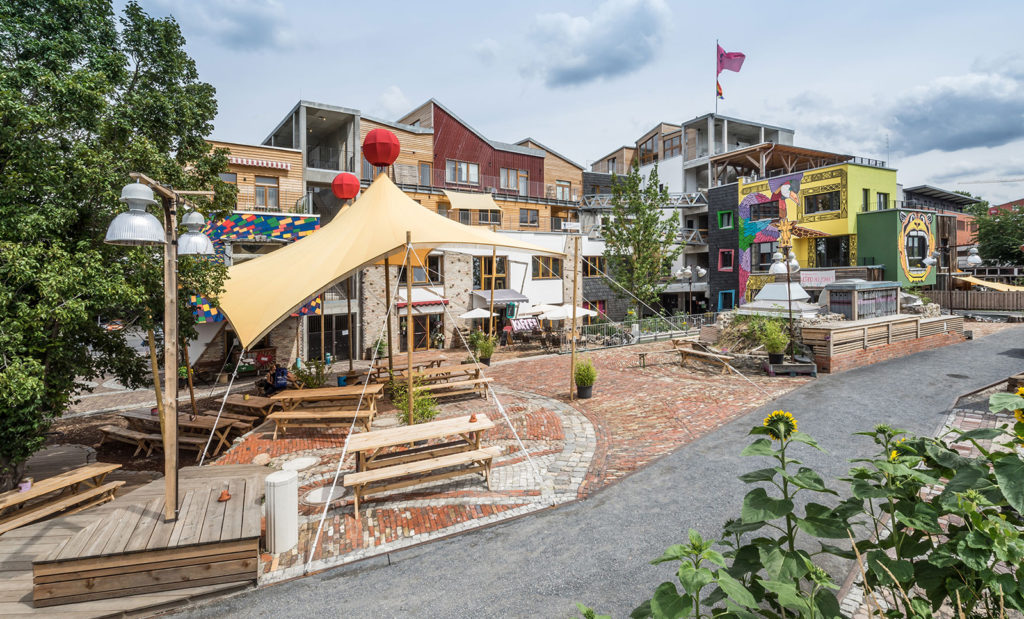 9. Relax at HolzMarkt
This hidden gem grants you the chance to chill out after a long day of working or exploring! Spend time relaxing at the bar, restaurant, or coffee shop in this quirky, relatively unknown area. Sometimes this community-led area hosts events or shows movies. It's the place to be if you want some laid-back time with locals.
10. Go to the Holocaust Memorial
While Berlin has many stunning, vibrant, fun attractions, it's hard to ignore the dark history that once plagued this nation and the rest of the world. Take a moment to meander the Holocaust Memorial and do not, under any circumstances, climb and jump around in here. Quick fact: Hitler hid just a few meters from here when WWII ended. 
Need a place to stay in Berlin? Hit the link below to find monthly, affordable rooms for rent across the city.
---
Where to next? Find month-to-month rentals across the globe on Anyplace.
digital nomad destinations
Nomad Guide Berlin