Top 4 Money-Saving Tips For Digital Nomads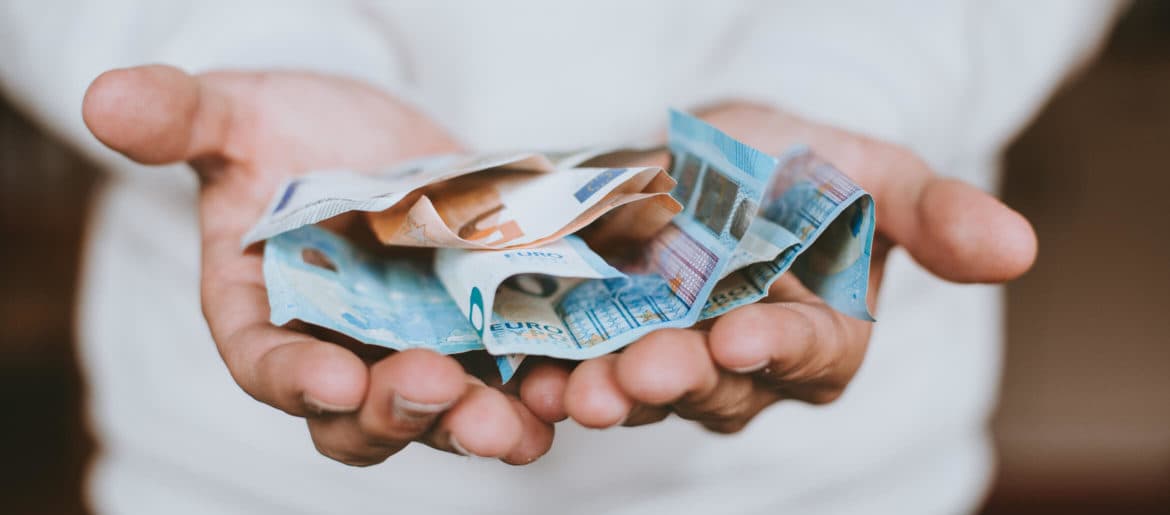 Most digital nomads can agree with me when I say:
It can be tough to save money whilst basking in the ever-so dreamy, but also ever-so demanding remote work lifestyle. You're always on the move, you need to find reliable accommodation to keep your electronics safe, and you need to find good WiFi, eat, drink, and socialize to stay alive (and sane).
And if you want to continue your journey abroad, you need to know how to save money. Try not to become the type of traveler who begs for money from locals because you can't afford a flight home! And yes, this does happen.
Thankfully, you can easily avoid this fate, and continue your digital nomad lifestyle by making smart, money-saving decisions and knowing some budget hacks. So, what are they? Let's get into the top money-saving tips for digital nomads.
1. Pay Attention to Banking and ATM Fees
I love to pay ATM fees! (said no one ever). If you like the idea of giving some love back to your bank, good for you. The rest of you will want to pay attention to these next tricks on how to give some love to your budget rather than your bank.
Go Into the Bank
Keep in mind that this tidbit of advice may vary across the globe, but I recently discovered that taking out money with my visa from a bank teller is a beneficial money-saving practice.
You may have to wait in line in a hot, sweaty, crowded environment (depending on your location), but you can avoid the ever-so annoying $5 ATM charge. And that $5 adds up over time! Plus, for the most part, there's no restriction on how much you can take out. If you want to try this out, don't forget to bring your ID.
Try TransferWise
Looking for a way to send and receive money from different currencies without getting screwed by the exchange rate? TransferWise can help us location-independent, remote work folk. You can easily send money abroad without worrying about losing funds or paying high-soaring bank fees.
The user-friendly system gives you the chance to transfer in currencies from 59 countries across the globe.
Even their tagline—"Bye bye bank fees, hello world"—caters to the digital nomad community.
Get Cashback at Grocery Stores
Another way to avoid ATM fees? Use your debit and take advantage of that cash back option when you're paying for your food at grocery stores! If your current destination allows this, do us all a favor and use it.
2. Seek Affordable Accommodation
Can't afford a swanky hotel or an apartment downtown? No problem. You can try out a couple of options!
Workaway
On Workaway, in exchange for a maximum of five hours of work a day (five days a week), you will get room and board.
It may not be ideal for location-independent workers who need to set aside five hours or more a day for remote work, but new digital nomads may enjoy this option! Or if you find your budget running out, you can always look into Workaway. It's great when it comes to saving money.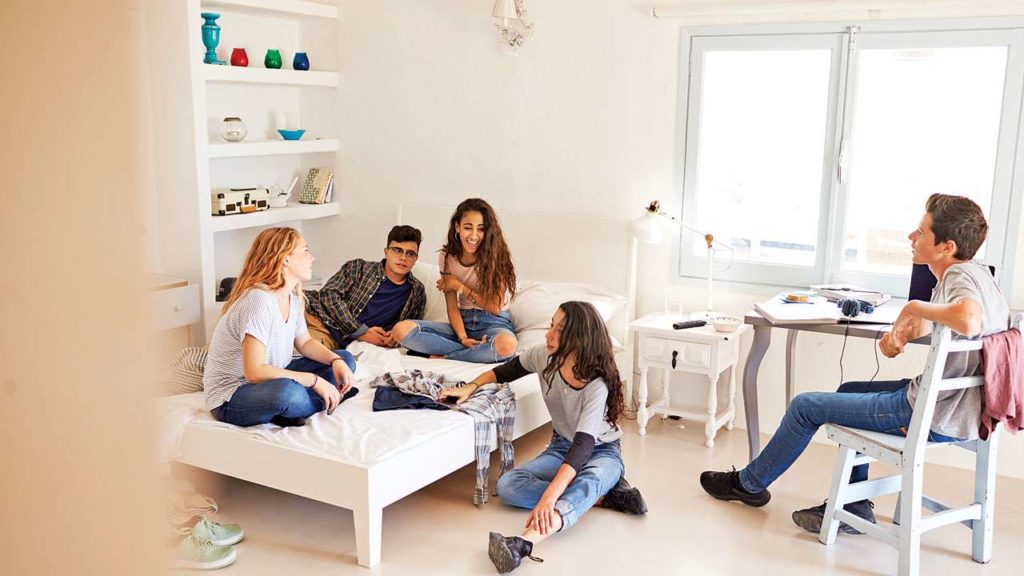 Co-living
Workaway may be one of the best living options when it comes to saving money while traveling, but co-living tailors more to the digital nomad, remote work lifestyle. How?
Well, it comes with WiFi, so you can work from home (why pay to sit at a coffee shop, when you can work from home?). On another money-saving note, you can use the kitchen to concoct meals.
Have you ever noticed how easy it is to spend money on food at restaurants? With co-living, you can buy inexpensive goods from local markets, make food, and eat alongside your roomies. It's fun to go out once or twice a week, but why go out when you can save money and revel in a similar social aspect at your co-living space?
3. Find Cheap Transportation
What does nomad mean? Google describes the word as: a person who does not stay long in the same place; a wanderer.
Basically, digital nomads move around. A lot. We want to breathe in new smells, explore new landscapes, become acquainted with new cultures. But it costs money to move from place to place. Thankfully, there are cheap ways to get around without breaking the bank. What are they? Let's take a look!
Track Flights on Skyscanner
This piece of advice may seem straightforward, but it's extremely relevant when it comes to saving money. Skyscanner, as it so creatively states in its name, scans the internet and provides you with the cheapest flight deals. You can also get price alerts sent to your email, so you can track when your desired flight goes up and down in price.
I'm the worst when it comes to planning ahead, but if you know your date of departure way in advance, start tracking the prices. However, if you can hop from country to country without flying and go via bus, boat, or train, do it. It may take ten times longer, but you'll potentially save hundreds of dollars.
Take Public Transport
To put it bluntly: don't take private taxis. They will hurt your budget. Unless you arrive in a new city at 3 am, your hotel or hostel doesn't offer a free pick-up service, then you should definitely take a taxi! But once you get to know the ins and outs of the city, take public transport.
Most cities across the globe offer cheap public transportation—you may get a tourist price, but it's still a thousand times cheaper than a taxi. For example, in Thailand, you can take a tuk-tuk (seen below) or a songthaew, and in Kenya, you can hop in a matatu.
Residing in a big, developed city that doesn't have cool, quirky public transport options? Other than the subway and public buses, you can also check to see if your current destination has a bicycle-sharing system. Not only is this option eco-friendly, but it will get you moving before and after staring at a screen all day.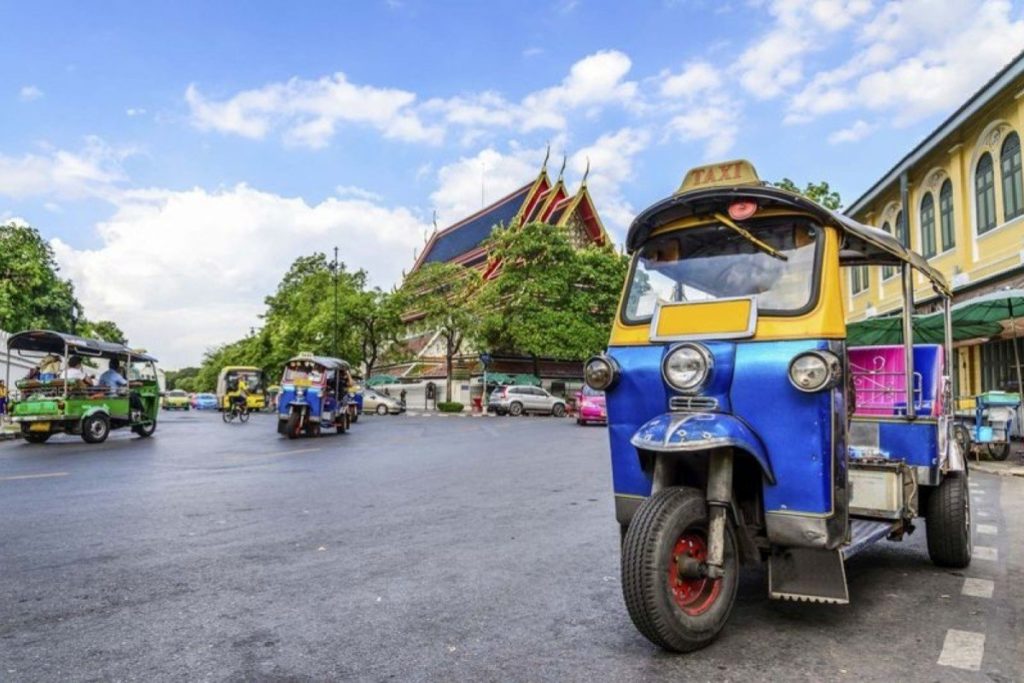 4. Consider Your Working Space
Location-independent workers need one thing to survive: WiFi. (It's nice to have food and water, too.) But jumping from coffee shop to coffee shop on a daily basis may not help your budget.
Co-working Spaces
Most coworking spaces will ask you to pay either a daily or monthly fee, but they often include amenities like coffee and food! At first, the fee may turn you off, but when you think of everything coworking spaces provide, it's cheaper than buying food and coffee at a cafe daily.
You may think to yourself: well, I can just buy the cheapest thing and stay there all day. And to you, I say kudos and good luck! (Just wait until the guilt and weakness from hunger kick in.)
Extra Little Things That Can Help Boost Your Budget
How else can location-independent workers save money? Here's a quick list of recommendations.
Make your coffee! Most of us do this at home, so why can't we do the same abroad?
Don't exchange currency at airports! I almost always do this, but now I'm learning to only exchange a small amount, if necessary, and saving the rest of my cash for a better exchange rate elsewhere in the country.
Unlock your phone before leaving home! As a digital nomad, you will want to have a working SIM card that you can use as a hotspot in case the power cuts out, or you're experiencing a slow connection. It's almost always cheaper to buy a SIM card in the country you travel to. For example, in Vietnam, I got a SIM card and loaded 60GB per month on my phone for only 90,000 VND ($3.87 USD). Don't arrange an international phone plan with your home country. It will cost you so much more than the local SIM.
Take out a lot of cash at once (if you have a safe place to keep it)! Why visit the ATM twice a week when you don't have to?
Bring a tent! What happens when you want to escape the digital nomad lifestyle for a few days and venture to a rural location? You take your tent and set up somewhere for either super cheap or free! This way you can avoid paying for accommodation on your vacation from your vacation.
Book longer stays! When you book accommodation online, it helps to book for a longer time. Websites—like Anyplace—offer discounts for long-term bookings.
As you experience the digital nomad lifestyle, you'll figure out how to cut back dollars in a way that gives you the chance to live and work comfortably without straining your budget. You may have to stop buying $18 cheese at the supermarket (note to self) as often as you do or stay in one spot for longer than you desire, but knowing money-saving tactics will help you out in the long run.
---
Where to next? Find flexible month-to-month rentals across the globe on Anyplace.
digital nomad budget
digital nomad tips
money saving tips
travel and save money

Freelance writer and globetrotter—Kelsey will only travel and work in places where she can watch hockey online (basically anywhere in the world). A content writer since 2017, she covers topics related to being a digital nomad or hockey.