Have You Considered Being a Digital Nomad in Miami? Here's Why You Should
For U.S. citizens, sometimes keeping your travels stateside can be the best option. For those from other parts of the world, certain aspects of America will always hold a particular appeal. Wherever you are from originally, trying out life as a digital nomad in a U.S. city can make for an interesting and enjoyable experience. America has the modern conveniences, culture, and industries to meet the needs of every digital nomad. And one of those places that is brimming with culture, charm, and beauty is Miami, Florida.
What Makes Miami so Special?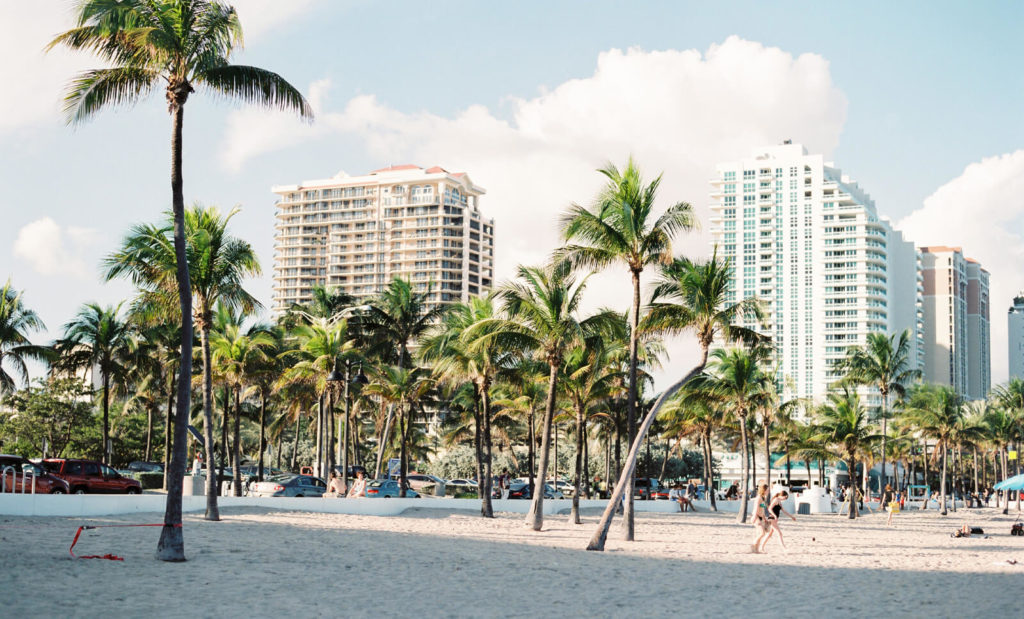 Those who haven't visited Miami will surely be very familiar with the city. This may have been the result of seeing Miami Vice, Miami Rhapsody, Bad Boys, Scarface, or any of the other famous movies or TV shows from the city. It is by no means the largest city in America, coming after cities like New York, Los Angeles, Chicago, and Dallas. Yet Miami still retains that iconic status that makes it an especially recognizable location for people all over the world.
Miami is unique in that non-Hispanic whites are a minority of just 11.9 percent. People of Hispanic or African origins make up the larger part of the city and most people speak a language other than English at home. Miami has a large Cuban community and a multicultural feel that welcomes people from all over the world. It is also LGBT-friendly and it has a large gay pride event.
Perhaps it is this mix of different cultures that gives the city such a drive and a passion for life. Miami is a city of parties and relaxation, it has great weather and a beach, and it knows how to have a lot of fun.
All You Need to Know About Visiting Miami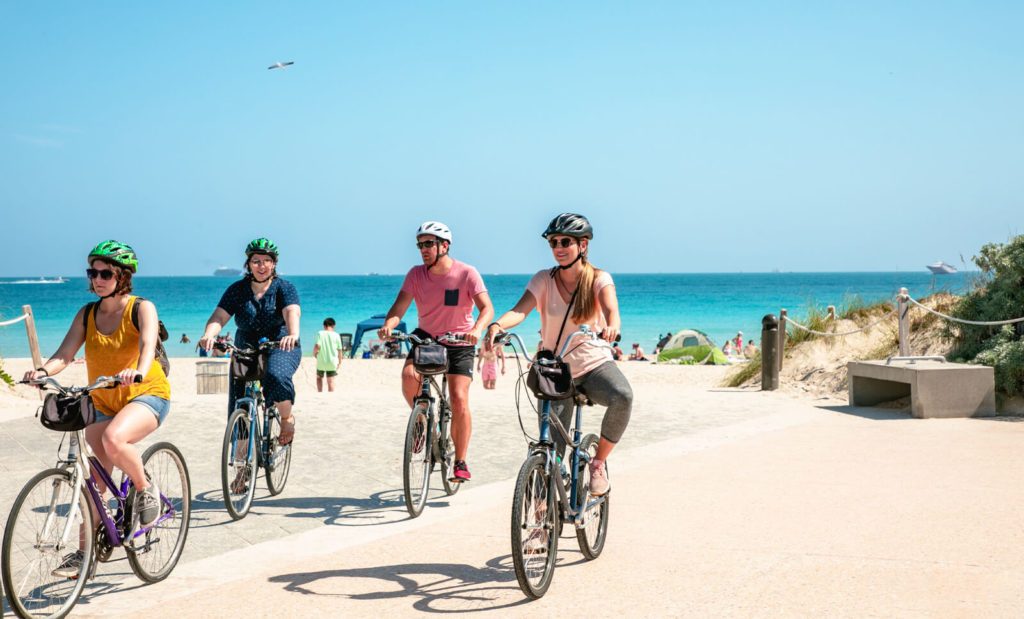 Neighborhoods
Miami has a downtown that is the center for shopping, finance, government, and entertainment, and it has the highest concentration of parks, museums, theaters, and restaurants. To the west and south of downtown are residential areas that include Little Havana, Flagami, Coral Gables, and Coconut Grove. These areas are quite green and have local attractions. The area to the north of downtown has some interesting districts, such as the bohemian Design District and the art district of Wynwood. Midtown is a very diverse community and the Upper Eastside is for wealthier residents. Miami Beach is a long island that is connected to the city by bridges and this is where many beach resorts can be found.
Weather
Miami is a good place for escaping the winter months of other parts of North America and Europe, with January temperatures that don't fall far below 60ºF (15ºC). The summer months are much warmer, from between 80ºF to 90ºF (27ºC – 33ºC), but there is much more rainfall and humidity. The hurricane season is from June to November, and storms are also quite common. The best time to visit is usually considered to be between March and May.
Safety
Like other American cities, violent crimes are an issue and visitors should avoid certain districts. These include Overtown, Allapattah, Little Haiti, and Model City. There is a lower rate of theft and pickpocketing than most other tourist spots but visitors should still be careful with their belongings. It is also best to avoid public transportation at night. To steer clear of another kind of danger, visitors should be wary of beaches with purple flags as this means dangerous sea animals like jellyfish or stingrays are a risk.
Transportation
Miami is served by the Metrobus and the Metrorail system, which are both cheap and easy ways of getting around the city. These systems connect to the Metromover, which is an overland rail system that operates in the downtown area and is free of charge. There is also the City of Miami trolley system that has a network of buses in the central districts of Miami, free of charge.
Cost of living
The cost of living in Miami is not as high as that of other cities, like New York or San Francisco, but Miami is still relatively expensive. Monthly costs are likely to be above $3,000 depending on your lifestyle choices, but this is the kind of city where spending is a necessity. This may mean digital nomads on a budget will plan to stay for shorter periods. But Miami has an unmistakable draw so that short trip may need to be extended.
Visas
Of course, U.S. citizens don't need to worry about this, which is an added benefit of keeping your travel domestic. For digital nomads from other parts of the world, there is the Visa Waiver Program which entitles visitors to stay in the country for 90 days without a visa. This is easy to apply for using the Electronic System for Travel Authorization (ESTA). It is available for visitors from 39 countries, which includes most European countries, Japan, Korea, Taiwan, Australia, and New Zealand.
The Best Digital Nomad Spots in Miami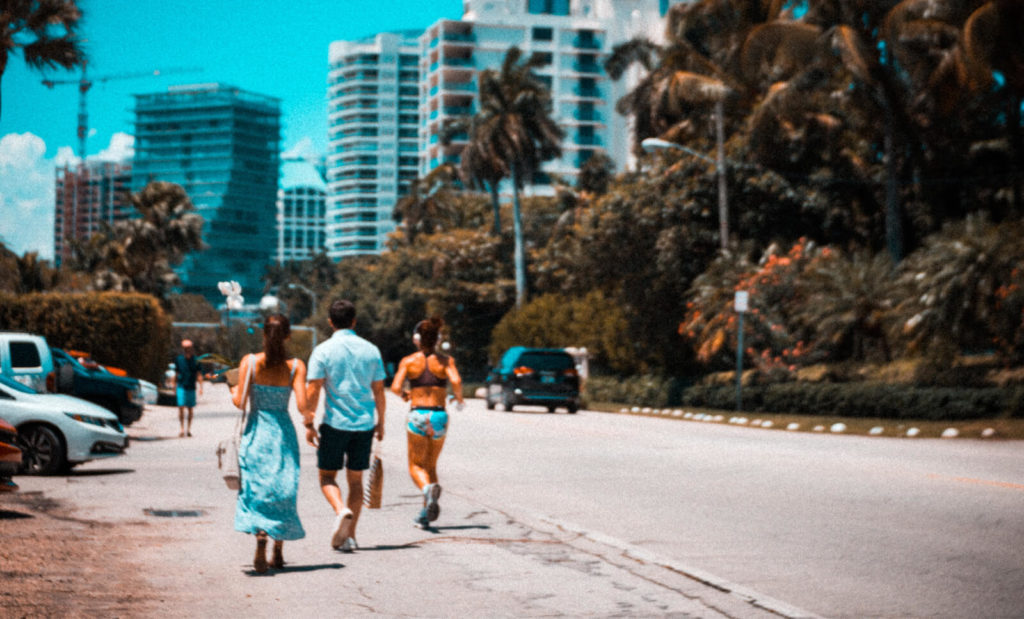 Coworking Spaces
For all your coworking needs, Miami is not short of coworking spaces. Some of the best options include the following:
The Lab Miami: This is a creative hub for nomads and entrepreneurs in the Wynwood Arts District of central Miami. The Lab offers flexible payment and membership options, a wide range of on-site facilities, and a buzzing and innovative community.
WeWork: With six separate spaces in the area, WeWork certainly works for Miami. If you have used one of the many WeWork spaces around the world then you will know it is a safe bet for high-speed internet in a comfortable and professional environment.
Buro: Also with six spaces in and around Miami, Buro is a local coworking chain that provides a range of options for working, different spaces, a kitchen, and networking events. Coworking with Buro also comes at low prices.
Space Called Tribe: This is a coworking space in the Overtown district of Miami that also markets itself as an 'Urban Innovation Lab'. In this sense, it is aimed at providing a strong community as well as just a comfortable and affordable space.
MADE at the Citadel: A truly colorful and inspirational coworking space that is perfect for designers, artists, and creators of every kind. This center provides coffee, a pool table, Wi-Fi, tech support, and a conference room. It is in the El Portal district in the north of Miami.
Cafés
There are plenty of cafés and restaurants in Miami that are perfect for the needs of every digital nomad. Here are some of the best picks:
All Day: A beautiful café with a white interior and stylish neon menu on the wall, All Day is in the Park West district. Here you can get great coffee, sandwiches, and pastries, and enjoy the comfortable furniture and Wi-Fi.
Tea & Poets: This is a cozy café in South Miami that has a selection of furniture and a suitable environment for working. Here you can get tea, coffee, drinks, and snacks, and there are also regular events.
OTL: A bright café on 40th Street in the design district of Miami, OTL is healthy, chic, and great for breakfast or lunch. A beautiful and comfortable spot for working, OTL has seating indoors and outdoors, with plenty of natural light.
Books & Books: In the Coral Gables district of Miami, this restaurant serves sandwiches, salads, and drinks throughout the day. There is a bright outdoor patio in addition to indoor seating, and a regular schedule of events.
Panther Coffee: A coffee company that is great for the coffee enthusiast, Panther Coffee has cafés across Miami. As well as coffee, Panther offers great spaces to work from, with Wi-Fi and a good environment for working.
There are some excellent options for accommodation in Miami, whatever your budget. These range from co-living apartments in Spring Garden to serviced apartments in Miami Beach.
How to Spend Your Time in Miami
There is no shortage of ways of spending time in Miami, from enjoying the sun to delving into the local culture. The first item on the agenda may be the world-famous South Beach, which is beautiful and completely free. It is possible to go deep-sea fishing on a boat for a full or half-day or visit the historical Cape Florida Lighthouse on the southern tip of Key Biscayne. More history can be found at an ancient monastery that was shipped from Spain to New York by William Randolph Hearst, then reconstructed in North Miami.
It is definitely worth checking out the Design District with its many galleries and showrooms, the murals in Wynwood, and the cultural tours of Little Havana. If you still have time then there are many museums, public pools, gardens, and Spanish estates.
Miami is a city that has it all: sunshine, sand, blue seas, great food, art, business, and parties. Miami is both relaxing and lively, depending on what you choose to make it. It can be a great place to connect with other digital nomads, focus on some work, look for inspiration, or enjoy a holiday.
---
Where to next? Find flexible month-to-month rentals across the globe on Anyplace.