19 Questions Answered About Living in a Hostel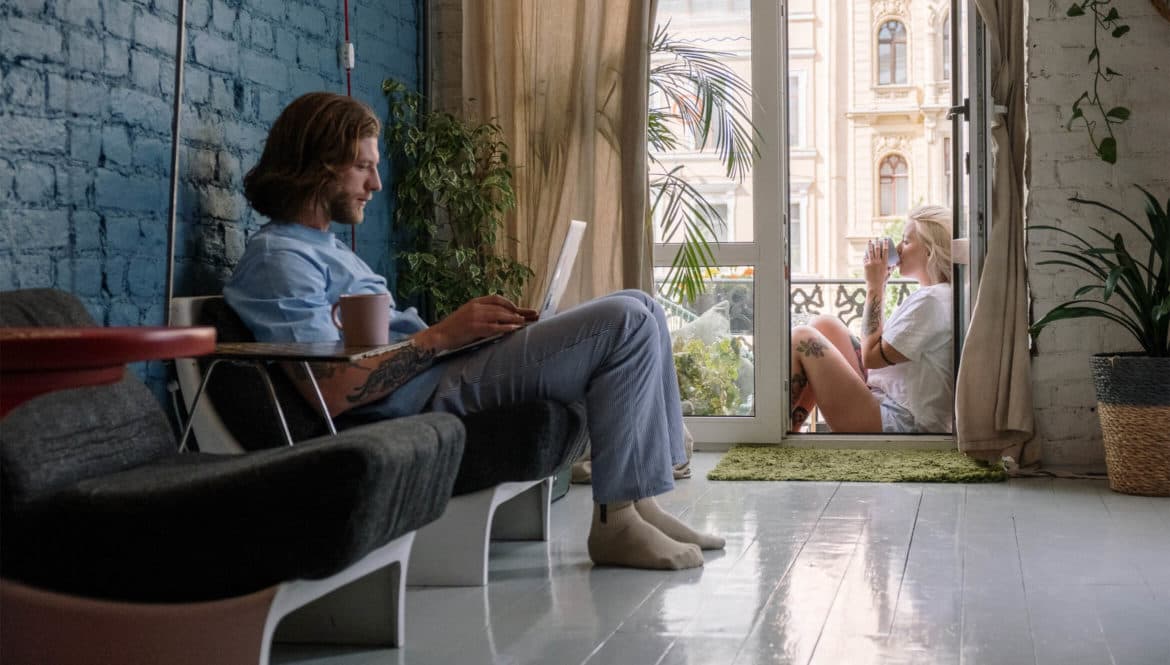 When I began traveling, hostels were my go-to accommodation. This was largely for financial reasons, being fresh out of university and without a reliable source of income. However, it was also because I was traveling alone and wanted to easily meet other backpackers. Plus, hostels just seemed the default choice for a young, broke backpacker.
I now prefer the privacy and comfort of a furnished apartment. I need a quiet place to work and tend to stay in one location for longer. This means that an apartment often ends up being the same price as a hostel anyway. Nevertheless, I've stayed in hundreds of hostels and can now long back on those experiences with a bit of perspective.
Having consulted people who are less acquainted with the hostel lifestyle, I've put together this list of 19 questions and concerns people have about booking a hostel. Can you live in a hostel? Read on to find out.
Can you live in a hostel?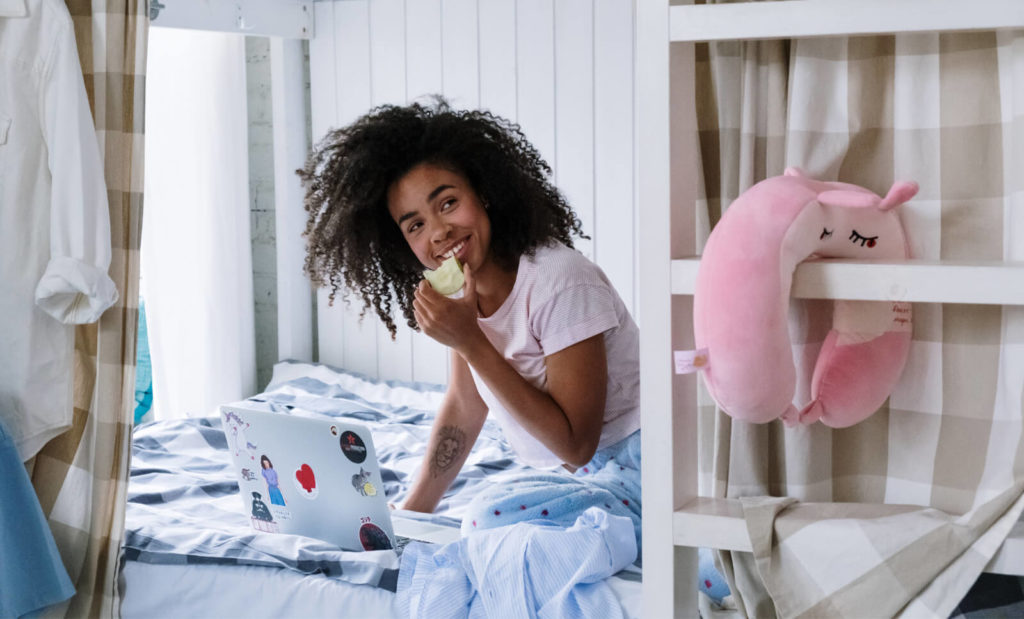 When I was in Warsaw, I spent a week in a city center hostel. The place was cramped, smelly, overcrowded, with no hot water and mattresses about as thick as a slice of toast. However, upon arrival, I was greeted by a cheery group of men from India. They told me they'd been living in this hostel for over a year, waiting on a business visa.
So yes, it's possible to live in a hostel. However, it gets pretty exhausting. I found myself wanting a private room every week or so just for some alone time and to catch up on sleep. Also, most hostels place limits on how long you can stay. They're meant to be for short-term stays and if you're using it as a full-time place to live, you may be politely asked to leave.
Hostels have everything you need to live but that doesn't mean it's advisable to do so.
How much does it cost to live in a hostel?
As you might imagine, the cost of a hostel varies significantly around the world. The cheapest ones you'll find can be as little as $6 a night. I've certainly found places in Eastern Europe and Southeast Asia for this amount. However, when I was in Denver, the cheapest hostel was $50, but there are only about three in the whole city. If you're in a place where hostels are few and far between, expect to pay a lot more for a bed.
There are also many hostels offering a greater level of luxury but you get what you pay for.
Is it hard to sleep in hostels?
My experience in this matter has varied wildly. I once turned up to a hostel in Faro, desperate for some sleep. When I arrived, the man on the bed next to me was yelling down his phone. I quickly packed my stuff and went to a private hotel room. If your roommates are loud, then you might struggle to sleep.
On the other end of the spectrum was a place I stayed in Peru. This was a party hostel but the dorm was in a different building to the bar. When I arrived, every single one of my dorm mates was at the bar and I had the place to myself. I slept like a baby in the solace of complete silence.
There's a lot of luck involved regarding who ends up in your dorm. However, check the reviews and see if other guests generally slept well. If you're staying in a capsule or a place with a curtain, then sleeping will be much easier. Remember, sleeping masks and earplugs go a long way.
Is it possible to get a private room?
Many hostels also offer private rooms if you prefer. Alternatively, you could stay in a capsule hostel, which is kind of a middle-way compromise. You're still in a dorm but when you shut the capsule door, you get a little bit of alone time.
If you want true privacy, though, consider booking a coliving space instead. You still get the social benefits but you also have that private time when you need it. Also, the longer you stay in a coliving space, the cheaper it is, often until it's hardly any more expensive than a hostel.
Does the internet work well in a hostel?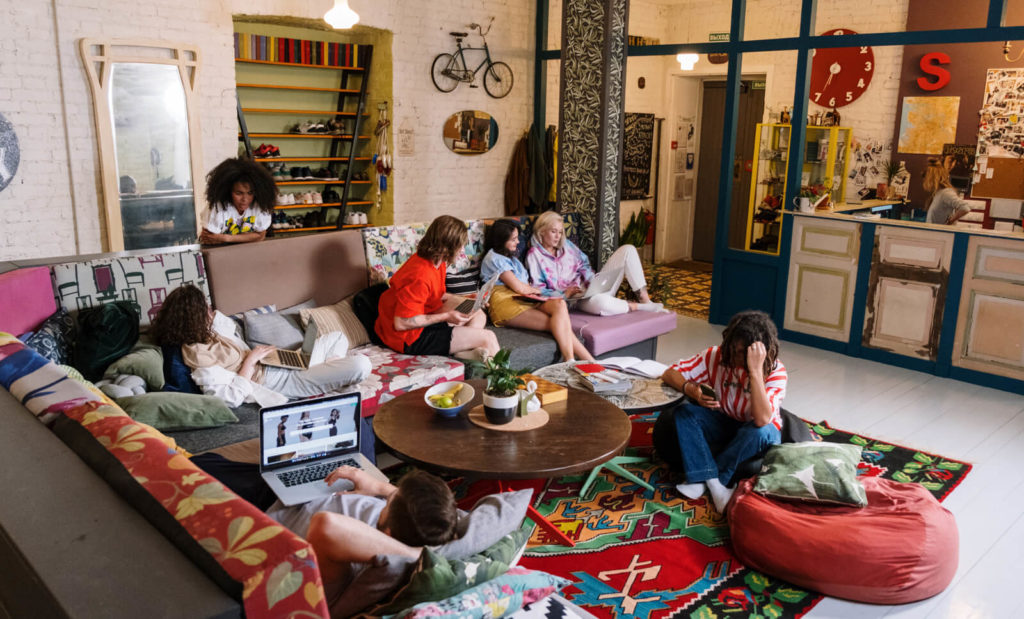 Again, this varies. There are many people staying in hostels at once, all trying to get on the same Wi-Fi network. If the hostel doesn't have multiple networks, then it can be difficult to get a connection. Sometimes, you may find that you get WiFi in the common room but not the bedroom, or vice versa. It varies a lot by country, as well. In Tallinn, where Wi-Fi is generally strong, you're unlikely to have problems. When I was in South America, though, WiFi was a rare luxury.
In general, you can expect better WiFi in hotels than in hostels. The best WiFi, though, will be found in private rental apartments.
Do hostels come with designated workspaces?
When I started traveling, this was rare. Hostels were designed to cater to leisure travelers. That meant plenty of foosball tables and couches but not so many suitable desks. These days, though, designated workspaces are becoming more common. Hostels know that digital nomadism is a thing and are increasingly tailoring their spaces to them. For instance, my Denver hostel had a library area for work and an outdoor hot tub for when the work was done.
Always check beforehand what workspaces are available.
How many people will I have to share with?
Generally speaking, dorm rooms range from four people to twelve. I stayed in a 20-person dorm in Cambodia but this is rare. Of course, rooms aren't always full. I've been pleasantly surprised by the number of times I've been alone in a ten-bed dorm, which can happen during the off-season months. At the same time, you're in a hostel to make friends so it can be disappointing to find out you're alone.
When booking a hostel, you'll usually be asked to select what size dorm you want. The bigger they are, the cheaper they are. A smaller dorm is likely to be quieter, while larger ones can offer more social interaction.
I travel with expensive equipment. Can I be certain it won't be stolen?
You're not alone. Every traveler carries at least a smartphone and probably a laptop too. For this reason, hostels are increasingly safety-oriented. It's rare to find a hostel that doesn't come with a locker these days, which can give you peace of mind. Of course, these lockers aren't impenetrable and I've heard stories of people returning to rooms to find their locker had been broken into. This is rare but anywhere you go in the world, theft is a very real threat.
Try not to flaunt your expensive items. Keep them as securely stored as possible and if in doubt, take them with you when you leave the room.
Will I be safe in a hostel?
People's personal safety is of course, of massive concern. I've found this to be particularly true for women. If you are a female backpacker, you might feel safer staying in an all-female dorm room, which is commonly available. Generally, though, hostels are very safe places. They often have CCTV in shared areas and everyone should give their ID at the reception.
In my many years of staying in hostels, I've never felt unsafe. The worst thing that happened was a pretty mild fistfight in Latvia between two older gentlemen arguing over a chair. No one was seriously hurt but it's a sign that disputes can flare up when strong personalities live so closely together.
Will the staff help me if something goes wrong?
This is exactly what the staff are there for. If you're in a reputable hostel, then they should be trained to deal with disputes and problems. Often, though, the staff are volunteers, maybe even young backpackers. Therefore, they may not be well-trained or highly experienced so don't expect too much from them.
If you ever have any problems, go to reception and try to find a solution. Staff members are – in most cases – your friends and they want to help out.
Will the staff offer recommendations about the local area?
The staff are often backpackers and may not be local to the area. However, they'll have probably been in town for a while and will know all the sights worth seeing. Whenever you want advice and recommendations, the staff are great people to ask. This is actually one of my favorite parts of staying in a hostel.
They may even accompany you on nights out, potentially striking up a lasting friendship. I'm still in touch with hostel receptionists who are an endless fountain of local travel knowledge.
Are hostels good for solo travelers?
I've used hostels both as a solo traveler and when exploring with others. Having a friend can help you feel more comfortable but hostels are best for lone wanderers. Many of your dorm mates will also be traveling solo and keen to make friends.
Of course, striking up conversations with strangers can be daunting at first. However, more often than not, if someone sees you sitting alone, they'll approach you first and ask to hang out.
Are hostels good for couples?
Couples looking to make friends with fellow travelers quickly should also consider using a hostel. Of course, you won't be able to share a bed or have the privacy that couples tend to require. That's why many people, like myself, who transition from solo traveling to traveling as a couple also use this opportunity to switch the hostel dorm for a private apartment.
If you're keen to save money, then you could stick to hostels. However, now that the cost of a private room is shared between two people, a hotel or apartment may not be that much more expensive.
Are hostels COVID-safe?
I traveled overland from England to Estonia during the summer of 2020. It was that period when the first peak of Covid was over and border restrictions were lifted across much of Europe, allowing test-free and quarantine-free travel. Naturally, I was keen to avoid human interaction, but I did stay in a few hostels along the way.
The hygiene levels varied significantly from country to country. Many hostels were running at half-capacity, meaning that guests could remain distanced from each other. They also implemented strict cleaning regimes. However, others were overcrowded, not particularly clean, and clearly not conforming to the health guidance.
Despite my decision to use hostels in 2020, my advice to anyone concerned about Coronavirus is to get your own apartment. This is what I ended up doing most of the time. Although I missed the social side of hostels, it felt a lot safer to have a bedroom, kitchen, and bathroom all to myself.
Do hostels offer any discounts on local attractions?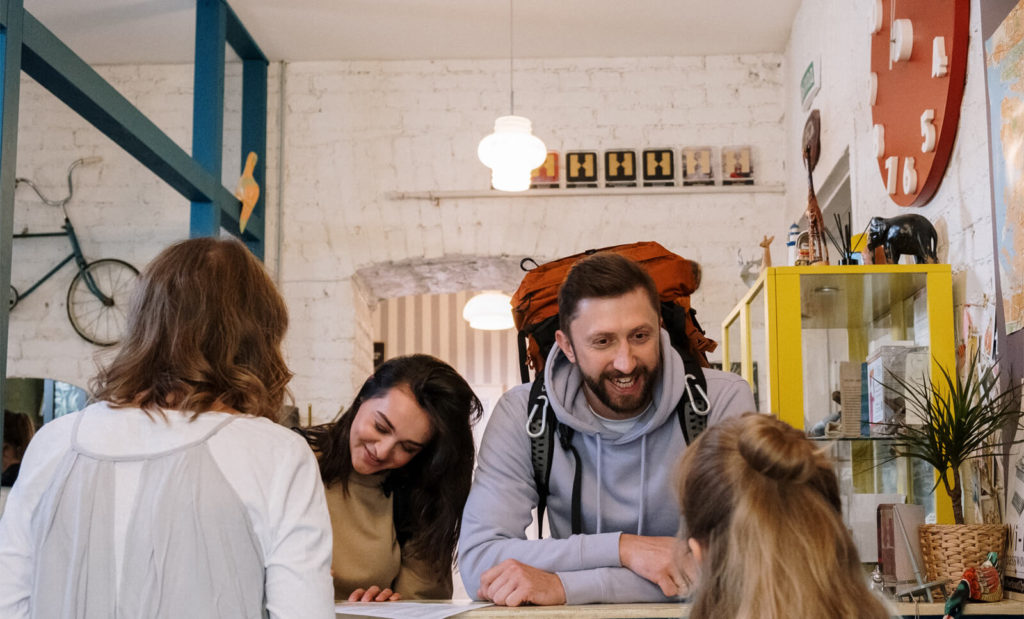 Many don't but some do. Hostels tend to stock plenty of flyers about local attractions and these may come with discounts. Also, they might hold events that offer a reduced rate on certain activities. This could be in the form of a walking tour but more often – at least in my experience – the best discounts come from bar crawls. If that's what you're into, then you can expect free entry to clubs and free drinks for a tantalizingly low ticket price.
Always ask the person at reception if they know how to get the best deals on local tourist activities.
How well-stocked are hostel kitchens?
This varies by hostel but generally, they'll contain everything you need. You can expect all the pots and pans needed for a quick, basic meal but don't expect top-of-the-range garlic presses and lemon juicers, nor much in the electronic appliance department.
A coffee machine and microwave are pretty standard but hostels aren't a good place to be preparing large, complicated meals. Their kitchens aren't large enough to fit all guests at once so you shouldn't expect to use the kitchen every day. If that's your plan, then you're probably better off renting an apartment.
Another thing I love about hostels is that departing guests will often leave behind their unused food. You're likely to find a dedicated "free food" shelf, containing things like coffee, pasta, oil, and spices. Of course, there's a lot of luck involved and you never know what will be there but it's always nice when you manage to get a free meal out of it.
Do hostels host social events?
Very often they do, yes. I've stayed in hostels that host bar crawls, daily yoga sessions, and hiking trips. These will normally be advertised to you when you check in but don't be afraid to ask if there are any upcoming social events. One hostel I stayed in had a WhatsApp group. This made it easy to connect with other guests and plan a meet-up, even if I hadn't physically met any of these people.
What are typical check-in and check-out times for hostels?
Hostels usually have similar check-in and check-out times to hotels. Most commonly, that means checking in after 3 pm and checking out before 11 am. Of course, you can always turn up early and see if they'll let you in. If there are plenty of free beds, then they might be ready for you earlier than their official check-in time. In my experience, though, hostels tend to stick by their stated rules about check-in while apartments are more likely to allow you to arrive early and leave late.
If you arrive early and can't check-in, then hostels will almost always offer to securely store your luggage. They'll also let you hang out in the common areas until your room is ready.
Can I access food and drinks 24/7?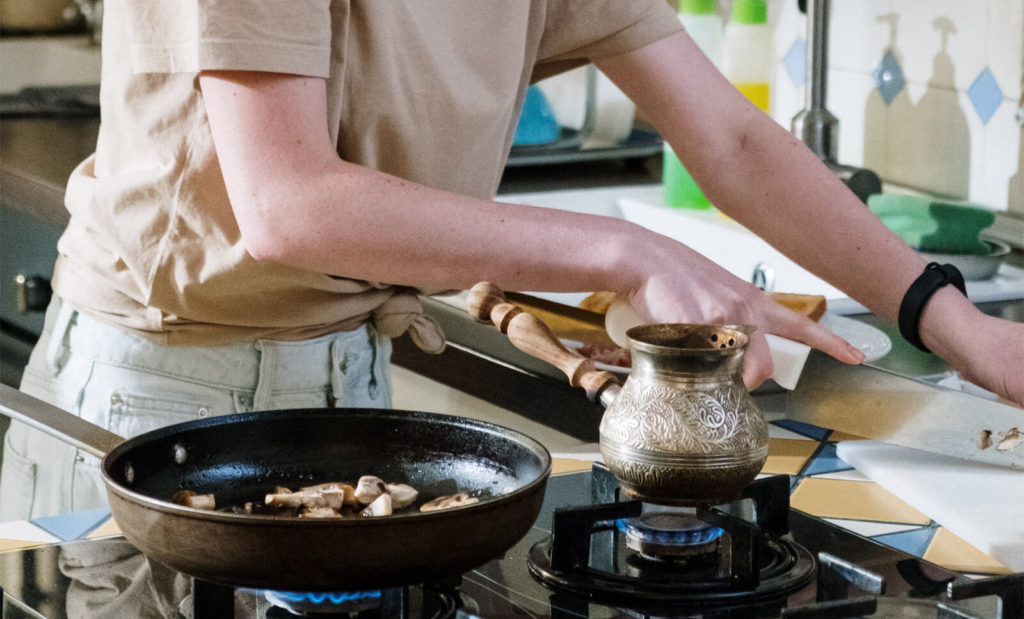 Hostel receptions are often open 24/7 and the common rooms always are. Once you've checked in, the whole building is your home. When I traveled to Colorado, my jetlag caused me to wake up at 4 am on my first day. I got up, had a shower, and made breakfast. There was one member of staff still awake, too. Although a little confused, he didn't care about me wandering around the hostel alone at that time.
One hostel in Tallinn came with a 24-hour bar for guests, meaning that people were awake at all hours. Just remember to respect the hostel's quiet hours and don't disturb guests who are trying to sleep.
So can you live in a hostel? Hopefully, the above FAQs have helped you decide this for yourself. For those Indian entrepreneurs in Warsaw, living in a hostel is a perfect option. For young, solo travelers, at least some time spent in a hostel is something of a rite of passage. However, if you're looking for more space, privacy, and a place to work, consider settling down in a flexible coliving apartment.
---
Where to next? Find flexible month-to-month rentals across the globe on Anyplace.

digital nomad
hostel
remote work