How To Find Temporary Housing in Washington DC
You've decided that you want to live in Washinton DC for a span of time, but don't want to get locked into a long lease—flexible housing is crucial. Maybe you're getting ready to start a political internship, going on an extended business trip, are a traveling nurse with a new contract, or just a digital nomad that wants to spend some time in the nation's capital. You need a monthly rental, but don't know where to look.
So, how do you find temporary housing that doesn't require a 6-month or 1-year lease? Are there websites online to discover flexible housing options where you can live in Washington DC on a month-to-month basis? The answer is YES. We've put together a quick guide to flexible housing in DC, with three excellent online resources that will surely help you land that perfect spot.
Flexible Housing in Washington DC
1. Facebook housing groups for Washington DC
Facebook housing groups can be a great place to find flexible housing of all types. We actually host a very active one – The DC Housing Group. With almost 23,000 members and growing, it's the biggest housing group in DC and every day you'll find people posting new houses, apartments, and co-living spaces available for you. Some of them are perfect for shorter-term stays—fully furnished with utilities included, and move-in ready with month-to-month rent.
If you don't already know many people in Washington DC or the surrounding area, this also might be a good way to meet cool roommates. Besides photos of the room or rental unit, the Facebook posts usually include a small bio and the type of person they're looking for, so you'll be able to tell if you would be a solid fit.
2. Craigslist housing for Washington DC
Craigslist can be a bit of a tough nut to crack. In a big city like Washington DC, there will most definitely be a ton of listings, making it all-to-easy to spend hours going down the proverbial housing rabbit hole 🐰. But don't get discouraged—if you know where to look, it can be a stellar source to find month-to-month housing.
When searching for flexible housing in DC, there are a few avenues on Craigslist to explore. If you'd like to see a general view of available housing with the most amount of listings, hit the general Apts/Housing for Rent category. Also, think about the type of temporary housing you're interested in. Maybe you don't need an entire apartment and wouldn't mind sharing a room to save money—check out Rooms & Shared. If you have specific dates in mind though—for instance, you have a 3-month internship that starts on November 1st, it's best to head to Sublets & Temporary—this is the place to find temporary housing in Washington DC.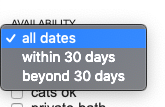 In all of these cases, if you're looking to move into a month-to-month rental right now, scroll down to Availability and select "within 30 days". But if you're planning to move to DC in the future but not necessarily now, choose "beyond 30 days". This will help you narrow down the results to better fit your needs.
If you know that you want a monthly rental in the city proper—and even a specific area of Washington DC—use the Neighborhood dropdown and make your selections. Again, this will taper the results, saving you precious time. Otherwise, you may see results for housing options that are far away from where you'd actually like to be in DC. And with most, budget is probably a concern, so don't forget to plug in the maximum price you're willing to spend on the left-hand side.
3. Anyplace housing for Washington DC
Anyplace.com was built specifically for those looking for monthly rentals. As a team of digital nomads and remote traveling workers, we created a platform for people like us that are looking for the flexibility and freedom to live in a city like DC on their terms. No long-term leases. Fully furnished places. Utilities already set up. Ready to move in—and out—when you want.
Washington DC is one of the first cities we launched, and you'll find plenty of housing options, all of which are month-to-month. Browse through our Washington DC marketplace to view an assortment of apartments, co-living spaces, hotels, and houses available. Not sure which choice is best for your lifestyle? No problem—we did an in-depth ranking of different types of housing that should help out.
Flexible Housing in DC is Possible
If you'd like to live in DC for a while but not sign a long lease, it is certainly an attainable goal. We hope the guide to flexible housing makes it easier for you to find a month-to-month rental—and one that ends up being the exact place you're looking for. Happy home hunting!
---
Where to next? Find flexible month-to-month rentals across the globe on Anyplace.
co-living
coliving
extended stay hotel
flexible housing
furnished apartment
housing
short-term apartment
temporary housing washington dc
washington dc
Joe Frabotta is the Director of Marketing at Anyplace. He's a part-time nomad, traveling + working throughout the year but also having a home base in the mountains of Asheville, NC. When he's not working, you'll probably find him playing guitar, doing a section hike on the Appalachian Trail, or cooking up a storm in the kitchen.
You may also like