How to Find an Apartment Equipped For Remote Work
Designing your own ultimate home office space is one thing but trying to find a furnished apartment that suits your needs is never easy. I've been a digital nomad for nearly five years and it's taken a long time to figure it out. When you're searching online, in particular, it can be hard to know whether rental accommodation is fully equipped for remote work.
Anyplace Select is the easy route, guaranteeing a top-class remote work environment. If you're looking for a rental equipped for remote work, here are 10 things to look out for.
Get Proof of WiFi Speeds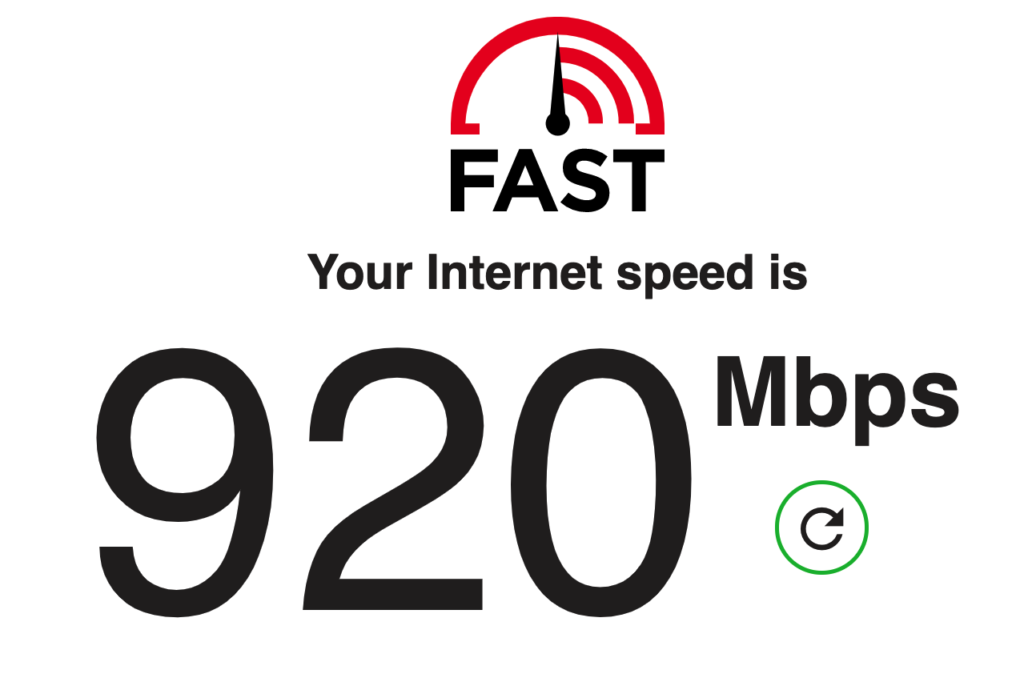 Remote workers are heavily dependent on Wi-Fi. While this will be offered in nearly 100% of cases, network speeds aren't guaranteed. You must ask the host what the internet situation is. Good internet is considered to be anywhere between 50 and 100 Mbps. Beyond 100 is ideal, though, especially if there are multiple users online at once, conducting video calls and sending large files.
When I was a solo traveler, I worried less about internet speeds. Now that I usually travel with one or more other digital nomads, this has become one of the main focuses of my rental search. The best situation I've found is when a property has multiple routers, allowing users to work on different WiFi networks. This is also a bonus when you're living in a larger property and need the connection to reach all rooms. Crucially, though, make sure you receive proof of internet speeds. This is something that hosts can, unfortunately, easily lie about.
Luckily, you don't have to worry about requesting Wi-Fi speeds if you stay at an Anyplace Select property. With gigabit internet, our speeds reach 920 Mbps.
Find Out About Previous Residents
The attributes of previous residents will tell you a lot about whether this property is for you. Were they digital nomads, running a business from their bedroom? Or were they a young family just having a lovely vacation? If a property has a long history of hosting remote workers, then you can be confident that it's equipped for their needs. You'll also know that the host understands what you're looking for.
You can find this out by asking your host directly but you may learn more from reading past reviews. They often contain information about the previous renter. Look out for buzz phrases like "my partner and I work from home…" or "I hold a lot of online meetings and…". If they struggled to work there, then they've probably mentioned it. If not, then this place is likely adequate for your needs as a remote worker.
Think About Lighting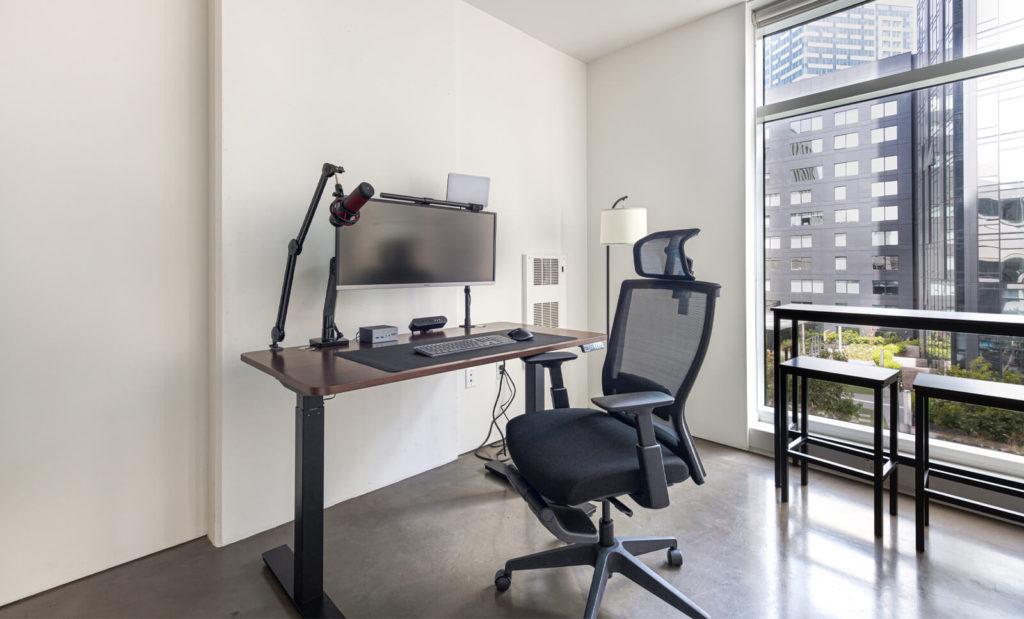 Studies suggest that lighting affects productivity because it taps into our circadian rhythms. Bright lights help us feel awake and alert while dim lights induce drowsiness and cause eye strain. Natural light is also better than when it's artificial. Look at the size of the windows and, if possible, track where the sun will be throughout the day. Sunlight is an excellent mood booster, which prevents procrastination.
Again, this information can be discovered from reading reviews or asking the host. If in doubt, ask to take a look around the home so you can gauge the size of the windows and the levels of sunlight. At this point, don't forget to check for blackout blinds, too. Bright sunlight is great during the day but you also need to ensure you can get a good night's sleep.
Consider Noise Levels
Noise can also severely damage your productivity. One study found that reducing noise levels increased focus by 50 percent and reduced stress by almost a third. If you want to get stuff done, then you'll need some peace and quiet. Make sure that your accommodation isn't near a busy road, construction site, or train station. If you're booking a private room in a coliving space, then make sure the room is quiet and that other guests respect work hours.
One of the best remote work apartments I stayed in was in Split. It was spacious, had fast internet, plenty of desk space, and an incredible view. It wasn't until I moved in that I realized it was right next to a pre-school. There's nothing quite like the endless drone of screaming children to skyrocket your stress and wipe out your workflow. Don't be like me, check the noise levels of any rental accommodation before moving in.
Ask About the "Dedicated Workspace"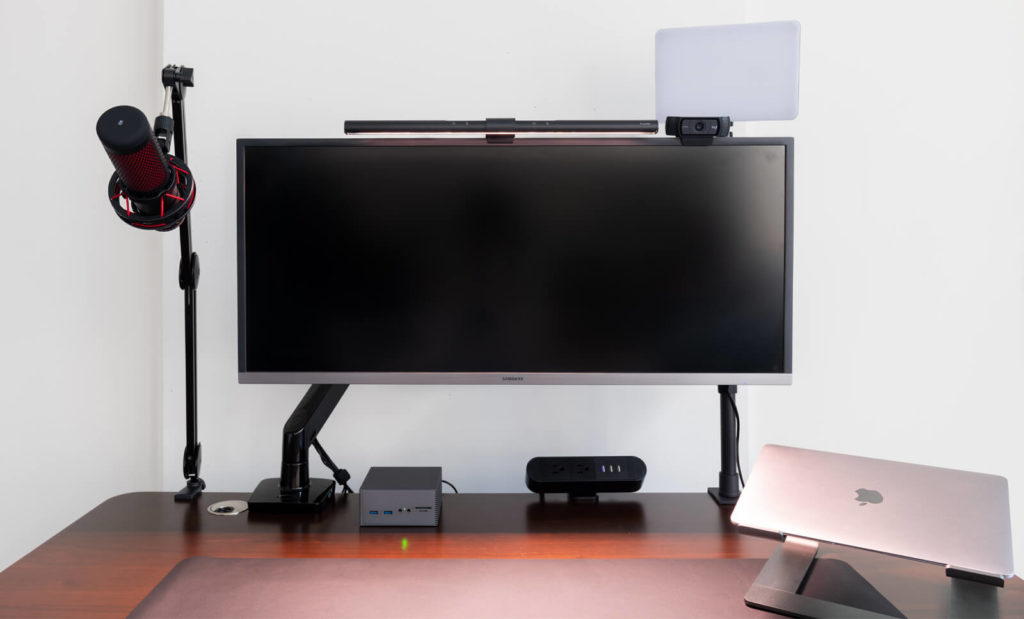 Many rental apartments these days list that they have a dedicated workspace. Don't expect a fancy desk and office chair, though, since this could refer to just about any kind of table. You won't get much done working next to a kitchen island on a wobbly bar stool. Ask for a photo of the workspace before making any decisions.
If you look at the equipment provided by Anyplace Select, you'll see that we've invested in the ultimate home office setup. This is the easiest way to book an apartment that you know is designed with remote workers in mind. Many other vacation rentals simply don't take workers into account. Remember, you can always ask the host if they can provide a proper work desk. I've successfully done this a few times.
Check Proximity to Alternative Workspaces
It's always good to have a backup option if things go wrong. No matter how much research you do, the internet may stop working. Maybe you just find that you can't get into the right mental space to work from that particular apartment. If you know you can pop down the road to a nearby coffee shop or coworking space, then you have a solid backup plan if things don't turn out as expected.
While working in Ghana, I (perhaps naively) assumed that my host accommodation would have Wi-Fi. It turns out that this isn't particularly common in West Africa. Luckily, I was living a mere two-minute walk from a well-equipped office with internet and air conditioning. I then bought a mobile WiFi router in order to stay connected during frequent power cuts.
Look at the View
Never underestimate the power of a good view to affect productivity. Not only do people from scenic towns tend to be healthier and happier but they also achieve more at work while living with less stress. Part of this is due to the benefit of looking into the distance. Staring at screens of densely-packed text strains the eyes. When you take a break to look into the mountains or across the ocean, you're relaxing your eyes. This will reduce headaches and fatigue.
These kinds of beautiful views can also improve your well-being. Simply being surrounded by natural beauty is enough to help you feel calm. If you experience any stress or anxiety while doing your job, then a great view makes all the difference. It can also serve as inspiration if you're working on creative tasks.
Find Out Where Digital Nomads Stay
Digital nomads are pretty savvy at finding the best places to live. They know what they want and can be demanding. Ask in online communities which neighborhoods other nomads are staying in. You can then use this to narrow down your search.
If you fail to do this, you may end up in an unsuitable area of town. Maybe it's overpriced and you won't be able to afford anything spacious enough; perhaps it's a long way from local amenities; maybe it's an area designed for partying tourists, or it could just be an ugly part of town with slow internet. Follow the nomad crowd to find accommodation suited to your needs.
Figure Out Local Transport Options
Remote workers will benefit from being able to get around easily. You want to make your life as convenient as possible to boost productivity. Therefore, it can help if you're only a short walk from a tram stop. Being able to quickly get in and out of town will free up more time for working from home.
I've recently jumped on the e-scooter bandwagon as the best way to get about town. When searching for a short-term rental, I check the scooter app to check that there are plenty in that location. If there are, then I know time and energy won't be wasted doing daily chores.
Scout the Area for Amenities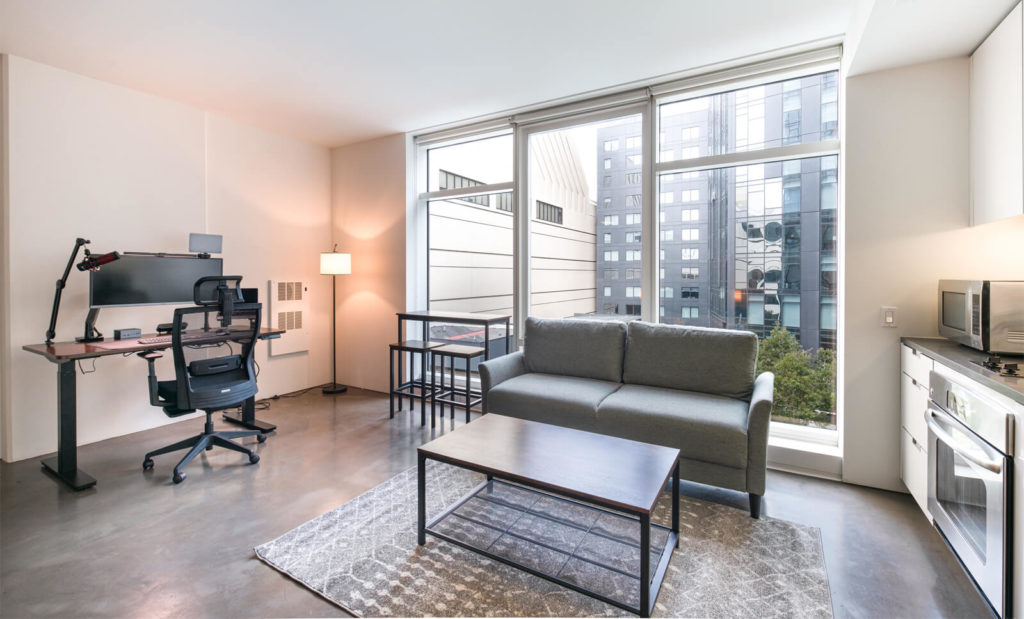 Another thing to consider is the amenities you have around you. Again, this is about saving time. Having a grocery across the street is much better than having to take a 40-minute round-trip to get some food. Another great tip I've learned is to go onto the local food delivery app and type in the address of the property you're looking at. Are there plenty of takeaway options? If so, then that helps make this the perfect work-from-home rental apartment.
With many vacation rentals targeting tourists over remote workers, it can be surprisingly difficult to find a place that has all the features you require. Use the ten tips listed above as a kind of checklist to give yourself the best chance of having a happy, productive work environment. Or, save yourself time and book with Anyplace Select.
---
Where to next? Find flexible month-to-month rentals across the globe on Anyplace.
furnished apartment
remote work productivity
remote work tips