The Ultimate Digital Nomad Guide to Lisbon, Portugal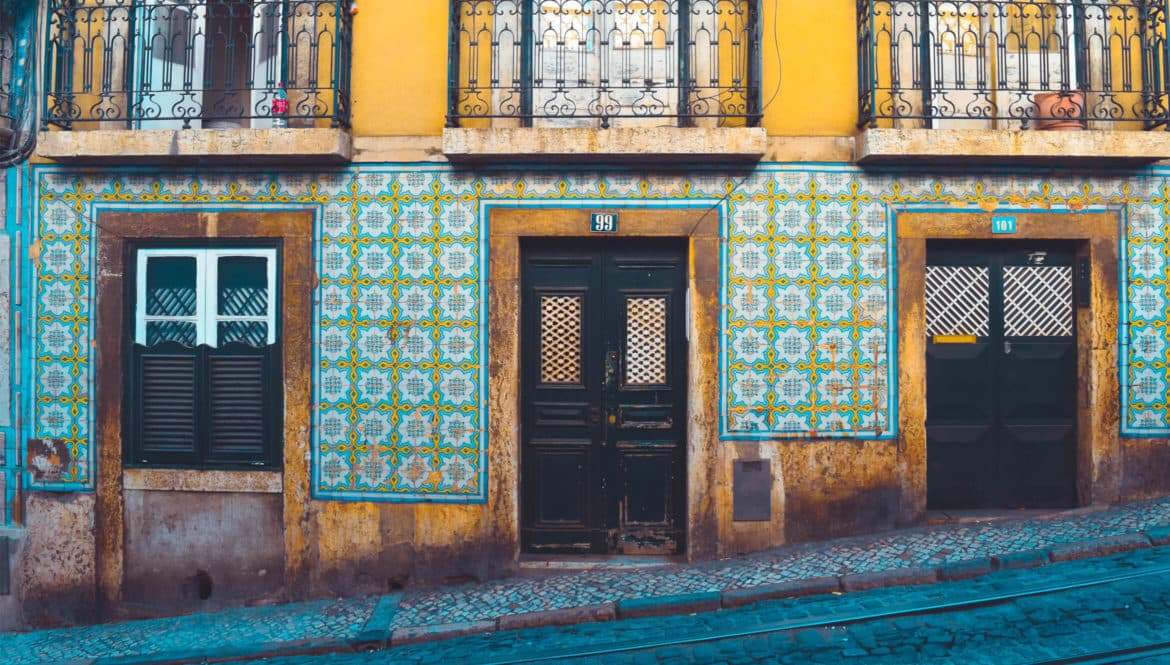 The Portuguese capital, sunny Lisboa, has been gaining in popularity in recent years. In part, thanks to the numerous awards and features both the city and the country have been raking in.
So many travelers flock to this gorgeous city to enjoy the nearly year-round sunny weather, exquisite architecture, beautiful tiles, cobbled avenues, and delicious food and wine. And not to mention the friendly hospitality, it's easy to see why visitors instantly fall in love with Lisbon.
But, it's not only holidaymakers arriving in their droves to take advantage of all the city has to offer. Expats, digital nomads, and entrepreneurs alike choose Lisbon as a stop along their nomadic journey.
Find out everything a digital nomad needs to know about making Lisbon their temporary base.
Getting to Lisbon
Getting to Lisbon should be the least of your worries. Lisbon's International airport offers a wide variety of international and domestic flight connections. The national carrier, TAP Air Portugal, along with many other reputable international airlines offer flights to and from Portugal, often arriving in Lisbon as the main hu.
The proximity of the airport to the city is an added bonus. Connected to the red metro line and only a short 15 to 20-minute cab ride away from the city center means getting to and from the airport is a breeze.
Getting Around Lisbon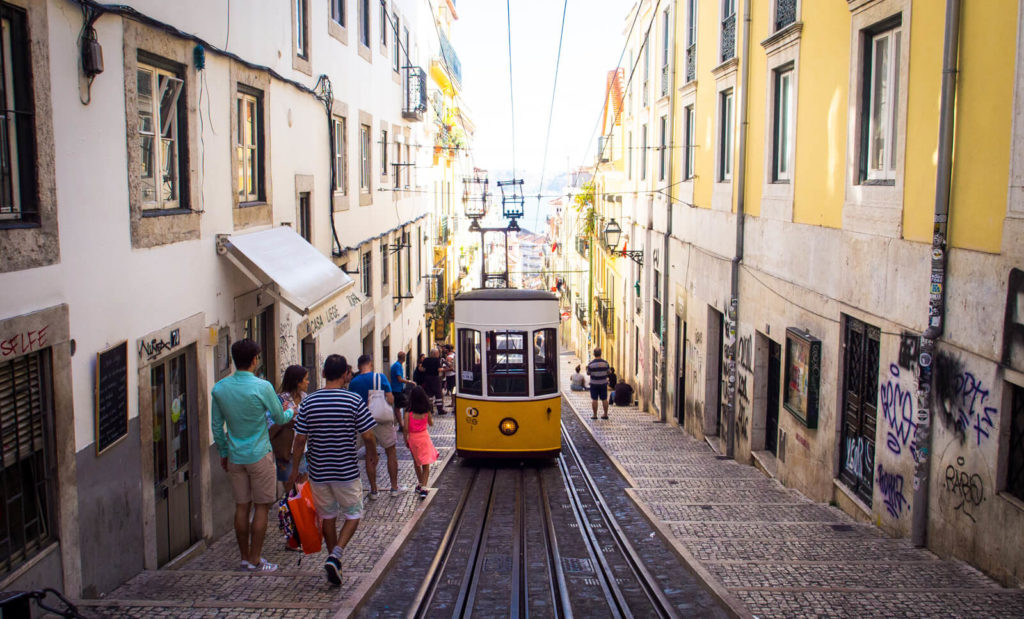 Unlike many other European capital cities, Lisbon is actually rather compact and easily accessible on foot, especially if staying in the central downtown areas. Regardless, Lisbon does also offer a well-connected public transport system, allowing you to get around the city with ease.
Lisbon Metro and Transport
Lisbon's metro offers four lines (red, blue, yellow, and green lines) that connect various different parts of the city and are inexpensive to use.
If you use a re-chargeable 'Zapping' card, a one-way journey will cost only €1.34 per trip. However, if you do intend to make use of the metro on a more regular basis, then it may be worth your while to get the monthly pass (the 'Navegante Municipal' pass) at only €30 (although there is an additional one-off cost to get this card issued).
Apart from the underground metro system, Lisbon also has a great bus and tram network throughout the city and its surroundings, allowing you to get to just about anywhere within the city.
Taxi's and Ride Sharing in Lisbon
Whilst Lisbon does have metered taxi services, they, unfortunately, have a reputation for being a tad unscrupulous at times. Most local residents would much rather prefer to make use of cab-hailing services such as Bolt or Uber that both provide an upfront confirmation of your expected fare.
Due to Lisbon being such a compact city, it's always good to compare the cost of these cab services against using public transport. Especially when traveling in groups, it may work out surprisingly economical to travel by cab versus the metro.
Where to Stay in Lisbon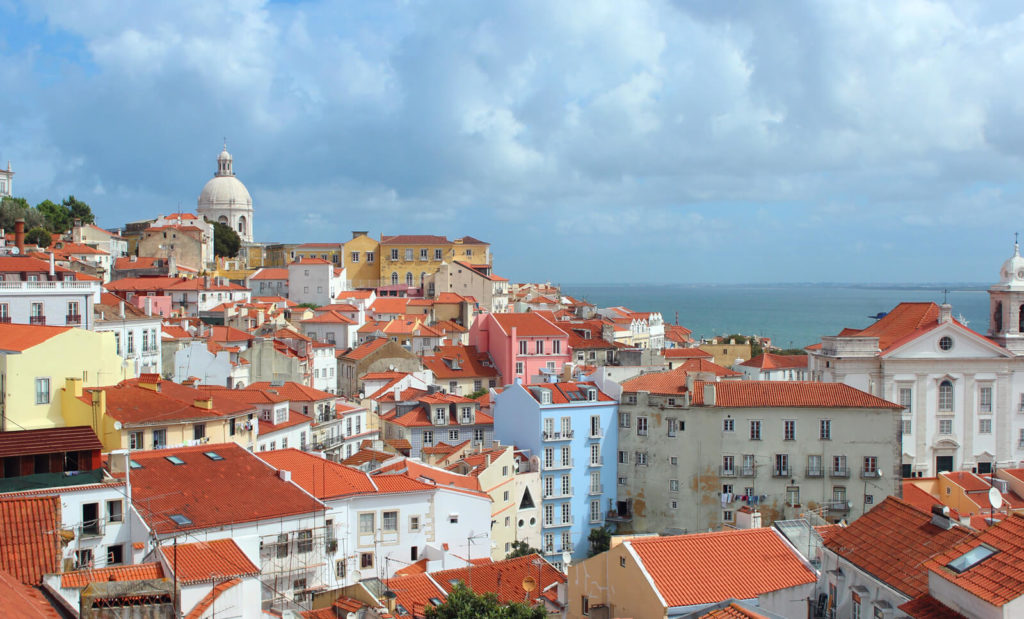 Deciding where to stay in Lisbon can be tricky. There are so many great neighborhoods to choose from, each with their own charm and personality and many of which is located centrally too. Narrowing down the search, here are three top picks for first-time visitors.
Chiado and Baixa
You cannot get more central than chic Chiado and neighboring Baixa. Set in the very center of downtown Lisbon and located close to many major attractions, make these two a top pick for first-timers. From here you can easily get by on foot and enjoy all the sights and sounds of central Lisbon.
Santos
A great up and coming neighborhood that's very popular amongst expats is Santos. This area has seen a lot of rejuvenation over the last few years. With its trendy bars and restaurants, boutique shops, and cobbled streets, it doesn't get more quintessentially Lisbon than this area.
Principe Real
Trendy Principe Real is considered the LGBT neighborhood of Lisbon. This popular area is lined with top restaurants, bars, and shops and is another fantastic consideration when deciding where to stay in Lisbon.
Lisbon's Digital Nomad Community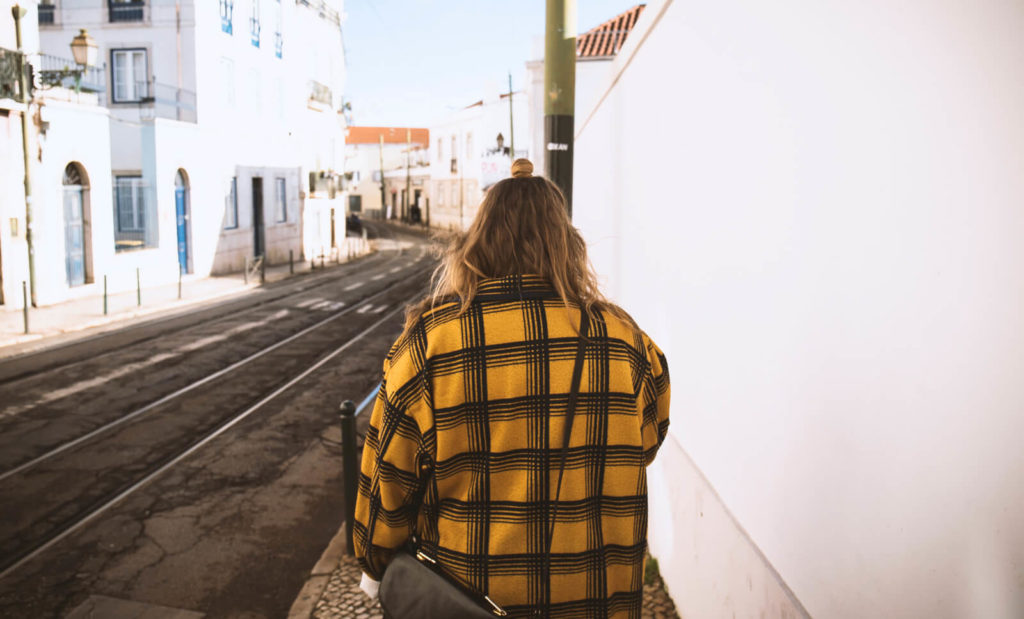 The great news for any aspiring digital nomad wanting to live in Lisbon is that the city has a strong and vibrant nomad community.
Not only are there regular, weekly language exchange, as well as Digital Nomad Meetups, but Lisbon has also been the home of the global Websummit conference for the last few years, drawing in nomads and entrepreneurs the world over.
Last year, the digital nomad community also hosted their own nomad festival, the DNX Nomad Festival.
Connecting with other like-minded nomads shouldn't be an issue when first moving to Lisbon. Download the Meetup app or join a couple of the Nomad and Expat Facebook groups as they often post events and parties happening throughout the city. These include the Lisbon Digital Nomads group, Lisbon Expats, or The Lisbon Expats Group to name a few.
5 Top Co-Working Spaces in Lisbon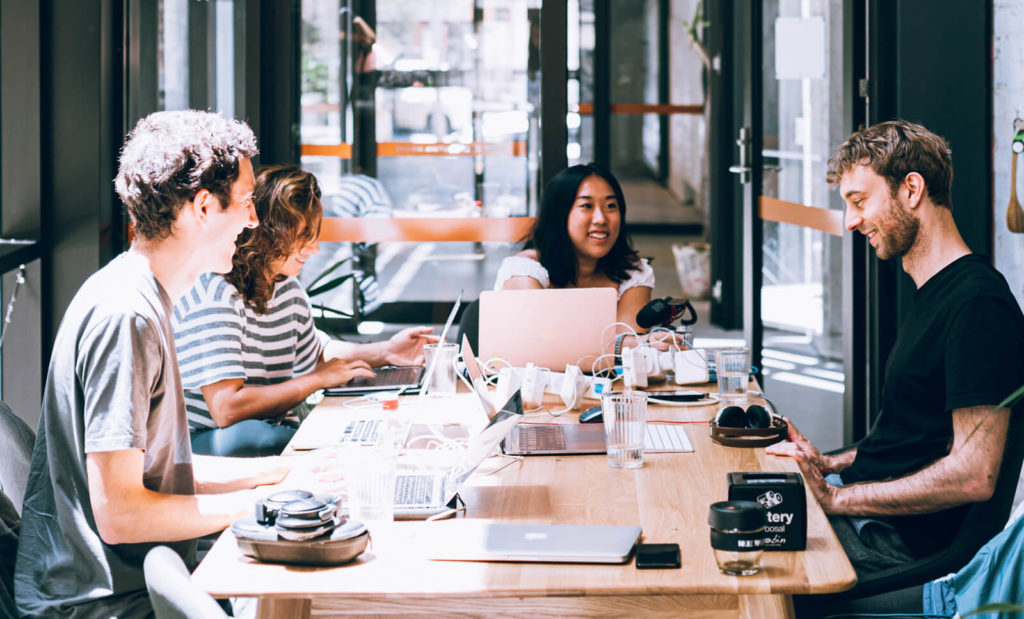 When it comes to finding a suitable coworking space, Lisbon certainly has no shortage. Many digital nomads have signed up for the Croissant co-working app to get a seat in different coworking spaces around the city. It's membership options are a great way to try out different venues to see which if any you prefer to settle in.
When working remotely in Lisbon, you truly are spoilt for choice in terms of coworking spaces to work from. A few of the most popular ones are Avila Spaces in Saldanha, Selena in Sao Bento, and IDEIAHub situated only a short walk from Marques de Pombal.
Needles to say, there are tons more that you can give a try. Here are a few of the top choices to get your started.
Time to Cowork
Located in the trendy riverfront area of Cais do Sodre, Time to Cowork a modern light and airy office space that still retains all the character of a traditional Portuguese building. The gorgeous high ceilings and wooden floors meld beautifully with the modern and minimalistic interiors. Time to Cowork offers private phone booths, a kitchen with tea and coffee making facilities as well as a lounge area to unwind in.
Selina
Set in an older, yet trendy part of Lisbon, Selina is a little hidden gem. It's a co-working and living space. The outdoor garden includes a swimming pool and ample space to chill around in. The co-working space is located just off the outdoor space and includes free Wi-Fi and coffee making facilities too. For a change of scenery, you can also head up to the lush, green rooftop, for a more relaxed outdoor working experience.
Avila Spaces
Avila Spaces is another top pick, not because of its location right outside the Saldanha metro but also for its brilliant facilities. This space is both modern and comfortable with fast Wi-Fi, coffee making facilities, and even a beer keg. They also have a small private booth in case you need to make private calls or meetings. Don't miss out on Friday afternoon socials where you can mingle and meet your fellow coworkers too!
IDEAIHub
Set on the grounds of the beautiful Sotto Mayor palace, IDEAIHub, is one of the largest coworking spaces in Lisbon. It's ultra-modern and offers both rented office space, permanent desks as well as open desk spaces for those visiting for the day. It has all the facilities you'd come to expect from a good coworking space including conference rooms, a full kitchen with vending machines, and reception.
Best Coffee Shops to Work From in Lisbon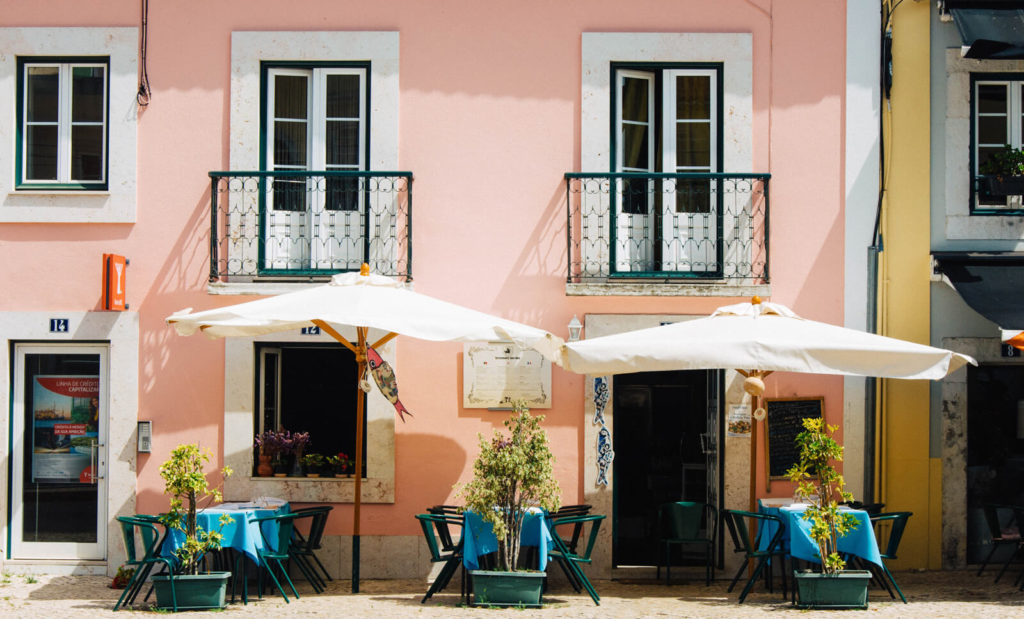 Lisbon has a bustling coffee shop and café scene and these are often frequented by digital nomads. Some of the most popular spots include Copenhagen Coffee Lab, Hello Kristof, and Fabrica Coffee roasters. All of which have excellent Wi-Fi and affordable food prices.
Top Tips for Digital Nomads Visiting Lisbon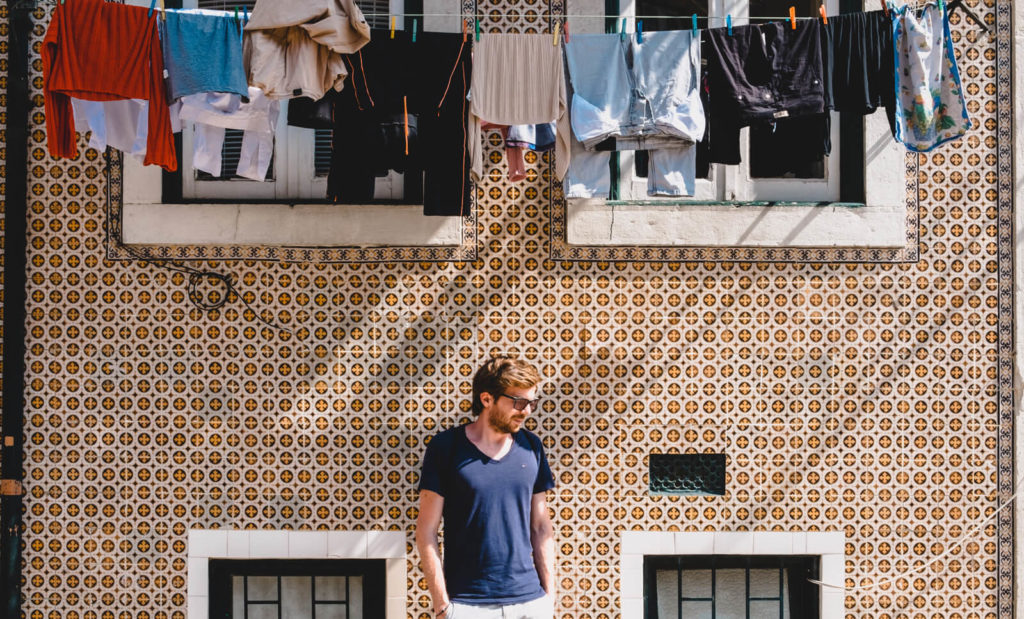 Living Expenses in Lisbon
One of Portugal's biggest drawcards over other European countries is its relatively low cost of living. General items such as shopping, dining out, or having a drink with friends is much lower compared to other European countries.
Transport is pretty inexpensive too. A monthly metro card that allows travel on the metros, buses, and trams within Lisbon's central node will currently set you back €30 (the Navegante Municipal).
If you do decide to live centrally and feel paying for the monthly travel card isn't worthwhile then you can simply pay as you make use of the metro. This is through the 'zapping' card mentioned earlier where you'd simply pay €1.34 per trip you make.
Dining out is fairly cheap, especially if you know where to go. You can easily dine out for under €15 for the main meal and a drink. In fact, at some kiosks or bars, you can even pay as little as €3 or less for a glass of wine or a 500ml beer.
Wi-Fi and Connectivity
When first arriving in Lisbon you will need to apply for your NIF number (tax number). This will allow you to buy a Simcard through one of the operators, such as MEO, Vodafone, or NOS. Most providers offer simple top-up plans that will allow you a set amount of data, calls, and text messages per month.
In saying this, I have to point out that Portugal has great Wi-Fi and I've very rarely struggled with the speed. Even most public Wi-Fi services found in coffee shops, restaurants, or coworking spaces are usually fast and sufficient to work off of.
If you do decide to travel further and explore beyond Lisbon, then it's possible to have some connectivity issues in more remote and rural areas. But in general, the internet quality if Portugal is pretty high and should be the least of your worries when living in Lisbon.
Visa Requirements
Depending on where you are from, you may need to obtain a 90-day tourist visa ahead of time. Naturally, if you hail from any EU country you can live and work freely in Portugal while most other nationalities may require a visa be obtained upfront.
Portugal also offers a unique D7 residence permit, which is what many nomads have managed to successfully apply for, allowing them to stay on longer in Portugal. This particular visa is based on having a set amount of income that proves that you can live self-sufficiently in Portugal.
In order to apply for this type of permit, you will need to make an appointment with SEF, the entity in Portugal that manages border controls and issuance of visas and residence permits. SEF is notorious for running out of appointment slots and you have to ensure you book an appointment the moment you arrive.
Even when booking a slot with SEF immediately upon arrival, the chances are good that your appointment date may well be after your visa expires. If this is the case you don't have to stress, as long as you have a confirmed appointment and received this confirmation in writing (usually SEF emails a letter of confirmation) then you can continue to legally stay in Portugal, even if your visa has expired. But do note, this is only as long as you've phoned to make the appointment before your visa actually expired.
Always make sure to check on your particular nationality's visa requirements as well as the different visa types and requirements ahead of travel to ensure you have the correct documentation to enter Portugal legally.
Lisbon is no doubt a hotspot for digital nomads for its cost of living, community, many coworking spaces, and entertainment options.
---
Where to next? Find flexible month-to-month rentals across the globe on Anyplace.

digital nomad destinations
digital nomad lisbon
digital nomad tips