What to Know as an Expat or Digital Nomad in Mexico City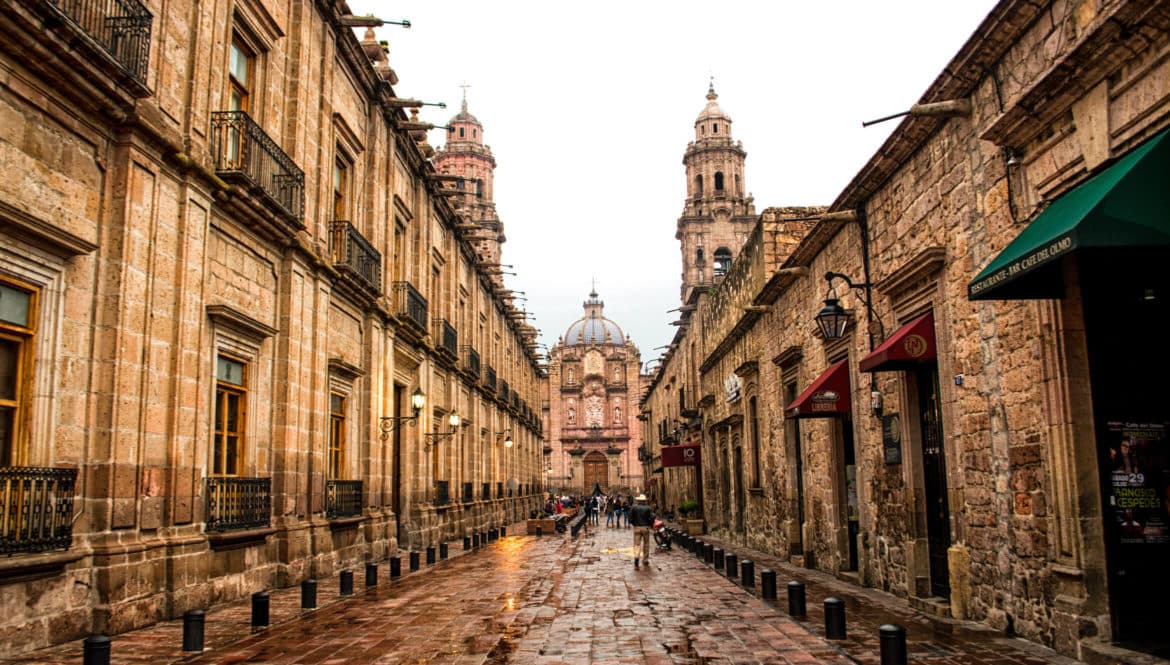 Often abbreviated to CDMX (Ciudad de México), Mexico City is the country's largest city and also the largest Spanish-speaking city in the world. With a population of around 21.5 million, it is one of the world's largest urban areas. However, it doesn't have a very high population density so the impression in many districts is not of an oppressive megacity. The city spans a wide area and there are not many high-rise buildings, which means there is a bit more space than other leading cities. Mexico City is a likable city that offers a great deal to the digital nomad, it is diverse, exciting, and relaxed.
The Mexico City Appeal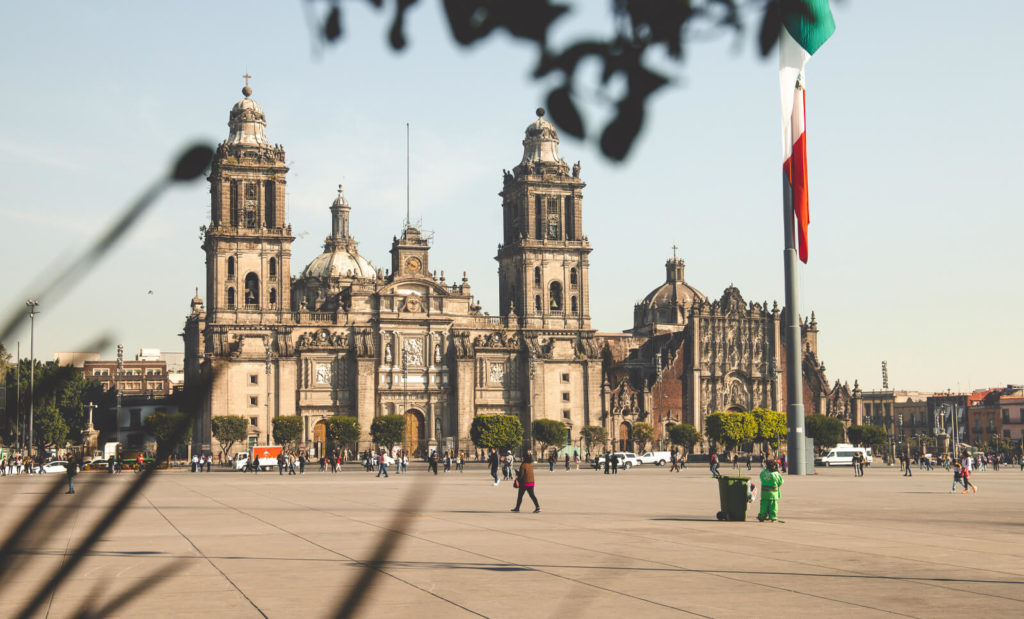 Mexico City is a city of commerce, industry, and government, but also a city of culture, learning, and festivity. It has a lively and artistic spirit that is international in its outlook, yet it also has the time to celebrate every element of Mexican cuisine and traditions.
Visitors will find a modern and lively city that has comfortable districts, a great of activity, entertainment, and parties, but it still retains a comfortable pace of life. Mexico City has fantastic culture, and a profusion of shops, cafes, restaurants, coworking spaces, and bars.
It is also a central location in Mexico and the American continents, all of which make it an excellent choice for digital nomads.
Mexico City can be an excellent place to begin a tour of the country, and it is likely to be your city of entry. For travel in Mexico, you will probably need a comprehensive digital nomad's guide to Mexico that can provide some useful context and advice.
Mexico City Neighborhoods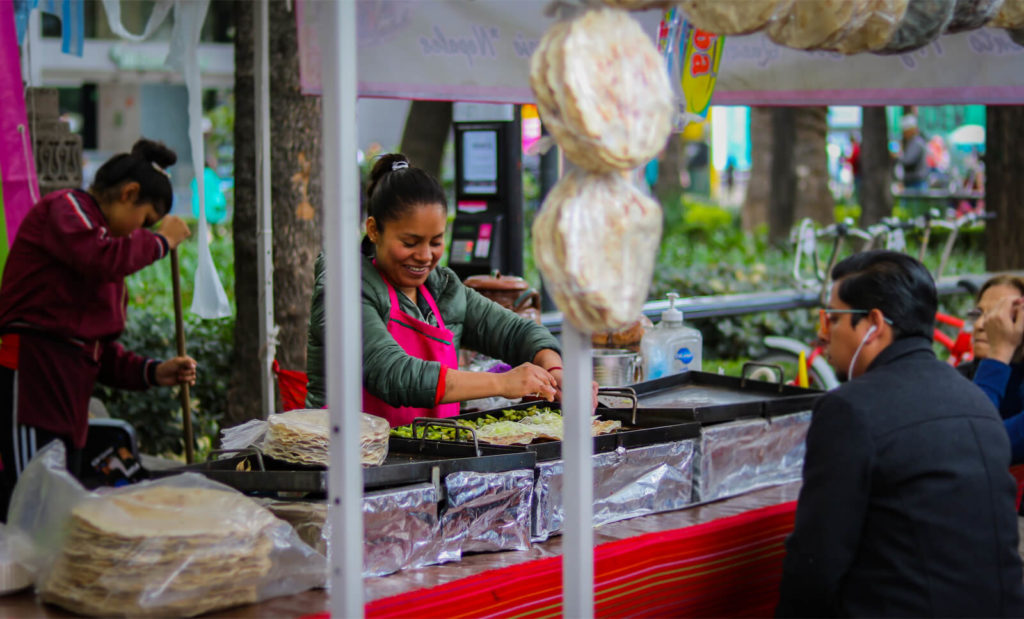 As a vast metropolis of great diversity, Mexico City has more than a few interesting neighborhoods to choose to stay, or simply to visit or spend time working.
Centro
This is the historical center around Plaza de la Consitución, or Zócalo, which is a very large plaza next to the Palacio Nacional government building. Centro is also home to the site of the Aztec city, Tenochtitlan, at Templo Mayor, as well as colonial buildings dating back to the 16th century. This area is very historical with many sights to take in and it is a central place for festivals, shopping, restaurants, and bars.
Roma
A residential area to the southwest of the center, Roma was recently made famous by an internationally acclaimed movie of the same name. Roma is an affluent, gentrified area of trendy cafés, restaurants, and art galleries. The streets are lined with trees and there is a pleasant, relaxed ambiance that makes Roma a nice area to call your temporary home.
Lomas de Chapultepec
'Grasshopper Hill' in the indigenous Nahuatl language, this district is at the edge of a very large green space that is the site of a park, zoo, auditorium, and several museums. Lomas de Chapultepec is an expensive district of large mansions for wealthy residents.
Condesa
Located next to Roma, Condesa has a similar look and feel, with leafy boulevards and trendy shops and eateries. With art deco architecture, art galleries, and cool bars and clubs, Condesa has a bohemian atmosphere that appeals to young visitors, but it is also an expensive district.
Polanco
This is another exclusive and expensive area that is on the edge of Chapultepec Park, which has been dubbed the Beverly Hills of Mexico City. It is filled with shops, department stores, restaurants, and bars, which makes it a good place to stay or spend time.
Juárez
This is the district on the south side of Paseo de la Reforma, where many stores, markets, bars, and monuments bring life to the street. Juárez was formerly a prominent district, but the 1985 earthquake started a decline from which it is beginning to recover. Now it is an up-and-coming area of new bars, art galleries, and clubs.
Coyoacán
This is a spacious southern district further from the center, with parks, museums, and fine examples of colonial architecture. The Frida Kahlo Museum is in Coyoacán, as well as markets, art galleries, and excellent street food.
San Ángel
Even further out from the center, San Ángel is to the south of Coyoacán. Similar to its northern neighbor, San Ángel is historical, with beautiful colonial buildings and cobbled streets. This area is very quaint and interesting, with museums, a convent dating back to 1615, and there is an art market every Saturday.
Santa Fe
A modern and commercial center outside of the center, Santa Fe has skyscrapers and apartment blocks and is the location for high-tech firms and multinational corporations. This is decidedly different to other Mexico City neighborhoods, but it is well connected and is served by modern amenities.
It is easy to find great accommodation options at different locations across Mexico City. Simply decide on the district that suits your fancy and check all the available places.
The Best Working Spaces in Mexico City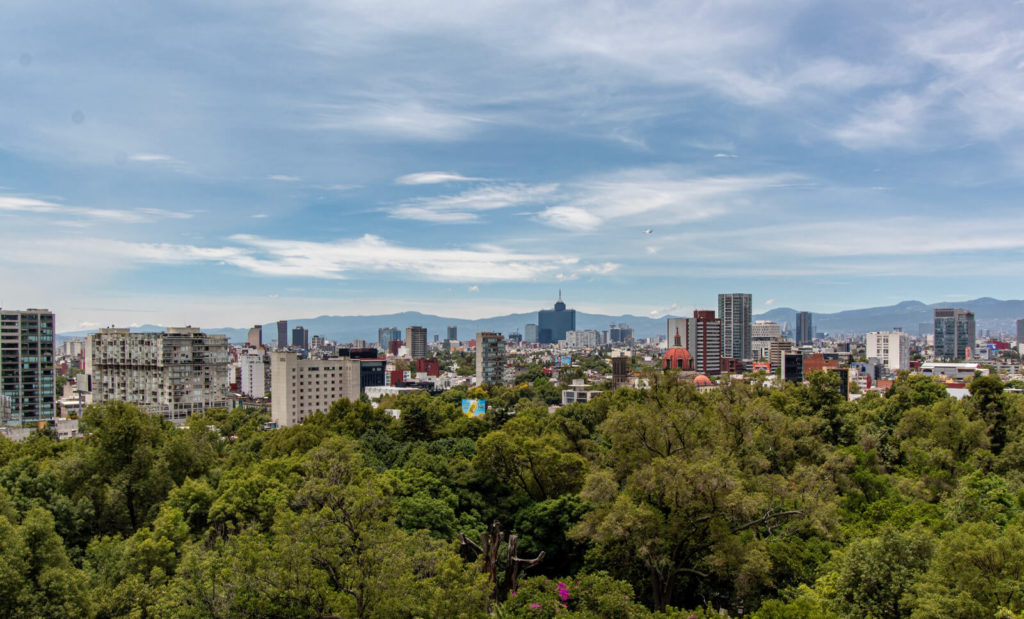 As the largest city in North America, it's not surprising that there is a high number of cafés and coworking spaces to be found in different urban areas. Here are some of the finest choices in a range of districts.
Coworking spaces
The Mexican capital provides an excellent selection of coworking spaces to work from, many with a number of different sites. Here are some of the best to try out:
Homework: Well equipped and nicely furnished central coworking spaces in the city center, at the Plaza de la Revolucíon and on Calle Liverpool in Juarez.
The Pool: This is a large, modern, and affordable coworking space found through Mexico City. The spaces are in Chapultepec, Polanco, Toledo, and San Ángel.
Público: These are accessible spaces with a creative appeal and areas for photoshoots. There are six locations in Mexico City, in Lomas de Chapultepec, Juárez, Condesa, San Miguel de Chapultepec, and two spaces in Polanco.
COW: Another professional space that provides various coworking options and events in bright and comfortable spaces. These are sites in Cauauhtémoc, Polanco, and Tacubaya.
Seedspace: With seven locations across the globe, Seedspace is a coworking and coliving space with events. In Mexico City, they can be found in Chapultepec, Cibeles, and Colima.
WeWork: This is a well-known company that can be found in countries across the globe. WeWork provides a reliably high-quality coworking experience. In Mexico City, there are 18 separate spaces, in the center, south, and southwest parts of the city.
Cafes to Work From
There are many districts of Mexico City that have a wide selection of cafés that are well-suited to the needs of a digital nomad. Here are some of the options in popular areas:
Dosis: A cozy and spacious coffee shop in Roma Norte, Dosis is not good for power sockets, but is a comfortable place to enjoy a coffee while you're working.
El Pendúlo: This is a bookshop and café with Wi-Fi and a pleasant atmosphere to spend some time working. These are located in Polanco, Condesa, and La Romita.
Blend Station: A great place to work from in Condesa with strong Wi-Fi, furniture that is suitable for working, and a good selection of drinks, snacks, salads, and desserts.
Café Negro: A stylish café in Coyocan that serves local, ethically produced coffee, as well as sandwiches, snacks, and desserts. The café also has strong Wi-Fi and a relaxed atmosphere.
Ojo de Agua: These are juice bars, restaurants, and health food stores that can be found in Condesa, Juárez, Polanco, San Ángel, and Centro among other locations. As well as juice, coffee, sandwiches, and salads these cafés can be good places to spend time working.
El Ilusionista: A really cool café in a quiet neighborhood of Escandón, with various types of furniture to sit and work and good access to powerpoints.
What You Need to Know About Mexico City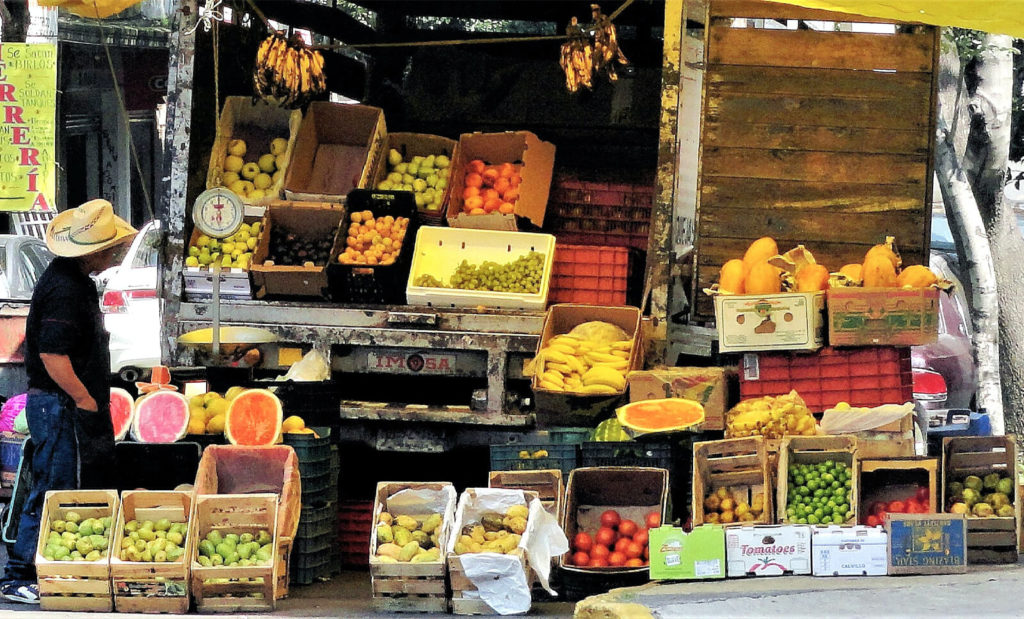 Safety
The first thing that potential visitors to Mexico often ask is about how safe the city is, due to the frequent news reports of crime in the country. Mexico City is relatively safe, especially in most of the neighborhoods listed above. There are some areas that should be avoided and these include Tepito, Doctores, Iztapalapa, and Mercado Merced.
Weather
Although Mexico City is in a tropical zone, its elevation is somewhere between 7,000 and 13,000 feet (2,100 – 4,000m), which makes the climate somewhat cooler. The climate is mainly dry with a wet season from May to October. From November to March, temperatures can fall below 50º Fahrenheit (10ºC), with days that are usually warm. There is not a great deal of variation throughout the year, but the winter months are often cold and the summer months receive much more rain.
Time Zone
The time zone of Mexico City is UTC -6, or UTC -5 during daylight saving time, which is the same as Central Standard Time (CST) of North America. This is just six or seven hours ahead of Western Europe.
Cost of Living
Despite being the largest city and the nation's capital, Mexico City is not the most expensive location in the country. Coastal tourist resorts are often more expensive, while Mexico City is surprisingly affordable. The average monthly cost for digital nomads is $1,250, though this depends to some extent on the neighborhood you choose to stay in. I have also found on trips to Mexico City that shopping for clothes and other consumer items offers a good selection at low prices.
Connectivity
Mexico City has reliable connectivity and relatively fast internet, with average download speeds of 37.9 and upload speeds of 13.1.
Visas
Mexico is a country that makes it easy for the visitor to stay for long periods of time, as visitors from 70 countries will be granted 6-month tourist visas on arrival. This includes passport holders from most countries of North and South America, Europe, Australia, New Zealand, Japan, and South Korea. People from Africa and most parts of Asia will need to apply for a visa prior to arrival.
Transportation
Mexico City has an extensive metro network that gives a quick and cheap way of getting around town. There are women-only carriages for the safety of female travelers, which highlights the issue of sexual abuse in Mexico. Travelers should always take care, avoid traveling at night and be wary of pickpockets.
Taxis are another way of getting around, but the metered 'Libre' taxis should be avoided due to safety issues. It is better to use the 'Turismo' or 'Sitio' taxis that are more expensive but safer. There is also the Metrobus, or Bus Rapid Transit (BRT), which is a cheap and environmentally friendly mode of transportation. Similar to the metro, it is better to use this during the day rather than at night.
Language
Mexico City is an international city where many people can speak English, but it would still be a good idea to brush up on your Spanish language skills before arriving. While you can still get by easily without speaking Spanish, the use of at least a few phrases will always be appreciated by locals.
Leisure Activities in Mexico City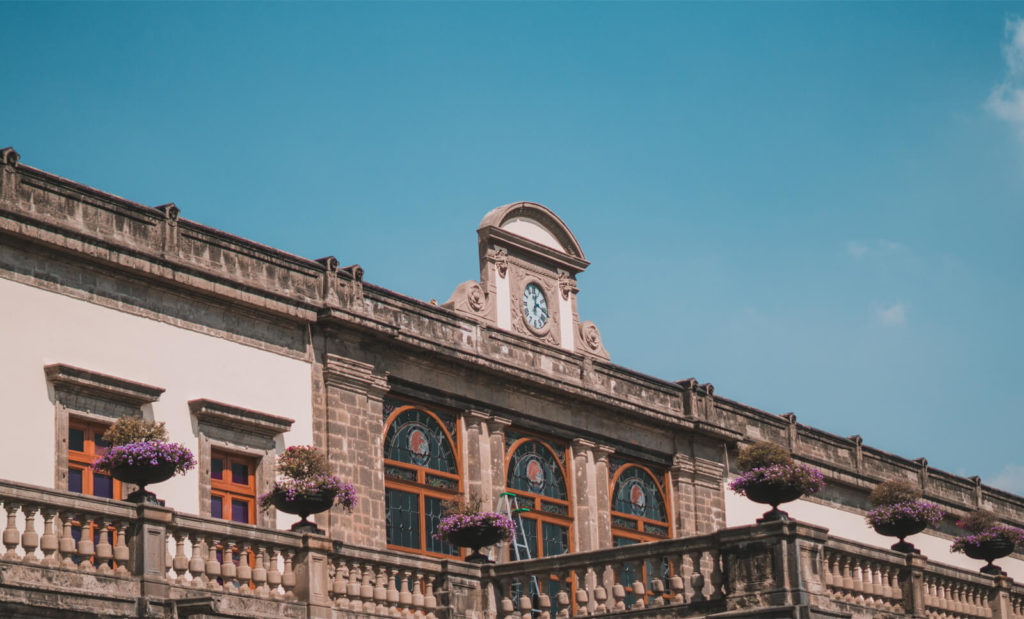 Visitors to Mexico City will find that in their free time they have many options for ways of spending their time. Those with an avid interest in history should take a trip 25 miles (40km) northeast of the city to see the ancient city of Teotihuacán to see pyramids and ancient remains of a vast Mesoamerican settlement. Other pre-Colombian artifacts and remains can be found at Templo Mayor, Chapultepec Park, and at many other sites both in and around the city.
Mexico City has a wealth of culture in the wide range of museums and art galleries to be found throughout the city. Many of these celebrate the work of famous Mexican artists like Frida Kahlo, Diego Rivera, and Rufino Tomayo. This can be seen at the Museum of Modern Art in Chapultepec, the Palacio de Bellas Artes, and the National Palace in Centro. The Frida Kahlo museum is in Coyoacán.
For more traditionally Mexican entertainment, visitors may like to try a taste of mezcal at Los Amantes Polanco, tequila at Fifty Mils in Juárez, or cocktails at a 'speakeasy' bar like Xaman Bar in Zona Rosa.
Lucha libre is a style of wrestling that is particular to Mexico, a colorful performance rather than a competitive sport, but entertaining all the same. The Lucho Libre experience can be found at Arena Mexico in Zona Rosa or Arena Coliseo in Centro.
The city comes alive during festivals throughout the year, but especially for the spectacular Day of the Dead (Dia de los Muertos) at the beginning of November. This is when the spirits of deceased friends and relatives come back to visit, which Mexicans celebrate with fantastic costumes and performances.
Mexico City is a huge city that provides much more than the average metropolis. It has a wide range of tastes, flavors, and experiences that show the traditional and the contemporary sides of Mexico. A flourishing art and culture scene introduces visitors to a Mexico of the past and the future, while the many coworking options give insight into a country that is increasingly remote. Mexico City is a digital nomad hub that is innovative, forward-looking, and great fun.
---
Where to next? Find flexible month-to-month rentals across the globe on Anyplace.