Co-living for Couples: Should it be Considered?
The digital nomad lifestyle is not just for the unattached. Remote work is growing and absorbing couples who travel—and work—together. But if co-living has not been your (and your partner's) most-preferred residential option so far, here's why it could be:
In 2018, Ikea launched an online survey, One Shared House 2030, to understand how people would like to live together and found that almost everyone would like to share at least some form of space or responsibility. The survey, answered by 13,000+ people of all ages, in any life situation, and in countries around the world, reveals that people like having both singles and couples in their co-living community. 
The benefits of co-living are obvious: a good neighborhood, cheaper living options, common facilities; but the real draw for most is access to the co-living community—enriched by a variety of its members—and an ability to socialize with each of them.
But can co-living work for couples? 
The short but sure answer is yes. Co-living is the perfect fit for a remote worker (or two) looking for flexible, affordable housing options in sought-after locations around the world. But not every couple might want to co-live, so here are a few arguments in favor of co-living for couples who would:
Co-living as a couple is a cheaper alternative
As the concept of a home is evolving, so is the idea of homeownership. Millennial couples don't have their parents' ambitions of owning a home. Not as soon, anyway.  They seek service, comfort, and convenience but it shouldn't come at a prohibitive cost (like homeownership in almost all global cities in the world), nor should there be the inflexibility of long-term rental leases. 
Flexible term-leases at co-living spaces mean people are free to arrive and leave whenever they please. That co-living options also fulfill all the basic needs of today: WiFi, furniture, and appliances, without making people scamper to put together a home, is one of its biggest advantages. 
It's also important to reiterate that not all co-living options are like stuffy, unventilated dorms. Couples can have their own bedrooms and private bathrooms but would share a kitchen, lounge, fitness center, and workspace with the other residents.
Sharing the lesser-utilized spaces like the kitchen, balconies, gardens is what brings down the cost of private rooms. What's even better is that a majority of co-living spaces are designed aesthetically—encouraging socialization and a willingness to stay. As an example, take a look at one of the many common areas at Funan co-living in Singapore, seen below.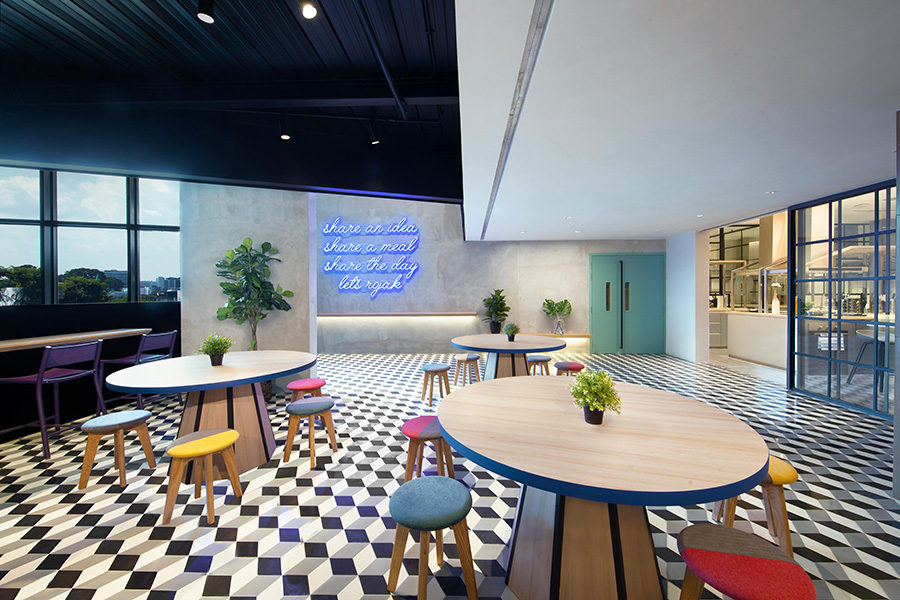 It is genuinely easy to live in a co-living space
Your relationship might not be 'no strings attached' but the accommodation can be. Today's globalized workforce allows and encourages people to travel and relocate frequently. Digital nomads cannot be bothered with long lock-in periods or inflexible rental leases. Co-living spaces respond to this need. They provide the convenience of short-term leases (sometimes as short as a month) and liberate residents from dealing with, say, burdens of household chores. 
This means co-living can actually be good for your relationship and will allow you some extra time on your hands. It offers an opportunity to move into fully furnished, serviced, and managed rooms with nothing but your suitcases. 
What about payment? It's usually comparable to renting any space with facilities and would be all-inclusive. This means it would take care of all facilities from TV, housekeeping, Wi-Fi, cable, common kitchen and laundry spaces, maintenance to all the furnishings.
And now, for the biggest advantage:
Co-living leads to real socializing
In a world where social media platforms and virtual interactions have become the norm, co-living is that rare chance for new arrivals—in a city or a neighborhood—to expand their social circle, attend community events, and feel less lonely in a new city—with or without each other. 
It's not uncommon for couples to feel estranged or lonely even in each other's presence. As the world is urbanizing, we are not only moving further and further away from deep and meaningful connections in a city, we are also moving away from ourselves. 
While couples must spend time with each other, it's also important for them to spend time apart, doing things they individually enjoy. Access to a physical community where people can get to know one another and look after one another can provide this much-needed recalibration. And to add to this, simple activities such as cooking or eating a meal with other community members can provide a scene change and a sense of new perspective. 
If you're more social, co-living makes even more sense. Many co-living operators also organize multiple community-led events from yoga classes, barbecue nights, karaoke, pizza nights to break-ice, and then help forge deep, meaningful connections.
Privacy is unaffected, mostly
The idea of co-living is to create a community-centered environment and promote social contact through community events. But that does not mean that it has to interfere with your privacy. 
Couples might be wary that living in a co-living space, with its constant presence and chatter of community-centered interactions, would be exhausting. But they should think of the co-living space as an environment where they can participate whenever they wish, or retract to the safety of their comfortable, managed rooms when they would like some quiet time.
But if a couple values their personal space above social interactions and would rather spend their non-working hours with each other than hang out with others, co-living might not be the most suitable option for them.
In a nutshell…
In a way, co-living is responding to a housing crisis—to the digital nomad who travels frequently, and to couples who want to live with each other and with an involved and cohesive community—among plenty of others looking for affordable housing options. In doing so, co-living offers solutions to the many problems we face today: be it the question of affordability or of isolation. 
For couples, co-living can be especially thought of as an opportunity to build a community for both of them—as individuals and together. Shared responsibilities, spaces, and interests can create a bond that not only sweetens their relationship but also strengthens them as individuals—where community members become friends and confidants.
---
Where to next? Find flexible month-to-month rentals across the globe on Anyplace.
co-living
co-living benefits
co-living for couples
short-term rentals
Apekshita is a journalist, creative writer and content strategist. She is passionate about cities, urban life and remote work. On the move since 2018, Apekshita has explored 15+ cities in India while working as a digital nomad.
You may also like