18 Proven Products For the Best Home Office Setup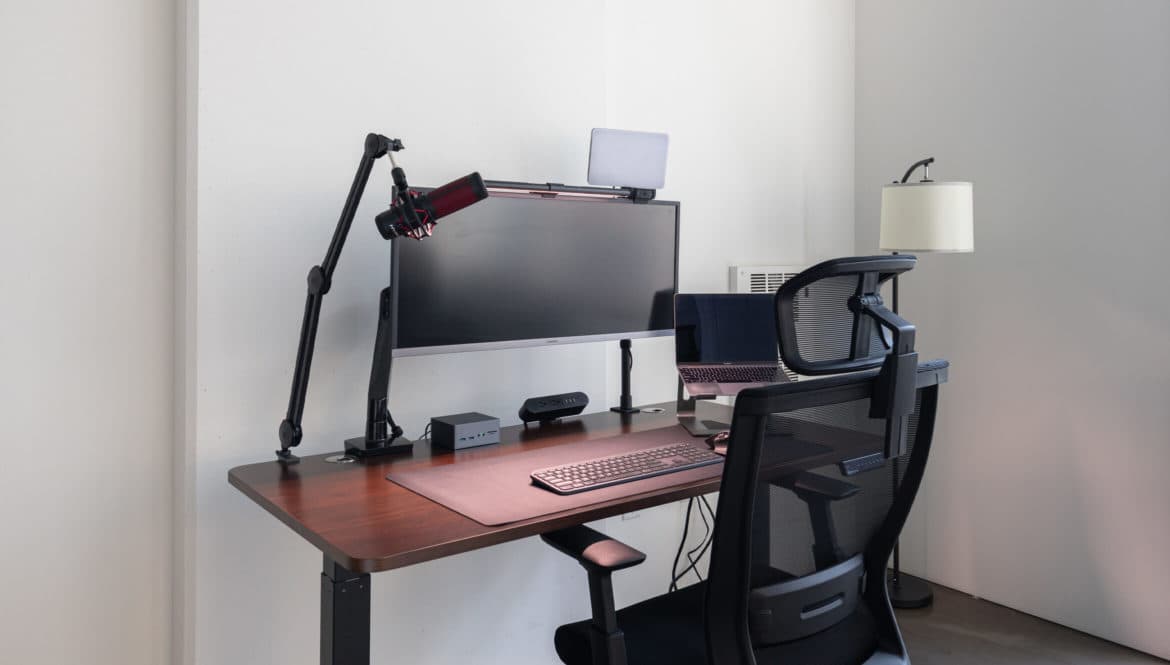 Travelers increasingly need a solid office setup, yet short-let apartments often don't come with a dedicated workspace (even if they claim to). Many times, I've turned up to a rental apartment, only to find that the so-called workspace is woefully inadequate.
At Anyplace, we recognize the value of creating the best home office setup. That's why we've launched Anyplace Select: move-in-ready furnished studios and apartments with a fully equipped workspace – in your favorite city.
Our team has spent countless hours researching and testing gadgets in our search for the ultimate remote work tech packages. We use these top-rated products daily and love them so much that they're available in all of our Anyplace Select properties – for you to use, too.
Do you dream of building your own ideal work environment? The recommendations are the products we offer in our Anyplace Select apartments. If you're looking to piece together the best home office setup, then here are the proven products to help you do that.
A Height-Adjustable Desk
Why you need it: A desk at the wrong height will force you to sit in awkward positions, which over long periods leads to back pain, headaches, and fatigue. A fully adjustable desk will ensure that your screen and keyboard are exactly where you need them.
How to find the right one: The more adjustability the desk offers, the better. Ideally, you'll be able to adjust it so that you can work standing up, which comes with added health and productivity benefits. Beyond this, it should have a large surface area, sturdy and long-lasting legs, and an electric motor for ease of control.
Price range: $150-$900
Anyplace recommendation: SmartDesk Core
Ergonomic Desk Chair
Why you need it: Standing is a great option at times but eventually, everyone needs to sit down. You can ensure your posture remains healthy by investing in the most comfortable and ergonomic chair. This supports your back, preventing injury and optimizing blood and oxygen flow throughout your body.
How to find the right one: Your chair, like your desk, should be fully adjustable to help you find the right height. That means tilting back and forward, as well as going up and down. It should have a foam headrest, armrests, and a firm but comfortable cushion. A mesh back is ideal for facilitating airflow and preventing back sweat.
Price range: $100-$500
Anyplace recommendation: ErgoChair Core
Ultra-wide Computer Monitor
Why you need it: There are two main reasons to opt for an ultra-wide computer monitor: productivity and energy retention. You'll be more productive because you can fit more on your screen at any one time. Rather than constantly scrolling or switching browser tabs, you can see multiple bits of information all at once. Your energy levels will remain higher because large screens prevent eye strain, which makes a huge difference throughout the day.
How to find the right one: Monitors need to respond quickly and have sharp accurate colors. The best ones have rapid refresh times and a high-contrast VA panel. The faster it operates and the more accurate the image is, the easier it'll be to work.
Price range: $200-$600
Anyplace recommendation: Samsung 34"
Adjustable Monitor Mount
Why you need it: You're building your home workspace around you so you want to be able to quickly and easily adjust your monitor. By putting it on a mount, you're not just able to move it higher or lower, but you can also tilt it according to your position relative to it. Tilt it upwards if you're standing or downwards if you're reclined in your chair.
How to find the right one: The main concern is the build quality. Check that it's capable of holding the weight of your monitor and that it's made from robust materials. It's also convenient to find something that can clamp to your desk, rather than one that requires drilling.
Price range: $20-$80
Anyplace recommendation: ErGear 22-35"
Laptop Elevator Stand
Why you need it: Even if you use a computer monitor, it helps to have some work up on your laptop as well. Although ideal for portability, laptops don't work so well when working at home. The flat keyboard is hard to type on and the screen is often too low down. A laptop stand elevates your screen to the ideal height and then you can use a separate mouse and keyboard.
How to find the right one: Laptops are expensive so you'll want a stand that is rugged and robust. Make sure you feel confident putting your laptop on there, knowing that it's perfectly secure. Adjustable stands are great for getting the perfect height and try to find something with ventilation to prevent your laptop from overheating.
Price range: $10-$50
Anyplace recommendation: Soundance Laptop Stand
Microphone and Mic Stand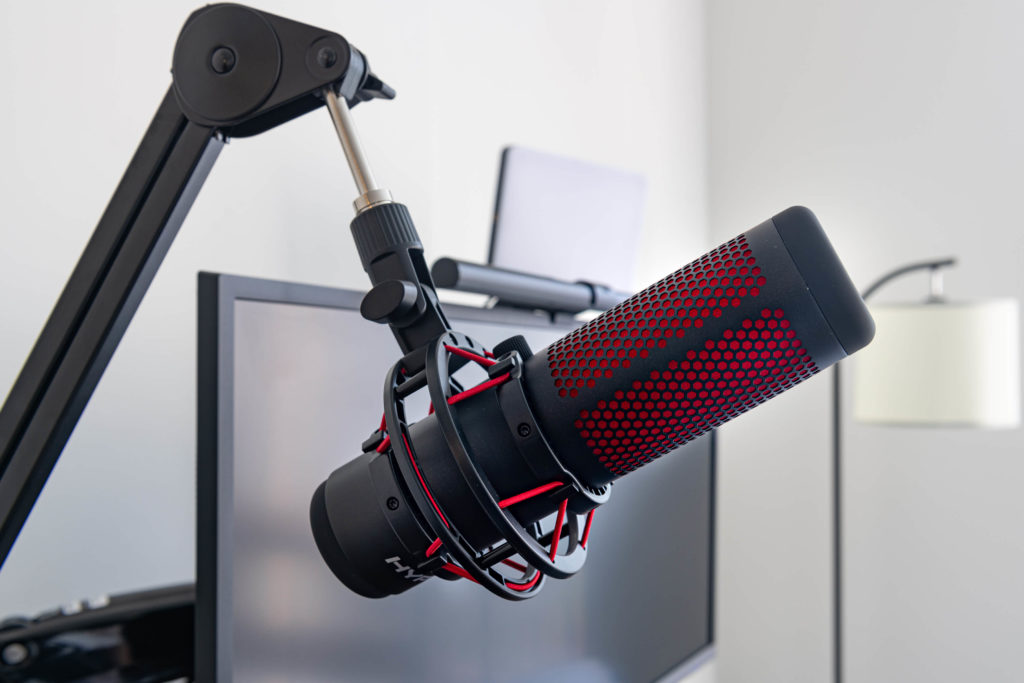 Why you need it: If you're regularly on video calls, then it really helps to invest in a high-quality microphone. This will make your voice clearer and cut out background noise. Anyone who posts video content online or sells products over the phone needs a mic with a stand for crisp and clear quality.
How to find the right one: You'll know if your microphone is high-quality based on the crispness of the sound recording. This is the most important thing. You should also look into what the microphone is designed for. Is it for singers, gamers, or YouTubers? This will give you an idea of which one is right for you. Make sure to check whether it's bidirectional, omnidirectional, or if there's flexibility between settings.
The mic stand should be stable and sturdy but also easy to move so that it's always close to your face. Cable organization helps a lot and, if the stand will be on camera, don't forget to choose a product that looks beautiful and professional.
Price range: Mic: $60-$150 for the mic; Mic stand: $20-$100 for the stand.
Anyplace recommendation: Mic: HyperX QuadCast / Blue Yeti; Mic stand: InnoGear / Blue Compass
HD Webcam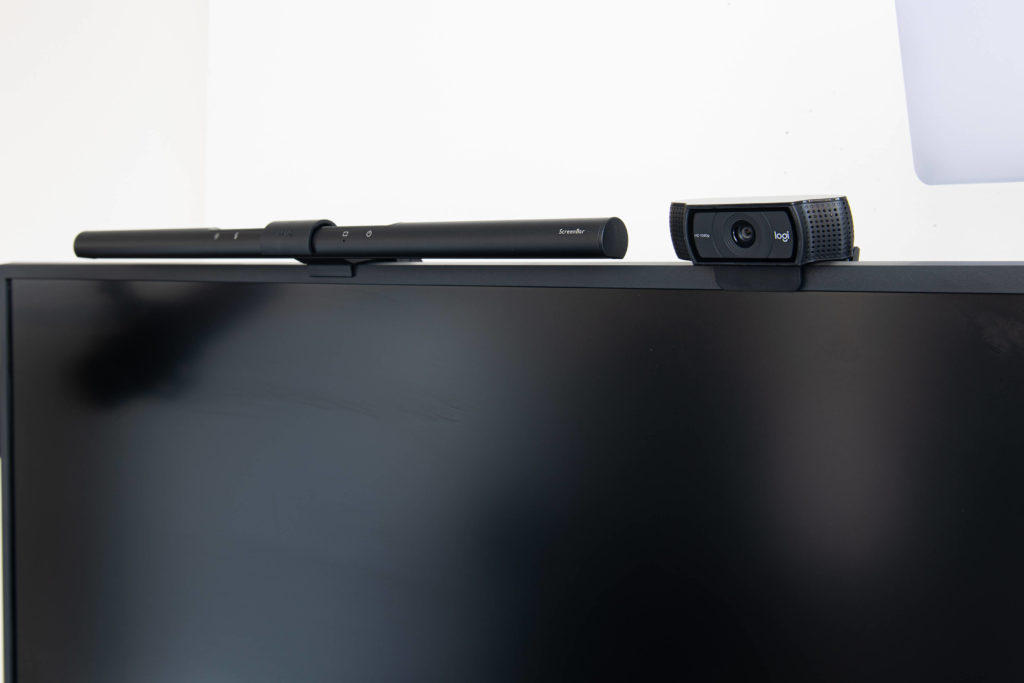 Why you need it: Online meetings are a critical part of working from anywhere. Blurry and lagging images can ruin the experience, though, especially if it's not syncing up with the audio. A high-definition camera makes the process much smoother, improving communication with your remote team. You also look better in HD, which gives you crucial confidence when pitching a product or being interviewed for a job.
How to find the right one: Like microphones, the quality will be obvious when you try it out. If you're happy with the image quality when testing a camera, then it's probably fine. When shopping online, look at the megapixels and frame per second stats. More megapixels and a higher fps rate will result in a higher quality image.
Price range: $50-$130.
Anyplace recommendation: Logitech C920x
Dimmable Face Light
Why you need it: A light just above your monitor further helps you to look good on camera, giving you the confidence you need to succeed. People who make YouTube videos – especially makeup tutorials – will benefit from ideal lighting every time. Or maybe you film product reviews or cooking tutorials and want items to be vibrantly lit. Don't rely on the sun hitting you perfectly: use a face light.
How to find the right one: Face lights should be adjustable so that you can get the lighting perfect. That means finding one with a dimmer switch as well as color temperature control to produce an image that looks both vibrant and natural. It's convenient if the light comes with a remote so that you can adjust the brightness from a distance.
Price range: $50-$200
Anyplace recommendation: YunDZ Bi-Color Video Light
Wrinkle-Resistant Green Screen
Why you need it: When it comes to video calls, the background matters. It can be stressful trying to hide mess and people in the background. You can avoid all this with a simple green screen, onto which you can create any background you like. This means you will always be placed in a professional environment that will impress whoever's on the other end.
How to find the right one: You could just use a green sheet but this will cause problems. Use a professional screen that's wrinkle-resistant to effectively generate a virtual background. The screen should be collapsible so it's easy to pack away and able to pop up in seconds for those unexpected emergency Zoom calls.
Price range: $50-$150.
Anyplace recommendation: Elgato Collapsible Green Screen
Cable Organizer Tray
Why you need it: A tidy workspace offers the best home office setup but you may have a nest of cables to contend with. Not only is this unsightly but it also makes it difficult to figure out which wire goes where. Trailing cables could be chewed on by pets and babies or tripped on by busy adults. A simple cable organizer avoids all these problems.
How to find the right one: A good cable tray will lift your wires off the ground and keep them neatly organized. Make sure it's big enough to fit all your cables and sturdy enough to ensure they're always secure. It also helps to opt for a no-drill tray, for ease of installation.
Price range: $15-$30.
Anyplace recommendation: Sussi Trade No Drill Under Desk Tray
Docking Station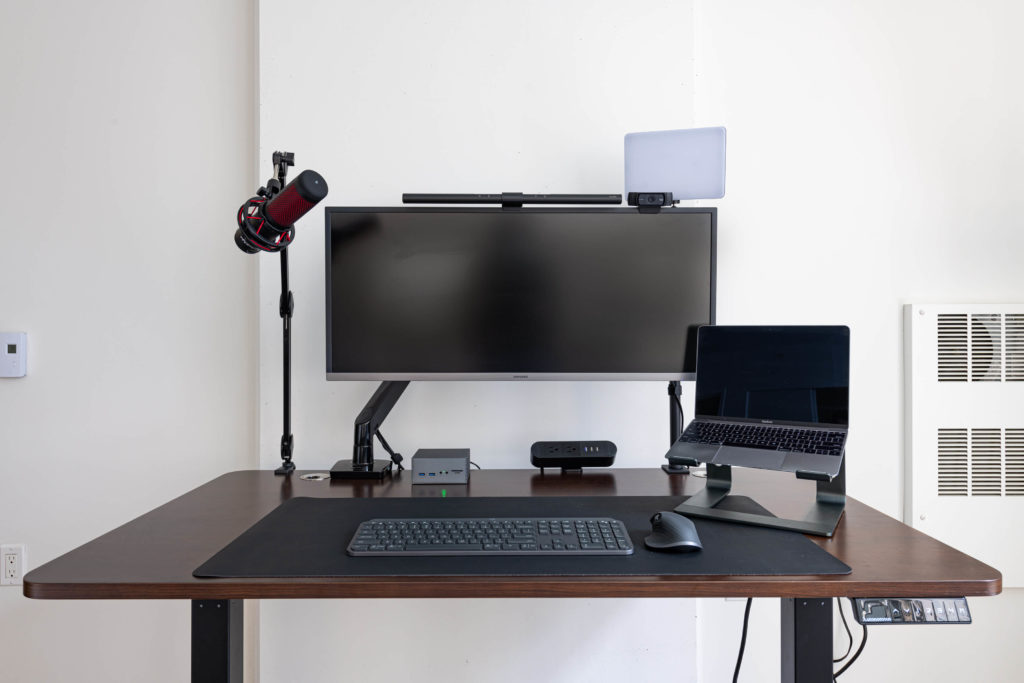 Why you need it: A docking station allows you to plug everything you need into one place. This helps to keep all your cables organized and ensures that there's always space to plug them in. Most computers don't come with enough ports so a docking station can provide this extra space.
How to find the right one: The main thing to consider is the number of ports. Take stock of all your tech and find a docking station that can fit them all. Around 16 ports is a good number to aim for. Also, make sure it's compatible with your devices. For instance, if you're running a 4K monitor, make sure your docking station can handle that power. Look for a machine around 60 watts so that it can provide rapid charging and data transfer.
Price range: $100-$250
Anyplace recommendation: OKX Docking Station
Bluetooth Immersive Speaker
Why you need it: Sound is a major part of the working experience. Whether you're blasting your favorite tunes or losing yourself among ambient rainforest sounds, a good speaker system can help you to enhance the effect. It can also make it easier to hear your colleagues on video calls or analyze the sound quality of your company's marketing video.
How to find the right one: A speaker should be immersive, surrounding you with crisp audio. Make sure your chosen sound system can handle high, mid, and low-range notes so that the sound you hear is rich and realistic. It should be powerful and capable of reaching monstrously loud volumes. To ensure you can place them anywhere and sync them easily with your computer, opt for a speaker with Bluetooth connectivity.
Price range: $50-$150
Anyplace recommendation: Logitech Z407
LED Screen Light
Why you need it: If you're a night owl, then you've probably realized how difficult it is to work with the lights off. Maybe you live in a studio with someone who likes to sleep at night, while you prefer to stay awake, tapping away at your computer. Or perhaps you want to achieve full focus and concentration. A screen light can help you do this, lighting up your workspace while the rest of your home's lights are switched off.
How to find the right one: First of all, make sure that the screen light fits on your monitor so that it's not taking up desk space and getting in the way. Next, it should be bright enough to provide adequate lighting without creating screen glare. Auto-dimming is a useful feature because it will gently adjust the brightness throughout the day, thereby preventing damage to your eyes. It's also good if you can manually adjust the brightness, height, and angle.
Price range: $30-$150
Anyplace recommendation: BenQ Screenbar
Ultrafast Ergonomic Mouse
Why you need it: Laptop touchpads can be frustrating to use and may cause wrist strain. A separate mouse will give you so much more control, allowing you to quickly complete computer tasks. An ergonomic mouse is designed to maximize comfort so that your wrist doesn't get tired.
How to find the right one: A good ergonomic mouse is all about speed and precision. You'll get an idea of this by trying the device out for yourself. Does the mouse quickly move exactly where you want it to or is it awkward and laggy? The mouse should also be comfortable and intuitive to use. Wireless connectivity – either using Bluetooth or USB – gives you more freedom in where to place the mouse. You can either opt for a simple and minimalistic design or a mouse with more buttons for extra functionality.
Price range: $20-$90.
Anyplace recommendation: Logitech MX Master 3
Wireless Illuminated Keyboard
Why you need it: When your laptop is on its stand, the keyboard won't be in a good typing position. Ideally, you want your screen higher up (at eye level) and your keyboard a little further from the screen and closer to the natural position of your hands. With that in mind, you'll find it far easier to type on a wireless keyboard. Illuminated keys help you to see them better and type more quickly. If you type for a living, then a great keyboard will help you progress in your career.
How to find the right one: A great keyboard makes typing a breeze. Ideally, the keys will be backlit, well-spaced to avoid mistakes, and tactile so you can feel your way around the board without having to look away from the screen. For extra functionality, choose a keyboard that can connect to multiple devices at once and make sure it has long battery life.
Price range: $70-$150
Anyplace recommendation: Logitech MX Keys
Waterproof Desk Pad Protector
Why you need it: You've spent good money on a desk but how do you keep it protected? Spills, scratches, and stains can all ruin a beautiful workspace. With a waterproof desk pad, you can keep this damage to a minimum. These also offer extra grip to stop your items from sliding away and provide the perfect surface for your mouse to seamlessly glide across. A pad will also keep your laptop cool underneath when you're not using a stand.
How to find the right one: A desk pad needs to be large enough to almost cover your entire desk. This will ensure that there's room for everything on it. The pad should also be durable and made from a waterproof material like leather. This will allow spills to run off, making for quick and easy cleanup. Desk pads also come in a range of designs and colors, making this the perfect place to add personality to your workspace.
Price range: $10-$30
Anyplace recommendation: Aothia Leather Desk Pad
Power Strip Outlet Extension
Why you need it: Many offices don't come with enough power outlets for all your devices. You can ensure you always have space by getting a power strip, giving you many more plug sockets. This has the added bonus of extending your cables so that you have more flexibility about where you set up your desk. Furthermore, it means that all your devices can be plugged into one place, allowing for easy cable organization.
How to find the right one: Choose a power strip with enough outlets for your needs. They commonly come with between four and eight plug sockets but can contain many more if needed. With so much power, make sure that the strip has a surge protector to keep your devices working properly. A longer extension cord increases flexibility. Try to find one with plug covers to protect the outlets from dust and dirt. You may also want a power strip that can be easily mounted to your desk for convenient plug access.
Price range: $10-$25
Anyplace recommendation: GE 6-Outlet Surge Protector
Secure High-Speed WiFi Router
Why you need it: The speed of your internet can be increased by switching to a better router. This can upgrade your connection, allowing you to work more quickly, whether you're watching 4K videos, transferring bulky files, or just browsing the web. A strong and stable internet connection really is the key to success as a remote worker, which is why Anyplace puts so much thought into getting you the fastest speeds.
How to find the right one: The main thing to check is the internet speed that the router is capable of producing. If you can achieve 1750 Mbps, then you're doing well. Routers can also provide extra functionality, including seamless Alexa synchronization, remote control capabilities, and extra USB ports. Just make sure it's compatible with all of your devices and offers a secure connection.
Price range: $50-$350
Anyplace recommendation: TP-Link AC1750 Smart WiFi Router
This is the ultimate list of products that will create the best home office setup. Of course, buying each one separately is going to take a great deal of time and money. This may be an investment you want to make but a simpler alternative is to request an Anyplace Select location. Once you've booked an apartment, you'll be able to use all the products listed above. Together, this makes for the ideal remote work experience.
---
Where to next? Find flexible month-to-month rentals across the globe on Anyplace.

remote work productivity
remote work tips