Anyplace Select: Neighborhood Guide to 95 Wall St.
Thanks for joining us! Right in the heart of the bustling financial district, our Anyplace Select units are minutes walking distance from Manhatten and a view of the Brooklyn Bridge.
Our team has lived in the properties to find the best coffee shop in the area, work out in the on-site gym, meet the neighbors poolside, and most importantly, collaborate with the Anyplace team from our in-unit office setup.
We love this place and hope you do too. Before you dive in, connect with fellow Anyplace Select members in your area through our WhatsApp group. Introduce yourself and plan a coffee chat with your new neighbors who are also working remotely. 
Here are some local tips to get started.
Table of Contents
Transportation in NYC
As you can imagine in a city home to more than 8 Million residents, you'll want to avoid from driving your own car into the city. Great news is that public transportation can get you to every corner of the city thanks to the MTA, a widespread subway and bus system. Get yourself a MetroCard for $1 (with a minimum of $5.50 put on the card) and get access to all that NYC has to offer.  If you're in a hurry, you can also rely on shared car services (like Uber or Lyft) or taxis to get around. Just expect to spend more, especially during busy times where prices skyrocket. 
Advice From a NYC Local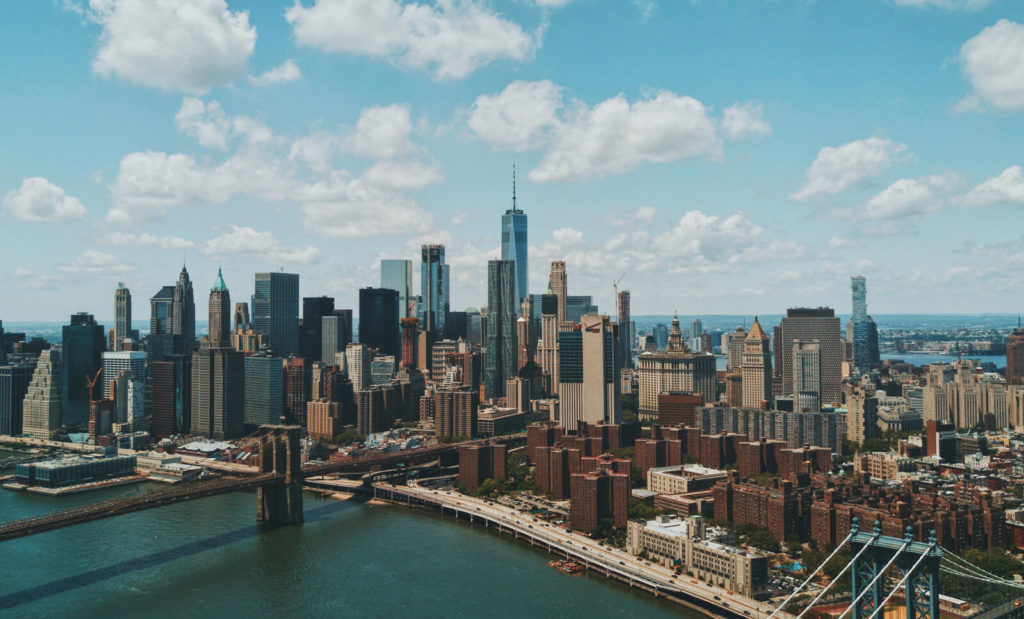 New York City draws in visitors from all around the world, but there's something special about making it your home. Here are our favorite businesses in the area.
Restaurants
Zeytin (160 Pearl St, New York, NY 10005): If you're looking for a quick, tasty Mediterranean platter, look no further than Zeytin.
DJ's Breakfast Spot (22 Stone St, New York, NY 10004): Breakfast sandwich heaven, DJ's is a quick grab-and-go breakfast that you can't miss.

Industry Kitchen (

70 South Street, At, Maiden Ln, New York, NY 10038): Looking for a pizza or delicious main? Hit up Industry kitchen, just around the corner from your apartment. 
Coffee Shops
La Colombe Coffee Roasters (67 Wall St, New York, NY 10005): If you're used to top-quality coffee, this trendy cafe serves up house-brand artisanal coffee to satisfy your craving. 
Ground Central Coffee Company (2 Coenties Slip, New York, NY 10004): Minutes-walk from your apartment, find artisanal espresso, pastries, and sandwiches with access to outdoor seating.
Gregory's Coffee (100 Wall St, New York, NY 10005): Coffee, matcha, smoothie galore, Gregory's coffee is a great spot to set up for a couple of hours. 
Coworking Spaces
WeWork Office Space & Coworking (110 Wall St, New York, NY 10005): One of the many WeWork locations in the area, but this one only steps away from your apartment. 
Joynture (48 Wall St, New York, NY 10005): Great clean coworking space to work and meet clients. 
Fitness
There's a traditional gym in your complex, but here are the fitness classes in your area:
CompleteBody Financial District (10 Hanover Square, New York, NY 10005): Steps away from your apartment, access the best trainers and equipment around.
Pure Barre (80 Pine St, New York, NY 10005): If you're looking to change up your workout routine, take a Barre class, which combines yoga, ballet, and pilates. 
[solidcore] (20 Pine St, New York, NY 10005): If you're looking for a classic Pilates class, you're a quick walk from [solidcore].
Pharmacies and Clinics
Walgreens (95 Wall St, New York, NY 10005): There's a pharmacy in your building for optimal convenience if you get sick or need something over-the-counter. 
CityMD Financial District (24 Broad St, New York, NY 10005): If you're in need of urgent care, there's one a 6-minute walk from your apartment. 
Services
Laundry: Your unit has a washing and drying machine, but this is our dry cleaning recommendation in the area.

Clean United (99 Wall St #945, New York, NY 10005): Note that this is located within the Duane Reade. 

Haircut:
Nails:
What to Do in NYC
Helpful Apps to Download
Thanks again for choosing us! If you run into any issues during your stay, we're happy to help. You can contact us at support@anyplace.com or call +1 415-741-2389.
Sarah Archer is a Content Marketing Manager at Anyplace who works remotely while traveling. She's passionate about developing content and PR initiatives that help digital nomads find housing options. When she's not working, she's likely hiking a new trail, eating pho, or mapping out the next destination.
You may also like