4 Slow Travel Destinations in the USA for Outdoor Adventures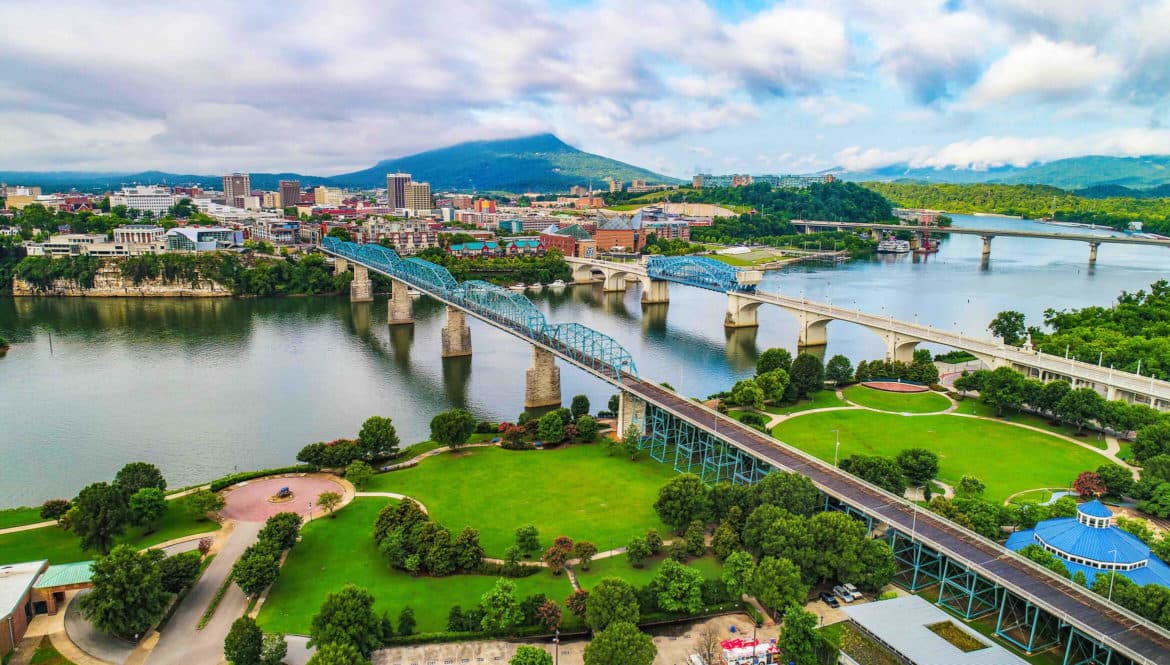 COVID-19 might have locked us in our homes but as restrictions lift, here's what to keep in mind when you resume responsible traveling.
If you've been indoors for months, you're probably keen to stretch your legs and see something other than your phone or laptop screen. Restaurants and tourist attractions are opening up across the states for local and domestic travel but there's still nothing like taking too much precaution. 
What to keep in mind about slow travel in the US: 
Most are still not comfortable flying: A poll by National Geographic and Morning Consult has found that only 2% of 2,200 Americans would jump on a plane now, and only another 8% would consider it later this summer. It's safer to use your own transportation such as a car and find destinations that you can comfortably drive to. 
Choosing a destination: Many states have post-travel restrictions such as 14-day mandatory quarantines even for people who are asymptomatic. You might want to consider state-wise restrictions across the country before choosing a destination. 
Following the rules: Like the 14-day quarantine guideline, different cities have different rules. Many mandate masks while others will mandate a 6-ft physical distancing or hand washing. Keep the rules in mind while picking a destination.
Nature heals: After filtering destinations based on restrictions, keep nature in mind. There are a myriad of benefits of being around large, expansive trees or near seas and rivers for your physical and mental health. Choose a place where the risks are lower and manageable. 
P.S. While planning any trip, please ensure that you're COVID-free. As asymptomatic individuals can take the virus to newer, unaffected destinations, it's most important to be a responsible traveler today. 
Digital nomads are keen to get out and start traveling. And keeping the pandemic restrictions in mind, the slow travel movement is gaining currency. Slow travel embraces the idea of staying in a particular location for longer amounts of time to fully take in the sights, sounds, culture, food, and of course—nature. As it's most important to ensure personal safety, we would suggest you pick destinations that are smaller, less populated, and have abundant access to outdoor activities and nature to allow physical distancing to help you get rid of the cabin fever. 
Here are 4 of our favorite destinations in the USA where you can live and get your fix of nature.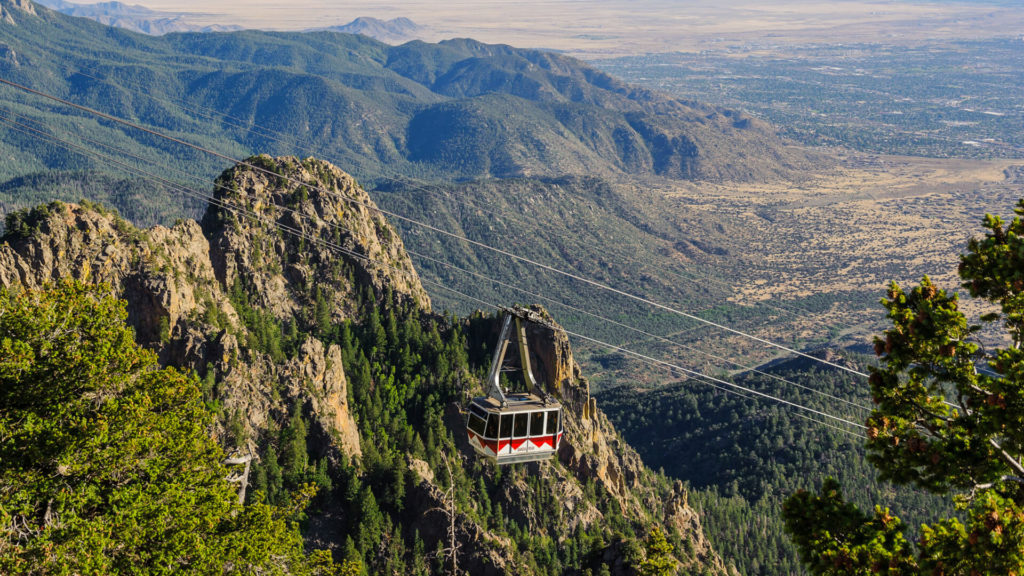 This New Mexico city has a high-desert climate which means plenty of days of revitalizing sunshine. Many outdoor recreational activities are opening up and you can choose between going on a nature trail, climbing a mountain, or biking. 
There are plenty of options right in the middle of the city. From challenging trails to the top of the Sandia Peak (pictured above), paths that roll through foothills and even historical trails at Petroglyph National Monument. Albuquerque is also the USA's hot ballooning capital because of its clear skies and mild temperature. COVID and weather permitting, you can leave the sour lockdown memories behind as you take a flight. 
Many outdoor spots like the Albuquerque BioPark, Maloof AirPark, and other playgrounds have been opened. Check here for regular updates.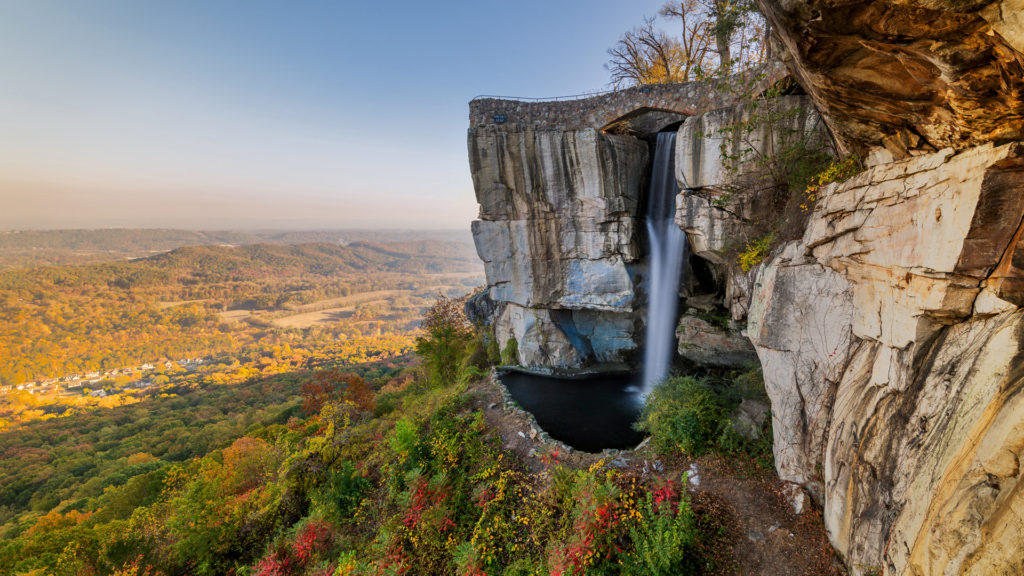 Chattanooga has been Lonely Planet's top 10 US destinations of 2018. The city has the magnificent Tennessee River and is tucked between the mountains of Southeast Tennessee. It's the perfect place to be by yourself, maintaining physical distancing, and enjoying the natural beauty and outdoor adventure. 
Many attractions, shops, hotels, and restaurants are open in the city with only a few exceptions, but there are certain rules: 
Wearing masks: Masks are required in Hamilton County – where Chattanooga is located – from at least Friday, July 10 through September 8.
Physically distance from other parties whenever possible. You're required to be 6+ feet apart from other parties and restaurants and attractions have put in place distancing measures to help make your visit safer.
Wash your hands frequently. 20 seconds with soap and water does the trick.
There's plenty to do in Chatty in you're looking for some outdoor fun. For one, the city has an extensive network of public parks, playgrounds, green spaces, and walking trails. You can visit the Southern Belle which boasts panoramic views of the riverfront, visit the Lookout Mountain (pictured above), Ruby Falls, Rock City, or just troll on pedestrian-friendly cobblestone streets taking in the street art and culture. Bonus: You can also drop a kayak right in the Tennessee River, for a lazy paddle.
San Diego attractions are starting to reopen and the city is looking forward to welcoming new visitors. There are few destinations as wholesome as San Diego. It has a shimmering coastline, amazing attractions, and perfect, sublime weather. You can spend days lounging on the beach, building sandcastles, or watching the sun go up or go down. 
Considered the beach city of California, San Diego has multiple beaches to choose from: The Mission Beach, Pacific Beach, Cardiff by the Sea, Swami's State Beach (pictured above) and many, many others. And there are a ton of pristine cliffs, trails, coastal hikes, and lagoons to visit and take in the sweeping views of downtown San Diego.
If you'd like to spend a few days as a tourist, to shake off the months spent locked up, the city is also issuing a Go San Diego pass to make it easier for people to enjoy the attractions. A variety of museums, parks, and tours are opening up for travellers and you can keep a track of where you can go and where not, here: https://gocity.com/san-diego/en-us/traveler-information
Seattle has multiple vantage points around the city that offer stunning views such as the Kerry Park and the Seattle Great Wheel on the waterfront. You can go for scenic hikes and picnic in parks around wilderness and meadows. Or stroll through walking trails, climb the nearby Mount Si (pictured above) or the 2.5-hour drive away, Mount Rainier which has an active volcano. 
According to the official website, King County (including Seattle) is currently in Phase 2, which allows for partial re-opening of some businesses and activities and limited social gatherings with five or fewer people outside the household.
The key to resuming travel as a digital nomad is to choose a domestic destination that you can reach safely, maintain physical distancing, and spend plenty of time outdoors without risking your (or others) health. 
---
Where to next? Find month-to-month rentals across the globe on Anyplace.
digital nomad destinations
slow travel