10 Tips for Nailing Your Next Virtual Interview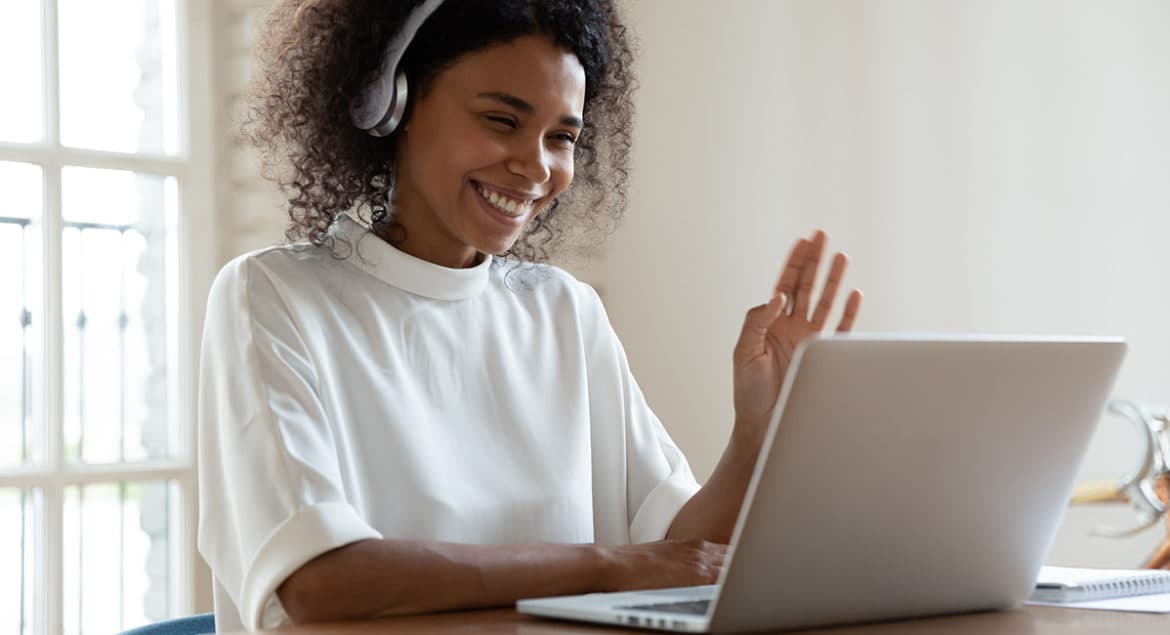 During the recent lockdowns, many people were forced to conduct interviews online, via a video call. However, these virtual interviews are nothing new to remote workers. I've been working online for years, as have many of the team at Anyplace. Over this period, we've gathered a great deal of wisdom on how to prepare for a virtual interview. Wondering how to nail your next online job interview? Here are 10 tips to help you do just that.
Light Your Face Correctly
Light can have an enormous psychological effect on a person. If your face is in shadow, then you can come across as a shady, almost ominous person, even if you're acting quite friendly. We've naturally evolved to fear the unknown so make your face as clear and visible as possible. This will help your interviewer read your facial expressions and gauge your level of excitement for this job opportunity.
The light should be directly in front of your face, shining down on you like a spotlight. Avoid sitting with the light behind you. Anyplace Select uses a YunDZ Bi-Color Video Light for these purposes but there are other similar products available.
Consider Your Background
Interviewers will inevitably look at what's going on behind you. Ideally, it shouldn't be distracting. That means no creepy pictures or windows with members of the public walking past. Make sure that no one else in your house needs to walk behind you to get anywhere and definitely don't sit directly in front of the bathroom door.
A neutral, relatively plain background like a white wall works well. You may want to improve it with some potted plants or books to show that you work from a productively minded environment. Alternatively, why not make a virtual background? Anyplace Select apartments come equipped with a green screen to help you do just that.
Adjust the Height of Your Laptop
The angle of the camera can also have an effect on how an interviewer perceives you. Most people have their laptops low on the desk so that when they turn their webcam on, they're looking down from above. Not only is this generally not a very attractive angle, but it can also make the person at the other end of the video call feel like you're looking down on them.
If you raise your laptop up, you'll be looking at them at eye level. This puts you on an equal psychological footing, providing a sense of equality and mutual respect. If you opt for an Anyplace Select apartment, you can easily do this using the laptop stand provided. However, it can work just as well if you use an old cardboard box.
Invest in a High-Quality Mic
Job interviews are all about verbal communication. It's critical that nothing gets lost in translation and that you get your message across clearly. If you have a poor-quality microphone, then your words may slur together, be lost completely, or simply sound too quiet. A high-quality mic, on the other hand, allows you to speak at a comfortable volume and still be heard properly.
Newer laptops come with relatively decent mics built into them. However, an external microphone will be better at picking up your voice and filtering out all other noises. At Anyplace Select, we recommend the HyperX QuadCast or Blue Yeti but there are plenty of other options.
Find a Quiet Environment
The last thing you want to do is leave an interviewer feeling frustrated and annoyed once they've finished speaking with you. However, this is exactly what will happen if you're surrounded by noise. Even if you're confident in the capabilities of your microphone, a quiet environment guarantees a focused conversation. It will help you nail your virtual interview by eliminating distractions.
A private room that isn't used by roommates is best. Obviously, if you have a home office, then that's ideal. However, moving a desk to a corner of the bedroom also works. Just work with what you've got. If your home isn't adequate, consider a quiet cafe or coworking space.
Dress Appropriately
For some reason, people who will get dressed up to go to a physical job interview fail to do so if the meeting is taking place via video call. You may be at home, possibly even in your bedroom, and therefore choose to wear comfortable clothing instead. It's easy to forget to put on smart clothing since you don't plan on leaving the house.
These days, a full suit isn't always necessary. Startups are often casual so you can dress down if appropriate. However, you should still present yourself well. Dirty and creased clothing will show up on the video call. Don't wear anything inappropriate or with slogans that can distract from what you're saying. Keep it professional. Simple, neutral clothes that you feel comfortable in are best.
Have Your Notes Ready
There are several benefits to a remote job interview. One is that you can fill your desk with notes and read off them without the interviewer knowing. Just be subtle about it. When thinking about how to prepare for a virtual interview, write down a list of questions you expect to be asked. Bullet point your favorite answers so that you can rattle them off when required.
You'll likely want to make notes about the company you're applying for as well as the person or people conducting the interview. Note down a list of your own questions, as well, to show your genuine interest in working for this organization. You could stick paper on the wall behind your laptop so that you can glance at it without looking down.
Check Your Internet Connection
You can really derail an interview by losing connection. I once applied for my dream job and conducted the interview from a coffee shop. The internet went down just as we began and by the time we'd reconnected, the interviewer was in a bad mood about having to reschedule the interviews of other applicants because of my poor connection. Luckily, I still got the job but for a while, I really thought I'd ruined it. Don't risk this happening.
Video calls require plenty of bandwidth in order to work smoothly. Anyplace uses a TP-Link AC1750 Smart WiFi Router because this offers the fastest most stable connection. Investing in something like this will help you be more productive on a daily basis while also nailing your virtual job interviews.
Focus on the Interviewer
One drawback of a virtual interview is that you can get distracted by your own face. We're so obsessed with how we look that we sometimes forget to connect with the person at the other end. Remember: an interview isn't just about selling yourself but also determining whether this company is right for you. Acknowledge your interviewers and think about how they're coming across.
Keep your eyes focused on the person you're talking to. This will help you ground yourself in the present moment, process their questions quickly, and come up with the best answer. By forgetting about the little image of you in the corner, you'll come across as more relaxed and self-confident.
Buy a Good Laptop
Investing in your career can be expensive. One place where it's worth spending money, though, is on your laptop. If it's a joy to work from, then you'll get so much more done, including succeeding in interviews. Poor quality computers only add stress. They overheat, respond slowly, and leave you feeling exhausted and defeated, which will come across in your video calls. Try living a more minimalist life and focusing on investing your funds in only the best equipment for advancing your career.
All of the tips listed above are designed to teach you how to prepare for a virtual interview. They're based on my personal experience and the wisdom of the experts who put together the home office packages for Anyplace Select. If you want to nail your interviews, then put in the preparation outlined in this article. Doing so will help you land more exciting jobs and take your career as a remote worker to new heights.
---
Where to next? Find flexible month-to-month rentals across the globe on Anyplace.
remote work interview
remote work planning
remote work tips